Overall rating | Quality of service | Marketing | Customer experience | Cost | User friendliness | Methodology
List With Freedom is a legitimate flat-fee MLS listing service that can help FSBO sellers get exposure to their listing via the local MLS, as well as other listing sites, for an upfront fee. Plans start at $89 (for a six-month listing and one photo) and work their way up to $295 (one year listing and unlimited photos). The company does not operate in Alaska, Colorado, Hawaii, Kansas, or Puerto Rico, and it's a licensed brokerage in Alabama, Florida, and Tennessee.
On the surface List With Freedom seems like a decent value. But how does it stack up against other flat-fee companies? And how much are you really paying for their services? Below we'll dig deeper into this popular listing service and help you decide if they're right for you.
Bottom line: Do we recommend List With Freedom?
We think List With Freedom can provide decent value – but only if you're an experienced FSBO seller. The company will list you on the MLS and other popular real estate sites, such as Zillow and Realtor.com.
Each plan allows unlimited changes and add-ons (like showings and open houses) for a fee. If you want more than six photos, you'll pay $188 or more, putting you in the same price range as most other flat-fee MLS listing services — plenty of which will put you on the MLS and Zillow for cheaper. Despite some trade-offs (for example, paying for edits), it might be wise to compare different FSBO services before you decide on one.
💰 Incredible savings — none of the risk
Selling your home FSBO is challenging. Add in a lower selling price and out-of-pocket expenses, and you'll save WAY less than you planned — but still be stuck with most of the work.
There's a better option. Clever pre-negotiates cheaper listing fees with the top agents in your area. You pay just a 1.5% listing fee, while getting the support of a full-service agent.
List With Freedom vs. top FFMLS alternatives
| | | | |
| --- | --- | --- | --- |
| FFMLS company | Locations | Avg. customer review | Listing fee |
| Fizber | Nationwide | 3.9 | $295 |
| Homecoin | CA, FL, GA, MI, MO, NY, NC, SC, TN, VA, WI | 4.9 | $95+ |
| Houzeo | Nationwide | 4.9 | $199-999+ |
| Beycome | AL, CA, CT, FL, GA, MN, NC, SC | 4.5 | $99-499 + 1% |
In-depth breakdown
Quality of services
📊 Our rating: 4.5/5
Essential services provided
Listing to MLS and other sites
Expensive additional services
List With Freedom cuts through the fluff and gives its sellers only the most essential services. Here's what's included under each plan:
| | | | | |
| --- | --- | --- | --- | --- |
| Package 👉 | Silver | Gold | Platinum | Platinum+ |
| MLS listing term | 6 months | 6 months | 6 months | 12 months |
| # of photos | 1 | 6 | 25 | Unlimited |
| Listing on major real estate sites | ✅ | ✅ | ✅ | ✅ |
| Listing forms and disclosures included | ✅ | ✅ | ✅ | ✅ |
| Unlimited changes | ✅ | ✅ | ✅ | ✅ |
| Showing assistance | +$59 | +$59 | +$59 | ✅ |
| Open house | +$25/ea | +$25/ea | +$25/ea | Unlimited |
| Post a virtual tour | +$40 | +$40 | +$40 | ✅ |
Add extras for a fee 👇" type="h4
Some additional services are essential — such as the CMA and a video walk-through — whereas others are unnecessary or not worth the cost.
Video walk-through: $40
Comparative market analysis (CMA): $195
Contract preparation and review: $595
Lockbox: $45
Ability to schedule showings online: $59
Professional yard sign: $49
Transaction management service: $1,995
Maximum photos: $99
Unlimited open house announcements: $100
Additional MLS listings: $99
These services are typically included when you work with a real estate agent. If you add all of these to the most basic plan (Silver), you'd spend roughly $3,365. That's only slightly less than working with a low-commission real estate agent.
Marketing
📊 Our rating: 4.5/5
Guaranteed MLS exposure
Exposure on all major listing sites
Additional MLS listings (optional)
List With Freedom does a great job of exposing you to as many buyers as it can. For one, the company will list you on a local MLS, which is super important for utmost visibility. Second, your listing will be pushed to hundreds of other real estate websites, such as Zillow, Trulia, and realtor.com.
As far as the brand goes, ListWithFreedom has decent traffic to its website: roughly 1,200 monthly visitors, according to our analysis. In addition, "list with freedom" gets 1,600 search each month, while "listwithfreedom" has an additional 1,000 searches.
Note: List With Freedom will only put your listing on one local MLS. But if you live in an area that's served by multiple MLS options, you'll need to buy additional MLS listings for $99 a piece. This can add up quickly, so be sure to factor this into your total costs.
Customer experience
📊 Our rating: 3.0/5
Some red flags in reviews
Complaints about communication
No BBB profile
List With Freedom's customer reviews were generally favorable. The aggregate customer rating on Google was 3.2 out of 5, which is fairly low. But this was based on 57 reviews, which is a small sample size for a company of this size.
Individual reviews provided a bit more insight. After combing through several, we found a few negative themes:
⛔ Unresponsive customer service
⛔ Slow communication, often only via email
⛔ Hard-to-implement changes to your listing
⛔ Cumbersome paperwork
Cost
📊 Our rating: 4.0/5
Affordable plans
Platinum+ offers most value
Deceptive pricing
List With Freedom offers four packages, starting at $89 and up to $295. Each one is decently priced, falling below the average range. Most flat-fee MLS listing service companies charge between $299 and $399 for a basic MLS listing and exposure on major real estate sites (Zillow, Realtor.com, etc). All four List With Freedom plans include these, plus exclusive access to your buyers leads and an unlimited number of changes.
📷 Most FFMLS companies allow a reasonable amount of photos (25+), whereas List With Freedom allows only one with its basic plan. But you can also add unlimited photos to any plan for $99.
We believe the two plans that'll give you the best deal are:
Silver, plus maximum photos ($89 +$99 for a total of $188)
Platinum+ ($295)
The Silver plan gives you a six-month MLS listing with one photo. However, only one photo is not enough to market your house well, so you should add unlimited photos to your plan for only $99. At $188, you can get listed to the MLS with as many photos as you want, which is a pretty good deal.
Adding unlimited photos ($99) to the Silver plan ($89) isn't the cheapest plan we've seen, but it does allow you to edit your listing for free. Other listing services will charge a small fee to implement changes (usually $10), which can add up if you edit or reprice your listing frequently.
Platinum+ is fairly priced if you're interested in the bells and whistles: unlimited photos, a 12-month listing, an online showing scheduler, unlimited open houses, and a virtual tour option.Gold and Platinum allow more photos than Silver for a marked-up price, but the features stay the same and aren't worth the extra cost.
⚠️ Warning: List With Freedom has hidden agent fees
List With Freedom charges buyer agents a 0.25% compliance fee, which could discourage them from bringing home buyers to your listing since they'd make less commission.
If your buyer is working with an agent, you'll likely pay their commission (2–3% of the final sale price). Some reviewers claim they were stuck paying the compliance fee when the buyer's agent refused to.
User-friendliness
📊 Our rating: 4.5/5
Very easy to use
Powerful and fast website
Unlimited changes that may take time
From selecting a plan to checking out, the ListWithFreedom website was intuitive, fast, and straightforward:
Start by selecting a plan from their pricing menu.
Add optional services (if you want them).
Provide your address and payment information.
Write out your listing description, price your home, and ask ListWithFreedom to post it to the MLS and other listing sites.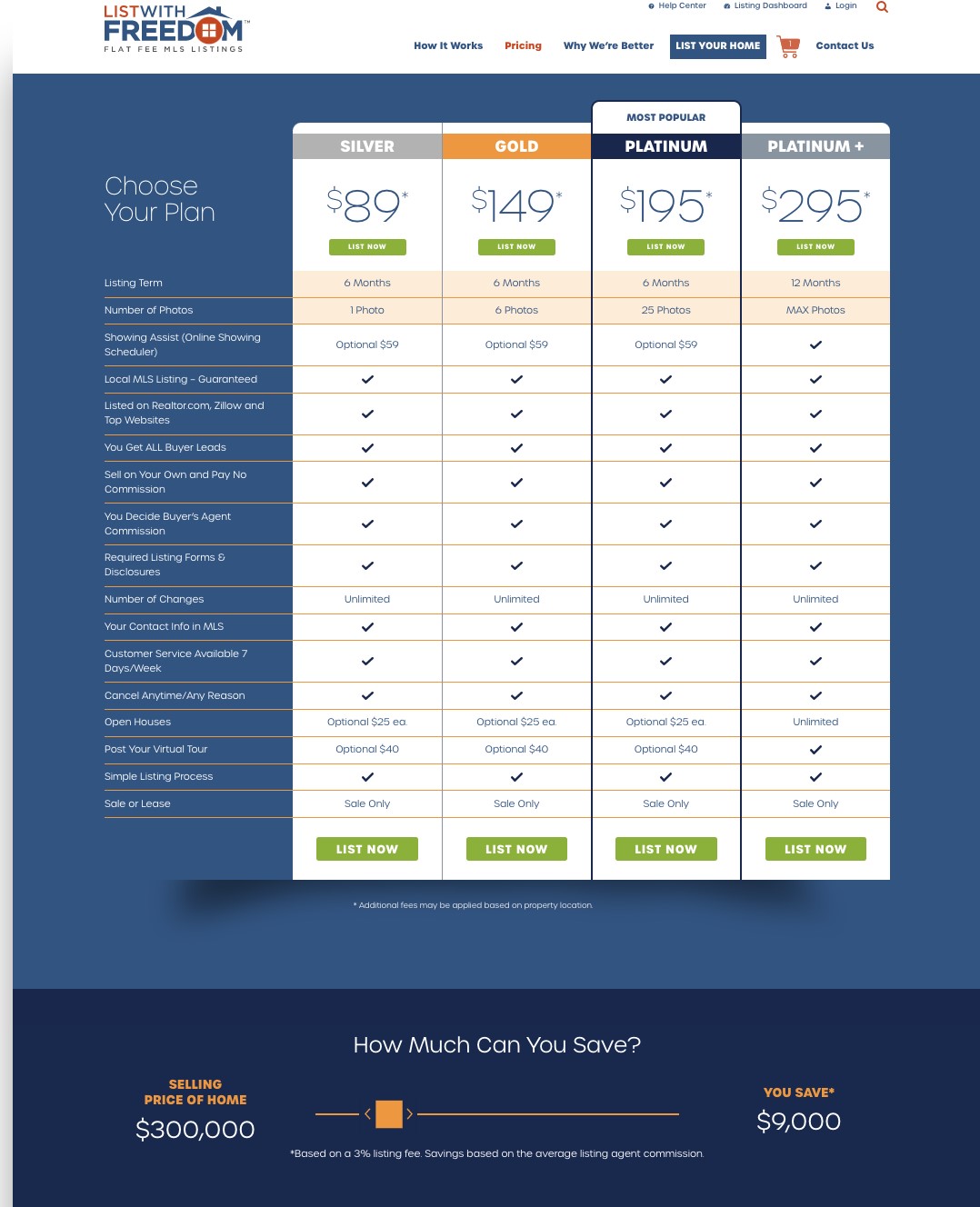 The only complaint we've seen with the process involves changing to your listing. Users say it's very difficult to make changes quickly, and many report inaccuracies.
List With Freedom contact info
☎️ Phone
(855) 456-4945
📱NO social media
Next steps
If you're dead-set on selling your home through a flat-fee listing service, ListWithFreedom might be worth trying.
If you're on the fence about selling your home yourself, you might want to check out some low-commission real estate companies before committing yourself to an FSBO sale. Many of these companies will connect you with a listing agent who charges a discount commission of 1% to 2%. You'll pay more in fees than you would by listing with ListWithFreedom, but it might be worth the extra cost to avoid the hassle of selling on your own.
Methodology
We evaluated the value and quality of flat fee MLS (FFMLS) and for sale by owner (FSBO) listing services based on five core criteria:
Quality and range of services
Brand recognition and marketing methods
Customer reviews and experience
Cost value
User friendliness
Quality of service
FFMLS companies should provide basic services, including:
Listing to your local MLS
Pushing listings to sites like Zillow and Trulia
Maximum allowable photos
Unlimited free listing changes
Keeping an listing active until you cancel or close on your home
We noted add-on services that actually help you sell and manage your sale, like professional photography or an online dashboard. We didn't give credit for fluffy offerings, such as video tours that are just photo montages or listings on Craigslist.
Marketing
We assessed how each company's services actually makes your listing visible to buyers, compared with the MLS, which is the baseline. Additional marketing services (via social media, digital ads, etc.) count to higher visibility, as does the company's website traffic.
Customer experience
Our evaluation:
Aggregated customer reviews from across the web and created a weighted average rating
Ran reviews through a sentiment analysis program to identify key themes
Checked for complaints with the Better Business Bureau
Cost
We checked the actual costs of the company's services and compared them with other brands and national averages.
User friendliness
We checked how easy the company app or portal was to use, and how easy it was to upload and manage the listing.