Overall rating | Quality of service | Marketing | Customer experience | Cost | User friendliness | Methodology
Houzeo is a flat fee MLS listing service that offers four packages to FSBO sellers in all fifty states. The costs of these packages vary from state to state, but you can expect to pay roughly $329 for essential services like an MLS listing and 24 photos. The company has one of the best platforms we've seen — however, Houzeo's plans have significant drawbacks and might cost you more over the long run than other flat fee listing services.
Bottom line: Do we recommend Houzeo?
No, we do not recommend Houzeo. All in all, we were very underwhelmed by the services provided under each plan. This in spite of the fact that Houzeo's packages are priced higher than most flat fee MLS listing services.
The only plan that might be worth considering is Silver (roughly $379). This plan gives you a 6 month listing and allows 24 photos. Even so, the price is still high, and you don't even get advanced marketing tools, such as Facebook and Google advertising.
One feature that gives Houzeo a leg up on the competition is its seller platform. The platform is easy to use and has powerful tools (such as the ability to schedule showings and review offers) that can make FSBO easy for most sellers. That said, the platform alone is not a good enough reason to purchase one of Houzeo's highly priced packages.
⛔ Are you sure you want to sell FSBO?
Selling FSBO requires a lot of time and effort. Companies like Clever Real Estate negotiate with top-performing agents who provide full service for only 1.5% in listing fees. Save thousands today!
Learn more
.
Houzeo vs. top FFMLS alternatives
If you're looking for a basic MLS listing service, we recommend checking out other flat fee companies first. Many of them offer similar packages to Houzeo, but at better prices.
| FFMLS company | Locations | Avg. customer review | Listing fee |
| --- | --- | --- | --- |
| Fizber | Nationwide | 3.9 | $295 |
| Homecoin | CA, FL, GA, MI, MO, NY, NC, SC, TN, VA, WI | 4.9 | $95+ |
| Flat Fee Realty | Nationwide | 0.0 | $179+ |
| Beycome | AL, CA, CT, FL, GA, MN, NC, SC | 4.3 | $99-499 + 1% |
In-depth breakdown
Service
📊 Our rating: 3.5/4
Mixed bag of essential services available
Most Houzeo packages aren't worth the cost, and you can get the same services (or more) for less with another FFMLS.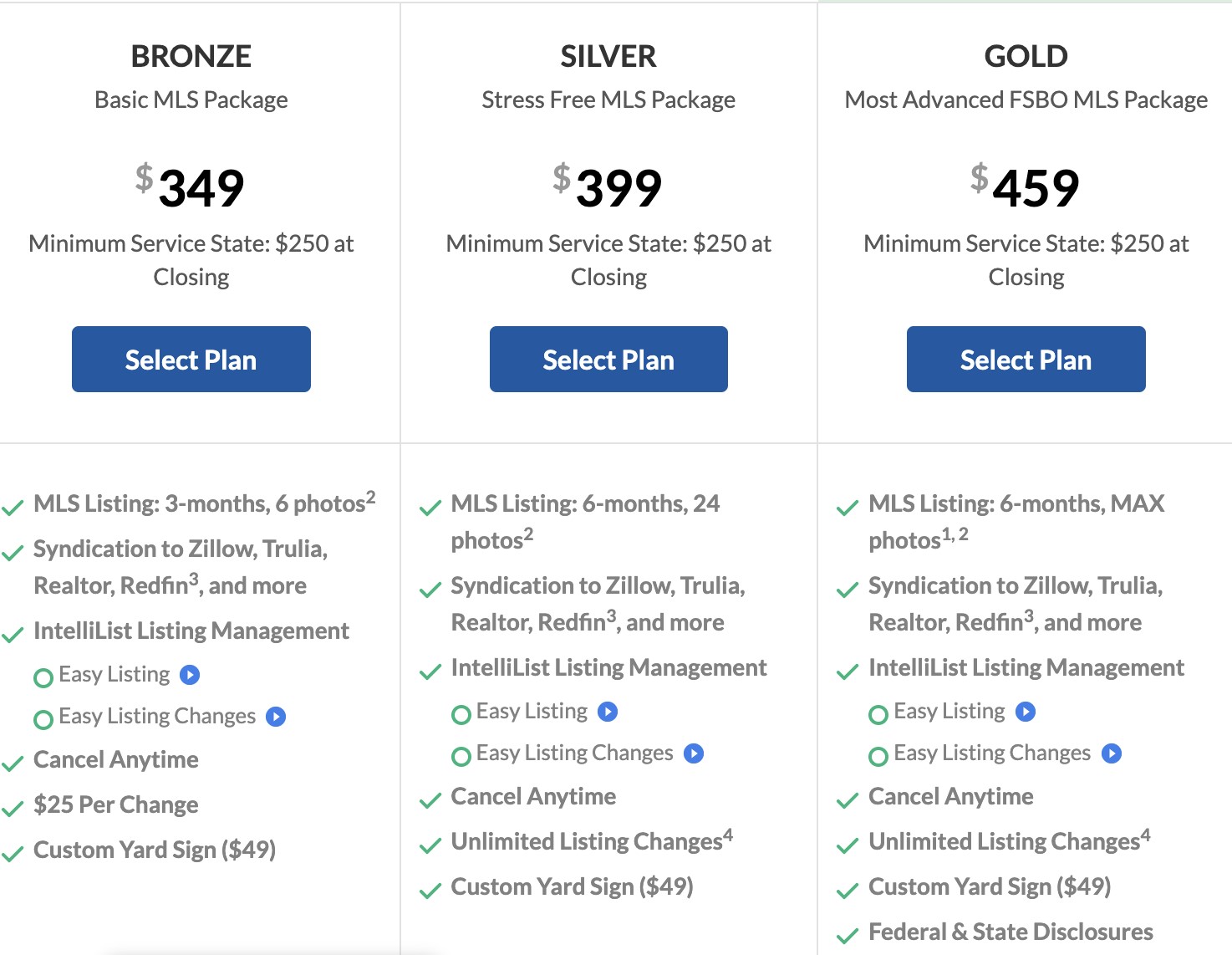 ✍ Our take on Houzeo's Bronze, Silver, and Gold plans
Bronze: there's really no benefit to this plan. With six photos and a three month listing, you don't have enough essential services to properly sell your home. Even if you're selling land, you may need more time on the MLS (or more photos of the property). For the same price, you can get an MLS listing, plus more essential services from other flat fee MLS listing services.
Silver: although by far Houzeo's best plan in terms of services provided and cost up front, it's not the best package we've seen. Other MLS listing services will charge less for the same services.
Gold: the price tag is simply too high for the services lacking. Houzeo markets this as the "ultimate FSBO package," but it's far from comprehensive. There's no pricing assistance, nor any option to hire a professional photographer through the platform. You can get a better deal from another MLS listing company.
✍ Our take on Houzeo's Platinum plan
Definitely not worth it! Mainly, you don't know who you'll work with: Houzeo isn't a licensed brokerage and they will outsource the help from a broker within their network. If you're paying extra to get help from a real estate professional, then you should be looking at discount brokerages, not flat fee MLS services. You could save more (and work less) by checking out low-cost real estate companies.
Essential services provided:
1 year listing term with max photos
Custom yard sign
Virtual full-service assistance from licensed broker
Notable features lacking:
Unlimited changes to your listing
Professional photography and video walkthrough
Social media marketing
Professional assistance with your listing description
Is it available nationwide? No. Platinum isn't available in five states: Nebraska, South Dakota, West Virginia, Wisconsin, and Wyoming.
👋 Skip the DIY: Find a top agent for less
Why do all the work of selling FSBO only to end up with less money than you would have with an agent? Clever offers you bigger savings without sacrificing the service you expect from a traditional realtor.
With Clever:
✅ You'll pay only 1.5% to list your home
✅ You'll work with a full-service realtor from a top broker
✅ You get a free service, with zero obligation — you can walk away at any time
Saving on realtor fees doesn't have to mean sacrificing service. Find a top local agent today!
⚠️ Read the fine print
Houzeo claims that you get "unlimited free changes" under Silver, Gold, and Platinum. But that doesn't apply if you're changing the price, listing description, or status — the very elements you're exactly likely to change. For these three, you get a maximum of 10 changes, no matter what plan you sign up for.
Marketing
📊 Our rating: 4.5/5
Guaranteed listing to local MLS and major real estate websites
Heavy traffic to listing page
No matter which plan you choose, Houzeo will put your home on a local MLS. It'll also syndicate your listing across major real estate websites, such as Zillow, Trulia, Realtor.com, and its own listing page — houzeo.com. This could give you some good exposure, as the website gets roughly 71,800 visitors per month, and "Houzeo" gets 1,500 searches a month.
Houzeo doesn't offer advanced marketing plans, such as Facebook or Google advertising. It's also not clear how many MLS options your real estate agent will list on. While some metros have numerous MLS options, it's very possible your Houzeo agent will only list you on one.
Customer experience
📊 Our rating: 4.5/5
Majority of reviews are positive
1 BBB complaint in last 3 years
Houzeo isn't lacking in positive reviews: of the 800+ reviews we found on Google, the majority praised the company's customer service team, seller platform, and listing process. It has a 4.9-star rating on Google and 5 stars on trustpilot.com.
| 🟢 Top positive theme | 🔴 Top negative theme |
| --- | --- |
| | |
Some customers were upset with the agent or broker who listed their home on the MLS. Since Houzeo isn't a licensed brokerage, its customer service team cannot respond to any requested changes or inaccuracies in a listing. These changes must go through the original agent, who may not be as responsive as the company itself.
Cost
📊 Our rating: 3/5
Overpriced packages
Some extra costs
Pricing differs by state
Houzeo has four packages: Bronze, Silver, Gold, and Platinum). Prices vary wildly by state, so the cheapest plan could cost you between $279 and $795, though it's listed as starting at $299. This is because Houzeo is not a licensed brokerage and has to outsource MLS listing to a licensed agent in its network. If your state has few licensed agents who work with Houzeo, you'll pay a higher cost up front.
If we compare Houzeo's typical price range with other flat fee MLS listing services, then it's easy to see how overpriced these plans are. Most companies will charge less than $300 for services comparable to Houzeo's Silver plan.
To give you a rough idea, here's what you might pay for each plan:
| Package | Houzeo price range (based on state) | Typical price range |
| --- | --- | --- |
| Bronze (basic) | $279–795 | $299–329 |
| Silver (mid-tier | $329–845 | $379–399 |
| Gold (advanced) | $399–725 | $429–499 |
| Platinum (all-inclusive) | $999 or $399 + 1% at closing | $1,200–1,500 |
Pay attention to your state's pricing plans " type="h4
You may be required to pay extra fees at closing depending on where you live.
For instance, in Kentucky, the Bronze plan may cost $349 up front. (That's already too expensive for the meager services you're given.) But you'll also pay $250 at closing. That comes out to $599 for a 3-month listing and 6 photos. For that price, another FFMLS could get you a 6-month listing, maximum photos, professional photography, and a 3D tour.
Other states will require you to pay a certain percentage of your final sale price — usually 0.5–1% — in addition to the up-front fee. This is a terrible deal, even for a Platinum plan. You would pay just as much if you listed with a realtor who has a 1.5% commission rate — and you would do none of the heavy lifting required in FSBO selling.
💰 Incredible savings — none of the risk
Selling your home FSBO is challenging. Add in a lower selling price and out-of-pocket expenses, and you'll save WAY less than you planned — but still be stuck with most of the work.
There's a better option. Clever pre-negotiates cheaper listing fees with the top agents in your area. You pay just a 1.5% listing fee, while getting the support of a full-service agent.
User friendliness
📊 Our rating: 5/5
Very simple listing process
Powerful sellers platform
Helpful videos and articles
Houzeo's platform is one of the best we've seen. It breaks down a complicated process like listing your home on the MLS into a few easy steps, and plenty of "how to" guides and videos can help you if you get stuck.
Houzeo does an excellent job educating you on what the MLS expects, for instance, by giving you some helpful "don'ts" just before you write your listing description.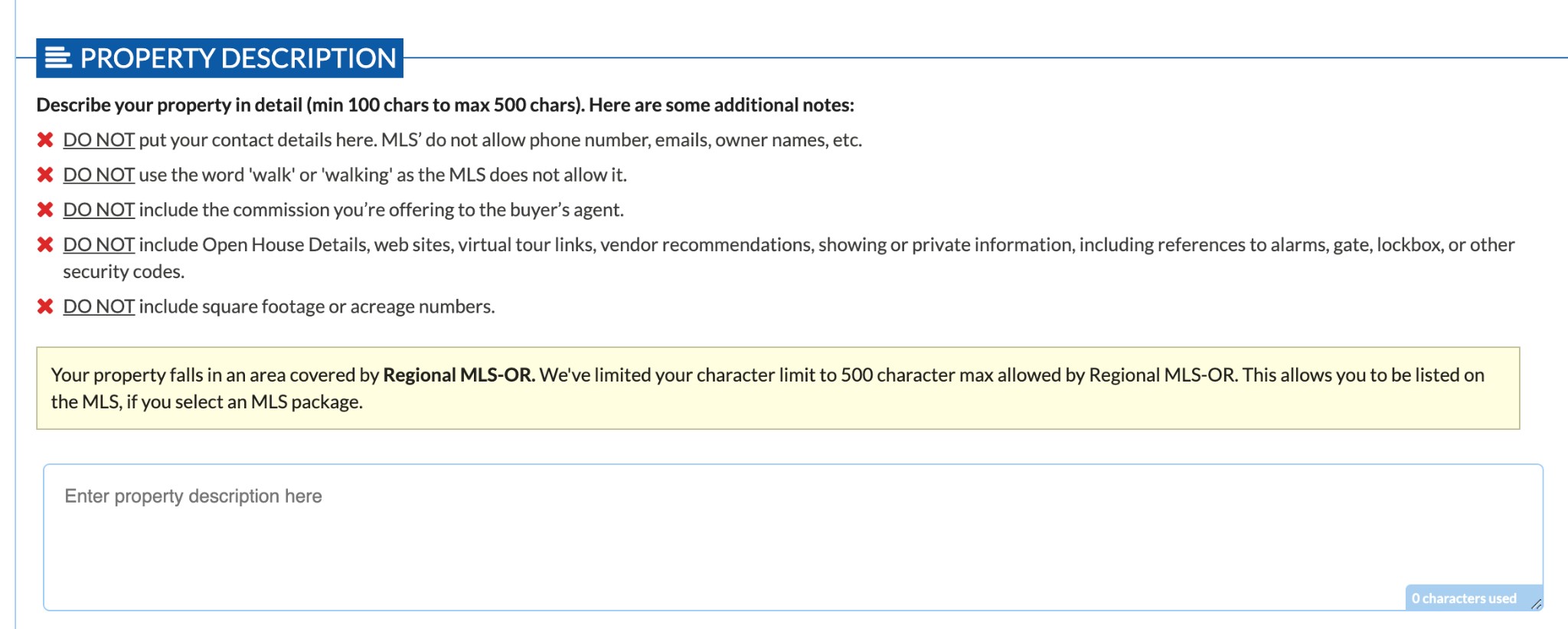 One cool feature that's worth calling out: Houzeo gives you the option of listing how much buyers commission you're willing to pay.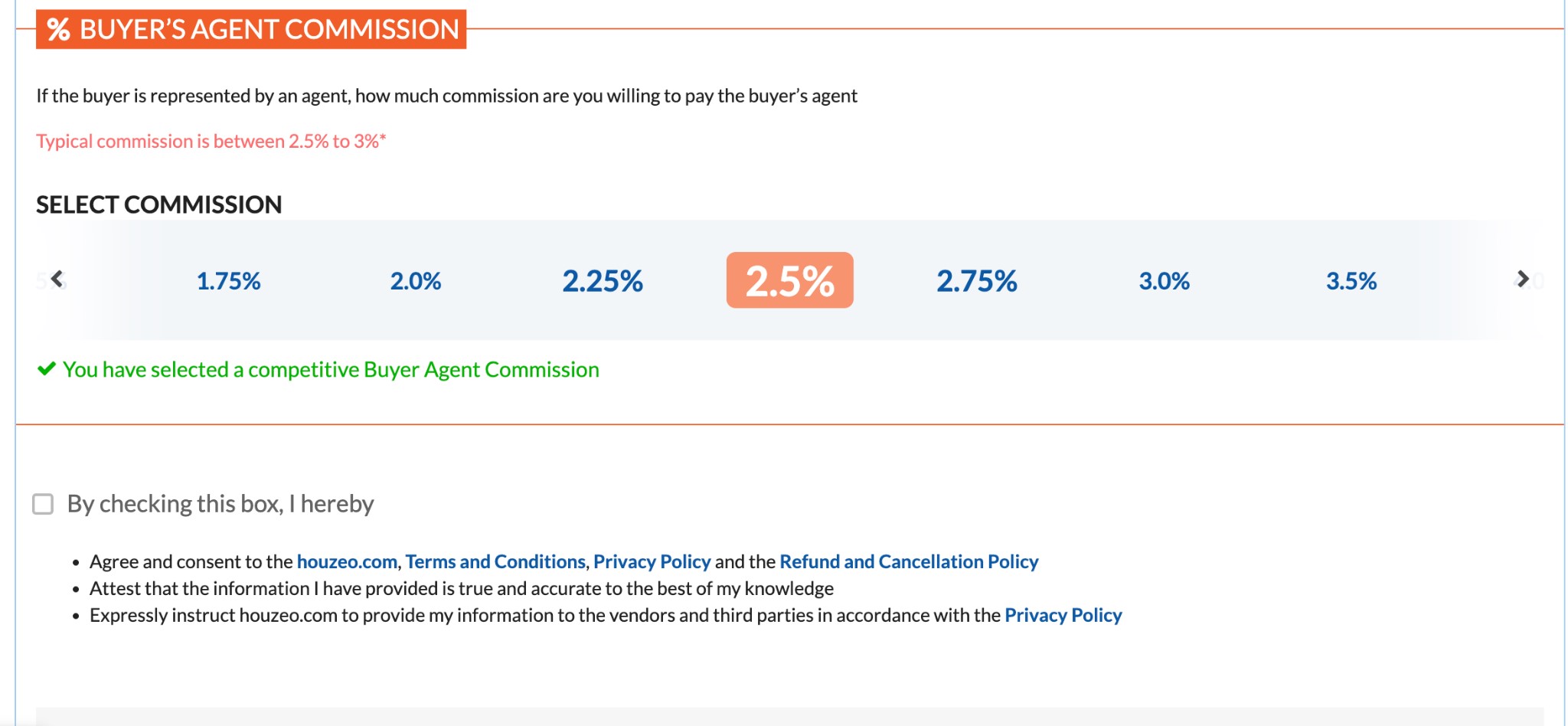 Next steps
We recommend researching other flat fee MLS listing services first. You can find better packages than Houzeo at prices that are much lower than even the most basic plan. It might also be worth looking at low-commission real estate companies. These companies can offer full service to sellers but at commissions that are lower than the industry average.
Methodology
We evaluated the each flat fee MLS (FFMLS) and for sale by owner (FSBO) listing service based on five core criteria and created a weighted score:
Quality and range of services (25% of final score)
Brand recognition and marketing methods (25%)
Customer reviews and experience (15%)
Cost value (25%)
User friendliness (10%)
Quality of service: 25% of final score
FFMLS companies should provide basic services, including:
Listing to your local MLS
Pushing listings to sites like Zillow and Trulia
Maximum allowable photos
Unlimited free listing changes
Keeping an listing active until you cancel or close on your home
We noted add-on services that actually help you sell and manage your sale, like professional photography or an online dashboard. We didn't give credit for fluffy offerings, such as video tours that are just photo montages or listings on Craigslist.
Marketing: 25%
We assessed how each company's services actually makes your listing visible to buyers, compared with the MLS, which is the baseline. Additional marketing services (via social media, digital ads, etc.) count to higher visibility, as does the company's website traffic.
Customer experience: 15%
Our evaluation:
Aggregated customer reviews from across the web and created a weighted average rating
Ran reviews through a sentiment analysis program to identify key themes
Checked for complaints with the Better Business Bureau
Cost: 25%
We checked the actual costs of the company's services and compared them with other brands and national averages.
User friendliness: 10%
We checked how easy the company app or portal was to use, and how easy it was to upload and manage the listing.