How buyer rebates work | How much can you save? | Buyer rebate calculator | How to get a buyer rebate | Are buyer rebates legal? | Are rebates taxable? | How to negotiate a rebate | Get expert advice
What is a home buyer rebate?
A home buyer rebate, or commission rebate, is when a real estate agent or broker shares a portion of the fee they collect on a transaction with the buyer.
Buyer rebates and cash rewards — which are similar, but distinct — can save you thousands on your home purchase. And they're becoming more common throughout the industry.
Some real estate companies offer buyer rebates or cash back as a built-in benefit of using their service.
Clever Real Estate, for example, matches you with top local buyers agents so you can interview and choose the best agent for your situation. Eligible buyers can also qualify for cash back after closing.
💰 Find top buyer's agents near you today!
But not everyone is jumping on the buyer rebate and cash back bandwagon. Many agents and brokers still refuse to offer rebates. And eight U.S. states have banned them entirely.
How do home buyer rebates work?
💡 Key takeaways
Buyer rebates are currently legal in 42 U.S. states
Most agents and brokers offer rebates as closing credits, which are subject to numerous terms and restrictions
Some companies offer cash rewards, which are typically guaranteed in full if you're eligible and can be spent however you want
Rebates and cash rewards typically

cannot

fund your down payment
Commission rebates let agents and brokers help buyers save money on their home purchase without having to negotiate a lower sale price with the seller.
When a buyer purchases a home, a large part of that purchase price — 5.45% on average— goes toward realtor commission fees.
Typically, the two agents or brokers who handle the sale split that total commission down the middle — so about 2.7% per agent.
Pay attention to how companies advertise commission rebates
You may see commission rebates or cash refunds advertised in a few different ways:
A percentage of the purchase price
A percentage of your agent's commission
💰

Do the math to maximize your savings: If one agent offers to share 10% of their commission with you and another refunds 0.5% of the purchase price, the first one might sound like the best deal.However, 10% of the buyer's agent fee works out to just 0.27% of the home price, meaning it may not be such a great value after all!

» MORE: Use our home buyer rebate calculator to see how much you can save!
Either way, your buyer rebate will be limited to your agent's half of the total commission fee.
So, sticking with our 5.45% total commission rate, a 0.5% rebate of the final purchase price translates to roughly one-sixth of your agent's 2.7% commission.
📊 Savings breakdown on a 0.5% buyer rebate
Let's say you purchase a home for $350,000. For the sake of simplicity, we'll say each realtor charges 3% commission and set a total commission rate of 6%, which translates to $21,000.
Your agent and the seller's agent agreed to split the total commission 50/50 — so each net approximately $10,500 on the sale.
When you signed with your agent, they promised to refund 0.5% of the purchase price to you after the sale.
Assuming your lender approves the full amount, that would put about $1,750 back in your hands at closing — approximately one-sixth of what your agent earned on the purchase.
💰 Find your dream home, get cash back
Why leave extra money on the table? Clever can connect you with one of the top real estate agents in your area, plus put cash back in your pocket.
With Clever:
 ✅ You'll work with a full-service realtor from a top broker
 ✅ You'll earn cash back on qualifying purchases
 ✅ It's free, with zero obligation — you can walk away at any time
Fill out the form below to get started!
Full rebate amounts are rarely 100% guaranteed
Some companies offer cash refunds, which lets them guarantee the promised amount in full. But most agents and brokers issue rebates as commission credits, which are subject to numerous terms and restrictions.
⚠️ An important note about commission credits: Typically, rebates that come in the form of commission credits:
Require lender approval and cooperation from the seller
Are subject to state, local, and/or broker-specific restrictions and limits
As a result, most agents and brokers offering commission credits are unable to guarantee the final amount — which is why you'll commonly see the "up to x%" language in their buyer rebate advertising.
Make sure double-check the fine print before agreeing to work with a broker based on an advertised rebate offering. And never assume you'll receive the initially estimated amount when all is said and done.
» MORE: Rebate rules, requirements, and limitations
Why do agents and brokers offer home buyer rebates?
There are two primary reasons an agent or broker would offer a commission rebate to a home buyer:
To attract new customers
To close more transactions
Rebates don't prevent brokers from being profitable
Technology has enabled real estate agents and brokers to operate more efficiently. Many have realized they can offer reduced prices or savings and remain profitable.
A wave of emerging real estate companies have built their entire business models on this premise. These brands aim to create efficiencies that let them offer built-in commission savings without sacrificing service (or going broke).
As you can probably imagine, some have been more successful than others. But there are companies out there offering real savings with few — if any — drawbacks.
Rebates help brokers attract new customers
Like discounted listing fees for sellers, commission rebates help brokers and agents to attract new buyer clients and close a larger number of deals.
If a broker offered you one-fifth of their 2.7% commission on your $500,000 home purchase, that puts about $2,700 back in your pocket — pretty solid savings!
On the flip side, the broker would still net about $10,800 in revenue. Not bad — especially considering that these days, much of the home buying process is automated, self-directed, and remote.
Rebates incentivize buyer loyalty
Unlike home sellers, buyers often don't sign exclusive contracts. This arrangement presents risks for brokers and agents:
What if the agent invests a bunch of time and energy into helping a buyer hunt for houses, submit offers, etc. — then they end up closing with someone else?
Rebates can help motivate buyers to stick and ultimately close with a particular broker or agent, ensuring they see a return on the effort they invest upfront.
Rebates can prevent a transaction from falling through
In rare cases, a buyer's agent may offer a commission credit to their client to help a deal close when the two parties have reached an impasse at the negotiating table.
Say you're negotiating the terms of a purchase and can only swing the deal if the seller agrees to offer a repair credit for a disclosed defect. The seller refuses to budge. Time to walk away, right?
Your agent could step in and offer a commission credit in lieu of the seller repair credit to smooth things over and get the deal across the finish line. Sacrificing a portion of their commission fee may be preferable to losing it entirely because the purchase fell through.
How much can you save with a home buyer rebate?
As the U.S. Department of Justice points out, buyer rebates can potentially save you "thousands of dollars on commission payments."[1]
If you purchased a $467,700 home — the U.S. median home sale price at the end of 2022 — a 1% cash refund would put about $4,677 back in your pocket after closing.
In practice, your actual rebate amount will vary based on a number of factors, including:
What your broker or agent is willing to offer
The home's final purchase price
Your lender's approval (and any rules or restrictions it imposes)
How to get a home buyer rebate
If you're looking to get commission rebate, you have three primary options:
Try to negotiate a rebate yourself
Hire a discount broker that offers built-in rebates
Work with a service that negotiates rebates for you
Convincing an agent to give you a rebate isn't easy
If you're looking to buy with a top-rated agent or brokerage — and they're not already offering a rebate — you may have a hard time negotiating one on your own.
The best agents are in high-demand and won't be eager to lower their rates unless there's a compelling reason to do so — e.g., it's a high-value purchase, you're already ready to submit an offer, etc.
» MORE: How to negotiate a buyer rebate
Many discount brokers offer built-in rebates — but may skimp on service
If you buy with a discount broker like Redfin, you may be eligible for a buyer rebate — no negotiations required.
The catch is that most buyers who work with discount brands will get less personalized service and support, compared to buying with a traditional, full-service agent.
Discount real estate brokers are worth exploring, but be sure to shop around for the best combination of service and savings.
As a buyer, you're a hot commodity to an agent or broker! You'll likely be able to find comparable rebates without having to compromise on service.
» READ: The ultimate guide to discount real estate brokers
Some free agent-matching services offer built in rebates and cash back
The third option is to find your agent through an agent-matching service that offers built-in rebates or cash rewards.
The best agent-matching services for buyers:
Are 100% free to use
Only work with top-rated, full-service agents
Offer built-in rebates or cash back (in states that allow them)
Offer ongoing Concierge support throughout your entire purchase
Importantly, not all agent-matching services offer built-in rebates or cash back for buyers. When evaluating services, make sure you understand exactly what you're getting — and what you're not.
Are home buyer rebates legal?
Yes, 42 states and Washington, DC allow agents and brokers to offer rebates or cash rewards to home buyers — though some put limitations on what form they can take and how large they can be.
» SAVE: Buy with a top agent, qualify for cash back after closing.
States that don't allow buyer rebates
As of July 24, 2023, these eight states have banned buyer commission rebates:
Alabama
Alaska
Kansas
Mississippi
Missouri
Oklahoma
Oregon
Tennessee
Most of these states don't allow any type of gift as an incentive for consumers, but Alabama allows certain types. If someone promises you an incentive or cash back in Alabama, check with your lender to make sure it's allowed.
Iowa only allows buyer rebates in dual agency transactions — i.e., when one agent or broker represents both the seller and the buyer.
The U.S. government supports commission fee sharing
It's worth mentioning that the U.S. Department of Justice adamantly supports making rebates legal in all 50 states.[2]
The DOJ considers prohibiting, restricting, or discouraging commission negotiations to be a violation of established antitrust law — and actively investigates any organization attempting to do so.
The federal government is leading an ongoing, broad effort to educate consumers and legislators about the benefits of price competition in real estate.
Buyer rebates are usually subject to lender approval
Any time a buyer expects to receive a commission credit, it's essential they disclose the amount and nature of the refund to their lender as soon as possible.
Buyer rebates reduce the overall cost of the transaction, which lowers the cost basis of the home. Lenders use the cost basis to calculate the loan-to-value ratio of the mortgage and will need to adjust your financing accordingly.
⛔️ Never hide rebates from your lender: Failure to properly disclose your rebate, both to your lender and on settlement documents, can result in serious problems, including your loan being cancelled and possible charges of mortgage fraud.
When you work with a company that issues cash rewards after closing, it may not directly impact your financing like a rebate issued as a closing credit would. That said, you should still disclose the refund to your lender in advance to be safe.
How to properly disclose a buyer rebate on your HUD-1 settlement form
According to HUD's RESPA rules and guidelines, anyone receiving a buyer rebate as a closing credit must:
List the rebate as a credit on page 1 of the HUD-1 settlement form in lines 204-209
Provide the name(s) of the party issuing the credit (your agent and/or broker)
To reiterate, in addition to including your rebate credit on your settlement form, you should also disclose it to your lender as early as possible to avoid potential issues.
Is your broker offering cash back or a closing credit?
Some real estate companies offer cash back for buyers — i.e., a check you receive in the mail after closing that can be cashed and spent as you see fit.
🚨 Disclosure requirements still apply: You should still disclose a cash back refund to your lender and may need to include it on your settlement form. Discuss with your agent and/or attorney.
Most brokers and agents, however, issue commission rebates as closing credits, which can only be spent in certain ways, subject to lender approval.
Commonly approved uses for closing credit rebates include covering one-time closing costs (e.g., escrow, transfer, loan origination fees, etc.) and buying points on your mortgage.
Buyer rebates typically CANNOT be used to fund down payments
You likely WILL NOT be able to put your rebate — whether it's issued as a closing credit or cash check — towards your down payment.
Lenders have strict criteria for how down payments can be funded that typically exclude closing credits.
Cash refund checks, on the other hand, will help replenish your bank account — and can be spent any way you'd like. But they're typically issued after closing, which means they won't hit your bank account before your down payment is due.
» LEARN: How much are closing costs?
Are real estate commission rebates to buyers taxable?
No. According to the IRS, real estate commission rebates and cash refunds are "not taxable income."[3]
This makes sense when you take a bird's-eye view of the transaction: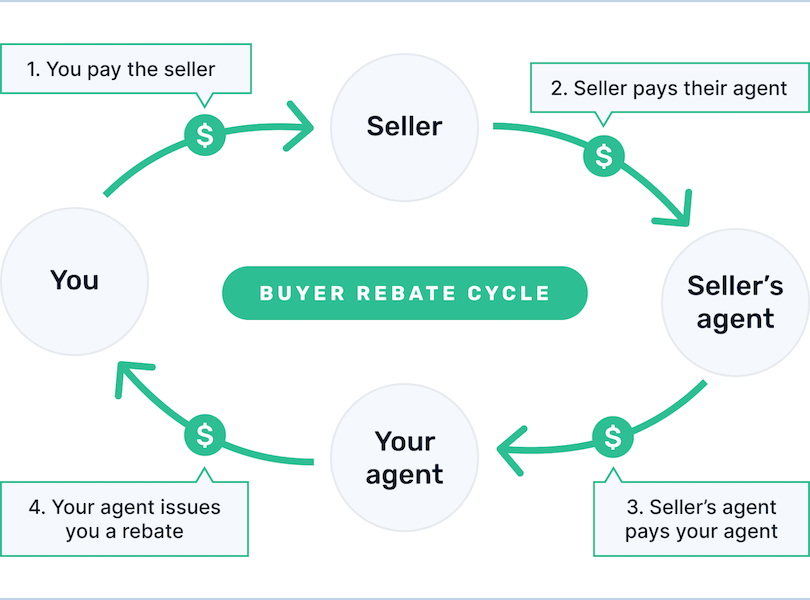 In other words, a rebate isn't income — money gained via an external source. It's a portion of your money — which you've already earned — coming back to you on the tail end of a transaction.
A rebate could affect your capital gains taxes down the road if and when you choose to resell the property.
The IRS acknowledges that a buyer rebate lowers the cost basis of the home. This will likely widen the gap between your original purchase and resale price, which could increase your tax exposure if your future sale is subject to capital gains taxes.
» LEARN: How to avoid capital gains taxes when selling a house.
Did your agent issue a 1099-MISC for your rebate?
If the agent or broker who issued your commission rebate has sent you a 1099-MISC form, this is likely a mistake.
Contact the agent or broker and request they issue a corrected form. If they won't do so, a TurboTax CPA recommends:[4]
Not including the rebate amount in the 1099-MISC in your tax returns
Attaching a statement indicating why you didn't report the rebate (and citing IRS form PLR-157111-06)
Filing on paper (you can't e-file if you add a statement to your return)
✍️ Editor's note: Always discuss any legal, tax-related issues with a licensed CPA or tax professional before filing your return.
How to negotiate a home buyer rebate with your agent
Negotiating a rebate with an agent or broker on your own isn't easy — but it is possible, depending on the circumstances surrounding your purchase.
Simply put, when an agent gives a buyer a rebate, they earn less money on the deal. Many would rather lose out on a new client than take a pay cut.
But some agents and brokers have recognized that rebates help them attract more buyer clients and close more deals. The higher volume of business often makes up for the reduction in revenue per transaction.
Many agents and brokers remain anti-rebate
In spite of the potential benefits commission rebates and cash refunds can bring, many in the industry are still resistant to the entire concept.
When trying to negotiate with these individuals, you may hear responses like, "My time is too valuable," or, "Rebates aren't fair to agents" and so forth.
✍️ Editor's note: Long story short, if the agent or broker isn't openly advertising a built-in buyer rebate, your chances of negotiating one yourself are pretty slim.
It's not impossible — but you're going to have to present them with a pretty compelling reason to hand over a chunk of their commission.
Situations that may help you negotiate a commission rebate
You're buying a high-value home
Even at a reduced rate, your broker or agent will still net a hefty commission. And for them, the time investment is roughly the same as a lower-value deal.
» MORE: The best luxury real estate brokerages
Buyer demand is low in your area
Whether it's the off-season or just a cool market, when buyers are scarce, you become a hot commodity!
Buyer clients are valuable and agents may be willing to offer "something extra" to secure your business — especially knowing it may be one of their few opportunities until the market picks back up again.
You agree to buy and sell with the same agent
When you agree to use the same agent or broker to sell and buy, all of a sudden you're twice as valuable (possibly more) from a revenue perspective.
The agent may be willing to offer savings — either in the form of a buyer rebate or reduced listing fee — to secure your business. Even if their earnings take a small hit on one of those transactions, they're still ultimately netting more.
Case in point: a number of discount brokers — Redfin and Houwzer, to name two — offer additional savings to customers who commit to buying and selling with them.
» MORE: The best discount real estate brokers
You're ready to make an offer on a property
Stumbling upon pre-approved buyers who have already picked out a home is what every agent dreams of: minimal time investment with a high chance of seeing a return. The agent will be very motivated to secure your business.
Should you try to negotiate a rebate on your own?
Negotiating refunds as an individual buyer isn't just difficult — it can be risky, too.
Even if you do manage to negotiate a refund, it could affect your service quality. The agent may prioritize deals in which they're earning a full commission over yours, which could adversely affect your experience or outcome.
» MORE: Negotiating realtor fees: 10 tips
Work with a company that negotiates rebates for you
Some agent-matching services, like Clever Real Estate, connect you with top-rated, local agents and built-in cash back — no negotiations required!
» SAVE: Buy with a top local agent — qualify for Clever Cash Back
Why do these agents agree to offer full service for less?
Most agents spend a ton of time and money finding new customers. Companies like Clever refer new business their way at zero upfront cost (they only pay a referral fee if and when the deal closes).
This arrangement benefits the agents in a number of ways:
Less upfront effort and risk to acquire new business
Saved time lets them close more deals, which allows them to earn less per deal and remain profitable
More deals also boost their reputation, leading to more word-of-mouth referrals and full-commission clients
Additionally, the agents also know that if they don't provide exceptional service and support, the company will stop sending new clients their way.
Don't just hire the agent offering the biggest rebate
Knowing how to find a good real estate agent is always more important than getting the biggest possible rebate — a bad fit could end up costing you far more than you save.
We recommend interviewing at least 2-3 agents before making a final decision to find the right fit and ensure a great experience and outcome.
Compare agents and save money
Try our free agent-matching service! Clever connects you with top local buyer's agents — and offers cash back for qualifying purchases.
Conclusion: Recap and next steps
Home buyer rebates are complicated! Here's a quick recap of some of the key points from this article:
Commission rebates are when a buyer's agent shares a portion of the fee they collect on a purchase with their client.
Rebates can come in different shapes and forms. They're most commonly issued as closing credits, but some companies offer cash refunds.
You must disclose your rebate to your lender and on your HUD-1 settlement form.
Rebates are not considered taxable income by the IRS.
Negotiating a buyer rebate yourself is possible — but may be difficult and could create some service-level risks.
Some agents and services offer built-in rebates, but not all are created equal. It's important to do your homework and understand the respective terms and restrictions.
Don't just opt for the agent or service advertising the biggest rebate! Make sure you shop around to find the agent who's the best fit for your specific needs and goals.
Next Steps: Talk to an expert!
If you're looking to buy a house and save, Clever can help!
Our fully licensed Concierge Team is standing by to answer your questions and match you with top-rated buyer's agents who offer built-in commission rebates — no negotiations required!
Ready to get started?
Give us a call at 1-833-2-CLEVER or enter some basic info about your purchase below. Our Concierge Team will be in touch shortly to help!
Remember, this service is 100% free and there's never any obligation.
Related links