✍️ Editor's note: We strive to provide objective, independent advice. When you decide to use a product or service we link to, we may earn a commission. Learn more.
This article gives you a step by step guide on how to House Hack to live for free, and walks you through a step by step guide to close on your first property.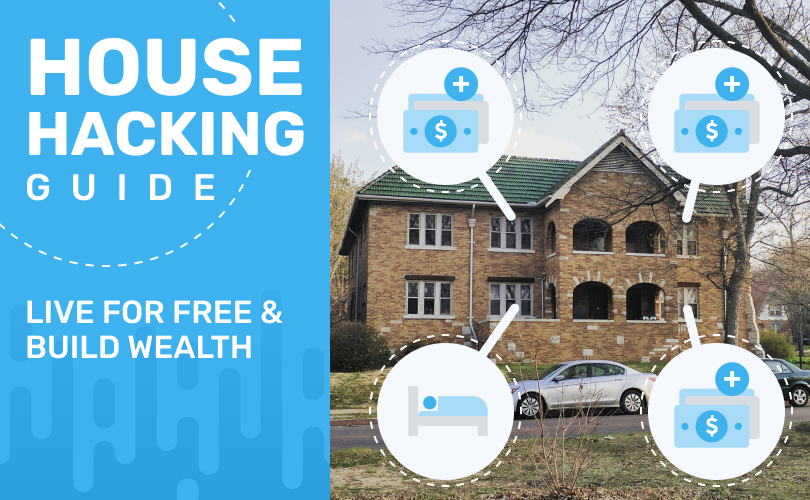 About The Author: Ben Mizes is a real estate investor, licensed real estate agent, and Founder of Clever Real Estate. Ben has completed two successful house hacks in 3 years while growing his portfolio to 22 units.
Investing in real estate is one of the best ways to reach financial freedom, but saving up for a large down payment often feels out of reach — especially when you're already paying rent or mortgage premiums.
House hacking solves that problem. It makes real estate investing attainable for anyone with a good credit score and the ability to save at least 3.5% for a down payment — or less if you qualify for a VA loan! That's usually between $3,000-$15,000 dollars for your first house hack.
Since 2017, I've completed two successful house hacks, and used the profits to grow my portfolio to 22 units across St. Louis City and County.
In this article, I'll walk you through the real-world numbers of my own house hacks and provide a step-by-step guide to everything you need to do to close on your first property and become a real estate investor!
JUMP TO SECTION
What is house hacking?
House hacking is the term for buying a duplex, triplex, or fourplex, and living in one unit while renting out the others to your tenants.
Ideally your tenant's rent is enough to cover the mortgage and other property expenses, allowing you to live for free — or even generate monthly cash flow!
House hacking has wide appeal because:
Most people's biggest expense is their home — which house hacking covers
Those who house hack can save money towards additional investments or rental property to snowball their wealth
It's fairly common for a new house hacker to start out slow with one property in their first year or two, but quickly reach a point where they're able to buy another property every year with a mix of their rental and W2 income. Before long, they reach a point where they can live solely off the profits from their rental portfolio.
Video - House Hacking Explained + How I grew my portfolio
In this video I talk through the basics of house hacking and walk you through two different personal house hacking experiences — including a $100,000 renovation on the second one — and how it's changed the trajectory of my real estate investing.
Is house hacking a good fit for you?
Great question! While house hacking can be an incredible way to build wealth, it's not for everyone. Here are the main reasons why house hacking might NOT be a good fit:
You live in a market that's too expensive to house hack. Some markets have gotten so expensive that house hacks are hard to afford, and even if you can pay for a down payment, won't provide positive cashflow
You aren't comfortable sharing a front and back yard, or living in the same building with other tenants. This strategy is based on your willingness to live in a multifamily apartment, and if doing so would cause a great source of hardship for you, house hacking might not be a good fit.
You have a very large family. Most apartments are between 1-3 bedrooms, and occasionally you can find apartments with 4, but if you have a large family and need more than 4 bedrooms, it's going to be very difficult to find a house hack that will meet your needs.
If none of those criteria disqualify you, read on for a step-by-step house hacking guide — and see how I applied the approach with two house hacks of my own!
How to purchase your first house hack
When it comes to purchasing your first house hack — or any other investment property — there's a simple framework I picked up from the investors at Rand Partners LLC that helps ensure every investment is set up with the best chance of success.
Every successful investment is build upon a stool with three legs:
Buy Right: In real estate, you make your money when you buy a good deal. If you don't know how to find a deal and analyze it to determine whether it's worth purchasing, you won't be able to succeed in your investments.
Finance Right: Once you have a good deal, it's important to finance it correctly to maximize your cash flow and mitigate your risk of failing to pay your mortgage.
Manage Right: Even the best deals can turn bad if you fail to properly manage your property and tenants.
If you want your house hack to succeed, you've got to make sure you're able to handle all three legs of our investing framework.
Let's dive in!
How to model model a house hack with our free calculator
Investing in real estate is a numbers game. If you aren't able to forecast the cash flow that a property would generate, it's going to be impossible to build a good portfolio.
The good news is that modeling rental property to reliably predict their returns isn't hard once you understand how the expenses break down.
Owning property has the following expenses:
Taxes
Insurance
Mortgage
Fixed expenses

Water
sewer
Trash
Electricity

Variable expenses

Maintenance
Capital expenditures (roof, sewer, kitchens, etc)
Vacancy
Management
If you're able to budget for these on a monthly basis and accurately predict your rent, you can estimate a property's future returns and monthly cash flow.
We've made this process a lot easier for you with our free rental property calculator. This page has a free calculator as well as a video that explains exactly how to estimate expenses.
I recommend using this calculator to model a few deals every day until you're able to accurately predict whether a deal will cash flow without having to use the calculator.
This exercise will give you a good feel for the pulse of your local market, in turn providing the confidence to act fast once you find a good deal.
We also built an advanced calculator with more detailed projections and the ability to save your work. Enter your email address into the form below to get access to the google sheet that my partner I rely on to model prospective deals.
When it comes to modeling properties, an ideal house hack is a property where the rent of just the units that you're going to occupy results in positive cash flow in the rental property calculator.
This isn't possible in all markets, and as long as the deficit is less than your monthly rent and would be profitable if you rented out your unit, it's still a good investment!
How to find a house hack
Now that we know how to model potential properties to identify a good deal, it's time to find one!
When it comes to finding your first house hack there's 2 main ways to find them, and I've had success with both methods!
MLS Alerts
Setting up MLS or property alerts and checking out properties as soon as you get an email is incredibly important if you want to get the jump on new investment opportunities.
The MLS is the network that agents use to list new properties that gets pushed out to sites like Zillow or Trulia, and it's the best place for real-time housing data.
If you ask your agent, they will set you up with MLS alerts that notify you every time a property that matches your criteria is listed. When I did this, I had my agent set up instant alerts every time a fourplex was listed between $100,000-$400,000 in any of my desired zip codes.
Once you have your alerts set up, it's important to open the emails you get ASAP - in my experience good deals go fast, and you don't want to miss out on your house hack because you were asleep at the wheel.
This is when getting comfortable with your market and the rental property calculator will come in handy. When a good deal hits the market you need to be able to model it quickly, then have a team in place — i.e., your agent and lender — to act fast and submit a strong offer.
Finding Deals Off Market
If finding something for sale on the MLS that meets your goals is proving to be tough, a great strategy is to look for deals off market.
While there are tons of ways to find off-market properties, many of them are expensive and involve making hundreds of phone calls and/or sending thousands of yellow letters to find sellers.
These methods are good for professional investors, but don't make sense if you're just looking for a house hack.
A simple way that's worked for me is to drive around town and look for old "for rent" signs, then Google the property to see if it's listed for rent on Zillow. If you find a property that's for rent but isn't listed on the popular rental sites, it's a good sign that you might have found an older owner that isn't very tech savvy, and they might be ready to sell and retire.
This also works with properties on Craigslist that aren't for rent anywhere else. One of the best deals I ever found — my second house hack — came from this strategy!
Download real estate software for more help
You can also download useful investing software to help you as you "drive for dollars" around town.
DealMachine has an app that is fast and easy to use. When you're driving around town and spot a home that could be a great deal (overgrown grass and shrubs, broken windows, vacant, etc), you just pull up the app to view the homeowner's contact information, and call them to see if they're interested in selling.
You can also send the owner direct mail (postcards) through the app for huge time savings (no post office visits required!).
⚡Sign up for a 7-day free trial and test it out
Other Strategies
Some investors I know have had success with getting deals from other investors, or wholesalers that put properties under contract and then resell them.
While these strategies can work, it's very rare for a serious investor to sell a property at a price that I'd call a good deal.
Wholesalers can provide good deals, but they generally prefer to work with more experienced investors that they know can close, and often purchase in cash.
How to finance a house hack
Before you can make an offer on your house hack, you have to make sure you come up with the financing to purchase it.
If you were reading this and excited about purchasing your first property, but concerned you don't have enough cash for a 20% down payment — fear not! You can finance your house hack for as low as 3.5% down (or 0% if you can get a VA loan)
There are three main ways to purchase your first house hack, all with their pros and cons. The chart belows lays out the three types of financing you should consider for your house hack.
| | | | |
| --- | --- | --- | --- |
| Product | FHA Loan | Conventional Loan | VA Loan (Veteran Loan) |
| Down Payment | As low as 3.5% | As low as 15% | As low as 0% |
| Private mortgage insurance (PMI)* | 1.75% added to your loan, and .45%-1.05% increase in interest rate | Not if your down payment is 20% or greater | No - You pay a funding fee at the start |
| Requires special appraisal? | Property must have no major defects and core systems in good working order. Peeling paint or lead paint is not allowed. | no | Property must be in good working order. Inspection less rigorous than FHA. |
| Minimum credit score | 580 | ~620 | ~620 |
| Move-in requirements | Within 60 days of closing | none | Within 60 days of closing |
*Quick definition: A monthly fee that is charged as insurance against a small down payment.
Passing the FHA Appraisal
FHA loans are an incredible way to purchase your first home with a very low down payment, but they do have one big hurdle to overcome — the FHA inspection.
You can read the full criteria from HUD here, but generally speaking, the property house needs to be in good working order with all major systems having some life left before they need to be replaced.
The most common reasons for failing an FHA appraisal are peeling paint and a roof that needs repairs. The inspections aren't free - with most running $400 to $600 - so you'll ideally want to inspect the property for evident damage yourself before scheduling the FHA visit.
If you're looking at a house and are concerned it won't pass, you can request that the seller completes repairs before the inspection. Most sellers will be OK with this — or they won't accept an offer with FHA financing in the first place.
In an extreme situation you finance the repairs, but you risk the deal falling apart and you've just done work on someone else's house for free.
My partner and I did this for our second house hack, as it was an off-market deal, and the seller refused to do any repairs, and we wouldn't pass the inspection without repainting the windows. We were willing to take this risk because the deal was so good we didn't want to miss out.
How to be be a successful live in landlord
Once you've closed on your first house hack, it's time to move in and begin life as a live-in landlord.
This can be scary, as many new investors are worried their tenants will knock on their door 24/7 to fix anything that goes wrong.
Here are some great tips that have made my time as a live-in landlord much less stressful.
Introduce yourself as the property manager to all prospective tenants doing showings. If they know you're the owner there's a good chance they will try to negotiate on rent.
Include a "rental rules and communication" portion in your lease that outlines how and when tenants can contact you for issues of varying importance. I strongly recommend you encourage your tenants to bang on your door at any hour of the day if their apartment has a leak. Water damage can cost tens of thousands of dollars and the sooner you can address it, the more you'll save. I'd gladly wake up at 4 am to save a major expense and headache. You can also show your tenants where the water shutoff is in your property if for some reason you're not available (or don't wake up).
Set up online rent! I can't stress this enough. It's free if you use a tool like Cozy. When you don't have to physically collect rent, it's a lot easier to have a good relationship with your tenants.
Be friendly with your tenants and treat them like a good neighbor, not their landlord. When I bought my first property I made a point to introduce myself to everyone. When my first rental issue arose the very next day it was a much more pleasant interaction. The tenant and I worked together to solve the problem quickly and painlessly. I like to set expectations that I'm on their team to do everything I can to make living in my property a great experience, so long as we agree on the ground rules above and treat each other with respect.
Background check your tenants! No exceptions! Ever! I use Cozy, the same tool I use for free rent collection, to background check my tenants. Cozy costs $25 per background check, and my tenants pay it as their application fee. Set standards for what credit score you will accept, and if you will take anyone with a past eviction — then stick to them!
Set minimum income levels to live in your property. A general rule is 3x the monthly rent as the combined income of the applicants signing the lease.
My first house hack (including actual financials)
In 2017 I decided that I was going to get into real estate investing, and I was going to start by house hacking. I had two neighborhoods that I wanted to live in — one in St. Louis City and the other in the St. Louis County.
This was before I was a licensed agent, so I went online and found a real estate agent, and set up MLS alerts to look at every 4plex in those zip codes that hit the market.
I only wanted to look at 4plexes, as they offer more cash flow in my market. Additionally, they offer three streams of tenant income vs just one in a duplex (once you move into one unit), which means less risk.
My agent and I looked at several houses, but the best one would leave me barely breaking even — and was over $400k.
Then one morning I got an email about a 4plex that had hit the market for only $220k, and rented for a total of $2,300 per month. The property barely had any photos and the owner wouldn't do any showings without an accepted contract. The units were about 900 square feet and the rent seemed low for that size.
Depending on what the insides of the property looked like, I thought that this could be a good deal. I was in a hot market, so my agent and I put in a full-price offer with a walkthrough and inspection contingency — so I could back out if the house wasn't what I expected.
It turns out I hit the jackpot.
My first house hack (and my dog)
This owner was selling because they were having an affair with their property manager, but they'd just caught the property manager having relations with someone else!
I'll save you the details of the love triangle, but the owner was no longer receiving the rents from his property manager, and needed to sell asap. He also chose a new agent that had never sold a property like this before, and it was not priced appropriately.
The neighborhood this property is located in used to be rough, but has rapidly improved in the last decade. This property used to house a drug dealer and was hit by a molotov cocktail that resulted in fire large enough that an insurance settlement redid all of the interiors — new kitchens, plumbing, floors, paint, etc.
The moment we stepped inside, I looked at my agent and we both realized I'd stumbled into a home run. We breezed through the inspections and I was able to negotiate another $5,000 in repair credits to redo the roof and a minor sewer repair. The property didn't need anything else beyond that!
Over the next year I raised the rents to $795 for any units that tenants moved out of, and the building's numbers looked like this:
Shortly thereafter, I sold the building for $285,000, and used the resulting $60,000 in profit to 1031 exchange into a portfolio of 18 apartments.
While I got lucky on the specifics of this deal, I was only able to find it because I put in 100+ hours modeling properties with my calculator, searching on zillow, and going to showings. When the moment finally came, I was able to realize that this deal had potential — and was confident enough to trust my numbers and take action.
One thing I love about real estate is that you don't need to be right often — you just need to buy a few good deals and you can build a huge portfolio.
You can view photos of my first house hack in the slideshow below:
The confidence from this house hack gave my partner and I the guts to go after something a lot harder: our first full renovation of a 6,000-square-foot building for our second house hack.
My second house hack - going big (with photos and financials)
After the success of our first house hack, my partner and I wanted to learn more about renovations and build our skillset so we would be able to take on bigger projects in the future.
Well, it just so happened that a huge renovation that was at the very edge of our comfort zone came into play a month or so after we started looking.
This property is one of the biggest 4plexes in all of St. Louis. I saw it was for rent with a sign out front, but not on zillow, and I knew I had a chance. I called up the owner and a nice lady answered and told me that she would be interested in selling, but "she hated agents and wasn't going to do an inspection!"
Well — at least we had an in. We asked for a showing and, over the course of the next few weeks, got to know the owner to the point where she felt comfortable selling to us, as she realized we would do our best to take care of the property.
This property hadn't been updated much since the 50s. It still had radiator heating (which was leaking into the walls), the kitchens and bathrooms were ancient and needed updating, the basement was full of junk, the plumbing was old and needed work, and the heating systems were too small for most of the apartments.
Granted we didn't know all that when we bought the building, but we had a good idea we were in for one heck of a project.
Here's how the numbers broke down.
We purchased the property for $400,000 and it only rented for $3,400 per month. On paper this was an awful deal, and given the amount of maintenance, we were going to lose a lot of money.
However, we knew that if we hit our goals, we could raise the rents to $6,000 per month with renovated 1,500 square foot units, and the building would be worth upwards of $650,000. That gave us $250,000 in margin to play with and not come out underwater.
Going into this project we knew that we were willfully enrolling in the school of hard knocks, and we were excited to get our education — and man, did we get an education.
We renovated the first unit ourselves and got a crash course in painting, plumbing, sanding, and kitchen design. For the rest of the project we learned how to manage a team of contractors, and we learned the hard way.
We had to fire a few contractors for doing bad work, we filed an insurance claim for damaged floors, and even had a contractor decide to rob us and steal one of our air conditioners in the middle of the night.
But that wasn't even the worst of it. It turns out that this property had 12 inches of concrete floors between the first floor and the basement, and we needed to get through for our HVAC vents. None of the contractors we interviewed would do it for less than $400 per hole, and we needed 30+ for a 6,000 square foot building.
At that point we had no option but to drive to home depot, rent a jackhammer, and get to work!
As crazy as it sounds, this was the project where I realized just how much I loved real estate. It became clear to me that if you're willing to put in the work, you can do pretty much anything you put your mind to when it comes to housing.
A couple months prior, I didn't know a thing about renovations. Now I was jackhammering concrete so we could finish two brand new renovations to bring a project that seemed impossible at the start to completion.
You can watch me jackhammer in the video below (turn your volume down or off!)
Ultimately, we finished our renovations and hit our rent targets of ~$1,500 per apartment, with a total renovation cost of $150k. This brought us to a total of $550k in the property.
After we finished renovations the property appraised for $690,000 and we were able to refinance with another FHA loan and recoup the entirety of our invested capital back, giving us more money to buy more properties.
This property is currently running with a tiny amount of cash flow per month, as we still live there, but is paying down the mortgage and building an escrow fund.
You can view some before and after photos of the renovation below
Growing your portfolio beyond a house hack
If you're like me, once you close on your first property you're going to immediately start thinking about the next one.
Before you start looking for your next property, make sure you have an adequate reserve fund to take care of your current portfolio.
Once you've made sure your finances are in order, it's time to get after it! I'd recommend reading our complete guide to investing and our guide to flipping houses to point you in the right direction for your next property.
If you have any questions about real estate investing, we'd love to help! Give us a call at the number at the top of the screen, or email us at [email protected].
Now go make it happen!
Related Articles