✍️ About this review: Our advice is based on several weeks of using the DealMachine app, testing out its key features and functionality. If you decide to try it out and sign up for a plan, we may earn a commission. Learn more about how we created this review, and why you should trust us.
What is DealMachine, and is it legit?
DealMachine's real estate investing software helps flippers and wholesalers find distressed off-market properties, and reach out to homeowners to close more real estate deals.
DealMachine works as a smartphone app or on a web browser. The Indianapolis-based company says over 8,000 real estate professionals use its software, and its app carries a 4.8 out of 5.0 rating on the App Store with over 3,200 reviews.
But is the DealMachine app effective, and can it really help you find cheap properties and close more deals? We put its real estate app to the test over a 3-week period to find out.
Here's our DealMachine review, including a step-by-step guide on how to use the app, pros and cons, and what real customers have to say.
💡 Key takeaways
DealMachine works best for active house flippers, BRRRR method investors, wholesalers, or any investor looking for off–market deals.
DealMachine's app automates the process of driving for dollars, and makes it extremely easy to get in touch with property owners with on-demand data.
Its list builder feature provides a quick way to build a list of motivated sellers without leaving your house, and we found property owner information to be accurate.
While its software isn't cheap, it's likely worth it for serious investors (and the company offers a 7-day free trial to test it out first.)
DealMachine app: How does it work?
You can sign up on its website or via its mobile app, entering in some basic personal information.
Here's more information on DealMachine's key features.
1. Driving for dollars app
Driving for dollars is the process of finding motivated sellers on vacant or distressed off-market properties, and then attempting to buy those properties directly from the homeowner.
The traditional driving for dollars process can be time-consuming, if not exhausting. Here's how it typically plays out:
You drive around an area looking for distressed or vacant properties, based on the exterior condition of the home.
Write down the addresses of homes that look like they could be a good deal (overgrown grass, broken windows, boarded up windows and doors, etc).
Search public records to get the contact info. for the owner of each property.
Contact the property owner directly (phone or email), and hope that you have the right contact information.
Create your own postcards, and mail them to each owner through your local post office.
Repeat the process over several weeks (or months), in hopes of connecting with the homeowner and striking a deal.
DealMachine automates this process, and makes it ridiculously fast and easy.
How it works
As you're driving for dollars and see a property you like, simply pull to the side of the road, bring up the app on your smartphone, and click on the property.
Within seconds, the app provides the homeowner's contact information via public records and third-party data. You get the owner's phone number, email address, and mailing addresses (for other properties they may own).
You can call the owner to see if they're interested in selling, or easily set up a direct mail campaign within seconds.
DealMachine also tracks your driving route (a line follows you as you drive), so you're not driving the same route twice.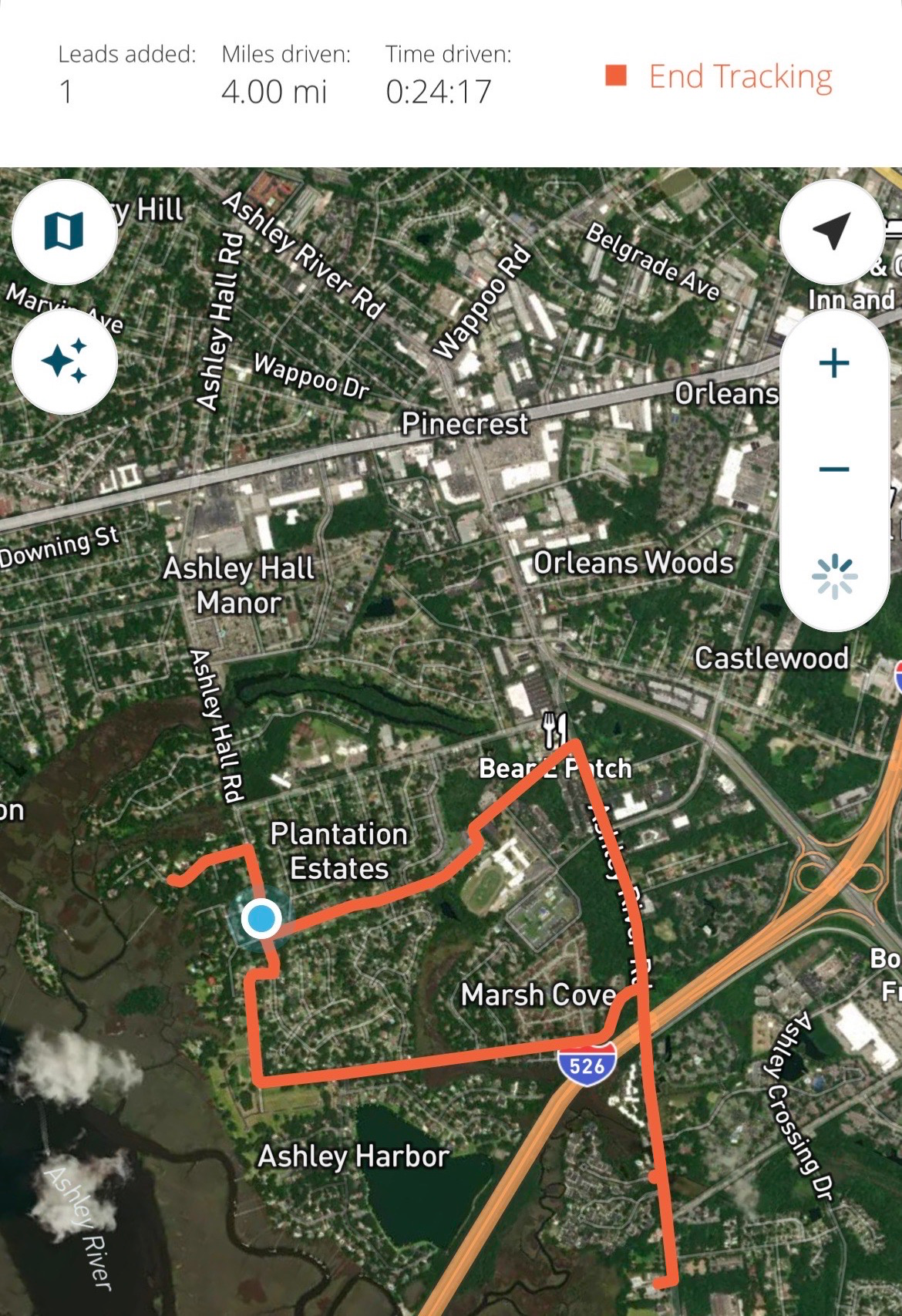 I found the route-tracking feature helpful as I drove for dollars in my area, but I can see it being even more useful if I had drivers on my team helping me, to avoid duplicating our efforts.
» JUMP: Driving for dollars step-by-step guide
2. Real estate list builder
I found DealMachine's list builder feature equally impressive. It provides a quick way to build a list of motivated seller leads and pull accurate homeowner data via batch skip tracing.
The features makes it easy to filter and search for properties based on your desired location and criteria (like foreclosures, pre-foreclosures, bank-owned homes, and absentee property owners).
I was able to build a list of single family pre-foreclosures in West Columbia, SC, in less than a minute. After entering in my target zip code, I simply selected "pre–foreclosures" and a list of 13 properties appeared.
Clicking each address gave me relevant property data, like each home's last sale price, tax assessed value, and the homeowner's estimated home equity.
Now I can drive by the houses in-person to check them out (clicking "drive this list" in the top right hander corner creates a driving route on Google Maps), immediately pull up each property owners' contact information via skip tracing, or send direct mail through the app.
Note: The company has a tutorial video on how its list builder feature works and how it can help you find more deals.
3. Add-on features
DealMachine offers several add-on features ($20/month each) to its offerings.
Street pic: This feature is for investors who want to send out postcards to homeowners with images of each property (you can do this yourself at no cost, but it's time consuming). It adds pictures to properties in your account automatically.
It's a useful feature if you want to send out engaging direct mail to a list of leads, but don't have the time to actually drive by the properties in person to snap photos.
Mail tracking: You'll know when mail is delivered (or isn't). Returned mail will trigger your leads status to "return to sender" and stop mailing to that address, so you can dig deeper to find the right mailing address.
Mail tracking could be useful if you plan sending out tons of mail and want to keep tabs on its status. It probably isn't necessary for those just starting out.
Comps: Accurate home value estimates can help you determine whether or not a home will meet your buying criteria.
That's what makes DealMachine's "Comps" feature useful. Its members get access to information on the multiple listing service (MLS) and county sales data to get a home's estimated fair value in seconds.
Quick Tip
The comps feature works as a quick alternative to a more accurate home valuation method from a realtor, such as a
comparative market analysis
or a broker's price opinion. Run the comps yourself (or hire an agent) to make sure you have your numbers right.
Driving for dollars with DealMachine: Step-by-step
I used DealMachine's app to find motivated sellers in my area over a 3-week period. Here's how to use it.
1. Pull up the DealMachine app and hit "Drive"
After signing up for a free trial on DealMachine's website, I downloaded the DealMachine app on my iPhone.
I got started by clicking "drive" in the top right hand corner of the app.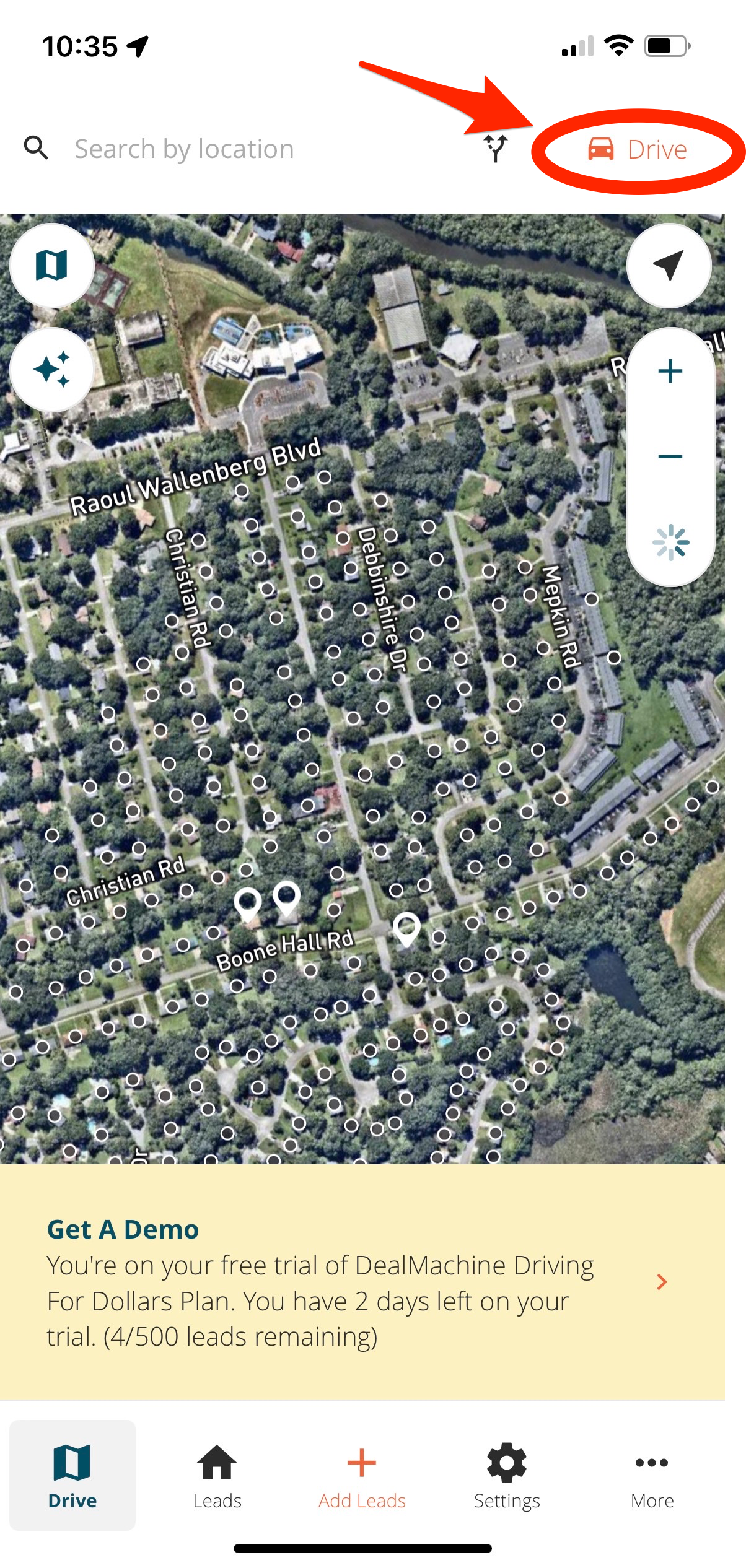 The app now tracks your route, miles and time driven, and any properties you add to your list. You can now start driving and looking for off-market deals!
2. Find and add properties
Your goal is to find houses that look distressed, neglected, or abandoned to add to your list.
Driving through my area, I found one property that appeared to be vacant and perhaps in need of some TLC – especially when compared to other homes on the street. The home isn't in terrible shape, but it appears to have some overgrown vegetation and deferred maintenance.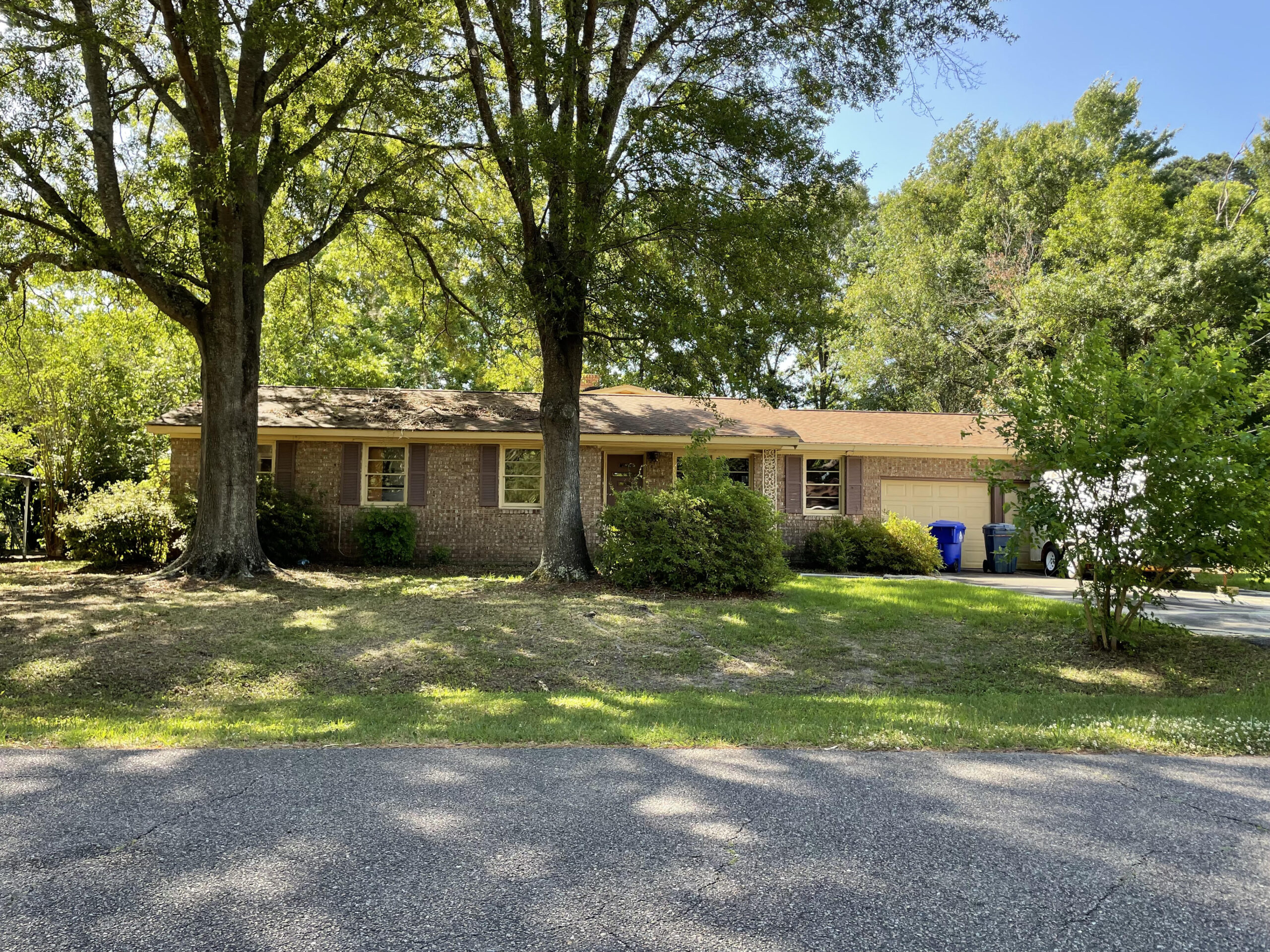 I pulled over to the side of the road and brought up the DealMachine app to add the lead and get more information.
Sure enough, the app says that this property is vacant, and the owner is in pre-foreclosure. All I had to do next was click the address and hit "add lead" for more info.
3. Pull homeowner information
The process was very simple from here. The DealMachine app provided a ton of useful information on the home and its owners, and made it easy to reach out to them.
In a matter of seconds, I was able to pull up the home's last sale date and sale price, the owner's mortgage information and estimated home equity percent, and the home's tax assessed value.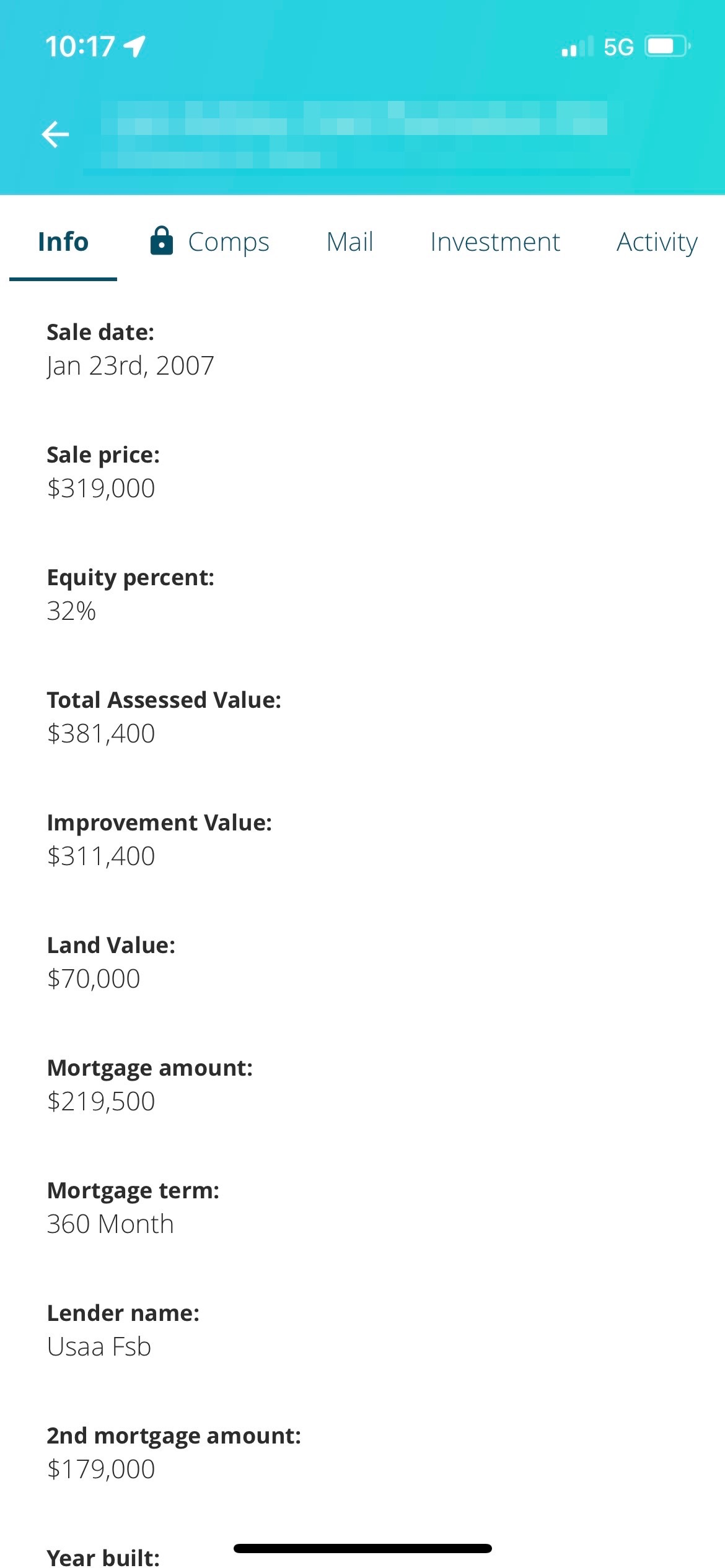 The numbers show that the home's value was assessed at $381,400, and the owners have at least 32% equity ($122,000) in the home, based on the outstanding mortgage balances and the home's assessed value.
I found that several other homes on this street carry assessed values between $450,000 – $500,000. And a quick Zillow search shows an estimated value of up to $465,000.
Depending on how much work the home needs on the inside, it could make for a good flip opportunity. It's worth pursuing further.
4. Send direct mail
You can send direct mail to the owners to see if they're interested in selling – no post office visit required.
All you have to do is click "mail" on the app and then "start mail."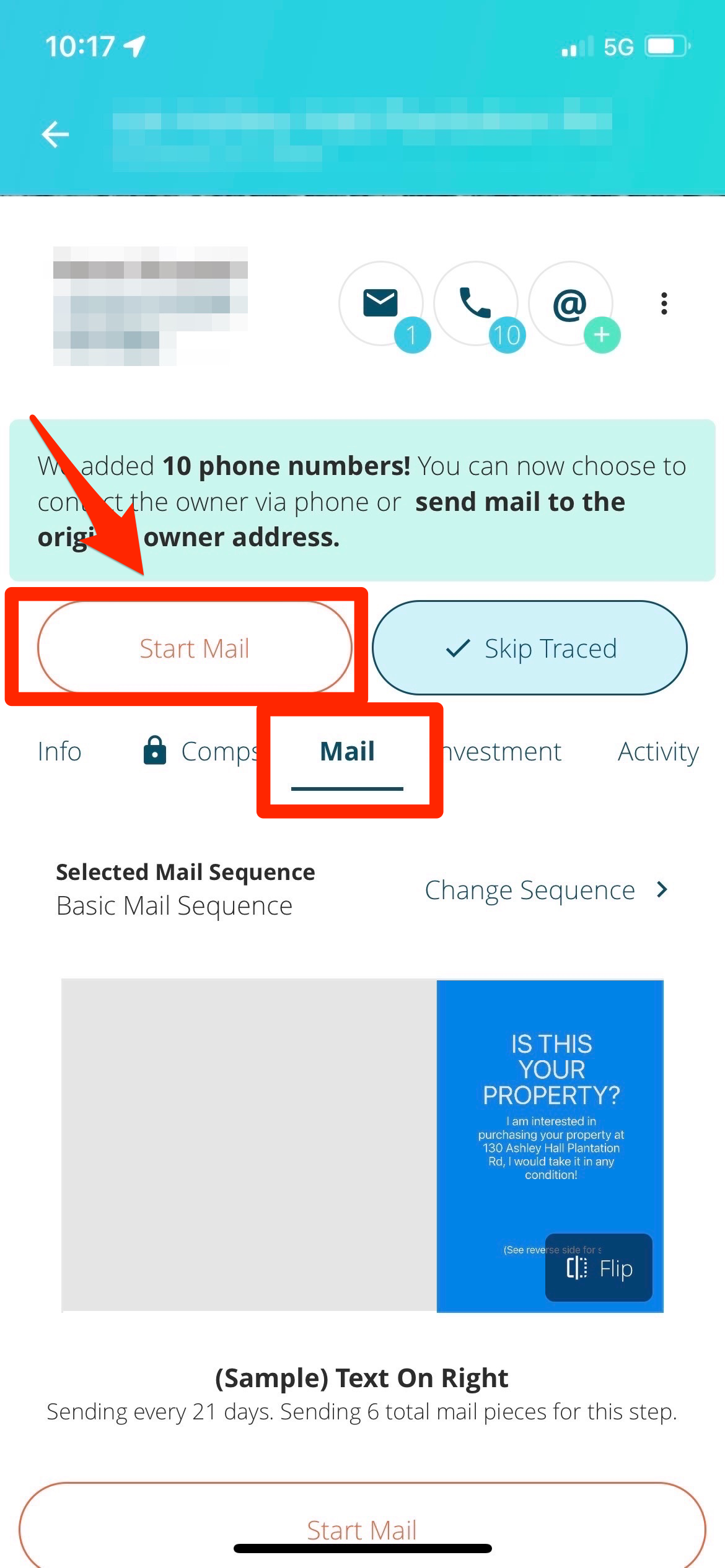 Within seconds, DealMachine approved my request and has started sending out a pre-written postcard to the homeowners' mailing address, with my name and phone number autofilled on the mail.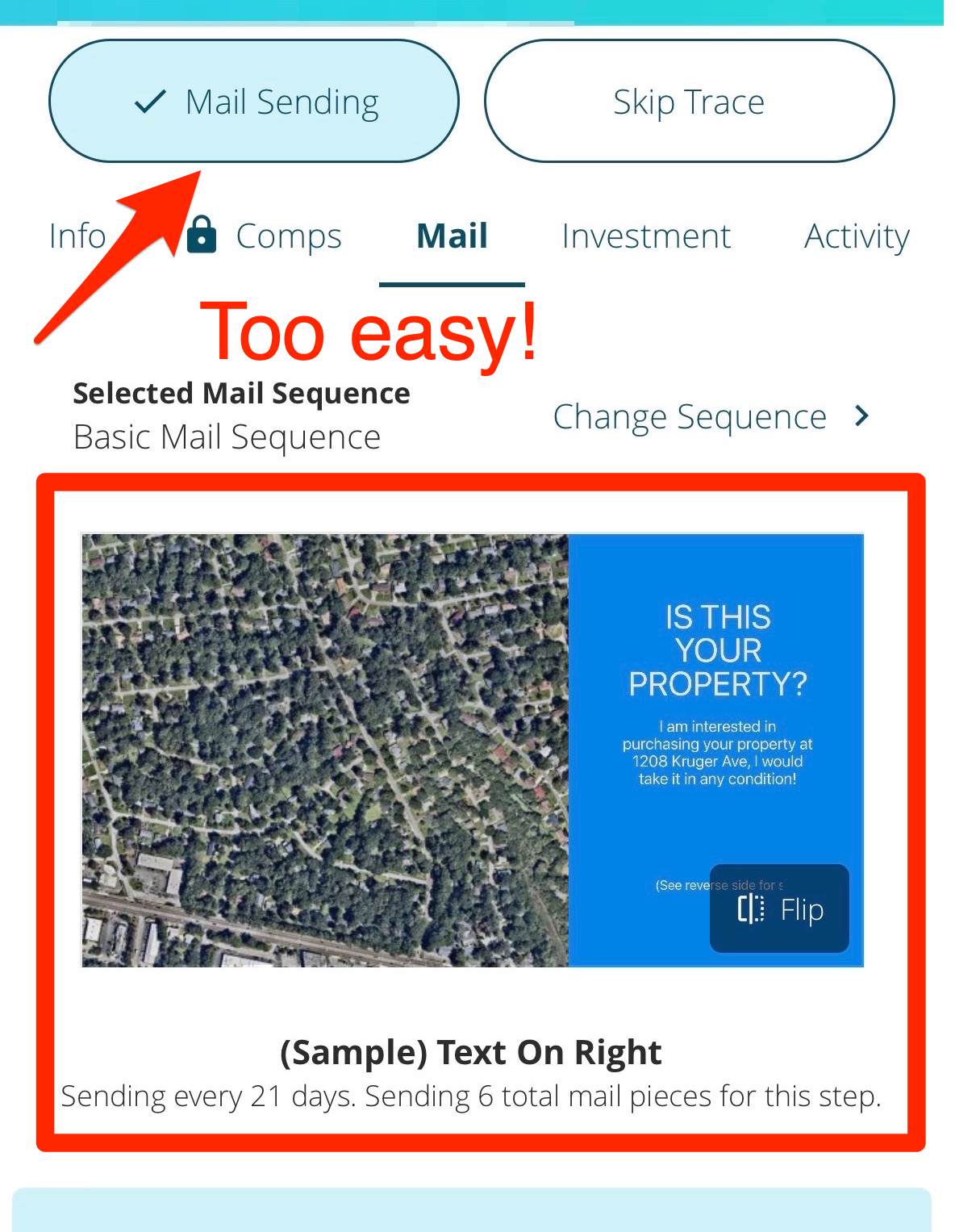 DealMachine will now send out its default mail to the homeowner every 21 days, with a total of 6 mail pieces to be sent.
Change the photo before sending mail
You'll see in the above photo that the mail doesn't contain an image of the home. Instead, it's a photo of a zoomed out Google Earth view.
You can change the photo manually in the DealMachine app. I highly recommend changing the photo so an image of the actual home appears on the mail – it's much more personalized, and it should get you a higher response rate.
To change the photo, just click on the camera logo in the top right corner of the app and add a photo.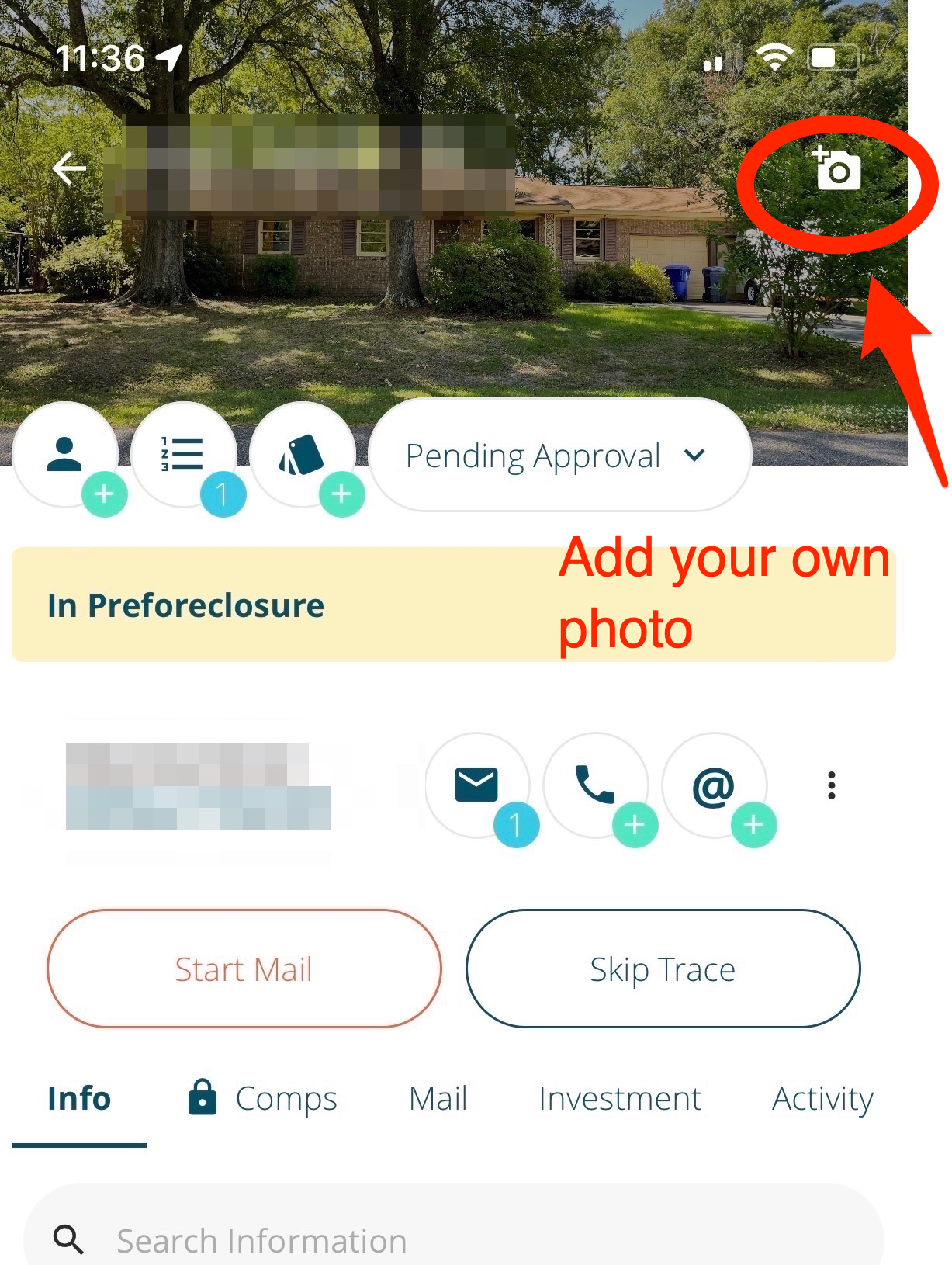 Sure enough, the new photo now appears on any mail I choose to send to the homeowner!
I was surprised at how fast and easy this step was. I didn't think it was possible to create a postcard design and send out mail this quick, especially while sitting in my car on the side of the street.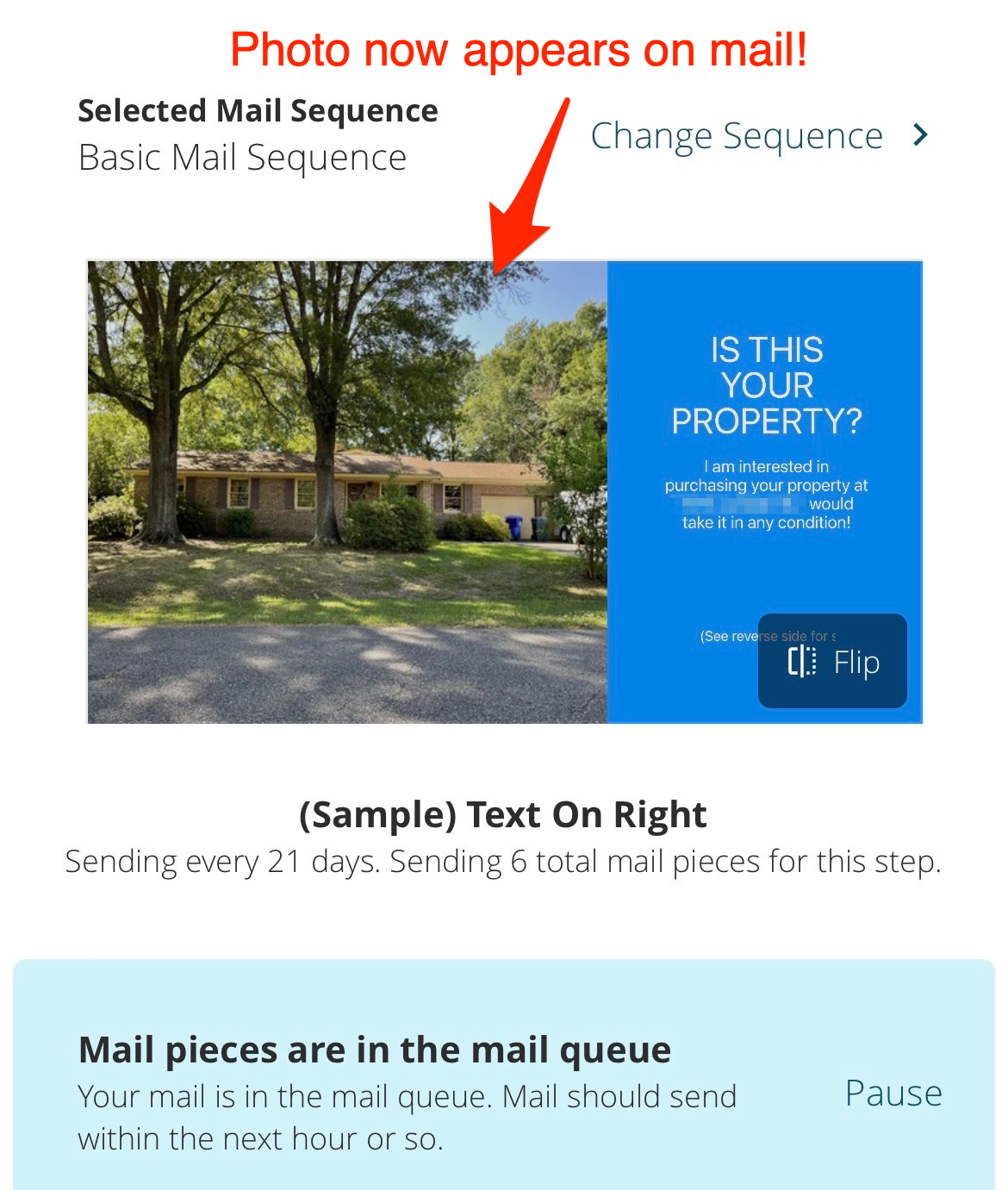 DealMachine also offers various other mail designs and postcard sizes (4x6, 6x9, and 6x11), so you're not restricted to using just this particular design.
You can also type up a hand-written letter from the DealMachine app to try out a more personalized mail.
I tested out DealMachine's mail on my own home address, and sure enough, I received the mail within just a few days of my request.
5. Skip trace and contact owners
You can also "skip trace" homeowners to pull up their contact information (email, physical addresses, and phone numbers).
I hit "skip trace" on the app and it immediately received 4 phone numbers and 10 email addresses associated with the home.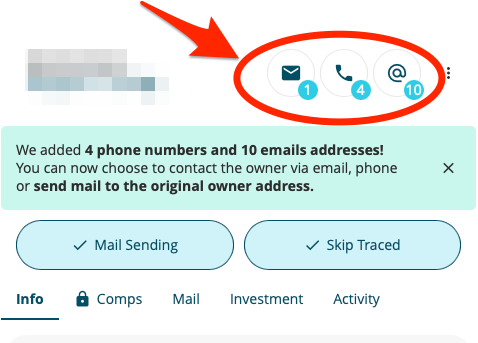 The app also tells you which phone numbers have been verified, so you're not wasting any time calling bad numbers (this saved me a lot of time).
Now I can call and email homeowners to see if they have any interest in selling their home, or I can just send out direct mail every 3 weeks.
⚡Sign up today and try it out for yourself!
DealMachine pricing: How much does it cost?
DealMachine's monthly pricing ranges from $49 to $249 per month, but it offers a variety of packages, depending on your budget and goals as an investor or wholesaler.
More expensive packages provide you with more leads and allow you to add more team members to your account.
DealMachine also has separate pricing for its Driving for Dollars and List Builder features, with pricing based on your needs (its 7-day free trial lets you try out both features.)
The cost of DealMachine's plans is for its software and does not include direct mail, which ranges from between $.49 to $.76 per postcard, or skip tracing ($.12 to $.14 per lead). But you do get a $15 marketing credit with your free trial, which is applied towards these costs.
The pricing mentioned here is based on annual subscriptions, which are 17% cheaper than monthly; prices are subject to change.
Driving for dollars cost
| Plan | Starter | Professional | Elite |
| --- | --- | --- | --- |
| Monthly price | $49 | $99 | $249 |
| Monthly leads | 500 | 1,000 | 10,000 |
| Team members | 1 | 2 | 30 |
| Drivers | 1 | 2 | 300 |
Show more
Starter is a great package for investors or wholesalers operating solo or with one team member. You can add up to 500 properties ("leads") and add one driver to your team for just $49 per month.
If you're only trying to land a few deals every year, the starter package is probably the best fit for you, and you can always upgrade to a larger plan once you've outgrown it.
If you're seeing good results under the starter plan and growing your team, it could make sense to upgrade to professional or elite plans. You'll be able to add many more leads to your app, increasing your chances of landing more deals.
Note: DealMachine's 7-day free trial let you add up to 500 leads.
List builder
| Plan | Starter | Professional | Elite |
| --- | --- | --- | --- |
| Monthly price | $49 | $99 | $166 |
| Monthly leads | 4,000 | 10,000 | Unlimited |
| Team members | 1 | 2 | 30 |
| Drivers | 1 | 2 | Unlimited |
Show more
List builder plans range from $49 to $166 per month, depending mainly on how many leads you want to target.
Its starter plan lets you target up to 4,000 leads per month with one full-access team member. If you start seeing good results, you might want to scale up to the professional plan, which provides up to 10,000 leads.
Elite plans work best for experienced flippers and wholesalers with a large marketing budget, as you get unlimited leads and can add up to 30 team members.
Note: You're allowed to build one list on its free trial.
DealMachine pros and cons
Pros
Intuitive software
I was impressed with how fast and easy its app was to use. I found it very easy to navigate while driving for dollars, and the learning curve was pretty quick.
After my first drive, I was able to pull up property information and reach out to homeowners via direct mail within just minutes. I have no doubt that the app will help me find more deals, if I use it consistently.
Accurate homeowner information
DealMachine claims its owner data is nearly 97% accurate, meaning if you pull up a property owner's information and try to call them or send direct mail, you'll probably be targeting the right person.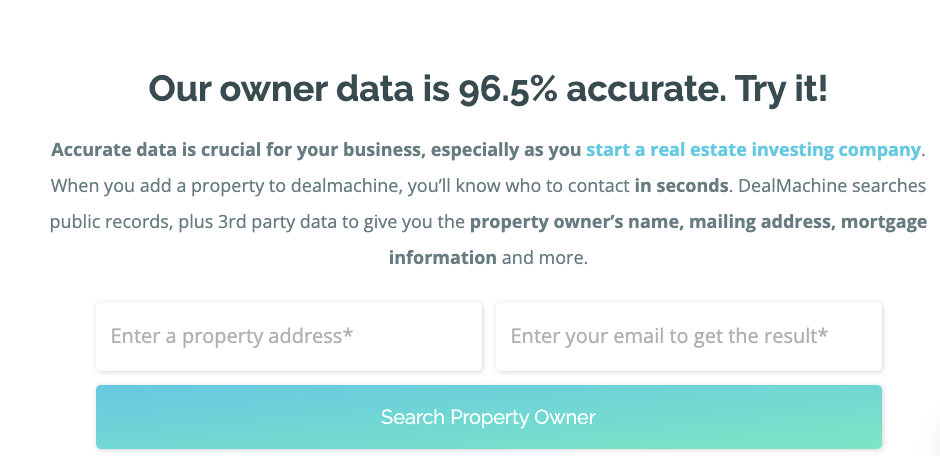 But is it really that accurate? I tested out its property owner information on my own home, as well as several friends, family members, and neighbors, and found all of the information to be 100% accurate.
Super-fast direct mail
I was surprised to see how fast and easy it was to send postcards to homeowners. Once you've got a property pulled up on your app or browser, you just click on "add lead" and then "start mail" – no post office visits required.
I sent myself direct mail from the DealMachine app to test it out, and was surprised to see the double-sided postcard arrive at my home in just a few days.
The quality and selection is also impressive. You can choose between various templates created by DealMachine, and change the text easily, saving you a ton of time and effort.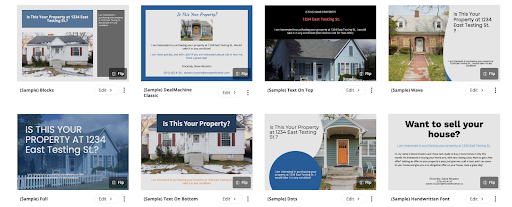 Top-notch customer support
I was impressed by the level of customer support provided by the DealMachine team. The company provided welcome emails from its staff, a library of training videos, online training, and a live chat feature.
I tried to reach an actual person at DealMachine for help during my free trial, and while there's no phone number to call, I able to reach an employee in about 3 minutes via live chat (quicker than the company's average response time of 4 minutes).
An employee named Pam answered my questions quickly.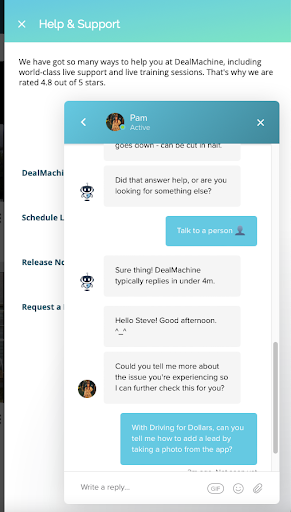 I also found DealMachine's library of YouTube videos very helpful. While some of its videos are promotional, there's also quite a few instructional videos, like its QuickStart Guide and a step-by-step tutorial on how to drive for dollars.
The company offers 8 live, expert-lead training sessions and 3 weekly live support sessions every week.
Finally, there's over 11,000 members in the DealMachine Community Group on Facebook, if you want to get help from other members who have experience using the app.
Cons
It's not cheap
DealMachine probably isn't the best fit for someone who's not quite ready to get started investing or wholesaling properties yet, given its high monthly cost.
However, DealMachine does offer various pricing plans based on your investing goals and budget. It's starter plan ($49/mo) is far more affordable than its elite plan ($249/mo), for example.
DealMachine's pricing also compares favorably to its competitors, such as PropStream, which starts at $99/mo.
You can also sign up for a 7-day free trial and check it out for yourself, and start out with a basic plan and upgrade to a more expensive plan later on, if desired.
Not the best fit for all investors
DealMachine probably isn't the best fit for passive real estate investors, as you need to contact a bunch of homeowners to get results. You probably won't find it useful if you're just looking to buy one or two rental properties every year.
DealMachine works best for active house flippers, BRRRR method investors, and wholesalers who are seriously looking to grow their business – not just make some money on the side.
Results may take some time
DealMachine's app is a useful tool when you're driving for dollars and searching for motivated seller leads, but it's not a magic bullet.
Finding good deals and connecting with homeowners still requires a lot of your time and effort (at least until you hire drivers to help you find properties).
According to DealMachine, you need to have at least 200 run-down properties in your account, with active direct mail campaigns, to begin seeing results.
However, homeowner response rate varies by market. Very competitive markets may need far more than 200 properties in a DealMachine account to begin seeing results, according to the company.
For example, to achieve my stated goal of earning $15,000 in a 3-month period, DealMachine estimates that I'll need to drive over 200 miles, add 1,050 properties to my list of leads, and send more than 3,000 pieces of direct mail to homeowners.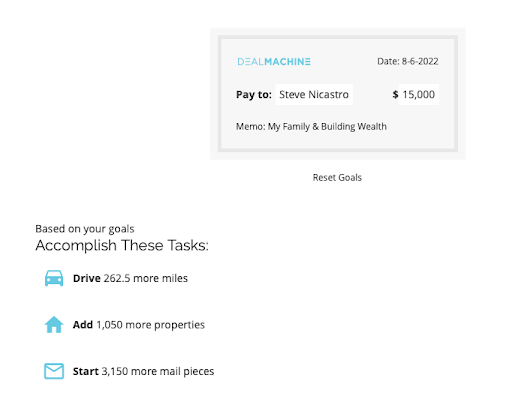 As a part-time, passive real estate investor with a full-time job, I don't think I'll be able to hit this target. But if I was spending more time and effort on real estate investing, I'd have much more confidence in hitting that goal.
Virtual driving for dollars feature lacking
I was excited to try DealMachine's free virtual driving feature, as a way to drive for dollars from my computer and save on gas expenses. But I found this feature to be slow and somewhat difficult to use at times.
Compared to actually driving for dollars in my neighborhood, it took me much longer to find properties and add leads to my list.
However, I did find it useful to pull up information on an individual property after I drove around a neighborhood.
DealMachine app reviews from real customers
Users praise DealMachine's ease of use
In many of it online reviews, DealMachine customers agree that the app makes the driving for dollars experience seamless. Multiple customers point out how DealMachine's instant property owner information and direct mail has helped them save time and take their business to the next level.
Customer support gets high remarks
Another recurring theme in DealMachine reviews is its strong customer service. Users agree that the customer support team is highly responsive, typically answering questions within minutes.
Some users report app problems
The only recurring negative feedback we found was related to multiple users experiencing issues on Android devices. A few users reported the app to be glitchy and crash several times while using the driving for dollars feature. However, this issue seems to occur only on older Android devices.
DealMachine vs. its competitors
DealMachine vs. PropStream
DealMachine's biggest competition is PropStream, a real estate software platform that helps investors find and analyze off-market deals, like pre-foreclosures and bank-owned homes. The company claims it's the most trusted provider of real estate data in the country, providing information on over 153 million properties.
Through PropStream, you can analyze properties, build lists, and create marketing campaigns.
The software starts at $99 per month, while DealMachine's cheapest plan starts at $49; skip tracing costs $.12 per lead through PropStream, compared to $.12 to $.14 through DealMachine.
DealMachine vs. BatchDriven
BatchDriven software lets you access thousands of distressed properties in your area. Unlike DealMachine, you can get in touch with property owners via an automated text messaging campaign (in addition to direct mail).
The company offers plans between $49 to $199 per month, similar to DealMachine's pricing, and like DealMachine, it also offers a 7-day free trial.
However, with only 72 reviews on the Google Play store, 55 reviews on the App store, and 44 reviews on Trust Pilot, Batch Driven is much less proven than DealMachine and PropStream.
DealMachine vs. BirdDogBot
BirdDogBot's search engine is designed to help real estate investors and wholesales find properties quickly. The company says its software crawls the web to find and evaluate investment opportunities based on your criteria, and then emails you a list of properties.
BirdDogBot is lacking in two key areas: I didn't see any way to get in touch with property owners through its website, and it does not have any driving for dollars features. I also couldn't find many reviews of its product online.
Why you should trust us
Clever's primary goal is to empower consumers to make smarter real estate decisions and achieve your financial goals. We strive to deliver highly objective, practical guides and reviews that cover a variety of different methods and companies so you get the best possible outcome.
To create this review, I interviewed DealMachine representatives and used its mobile app over a three-week period, testing out its key features and its functionality. In particular, I tried driving for dollars, created a list of pre-foreclosures in my area, and sent out direct mail to homeowners.
This article is reviewed and updated periodically to ensure you have the most up-to-date information on DealMachine and its competitors. All pricing data and company information is subject to change. And considered accurate as of the article's last publish date.
About the author
I'm a real estate agent and investor based in Charleston, South Carolina.
While working as a full-time agent between 2020-21, I closed 19 transactions, assisting both buyers and sellers. As an real estate investor, I own and manage 6 single-family rental properties, four of which I acquired using the BRRRR method.
I haven't used DealMachine yet to purchase an investment property, but I was impressed with the app's functionality and how easy it was to pull up a list of off-market properties in my area, and instantly send direct mail to motivated sellers.
Given how hard it is to find a good deal on the MLS, I'll likely use DealMachine to contact motivated sellers in the future as I look to complete more BRRRR deals on off-market properties.
DealMachine FAQs
What is the DealMachine app?
DealMachine is real estate investing software for lead generation. Its available on a web browser or as a smartphone app on iOS and Android devices.
The app makes it fast and easy to find distressed or vacant off-market properties, pull up accurate homeowner contact information, and reach out to homeowners via direct mail, email or phone, to see if they're interested in selling.
DealMachine's app makes it possible to do all of this from the comfort of your vehicle as you drive for dollars in your area. Check out our step-by-step guide on how to do that.
You can also use DealMachine's list builder feature to generate a quick list of off-market properties, including pre-foreclosures, foreclosures, bank-owned homes, owners of multiple properties, cash transactions, vacant homes, absentee-owned, and cash buyers.
Does DealMachine's driving for dollars actually work?
Yes. I used DealMachine's app to find motivated sellers in my area over a 3-week period, and I found the app incredibly easy to use. I was able to find dozens of pre-foreclosures in my area, and reach out to homeowners instantly.
I believe investors and wholesalers who use the app consistently will have the most success using DealMachine. You'll likely need to add several hundred properties to your marketing campaign to begin seeing results.
What is skip tracing in real estate?
Skip tracing is a way to get contact information for owners of distressed properties. DealMachine's skip tracing gives you homeowner's phone numbers, e-mail addresses, and physical addresses associated with the owner. It costs between $.12 to $.14 to skip trace per owner with DealMachine. Learn more about its pricing structure.
How do I get a DealMachine promo code?
Clever has partnered with DealMachine to provide you with a 7-day free trial and $15 in free marketing credits, which can be used towards skip tracing homeowners and sending out direct mail. Use the promo code LISTWITHCLEVER on DealMachine's website.
Related links