Learning how to sell a home isn't easy for first-time sellers. The process is usually confusing and time-consuming without the right guidance.
Luckily, we've got you covered with everything you need to know when selling your house. In the guide below, we'll walk you through the whole process step by step so you know exactly what to expect.
Our most important tip for homeowners: selling a house is a lot easier when you have a knowledgeable realtor on your side. Clever Real Estate can help by matching you with an expert agent near you.
Clever's agent-matching service can even pair you with an agent who specializes in a specific property type — from luxury properties to mobile homes and everything in between. Best of all, you'll only pay a 1.5% listing commission!
💰 Compare hand-picked agents, list for 1.5%
Get matched with the best local agents from top brokerages and get pre-negotiated listing fees of just 1.5%.
Clever's service is 100% free, with zero obligation. Interview as many agents as you like until you find the perfect fit — or walk away at any time.
» MORE: Want to learn about selling your house by owner or ways to sell quickly? Check out these posts instead!
Steps to selling a house
Although every home sale is unique, the general selling process can be broken down into 10 key steps:
1. Find a great realtor
Finding an experienced real estate agent can be the key to selling quickly and earning the highest profit for your house.
Even if you're not ready to sell right now, an agent can help you prepare for a future listing. Once you're ready to start selling your home, their preparation advice will ensure smooth sailing.
Additionally, a top local agent will have a good idea of how much your home is worth and which features will attract buyers.
They'll also help with the more difficult parts of selling a home, such as negotiating with buyers and completing paperwork.
When you work with Clever, we can find you a local agent who knows exactly how to make your home stand out while saving you money on listing agent commission.
💰 Incredible savings, none of the hidden fees
If you're weighing your options, Clever can help! Our fully-licensed concierge team can help you decide if working with an agent is the right choice for your sale.

✅ Connect with great local agents for free, with zero obligation
✅ Interview agents about their strategies for selling fast without compromising on price
✅ Save thousands on commission when your home sells

Enter your zip code to find a top local agent today!


2. Know when to sell
Nationally, June seems to be the best month to sell quickly and maximize profits. The average sale took 35 days and homes sold for $311,000 — 8% higher than the national average.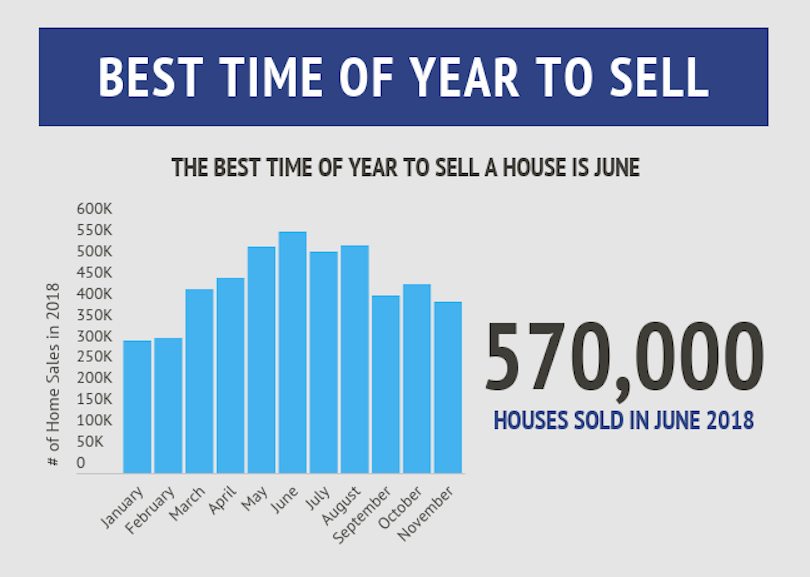 Source: 2019 Redfin Data Center
When kids are out of school in the late spring and early summer, it tends to be the best time for families to move. Selling in June is also a safe bet for colder states — you won't have to worry about moving in the snow!
However, the best time to sell in your state might be different.
Your agent should be familiar with the local market and have expert insights about when to list your home. Based on their own experience in the area, they'll know when the market tends to pick up or slow down
They'll also factor in your desired timeline and profit goals to zero in on the perfect time.
Find out when properties sell fastest and for the highest profit in your state!
3. Price your home
Pricing your home competitively is one of the most important parts of selling a house.
If you value your home too high, it could turn people away. On the other hand, pricing your home too low can make people wonder if there's something wrong with it. In either case, your home will end up sitting on the market for a longer period of time.
The longer your home is listed for sale, the less desirable it becomes to prospective buyers. This is why it's strongly recommended to get an unbiased home valuation.
Here are the three most common pricing methods to value your home:
Comparative market analysis
A comparative market analysis (CMA) estimates a property's value based on comparable properties nearby. Typically conducted by an agent, a CMA takes features like the property's location, square footage,lot size, number of bedrooms and bathrooms, age, and condition into account.
Most agents are willing to do a CMA for free.
» MORE: Comparative Market Analysis: A Complete Guide to CMAs
Broker price opinion
A broker price opinion (BPO) is a report completed by a licensed real estate professional to estimate the value of a property.
This option is usually best for FSBO sellers who aren't working with a listing agent. BPOs also tend to be less detailed and comprehensive than a CMA.
» MORE: What is a Broker Price Opinion?
Pre-listing appraisal
A pre-listing appraisal isn't necessary for most sellers, but may be useful for homes without many nearby comps, such as luxury properties, unique houses, or homes in sparsely populated areas.
A pre-listing appraisal will be more expensive and time-consuming than a CMA, and your buyer will likely have to pay for another appraisal before closing anyway. This is because most lenders aren't willing to accept an appraisal they didn't order.
4. Prepare your home for sale
Prepping your home for sale will involve a lot of cleaning, organizing, and repairing small details around your house. Here's a general list of things to keep in mind before listing your home:
Declutter
It's time to toss or donate anything you don't need anymore. The items that you decide to keep should be put away neatly.
Neutralize
Your home's unique decor might be beautiful to you, but it could distract visitors. Try to remove any personal items around your house to appeal to the greatest number of potential buyers.
Deep clean
Scrub down every surface and sweep or vacuum every room. If you have a lot of carpet in your home, you might want to hire a pro carpet cleaner to make your home look and smell brand new.
Landscape
Spruce up your yard by mowing it regularly and doing some basic landscaping or gardening if it's in rough shape. You can also boost curb appeal by power washing your front porch and adding plants near the entrance.
Repair
Look for easy fixes and upgrades that can improve the aesthetic appeal of your home. Simple repairs like touching up paint or replacing outdated cabinet hardware can make a major difference to buyers.
» MORE: Best Home Improvements for Resale
Need some help with major repairs? We've partnered with HomeAdvisor to make it easy for you to find trustworthy contractors in your area. Get connected with a local pro here!
Stage
Staged homes sell faster because they make it easier for visitors to envision themselves living there. However, staging every room can get expensive if you hire a pro.
To save money, you can do some staging yourself by:
Repositioning furniture to make rooms look bigger
Maximizing light by keeping curtains open, adding decorative mirrors, and keeping lamps on
Redecorating a spare room as a home office or guest bedroom
Removing any personal items, such as family photos, to "neutralize" your home
» MORE: The Statistics Behind Why Staged Homes Sell Faster
5. Get listed on the MLS
If you hire a realtor, they'll list your home on the local multiple listing service (MLS).
Agents use it to find properties to show their clients, and most buyers find homes to tour through the MLS.
Once your home is on the MLS, you can also share the listing on social media to increase visibility. Ask your realtor to share it with their network, too — most will be happy to do so!
Elements of a great listing
Your agent will do most of the work of listing your home. They'll typically write the descriptions, take photos, and list amenities they know buyers are looking for.
However, it's still good to know what an attractive listing looks like. Double-check to make sure your agent's listing includes the following:
An attention-grabbing headline and opening statement
Several high-quality photos of the inside and outside of your home
A brief description of 250 words or fewer that includes key facts about the home, including:

The number of bedrooms and bathrooms
Total square footage
Lot size
Location
Recent upgrades/renovations

A list of popular features or amenities, such as:

Parking or garage space
Private backyard or outdoor space
Mountain view
Lakefront property
Near transit access
Renovated kitchen
Attractive landscaping
Use photography to showcase your home
Most agents include home photography as part of their services. Before having them photograph your house, it's wise to check out their other listings to see the quality of their pictures.
If you choose to hire a different photographer, make sure to check out their portfolio and read customer reviews. You should also specifically look for photographers specializing in real estate photography.
If you want to go the extra mile, you could also hire a drone pilot to get aerial footage of your property or an indoor video tour.
6. Show your home
Showings allow potential buyers to tour your home. The most common types of showings are open houses, lockbox tours, and private showings.
Open houses last three to four hours and allow anyone to come look at the home. Open houses are more convenient and predictable for sellers, but not everyone who goes to an open house might actually be interested in buying.
If you get a lockbox, a buyer's agent can access a key and show their clients your home at any time. Lockbox tours can be more unpredictable for sellers, but they give buyers more flexibility with scheduling.
In general, if you have to host a showing as a seller, try not to hover over visitors. You should give buyers the time and space to freely wander through your house and talk with their agent in private.
Daily checklist to prep for showings
☑ Regularly empty trash cans
☑ Wipe up crumbs and spills on countertops
☑ Sweep and vacuum
☑ Rearrange furniture and decor to make rooms look more spacious
☑ Keep curtains and blinds open to let in natural light
☑ Keep your home at a comfortable temperature
☑ Make sure storage areas are kept organized
☑ Try to minimize lingering food odors
☑ Go easy on scented candles or air fresheners
Ask your realtor to offer cookies and coffee or other refreshments for visitors (the smell of freshly baked goods will always make your home feel more welcoming!).
Plan to board your pets or ask a friend to watch them during showings.
7. Review offers and negotiate with potential buyers
When you receive an offer, don't just choose the highest amount you receive. Consider your own timeline, any contingencies the buyer included, and requested concessions.
What are contingencies?
A contingency states that the buyer will only move forward with the sale if specific requirements are met. The most common types include inspection, financing, and appraisal contingencies.
An inspection contingency protects buyers in case a serious problem is found during the home inspection. Similarly, financing and appraisal contingencies let the buyer walk away from the deal if their financial situation changes.
The type of loan a buyer has matters, too. A cash offer will close the fastest since the buyer won't have to apply for a loan. A conventional loan will have the least amount of loan requirements. A VA or FHA loan will require more thorough (and time-consuming) inspections.
Prioritize offers from buyers who are already pre-approved for a mortgage. These people are far more likely to put in a serious offer since they know what they can afford.
Also, expect to do some negotiating with prospective buyers. Common negotiation points include:
Changing the closing date
Changing the contingency timeline
Requesting sellers to pay for more closing costs (concessions)
Covering the cost of repairs or repairing issues before closing
Try not to get emotional during this process. For instance, if the buyer wants $20,000 in repair credits because they think your home is in bad shape, you might feel defensive. On the other hand, you may feel frustrated after a buyer continuously rejects your counteroffers. If this happens, it might be best to walk away and consider another offer.
» MORE: Real Estate Counter Offer Etiquette for Buyers and Sellers
If you're working with a top agent, they'll be able to help you review offers and discuss the pros and cons of each. Realtors are also expert negotiators, so they'll do their best to land on an offer that works in your favor.
8. Be ready for an appraisal and home inspection
Before closing on the deal, most buyers will probably order a home inspection and appraisal.
Although you won't be involved with this, you or your agent will need to let the inspector and appraiser into your home.
A home inspector will do a complete walk-through of your house to uncover any potential problems that you weren't aware of and didn't cover in your seller disclosure form. If any serious issues are discovered, the buyer can back out of the deal if they included an inspection contingency in their offer.
A home appraisal determines the most accurate real value of your home. If an appraiser believes your home is worth less than what your buyer offered, this can cause issues. The buyer's lender won't approve them for more than the appraised value, so the buyer will either have to pay the difference out of pocket, renegotiate with you, or walk away from the sale entirely.
How to prepare for appraisals and inspections
Make it easy for appraisers and inspectors to get around your home by keeping it clean and organized.
Move boxes and clutter away from your foundation.
Unlock all closets and spare rooms.
Have a list of upgrades and renovations you've made to the home.
Test common features that an inspector will check, including:

Opening, closing, and locking windows
Running all faucets
Turning on overhead lights and ceiling fans
Opening and closing your garage door
Making sure electrical outlets work

Clean your furnace filter and major appliances.
Clean out your gutters and make sure the downspout is turned away from your house.
Seller disclosure requirements
It's illegal in all states to fraudulently hide major known issues with your property from buyers.
If your house was built before 1978, you need to disclose the presence of any lead-based paint.
Each state has its own additional disclosure requirements that sellers need to be aware of. If you're in a "buyer beware" state, expect buyers to be extra cautious about the condition of your home.
It's best to be upfront and honest about any issues, even if your state doesn't legally require you to disclose certain things.
9. Complete paperwork and hire an attorney
Expect to face a lot of paperwork throughout each step of the selling process.
After you accept an offer, you'll need:
Purchase offer form
Contingency removal form
Appraisal report
Home inspection report
Final purchase agreement
Property deed
» MORE: 12 Key Documents Required to Sell a Property
Completing the paperwork incorrectly can result in legal complications, so you can hire a real estate attorney to look over your documents. Some states even require sellers to have an attorney review their documents or actually attend the closing to make sure everything is in order.
What are attorney states?
Notary attorney states require a lawyer for all real estate transactions. In these states, it's believed that real estate paperwork can have obscure legal terms that buyers and sellers may not completely understand. If a real estate agent tries to explain these terms, it could be argued that it's an unauthorized practice of law.
According to the National Notary Association, states that require an attorney to be present at closing or help sellers with their closing paperwork include:
Connecticut
Delaware
Georgia
Massachusetts
South Carolina
South Dakota
Vermont
West Virginia
If you don't use an attorney, your agent should have the expertise to help you work through all the paperwork. This is why it's so important to work with a knowledgeable agent you can trust.
💰 Compare low commission agents and save thousands
Clever matches you with top local realtors and pre-negotiates low 1.5% listing fees. Clever sellers save an average of $7,000 on commission AND they get offers 2.8x faster than the national average.
Ready to find real estate agents who can help you save thousands on your sale? Click the button below to get started!
10. Finalize the sale at closing
On your agreed-upon closing date, you and the buyer will usually meet at a title or escrow company to finish the paperwork and pay closing costs.
Closing costs can cost an average of 1–3% of the home's sale price — not including the standard 5–6% of realtor commission. These payments are made using the profit you earn after selling your home.
Closing costs typically include:
Title and escrow charges
Transfer taxes and recording fees
Prorated property taxes
Realtor commission fees
HOA or home warranty fees
» LEARN: Real Estate Closing Costs: Find ALL the Fees You'll Pay
State-specific guides for selling your home
Want to know which disclosures are required in your state? Not sure if you need an attorney to close? Check out our home selling guides for your particular state for all the details!
Final tips
Selling a home can be a complicated and emotional process. However, there are some things you can do to minimize stress, sell quickly, and earn a high profit.
Here are our top recommendations:
Understand the value of renovations
Doing expensive renovations doesn't always lead to a major increase in property value. Before you decide to upgrade your kitchen appliances or renovate your master bathroom, carefully consider the costs and time required.
Be upfront about any property defects
If you know about a serious issue with your home, be honest about it with buyers. Trying to hide problems or defects will only harm your credibility once the home inspection is complete. Even if you're not legally required to disclose an issue, prospective buyers will appreciate your integrity and be more likely to trust you.
Choose a great real estate agent
Most of all, we recommend working with a trustworthy local real estate agent.
An experienced realtor can make the selling process go much smoother by handling the paperwork, marketing, negotiations, and much more. Check out Clever to get matched with a top agent in your area today!
💰 Save more with Clever
When you find your agent through Clever, you'll get a pre-negotiated 1.5% listing fee. When you find the same agents through UpNest, you'll likely pay a 2–2.5% rate — which translates to thousands more out of your pocket after closing.
Ready to find top local agents and get the best savings possible? Enter your zip code below to get started!
FAQ
When is the best time to sell a house?
In early summer, homes tend to sell quickly at higher prices. Based on the most recent data, houses listed in June stayed on the market for about 35 days and sold for 8% more than the national average. In contrast, the real estate market slows down in the winter.
What do I need to do before selling my house?
Before listing your home, talk to a real estate agent, find the best time to sell, and deep clean your house. Once your home is clean and organized, have professional photos taken to make your listing stand out.
What are the steps of selling a home?
Before you list your home, you'll want to find an agent, decide when to sell, clean your house, and have photos taken. After your home is on the MLS, prepare for showings, reviewing offers, and negotiating with buyers. Once you select a buyer, you'll need to be ready for an inspection, an appraisal, and lots of paperwork.
Related links