Getting ready to sell your house in Georgia? Our in-depth guide breaks the entire process down into 8 simple steps. Learn how to find a great agent, price your home, negotiate with buyers, breeze through closing, and more!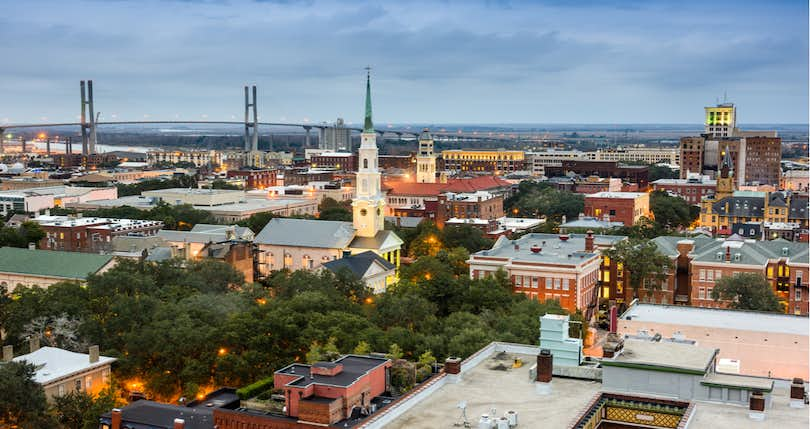 Now is a good time to be selling a house in Georgia! According to Zillow Research, property values in the Peach State rose 4.49% in 2019, and are projected to rise a further 4.01% over the next year.
Of course, even the best Georgia properties will struggle to sell if you don't price the home properly, do a poor job of marketing it, or don't know how to handle the negotiations.
Read on to learn the eight steps to successfully selling your home in Georgia!
» MORE: Get a free, instant home value estimate now!
JUMP TO SECTION
1. Finding a Georgia realtor
Selling a home isn't easy. It's a high-stakes, complex transaction and requires a considerable amount of time and expertise to get a good outcome. If you're looking to sell your Georgia home for the best price — and minimize stress along the way — you need to find a top-rated real estate agent in your area.
The best Georgia listing agents know exactly what local buyers want and how to reach them. They'll offer expert advice, guidance, and support every step of the way, from the initial listing all the way through closing.
In fact, sellers who work with real estate agents net 33% more, on average, than those who list on their own. For a $198,164 home — the median home value in Georgia, according to Zillow — that's a premium of $65,394. In other words, hiring an agent is well worth the investment.
2. Deciding when to sell
Not every seller has the opportunity to choose when they want to sell, but if you do, take into consideration the time of year and the typical real estate trends.
Best time to sell a house across the U.S.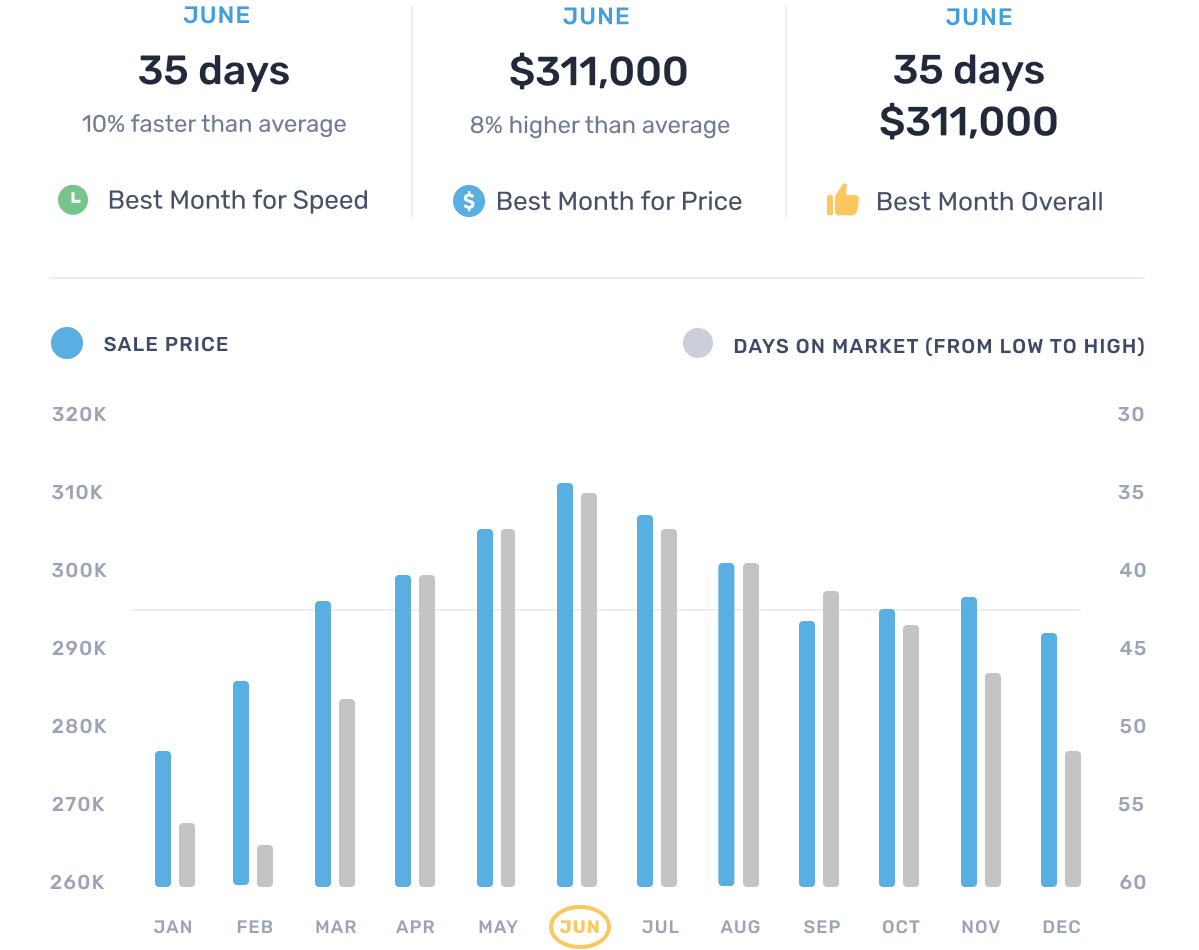 Source: 2019 Redfin Data Center
Best time to sell a house in Georgia for speed
| | | | |
| --- | --- | --- | --- |
| Best Month to Sell for Speed in Georgia | June | 28 days on market | 12 days faster than average |
The average time a home is on the market in Georgia is 40 days. But there's a wide variety in the number of days on market depending on the season.
In winter, the average days on market (DOM) jumps two weeks to 54 days. But if you sell during the summer, the time on the market averages 30 days, with June being the best month to sell with an average DOM of 28 days.
Note that this does not include the time it takes to close on your home, which is typically 30-40 days on top of the days on the market.
Best time to sell a house in Georgia for price
| | | | |
| --- | --- | --- | --- |
| Best Month to Sell for Price in Georgia | June | $254,000 median sale price | 7% more than average |
If you're looking to get the best price for your Georgia home, summer is, again, the best time to sell. The market is always cooler at the beginning of the year, leading to lower sales prices, but it rises in the summer months.
The median sales price for summer sellers is $247,000. And in June, you can expect to get the best price of the year; June has the highest median sale price of $254,000.
Learn More: The Best Time to Sell a Home in Georgia
3. Pricing your home
One of the most essential services a real estate agent provides is preparing a comparative market analysis (CMA). A CMA takes your home and compares it to current, expired, and sold listings in your area in order to price your home correctly. A professional CMA will compare lots of features to determine your home's value, including:
Number of bedrooms and bathrooms
Total square footage
The house's condition
Local real estate trends.
The neighborhood
Your agent will take this into account to make sure your home is priced effectively for your goals and timeline.
But if you're earlier in the process and just want a general idea of what your house is worth, a free online home value estimator is a great place to start. Enter your address below to see your estimated sale price, as well as useful local real estate market trends. Find out how much your house is worth now!
💰 How much is your home worth?
Discover the true value of your home with our Home Value Estimator!
Find My Home's Value
4. Preparing, marketing, and showing your home
Your real estate agent will work with you on specific ways to maximize your home's potential and get you the price you want, but here are some general tips to consider to make your home more attractive to buyers.
Home Staging Works!
Staging your home helps highlight your home's unique features and makes your home appealing to buyers. According to a 2018 survey, professionally staged homes spend 86% less time on the market compared to non-staged homes.
Craft an Appealing (and Accurate) Listing Description
Work with your real estate agent to write a listing description that accurately describes your home's best features and markets them to potential buyers. Your agent will help you be objective while pointing out which features will speak to buyers in your area.
Market Your Home
Your real estate agent will help you market your home by listing it on your local MLS, but you can also promote your home by sharing your listing with friends and family members, sharing it on social media, and listing it on websites like Zillow.
Showings and Open Houses
Make sure you are flexible on your time when it comes to showings and open houses so buyers can view it and hopefully make an offer. You'll also need to keep your home in prime condition at all times while your home is on the market
Learn More: Disclosure Requirements in Georgia
5. Fielding offers and negotiations
Once you have an offer on your home, you will have a certain amount of time (generally 72 hours) to counter the buyer's offer or accept. Once you make a counteroffer, the timeframe starts over again.
This will continue until both the seller and the buyer have accepted the offer as written. This looks a little different when you have a multiple-offers situation. Then, all buyers will have until a certain deadline to submit their top offer for a seller to review and accept one.
When negotiating an offer, you'll want to take the sale price, closing time frame, type of funding, and any other specific requests made by the buyer into account to decide what is best for you and your needs. You want to make sure you weigh your needs and also counter in a way that doesn't turn off the potential buyer completely.
To move forward, both parties will sign a purchase agreement and move forward with closing.
Learn More: Real Estate Counter Offer Etiquette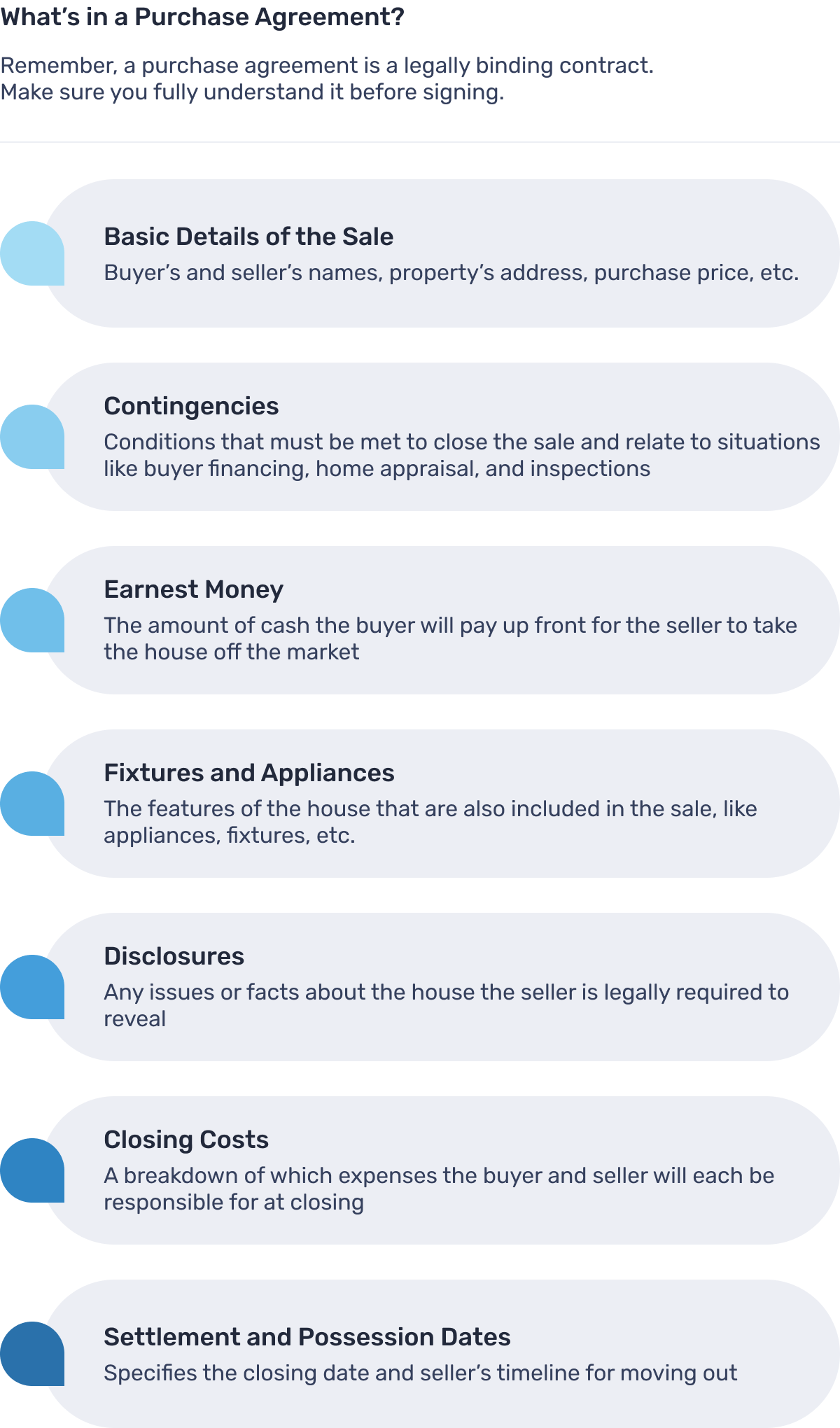 6. Appraisal and inspections
If the buyer has requested a home inspection — and most will — an inspector will come by and look at your home before going over the results with both you and the buyer's agent. The inspection might find necessary repairs you didn't even know about. In Georgia, this could be mold caused by Georgia's humid, hot climate; cracks in the foundation due to the house's age; or termites and rodents.
The buyer's agent will work with their client to go over the issues and create a list of requests for the seller. The buyer may ask that the seller fix problems, request credits for the cost of repairs, or retract their existing offer if this was stipulated in the purchase agreement.
A buyer will also likely need to have an appraisal conducted on your home. Banks request appraisals before approving a mortgage to make sure that the property's value equals the loan amount.
The appraisal is done by an unbiased, third party who is licensed by the state of Georgia. Fees are either paid by the buyer or negotiated into the price of the sale.
Learn More: The Ultimate Guide to Home Appraisals in Georgia
7. Paperwork and required Georgia disclosures
Georgia home sellers do not have to fill out a formal disclosure form, but you are required by law to tell a buyer about any of your property's defects. A licensed professional should walk you through all the paperwork and ensure you have everything you need for your situation.
Forms and Documents for Selling a House in Georgia
Required for All Real Estate Sales in Georgia
2 Forms of ID
Copy of Purchase Agreement and Any Addendums
Closing Statement
Signed Deed
Bill of Sale
Affidavit of Title
Possible Additional Documents
Loan Payoff Information
HOA Forms and Guidelines
Survey Results or Survey Affidavits
Home Inspection Results
Proof of Repairs or Renovations
Home Warranty Information
Copies of Relevant Wills, Trusts, or Power of Attorney Letters
Relevant Affidavits (Name Affidavits, Non-Foreign Affidavit Under IRC 1445, etc.)
Closing Disclosure (for certain seller concessions)
Correction Statement and Agreement
Termite Letter
Georgia Disclosure Forms
Seller's Property Disclosure Statement
Flood Zone Statement
Lead-Based Paint Disclosure
8. The closing process
To close on your home, you'll work with a licensed Georgia attorney, who most often represents the lender, buyer, and you. The attorney by law must treat both the buyer and seller fairly and explain all documents in detail. You can hire your own attorney (as can the buyer) but you are not required to.
On closing day, your property will officially change hands to the buyer. The lender works with the buyer to explain the loan terms and closing costs. The buyer will sign any paperwork and pay for any expenses negotiated in the purchasing agreement. Most often, the seller doesn't even need to be present.
But that doesn't mean you shouldn't read and understand all the paperwork involved in selling a home. Always consult your agent or attorney before signing or filing paperwork.
How much are closing costs for Georgia home sellers?
In Georgia, the buyer will pay most closing costs, but the seller is also responsible for a portion of these costs, typically they amount to 1-3% of the sales price. On closing day, you'll also need to pay the agent commissions which average 6% in Georgia.
That means if your Georgia home sells for the average sales price of $238,167, the commission would be $14,290 plus another $2,382 to $7,145 in closing costs.
Learn More: How Much Are Closing Costs for the Seller?
Next steps: Sell your Georgia home and save thousands
Whether you're looking to list your Georgia home immediately or 6-12 months from now, it's never too early to start looking for an agent, getting advice, and making a plan.
Clever is here to help guide you through the home selling process — and save money along the way!
💰 Get a lower rate with a top local agent!
Want to find a top local agent without overpaying on realtor fees? Clever negotiates 1.5% listing fees with top-rated realtors from trusted brokerages like Keller Williams, RE/MAX, and Berkshire Hathaway.
Get guaranteed full service for a fraction of the 3% rate agents typically charge. Schedule a free, no obligation consultation with a top local agent today!
Top ways to sell your home in Georgia
Additional resources for Georgia home sellers
Related links