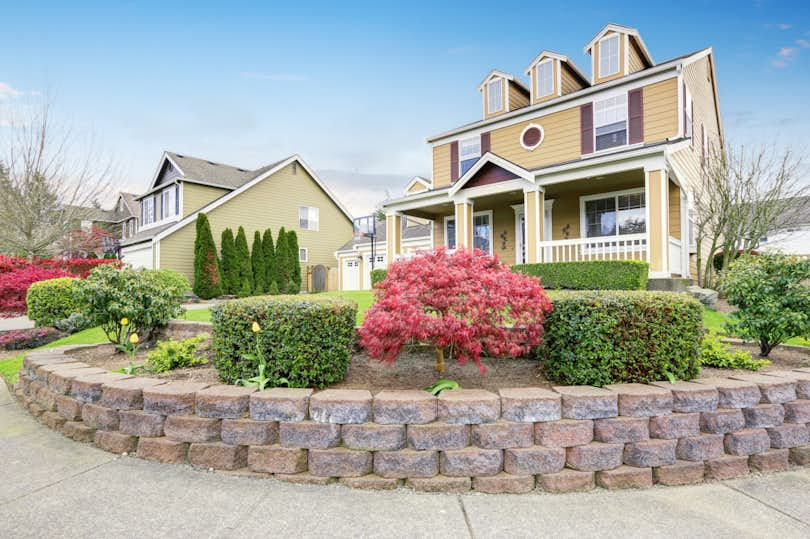 It might be cliche to say you never get a second chance to make a first impression, but nowhere is this more true than when you're trying to sell your home.
Curb appeal can significantly impact the sale of your home — it's that first chance for potential buyers to fall in love with your property, and those first blushes of love (or hate) can really affect the final price. A captivating and visually appealing exterior may convince reluctant buyers to come see what's inside, but a scraggly, unkempt facade makes home shoppers drive right by.
What is curb appeal?
Curb appeal refers to the attractiveness of a property's exterior and how it appears to potential buyers or visitors from the street or sidewalk. It's the overall appearance of the house, including:
Landscaping

Walkways

Driveway

Front porch

Paint color/trim

Quality of the exterior maintenance
Even the mailbox and front door matter. In short, anything that you can see from a car parked at the curb adds to or detracts from a home's curb appeal. And if you're selling your home on your own, you'll need all the help you can get.
Why does curb appeal matter?
The National Association of Realtors (NAR) Remodeling Impact Report found that improving curb appeal mattered to a majority of realtors.
79% of respondents thought curb appeal was the key to attract buyers.

94% of those same realtors offer suggestions for improving curb appeal before listing a house.
Additional research supports curb appeal improvements, too.
In the end, the goal is to make prospective buyers want to come inside to look around. Any improvements you can make to improve your home's first impression are a solid investment.
7 ways to improve curb appeal
Since the vast majority of prospective home buyers start their search online, it's critical that your listing stands out.
If you want to sell your house fast, here are seven ways to improve curb appeal (without emptying out your savings).
1. Keep your lawn and landscape tidy
Keep your lawn mowed and edged, and trim any overgrown trees or shrubs. Add some colorful flowers or plants to enhance your landscape.
Just selling a home to a family member? Giving your lawn a presale makeover can serve as a great housewarming present.
2. Repair and repaint
Repair any visible damages to your exterior, such as cracks in the walkway or missing roof shingles. Repaint your front door, shutters, and trim if they look faded or chipped.
Replace your front door and any shutters or trim that are beyond repair.
3. Upgrade your mailbox
Your mailbox is often one of the first things visitors see when they arrive at your home. If it's old and rusty, replace it or repaint it to match your home.
4. Add outdoor lighting
Outdoor lighting adds a welcoming touch to your home and can also provide additional security. Install porch lights, pathway lights, or accent lights to highlight your landscape.
5. Enhance your entryway
Make your entryway more inviting by adding a new doormat, a wreath, or potted plants on either side of your front door. This can be especially inviting for prospective buyers who are relocating and really looking for a home that screams "Welcome!"
6. Clean your windows and siding
Windows and siding are expensive to replace, and prospective buyers want to see that yours have been cared for. Power wash your siding and windows to remove any dirt, grime, or cobwebs.
7. Upgrade your hardware
While it's important to leave plenty of space for home buyers to see themselves in your home, little touches add personality and make your home pop. Replace any outdated or rusted hardware, such as doorknobs, handles, or house numbers, to give your home a fresh look. This is an affordable update that goes a long way.
What's the ROI?
Of course, it's important to consider which updates and repairs are going to help increase the value of your home for a better sale price. After all, closing costs and other expenses like realtor fees come out of the final sale total.
You can save on realtor's fees by going with a low-commission or flat-fee agent, but it also pays to start with curb appeal upgrades that give you the best return on investment (ROI).
A 2022 cost vs. value study found that the following upgrades were worth the price:
Garage door: 93.3% ROI

Adding stone veneer: 91.4% ROI

Minor kitchen upgrade: 71.2% ROI

Replacing windows: 67.5% ROI
Of course, the ROI of an improvement can vary. For example, for properties in the Texas area, a garage door upgrade yields a 92.5% ROI. That same upgrade in the Pacific Northwest has a 2.5% higher ROI.
But improving your home's curb appeal doesn't have to be expensive. If you can only select one major improvement, make it the outside landscaping. The NAR remodeling study found that homeowners recovered 100% of the costs of their landscaping upon the sale of their house.
Simple tasks such as cleaning up the yard and planting flowers or shrubs can make a significant difference.
Overall, investing time and effort in improving your home's curb appeal can help attract potential buyers, increase the value of your property, and ultimately lead to a quicker sale.