✍️ Editor's note:
We strive to provide objective, independent advice. When you decide to use a product or service we link to, we may earn a commission.
Learn more.
Investing in Texas real estate is a great opportunity: Texas laws are notoriously friendly to real estate investors and there are some beautiful markets to choose from, with great profit potential.
Still, Texas is huge, and knowing where to invest can be hard. That's why we've researched and outlined the 5 top real estate investment markets in Texas for you to start with.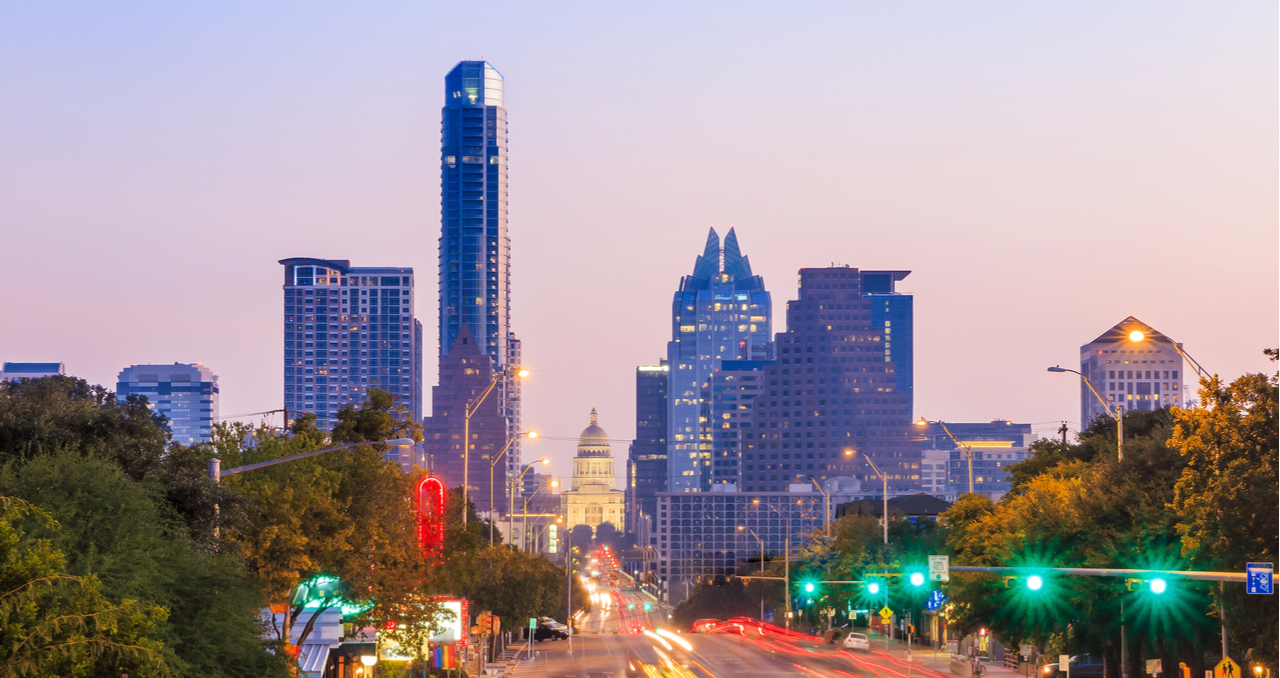 Real estate investment is a great opportunity for those who want to scale their portfolios, establish residual income streams, and build their careers. However, it's only beneficial if you do it properly.
Read on to learn more about the best real estate investment markets in Texas and how to find the best investment opportunities.
Top Texas real estate markets in 2022
| City | Median home value |
| --- | --- |
| | $548,738 |
| | $421,212 |
| | $312,644 |
| | $398,183 |
| | $195,710 |
»JUMP: How to find Texas investment properties
The Overall Market in Texas
Texas, as a whole, has a great real estate market. According to Zillow data, the current median home value is $295,319. Home values have risen about 24% over the past year.
It's a strong seller's market, which means homes are selling fast and fetching a high sale price. While that means you can sell your investment property fast, it does make it more challenging to actually find properties to buy.
That being said, here are some of the best markets for real estate investors in Texas.
1. Round Rock
Round Rock, Texas is in the Austin metro area and is a popular yet still suburban area that many people find attractive.
While incremental, the market here continues to grow in both value and popularity. Rental income sits at around $1,654 per month, and the breakeven horizon is three years away. These are positive numbers for anyone looking to invest in Round Rock real estate.
What's more, home prices in this area have risen by 48% in the last year, with the median home value sitting at around $548,738 - nearly doubling in value over the past 3 years - which further supports the notion that sustained growth is likely in this region.
Furthermore, while you might not think "tech center" when you think of Round Rock, Dell, Emerson, and, a little farther away, Samsung all have campuses nearby. This has helped to grow the job market in the area, and it's also drawn more young professionals to the region.
Outside of the fact that these employers exist in such close proximity, nearby Austin has experienced a growing population for years and is having trouble containing the people who have moved there. That means that newcomers are spilling into suburbs like Round Rock and will need homes.
This is a trend that can only mean more individuals will be moving to the area looking for housing, which is very promising, indeed, for investors.
2. Sugar Land
Sugar Land is located in the Houston metro area. Currently, the median home value is about $421,212, and home values have risen about 23% in the last year. This area typically sees a rental income of around $1,946 per month, which is comfortably above the national average of $1,474.
Once a sleepy community, Sugar Land has started to blossom into a center of employment, technology, and entertainment. They recently built a large stadium that holds over 6,500 people, and large corporations such as UnitedHealthcare, Noble Drilling Services, and Bechtel EO call Sugar Land home.
In addition, oil and gas firms are attracted to Sugar Land like moths to a flame. Nalco Champion recently invested $45 million in a new 133,000-square-foot facility that has been used for research and development, among other things. Corporate leaders stated that they looked at other metro areas, such as Houston, before settling on Sugar Land, which is further indication that the investment opportunities in the region are promising.
Taking into consideration the corporate development, increasing popularity, and the higher-than-average rental income expected in this area, Sugar Land is a great place to invest.
3. Seguin
If everything in real estate boils down to location, then Seguin, Texas has everything to offer. Just 30 minutes away from San Antonio and 45 minutes away from Austin, Seguin is an epicenter of promise for real estate investors.
The current rent sits at around $1,398 a month and has experienced a 29.4% increase in home values in the last year alone.
But what raises the eyebrows of most observant investors is the sheer volume of big-name companies that have chosen to call Seguin home.
Among the myriad of companies that have headquartered or established campuses in Seguin are Caterpillar, Cavco Industries, Alamo Industrial, Continental Automotive Systems, and Tyson Foods. As you can see, these companies span a number of various and diverse industries, and with them, they bring employment opportunities and commerce.
Seguin has also been investing in its local offerings, such as building a brand new state-of-the-art medical center and expanding housing programs to host the newcomers who have chosen Seguin due to the promising job market.
As every investor knows, these newcomers need a place to live, and with the breakeven horizon being two years away, most of them will choose to rent. This is a great opportunity for real estate investors looking to claim their slice of the Texas real estate investment market.
4. New Braunfels
If you've never heard of New Braunfels, Texas, you're not alone. It's a small but growing community, and while it's a hidden gem, that works as an advantage for real estate investors.
Many people are looking to find homes away from the hustle and bustle of large cities. However, even some of the suburbs in Texas have become crowded and feel more urban than they do suburban.
Places like New Braunfels offer an escape from the craziness of city life while still providing job opportunities, a growing real estate market, and economic stability. The median home value here is $398,183, with rental income sitting at around $1,553.
Home values have risen by 31.6% in the last year and are expected to continue rising this coming year.
One challenge that investors might face in this market is finding properties under $250,000. However, purchasing in Guadalupe County, which is just a bit farther over but still in the New Braunfels area, allows you to enjoy great pricing while still being in a desirable (and rapidly developing) area.
5. Odessa
Odessa, Texas is an interesting location, but it's worth paying attention to if you understand how the oil and real estate markets influence each other.
Home values in Odessa have risen 5.6% in 2022, but rose by more than 15% in the prior year, sparked in part by the oil boom that happened in Texas.
Right now, the median home value in Odessa is just over $195,000.
What's more, foreclosures in the area are looking to rise given that the current rate of delinquent mortgages, which is the first step in the foreclosure cycle, is over double the national average.
Odessa, like many locations in Texas, is a real estate market that tends to rise and fall with the oil market. While the oil industry is on shaky ground right now, the reduced output isn't necessarily something to worry about as an investor. In fact, since oil tends to rise and fall just like any other market, getting into a real estate market that relies so heavily on oil during a down season might mean that you'll be able to enjoy high appreciation rates when it kicks back up.
Real estate markets tend to follow oil markets by about a year, and some investors choose to wait until they see the oil markets rise before investing in areas like Odessa. That makes sense, given how unpredictable the oil market can be, especially in light of recent legislative actions at the federal level.
However, Odessa is a very hot market that doesn't show any signs of slowing down, and it presents a great opportunity for investors.
How to find undervalued Texas properties
The best Texas real estate deals are usually homes that need substantial cosmetic updates (no major repairs), or homes with motivated sellers.
Types of homes that make for good flips or for using the BRRRR methodin Texas often include: foreclosures, pre-forecloses, short-sales, and abandoned of neglected properties. Here's how to find them.
1. Use real estate investment software
One of the biggest challenges of flipping homes or finding rental properties in Texas is finding great deals. But the DealMachine app is one tool that can really help you.
DealMachine's real estate software helps Texas investors find and research distressed homes (think: pre-foreclosures, foreclosures, short sales, etc), and get in touch with owners fast via batch skip tracing and direct mail campaigns.
DealMachine's driving for dollars app is fast and easy to use. When you're driving around town and spot a home that could be a great deal, you can send the owner direct mail through the app for huge time savings (no post office visits required).
Download the DealMachine app to find undervalued Texas properties as you drive; DealMachine offers a 7-day free trial and $15 in free credits that can be used towards marketing (like sending out direct mail to Texas homeowners).
2. Partner with a Clever agent
Partnering with a investor-friendly realtor is the best way to ensure a favorable, easy home purchase.
Agents have expertise in Texas' variety of markets, understand real estate laws and practices specific to the state, and can provide access to lesser-known neighborhoods and properties that just may be your dream investment.
Clever's real estate agents can guide you through Texas' real estate market and make your house hunting journey a breeze - and eligible buyers can get back 0.5% of their home's purchase price after closing, potentially saving you thousands on your home purchase.
Related Articles
You May Also Like