✍️ Editor's note: We strive to provide objective, independent advice. When you decide to use a product or service we link to, we may earn a commission. Learn more.
In the Ultimate Beginner's Guide to Flipping Houses, we cover all the basics to help you get started in the real estate investment world. From how to choose a property, to finding a loan and insurance, to building the perfect team, this article has it all. Investing in a house to flip is a big decision and you need to be armed with as much knowledge as possible.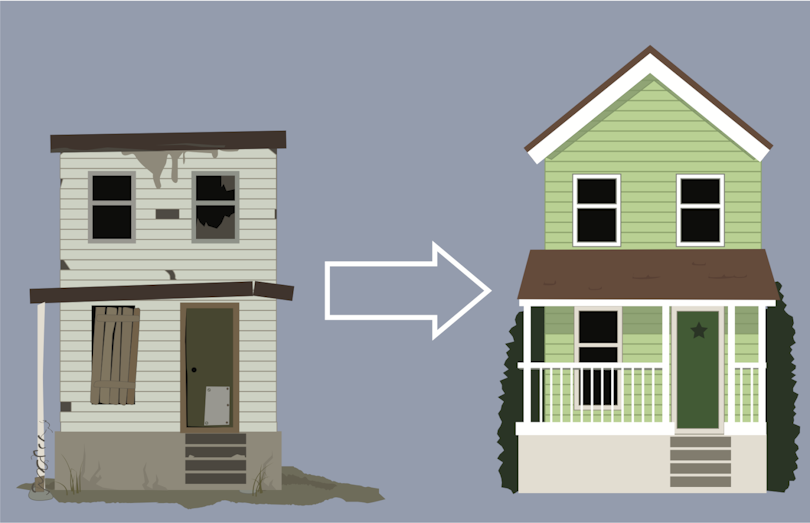 Introduction
Hi and welcome to the Ultimate Beginner's Guide to Flipping Houses! In this article, we are going to cover the basics of flipping houses. From what flipping houses is, to finding the perfect house, how to budget, how to make a profit, and what you can expect along the crazy journey that is house flipping, we've got you covered. If you are interested in getting into real estate investing but are a little wary of house flipping, check out our guide on Buying Rental Properties. Rental properties are a great way to get your feet wet in real estate investment and can be slightly less risky than house flipping.
JUMP TO SECTION
What is Flipping Houses?
Glad you asked. Flipping houses is when you take an older or not updated home and bring it back to life. Essentially, it is taking a house that is a little run down or has an awkward layout or just needs some TLC and making it a place you would want your family to live. The business of flipping a house is to buy a house at a low cost and then to sell it for a profit. The key to success for house flipping is speed. The sooner you can sell the house for a profit, the better. Now that we're familiar with what flipping houses is, let's talk about how to do it.
First Steps for Flipping Houses
The number one rule of flipping houses is to have a plan. You need to see the entire process through and plan out each step before you invest in a home. Do your research, talk to experts, practice your skills in negotiating, carpentry, plumbing, etc. and then practice them again. According to experienced flipper Ben Mizes, "the worst way to learn how to flip houses is by losing 100K on a flip". So plan ahead, plan well, and protect yourself.
To give you an idea of how the process works, there are a few steps you will always take when flipping any house. We laid out a brief overview of those steps to help you visualize the entire house flipping process. Seeing everything involved in the process should help you feel more confident about knowing what to expect and starting to lay out your plan of attack:
Step 1. Set a budget
Step 2. Secure funds to afford the house flipping process (more on this in a bit)
Step 3. Find a house that you feel is a practical and within your budget
Step 4. Plan the updates and changes you want to make to the house
Step 5. Begin renovation and redesign of the house
Step 6. Stage the home (internally and externally) and put it on the market
Setting a Budget
Besides moving quickly, setting a budget (and sticking to it!) is the most important step for flipping a house. You need to acquire funds and then ensure that every decision you make going forward keeps you within your budget. Staying within your allotted budget will help you make a profit when you sell the home and ensure you don't have to dip into your savings or personal funds to supplement.
When setting a budget, you should aim to make between 10% and 20% in profit when you sell the home. To help you determine a budget for each project, take a look at how much homes in pique condition sell for in the same area.
Although you likely won't be paying the loan on the house off for 15 or 30 years, it can still help to think in terms of how much house you can afford. Read 5 FAQs about Home Financing to get a better understanding of how to budget for a home in general.
Pro Tip: Budget for a full inspection for after you put an offer on a home. Assume that a h

ome inspection will run between $400-$600. It's costly upfront, but t

his way you can know if there are any underlying or costly repairs you might need to make. During the inspection process, you can still choose to cut your losses and walk away from the sale if the findings from the inspection prove to be too overbearing on your budget or resources.
If you are new to the home buying process, take a look at our article on 10 Thing to Know Before You Buy to get some more details on what exactly you need to know before pulling the trigger.
The ARV Model and Why It's Important
In real estate, especially investment real estate, you need to know about the ARV model. ARV stands for After Repair Value, which is the estimated value of the property after it has been fully renovated. This is the number you need to have in mind when you first set your budget. It is important to consider the ARV number so that you can build in enough extra padding in your budget in case something goes wrong. If you do not build in enough padding, you could end up losing money.
Within the ARV model is the 70% rule. This states that an investor should pay 70% of the ARV of a property minus the repairs needed. The 70% rule will help you determine how much you should pay for a property. Take the ARV number, let's say $100,000. Then assume the property will need $25,000 in repairs.
In this specific example, when a property's ARV is $100,000 with $25,000 in needed repairs, an investor should not pay more than $45,000 for that property.
Remember in house flipping you need to have a plan, but you also need to know that many things will not go according to that plan. Having a padded budget and getting a property for the right price will help you deal with those unplanned expenses that are bound to happen.
What to Look for When Searching for a House to Flip
Sometimes the simplest advice is the best advice, and to that point, we say: find the least expensive home in the most expensive neighborhood. The backing of a great neighborhood with top-rated school districts is a smart way to decide on which house to invest in. Here, your home will sell for more than in a less desirable neighborhood and is more likely to sell quicker.
Another piece of advice when looking for your fixer-upper is to focus on homes that only require cosmetic updates such as new floors, updated countertops, painted cabinets, painted walls, and landscaping. New paint has one of the highest returns on investment (ROI) of any possible home improvement – 107% just for painting the interior walls. Having an eye for design and being able to envision what a space could look like is an invaluable skill for a house flipper, because it will ultimately lead to the highest boost in value for the least additional cost.
As Ben Mizes eloquently states, "Look for the ugly. Look for the house with disgusting landscaping, a terrible kitchen, or a bad layout. These things typically scare away buyers, but if you know what you are doing, they can lead to the best flips." Sometimes you'll walk into houses that are plain ugly. But house-flipping is all about seeing the potential in any home to be something beautiful, modern, and a place you could see yourself living.
»MORE: Find cheap properties that meet your criteria with DealMachine!
House-Flipping Loans: How to Get One
Chances are you will need to take out a loan in order to buy the house and afford all the renovations required to get the house ready to sell. If the idea of getting a loan makes you a little queasy, we don't blame you, but we can tell you it isn't as daunting as you imagine. For some super digestible advice on how to get a loan for flipping houses, check out our article on hard money loans.
Getting a loan for a home you plan to flip is a little different than acquiring a loan for a home your own family would live in. A mortgage loan might not be applicable if you do not plan to live in the house. Buying a house to flip is considered an investment property, which changes your eligibility for a mortgage loan.
Your best bet if you are new to flipping and don't have the disposable income to pay for a house in full is to get a hard money loan through a private lender. These loans will cover the cost of the property and the cost of the repairs. One major benefit of acquiring funds from a hard money lender is that the process moves much quicker than it does for mortgage loans.
Time, as you'll remember, is one of the most important factors when flipping a house, and every opportunity to move quickly should be taken advantage of.
One downside to a hard money loan is that interest rates are almost always higher than for a mortgage loan, so the loan will cost you more in the long run.the good news is that a traditional 15 or 30-year loan is not in your best interest anyway, so hopefully, you will be able to pay the loan off quickly before it accrues more interest. You can expect to see interest rates for hard money loans land anywhere from 8%-20%.
When working with a hard money lender be sure to find out if they are providing you a loan based on the LTV or based on the ARV. LTV is the loan to value ratio and ARV is the after repair value.
After You Buy: What to Expect When Flipping a House for the First Time
"I've never done a renovation that went according to plan," said Mizes who has spent time both flipping and investing in real estate. When getting into house flipping, expect the unexpected and plan for the worst. Make sure to pad your budget and give yourself a large enough margin of error to deal with any setbacks that occur.
After you find the perfect property, secure enough funds, and have the keys in your hand, then the real work begins. You need to flip this house fast. You will need a plan and a small army of people to help you execute that plan. Hopefully, the inspection you had performed before purchasing gave you a great idea of what needs to be done first.
If you have major structural or foundational issues, those become a priority because the house won't sell if it has major problems like plumbing, electricity, water problems, etc. We recommend having a list of trusted handymen in each field available for work on hand. If you yourself are handy, that's a huge plus.
You will need a contractor (unless you are one) to help you throughout the renovation process. A contractor is someone who is licensed and has proven success and experience in the construction field. The contractor will oversee the entire process for any structural updates made to the home, like plumbing, electrical, windows, or doors. Contractors are knowledgeable about the regulations you need to abide by and how to work with all the different people involved in a home renovation.
Once you get all the essential fixes done, it is time for the cosmetic updates. You can work with a designer or do it yourself, but it is extremely important to make the home cohesive, updated, and practical. Know when to splurge on an expensive piece and when you can save money by antiquing or adding a DIY project. Another important piece of the flipping puzzle is the landscaping and the "curb appeal". Don't underestimate first impressions and how much they matter to home buyers!
A Note on Insurance and House Flipping
Even though you might not be living in the home yourself and you might only own the home for a few months, you still need insurance while the home is in your possession. This will add to the cost of the flip, so each month you still own the home, you lose money on your investment to insurance costs.
This should act as an incentive to renovate and sell as quickly as possible.
Typically you will need 3 types of insurance when flipping:
Vacant Building Policy
Builder's Risk Policy
General Liability Umbrella Policy
Most standard homeowners' insurance companies do not provide these types of policies, so you might need to look elsewhere to find coverage. Here are some of our recommendations for house flipping insurance:
You can expect to pay between 0.5% and 1% of the property's value in insurance cost per month.
How to Build Your House Flipping Team
When getting into the house flipping business, it is paramount for you to have a trusted team on your side. A house flipping team will usually include:
Contractor (sometimes that is you)
Subcontractors

Electrician
Plumber
Carpenter

Real Estate Agent
Lender
CPA
Insurance Agent
There are two ways to approach a house flipping team.
1. Hire a Contractor
If you take the more traditional route, you will hire a contractor. The contractor is then responsible for hiring any subsequent subcontractors who will do the work on the property. You as the owner do not have much say in who the contractor hires to do the work. This can be good because it takes the stress off of you for finding people, but it can also be bad because you do not have a say in who is doing the work on your property and vetting them yourself.
2. Act as the Contractor Yourself
If you decide to act as the contractor for your property, you will be a lot more hands-on throughout the entire process. This means you are responsible for finding and hiring any subcontractors like plumbers, electricians, carpenters, etc. As the contractor, you can vet each subcontractor and find ones within a price you like and that you feel are trustworthy, but it is a lot more work upfront to find good people.
One benefit of acting as the contractor yourself is that if you find good people, you can build that relationship and use them again and again for future flips or projects.
Pro Tip: We cannot stress enough the importance of a good team of workers that you trust. This will make a major difference not only for your experience flipping but in the speed and quality of the work being done, which directly affects your profit from the flip.
A Word About Contracts
When working with a contractor or any subcontractors, consider requiring a signed contract on lien waivers. The contract should be completed before any work begins and is between you and any subcontractors stating that they cannot put a lien on your property if they are not paid. The waiver requires that the General Contractor goes to mediation before the subcontractors lien waiver you.
How to Sell a Flipped House
Once you've finished the repairs on a home and are ready to sell, it might seem like the end of the project, but it's still the final stretch of the race. You need to continue to work hard to market the property the best you can so you can get the maximum ROI possible on your investment.
Work on making the home feel inviting and like someone actually lives there. You want potential buyers easily to picture their lives when they walk through the home. A great way to achieve this is through staging. Staging is decorating the home and using modern and updated furniture and decor to make the home feel ready to live in. This helps potential buyers picture themselves in the home and see the potential for the space, instead of just empty walls and expansive wood floors.
If you're not sold on staging, take a look at these statistics:
Credit: National Association of Realtors
Most real estate agents can help you figure out services for staging a home and recommend some excellent designers. If you still need to find a great real estate agent, Clever can help connect you with top agents in your area with experience in staging and house flipping.
Regardless of whether you are selling the home or a trained agent is, there are some creative steps you can take to market the home to potential buyers.
Take amazing photos with great lighting
Utilize social media
Do a video tour
List online on various real estate sites
Be upfront about any issues
For more tips on creatively marketing your home for sale, check out our article with 5 additional strategies and more details here.
Quick Tip: It Costs Money to Sell
It might sound off, but it's true in real estate. Don't pay 6% of the ARV to sell your renovated house. Working with Clever can get you an experienced agent and help you maximize your profits when selling.
BONUS: Our service is 100% free. And there's never any obligation to sign with any agent you talk to. But if you do decide to work with an agent you meet, you'll also get a reduced commission rate exclusive to Clever home sellers!
How Much Can I Make Flipping Houses
If you are interested in getting into the house flipping business, you probably have asked yourself the question. If house flipping is going to be your full-time source of income, you need to know how to live off the income you make from each flip, which might only come in every 3 months or more.
In Q1 2019, 49,059 homes were flipped across the US, according to Attom Data Solutions. For some context in Q1 of 2019, house flippers in Pittsburgh, PA saw a gross ROI of 131.2%, Shreveport, LA saw a gross ROI of 112.5%, and Knoxville, TN saw a gross ROI of 105%, all according to Statista.
Homes flipped in Q1 2019 solve for an average gross profit of $60,000, according to Attom Data, which is the lowest profits the house flipping market has seen since 2006. The $60,000 profit translated to an average of 38.7% ROI compared to the original acquisition price -- which still keeps most flippers holding true to the ARV 70% model.
Top 20 States for House Flipping in the US
| | | | | |
| --- | --- | --- | --- | --- |
| State | Avg Listing Price | Avg Days to Flip | Avg Profit | Avg ROI |
| Tennessee | $268,692 | 147 | $57,600 | 132.7% |
| Pennsylvania | $224,090 | 199 | $105,190 | 162.4% |
| New Jersey | $372,916 | 207 | $102,300 | 141.6% |
| Louisiana | $232,610 | 166 | $71,866 | 104.2% |
| Colorado | $538,477 | 176 | $74,300 | 155.6% |
| Maryland | $369,454 | 198 | $109,617 | 109.6% |
| Virginia | $341,015 | 184 | $91,783 | 99.3% |
| Florida | $406,803 | 151 | $59,917 | 83% |
| Illinois | $277,163 | 196 | $77,317 | 110% |
| Kentucky | $213,848 | 172 | $55,241 | 107.8% |
All data in the above table is from CNBC.
Conclusion
If you are serious about getting into the house flipping game, there is a place for you. Taking that first step is always the hardest part, but you can definitely do it! Clever is here to help you through the process by providing you with fantastic real estate agents, access to discounted fees, and leads for promising deals. Flipping houses is full of uncertainty, but the buying and selling part don't have to be. For more information on flipping homes in your local area, check out our blogs specifically on flipping houses.
You May Also Like