A broker price opinion (BPO) is a home valuation report provided by a licensed real estate professional. It determines your home's estimated value based mainly on its condition and the recent sale prices of similar homes located nearby.
Getting a BPO could be a good idea for homeowners who:
Are looking to sell without a real estate agent and need a home value estimate to determine a fair listing price.
Want to eliminate private mortgage insurance (PMI) and have the option of getting a BPO instead of a home appraisal to save time and money.
Here's what you should know about BPOs, including if it's an option in your state, when (and if) you should get one, the costs, and other potential options for you.
How does a BPO work? | How to get a BPO | Do I really need a BPO? | BPO vs. appraisals | BPO vs. CMAs | BPO vs. online home value estimators| FAQs
When should you get a BPO?
To determine a listing price
Homeowners that sell with a real estate broker or agent usually receive a free comparative market analysis (CMA) report to help them set a listing price for their home, but FSBO sellers don't have this option.
Technically, you can ask a real estate agent for a free CMA report even if you plan to sell FSBO, but we don't recommend this. Paying for a BPO is a better option than misleading an agent into thinking you need their services.
Instead, FSBO sellers can get a BPO from a real estate agent or broker who has completed training through the National Association of Broker Price Opinion Professionals (NABPOP).
The BPO can give you invaluable guidance when deciding on a listing price, helping you mitigate the risk of mispricing your home – a common mistake made by FSBO sellers, whose listings sell for 26% less than agent-listed homes.
Home value estimate alternatives
As an alternative to a BPO or CMA, you could pay for a pre-listing appraisal for a more accurate, comprehensive, and formal way of assessing your home's value. But it's also more expensive ($400–$600) and time-consuming, so it's not a great option for most FSBO sellers.
A BPO, CMA, or pre-listing appraisal provide the most accurate home value estimates. Of the three options, only a CMA is free, and you can get a free CMA here from a top local agent.
But if you are earlier in the process and aren't ready to pay a fee or talk to an agent yet, there is still an option for you — an online home value estimator. This free tool will quickly give you a rough idea of your home's value as a first step in your selling journey.
💰 How much is your home worth?
Discover the true value of your home with our Home Value Estimator!
Find My Home's Value
To remove your PMI
Homeowners may also get a BPO in order to remove their private mortgage insurance (PMI): a monthly fee that is usually required when you buy a house using a conventional mortgage and make a down payment of less than 20%.
You can ask your lender to cancel PMI when you've built up 20% equity, meaning your loan balance is no more than 80% of your home's current value.
You'll need to get a home valuation report, such as a BPO, to prove your home value has risen enough to remove PMI. Combined with your loan balance, the BPO valuation proves your 20% equity position.
📲 Call your lender! Removing your PMI depends on your lender's requirements (some lenders may require an appraisal) and your payment history (you likely need a history of on-time payments for approval).

Check with your loan provider about their requirements and how to proceed with PMI cancellation.
How does a BPO work?
How a BPO is created
The process of preparing a BPO report is fast (1–2 days), straightforward, and usually involves market research and a visual inspection of the home.
In addition, the real estate pro analyzes your home's value based on comparable sales in your area, and factors in your home's condition, renovations, and upgrades.
After pulling sales data, the broker fills out a BPO form with home sale information, house photos, and any additional commentary.
What information does a BPO report usually include?
Age and condition of the home
Interior square footage ("gross living area")
Number of bedrooms and bathrooms
Type of financing used for comparable sales
Date of sale
Location and lot size
Site and view
Zoning requirements
Design and curb appeal
Construction quality
Basement
Heating and cooling
Energy efficiency
Any remodeling the home has undergone
The report also includes value adjustments based on your home's size, condition, and features vs. its comps. For example, if your home has more interior square footage than comparable homes, its value may be adjusted higher.
The BPO report may feature additional analysis and commentary showing how the agent arrived at the estimated valuation of your home, along with a snapshot of the average list price, sales price, and days on market for recent home sales in your area.
What a BPO looks like (and how to read one)
Here's a sample BPO report from real estate brokerage Keller Williams. Note that the report includes an estimated value of the home in question ("Subject"), along with sales prices and adjusted values for three comparable properties ("Comps").
The estimated value of the subject home ("Indicated Value") is blanked out on this sample BPO, but it would be a range from $152,500–155,500.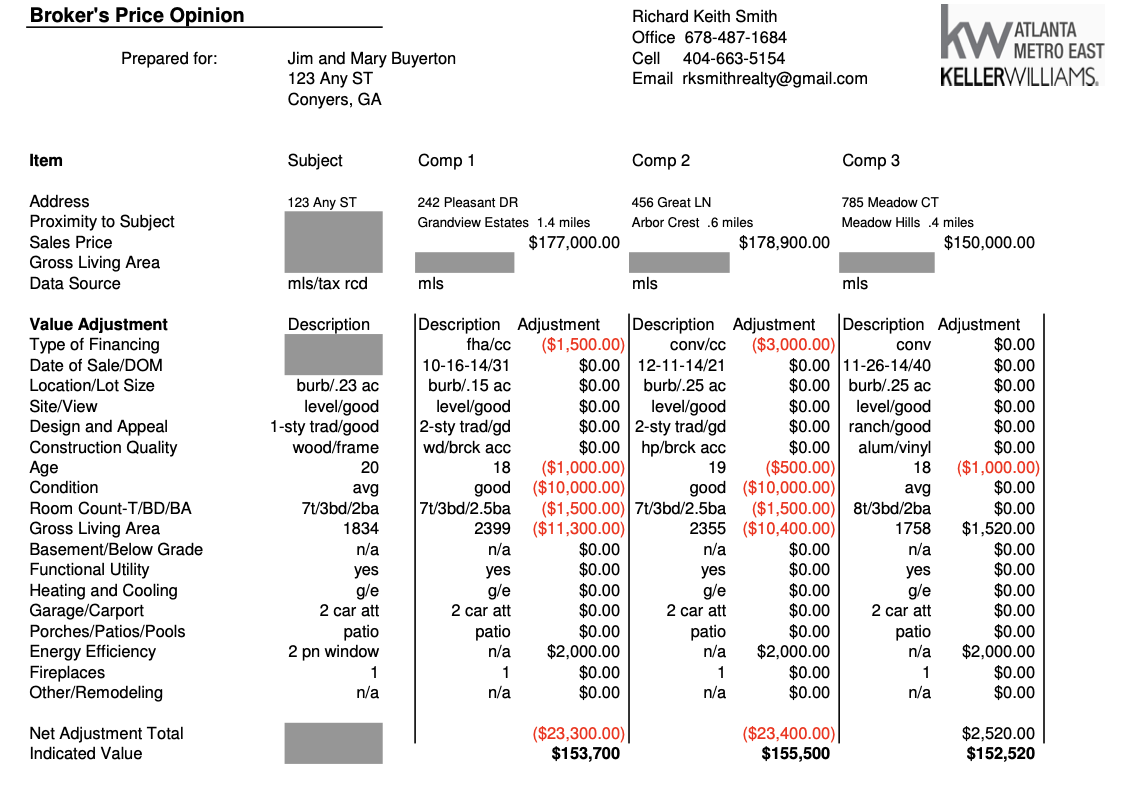 BPO report line-by–line breakdown
The following items were taken into account when assessing the value of the home and its comps:
Type of Financing: FHA vs. conventional loan
Date of Sale/DOM: Date home was sold and number of days on market
Location/Lot Size: Suburban vs. urban and lot size in acres
Site/View: Levelness of site and quality of view
Design and Appeal: Height of house in stories and visual appeal
Construction Quality: Building materials
Age: Age of house in years
Condition: Good, average, etc.
Room Count: Number of rooms (total, bedrooms, bathrooms)
Gross Living Area: Measured in square feet
Basement/Below Grade: Presence of basement or underground level
Functional Utility: Whether the house provides adequate living conditions
Heating and Cooling: Gas and electric (g/e)
Garage/carport: Garage capacity (number of cars) and whether it's attached
Porches/Patios/Pools
Energy Efficiency: Presence of energy-efficient double-pane (2 pn) windows
Fireplaces
Other/remodeling
Net Adjustment Total: Net of all adjustments made to the property's value
Indicated Value: Value of the property after all adjustments made
The "Adjustment" column to the right represents the agent or broker's opinion of how much should be added to or subtracted from the value of the comparable properties depending on their features.
For example, $10,000 is subtracted from Comp 1 because the house is in "good" condition, whereas the subject property is "average." In other words, the superior condition of Comp 1 adds around $10,000 to its value, so the price needs to be adjusted down by $10,000 to accurately compare this house to the subject property.
Comp 1 also gets adjusted down for its financing type, age (18 years vs. 20 years for the subject property), room count (2.5 bathrooms vs. 2 bathrooms), and gross living area (2,399 square feet vs. 1,834 square feet). Comp 1 gets adjusted up for not having energy-efficient windows.
The net adjustment total is negative $23,300. The indicated value is the sales price ($177,000) minus the net adjustment total, or $153,700. This means that Comp 1 would be worth $153,700 if it had the same features, condition, and other characteristics as the subject property.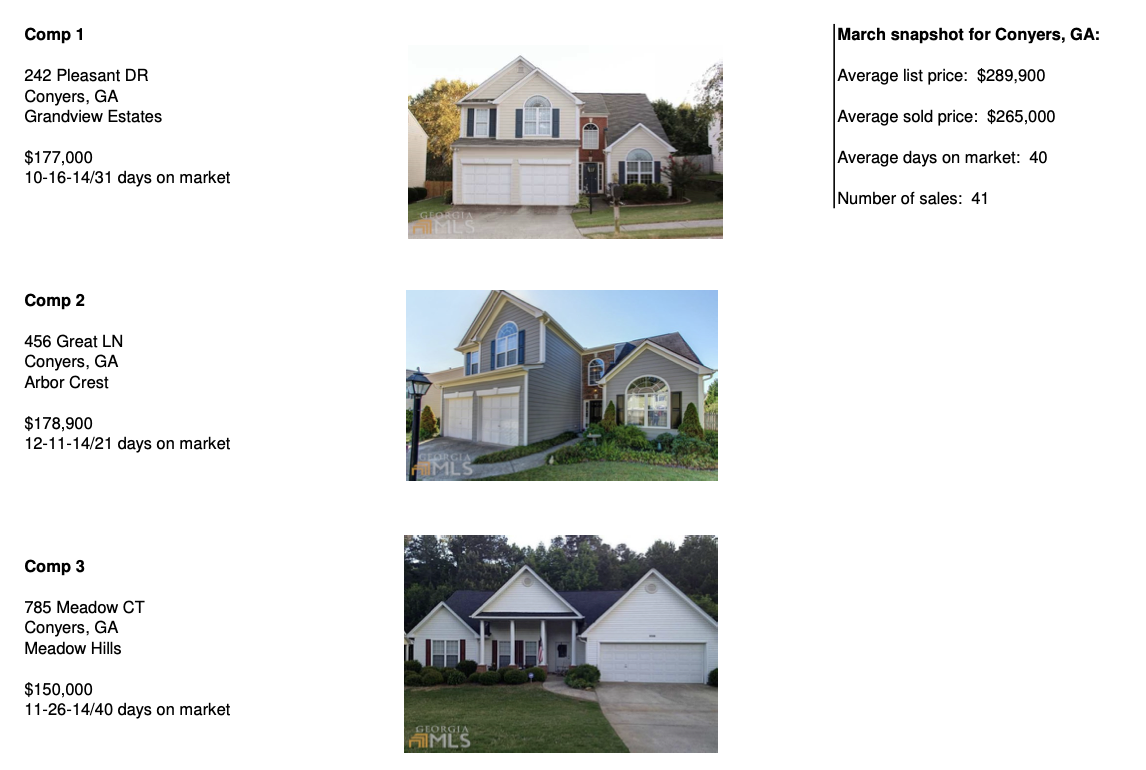 The second page of the BPO report includes photos of the properties along with basic information (address, price, days on market) and a brief market snapshot of the town of Conyers, GA (average list price, average sold price, average days on market, and number of sales).
Types of BPOs (in-person or drive-by)
There are two basic ways to perform a BPO: An in-person BPO (which requires a real estate professional to go inside the house and look at its condition and features), or an external or "drive-by" BPO.
In-person BPO: Try to arrange an in-person BPO if you've made substantial interior renovations or upgrades to your home – you can point out those upgrades to the agent or broker conducting the BPO, which may help you obtain a higher valuation.
Drive-by BPO: An exterior inspection provides a rougher, more tentative estimate than an in-person BPO. It may be a decent option if your home hasn't undergone any major interior upgrades or renovations, or if you won't be home to provide interior access.
How to get a BPO
The best way to get a BPO is to request one from a local agent or broker. Call them to set up an appointment, and specify whether you'd prefer a drive-by or in-person BPO.
If you're seeking a BPO to end your PMI, check with your lender to make sure a BPO is an acceptable substitute for an appraisal.
Twenty-eight states have regulations concerning whether or not a broker may charge for BPO services, according to the Appraisal Institute. In 9 states, there are no limitations on whether brokers can perform BPOs.
States where BPOs can only be offered as part of the listing process
Alabama
Connecticut
Delaware
Georgia
Idaho
Kentucky
Maryland
North Dakota
New Jersey
Oregon
Rhode Island
Tennessee
Utah
West Virginia
States with regulations regarding fees for BPOs
Arkansas
Arizona
California
Colorado
Florida
Hawaii
Illinois
Kansas
Louisiana
Maine
Massachusetts
Michigan
Minnesota
Missouri
Mississippi
North Carolina
New Hampshire
New Mexico
Nevada
Ohio
Pennsylvania
South Carolina
Texas
Washington
Wyoming
Virginia
U.S. Virgin Islands
States where there's no limitations on BPOs
Alaska
Indiana
Iowa
Montana
New York
Oklahoma
South Dakota
Vermont
Wisconsin
If you're unsure about what the rules are in your state, check with a real estate agent or broker to see if getting a BPO is an option.
Do I really need a BPO?
BPOs are often confused with CMAs, appraisals, and even online home value estimators, but these are all different methods of assessing a home's value and are used for different purposes.
BPOs are faster and cheaper than appraisals, but less detailed and accurate.
BPOs usually cost money, whereas CMAs are often provided by real estate agents for free — but BPOs are a better option for FSBO sellers.
Mortgage lenders may or may not accept a BPO as a substitute for an appraisal in removing PMI.
Home valuation methods: Key differences
Method
Who's it for?
Who creates it?
Cost
BPO

Sellers to determine listing price
Homeowners to remove PMI
Lenders for a foreclosure or short sale

Agent or broker
$150-250
Appraisal

Home buyers to finance a purchase
Sellers to price their home competitively
Homeowners to refinance a mortgage

Appraiser
$300-500
CMA

Sellers to price their home competitively
Home buyers and investors to negotiate price

Agent or broker
Free
Online estimators

Home sellers to estimate their home's value before listing

Automated
Free
BPO vs. appraisals
Appraisals are designed to provide an objective, third-party, professional opinion of a home's value. They are more formal and regulated than BPOs and are performed by licensed appraisers who must meet certain ethical and performance standards.
Appraisals ($300–500) often cost more than BPOs ($150–200). One reason why: Appraisers have more experience and training in assessing a home's value than realtors, because it's all they do.
Appraisals usually take more time than BPOs to complete, especially in a very active market where it can be hard to track down appraisers and set up an appointment. With all the research and analysis involved, appraisals can take a week or two to complete.
Should you get a BPO or an appraisal?
FSBO home sellers who are in a hurry should get a BPO instead of an appraisal. But those with the time and money might want a pre-listing appraisal for a more accurate home valuation. If the value comes in higher than expected, you can show it to prospective home buyers to attract better offers.
For homeowners looking to cancel their PMI, the key question is whether or not your lender requires an appraisal. If not, a BPO may be preferable as it's cheaper and faster to obtain.
BPO vs. comparative market analysis
A CMA provides an estimate of a home's value by comparing the recent sale prices of similar properties located nearby.
CMAs are usually free as agents provide them to sellers to help determine a fair listing price, while BPOs can cost between $150 to $250.
CMAs may be more detailed and comprehensive than BPOs, depending on your market and the agent putting together the report. CMAs are more focused on comparable properties and analysis of the surrounding market and can run from a few pages to 10-20 pages long, whereas a BPO is typically no more than a couple of pages.
Should you get a BPO or a CMA?
Go with a BPO if you need help setting a fair listing price for your home and plan to sell it without the help of an agent, or if your lender allows a BPO to cancel PMI on your mortgage.
👋 Need help pricing your home? Clever Real Estate can match you with a top-rated agent in your area who will provide a free CMA or a BPO, to give you a better idea of what your home is worth and help you set a competitive list price.
BPO vs. online home value estimators
Online home value estimators like Zillow, Trulia, and Redfin are popular tools to estimate your home's value, but they aren't as accurate as a BPO and won't be accepted by a lender for the purpose of ending your PMI.
The main advantage of these online tools is speed and convenience. Typically, you can get a quick estimate by entering your home's address, although sometimes you need to provide other details about the property.
A BPO is more detailed and accurate than an online estimate, as it's specially prepared for you by a real estate professional. In a BPO, an agent or broker performs a visual inspection of your home, so they can see its curb appeal, condition, and recent renovations — information that's typically unavailable to online estimators.
A real estate pro also pulls relevant comparable home sales in a BPO, while some home value estimate websites often pull irrelevant or outdated sales. The agent or broker hand-selects comps, and typically uses home sales within the past 3 months. Home value sites, by contrast, automatically pull comps based on algorithms.
If you want to get started with an online estimate as a first step, we recommend comparing several to get a better idea of your home's actual value. You can access our free online home estimator tool here.
FAQs
Is a broker price opinion accurate?
A broker price opinion (BPO) is a useful way to estimate a home's value. It's usually not as accurate as an appraisal, but it's accurate enough to help you determine a competitive price for your home. BPO reports are prepared by agents or brokers, who are experts in the local market and typically conduct a visual inspection of your home to estimate its value. Like a comparative market analysis (CMA), a BPO takes into account the condition and features of your home as well as comparable properties in the area.
What's the difference between a BPO and an appraisal?
Broker price opinions (BPOs) and appraisals are professional estimations of a home's value. BPOs are usually faster and cheaper than appraisals , while appraisals are more formal, detailed, and comprehensive than BPOs.
Whereas a BPO is prepared by an agent or broker, an appraisal is provided by a licensed appraiser, who has more experience and training with valuing homes. BPOs typically cost $150-250, whereas appraisals may cost $300-500. Appraisals can be used for a wider range of purposes than BPOs — for example, most home purchase and refinance loans require an appraisal.
What is a broker's price opinion used for?
A broker's price opinion (BPO) is an estimation of a home's value that can be used by homeowners and home sellers. Homeowners can often use a BPO as proof of their home's value to refinance their mortgage or eliminate private mortgage insurance (PMI) on their mortgage. People who are thinking about selling their home can use a BPO to determine a listing price.
What is the process for creating a broker price opinion?
A broker price opinion (BPO) is created by an agent or broker after inspecting the house and performing some basic market research. They will either inspect the interior of the house or check out the exterior in a "drive-by" BPO.
The real estate pro also researches comparable homes in the area that have listed or sold recently. They then prepare a BPO report that analyzes various features of the house (age, size, condition, etc.) and the comparable homes and provides an estimated valuation. The process is faster to schedule and complete than an appraisal and can take as little as one day.