Negotiating for repairs after a home inspection can be nerve-wracking and complicated. What's a reasonable request if you're the buyer? Leave it to an expert real estate agent to negotiate for you and ensure you get the best deal.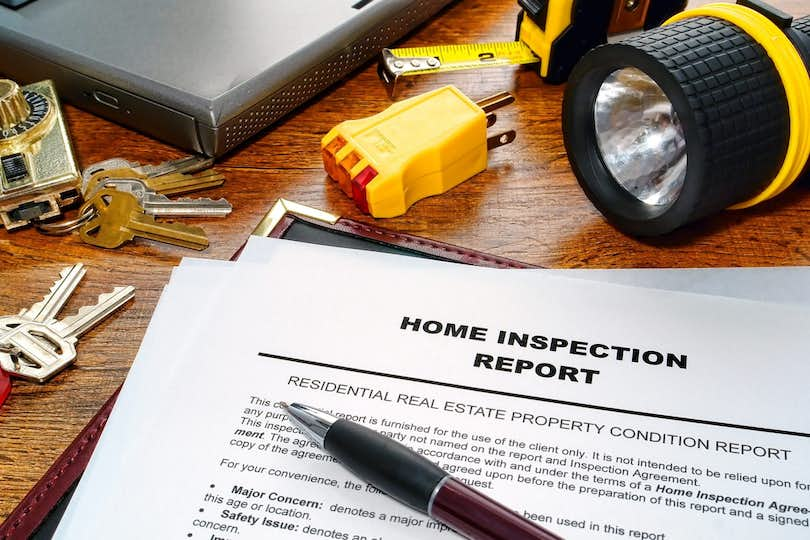 Home inspections are one of the most integral parts of the real estate transfer process. They have an important purpose: to discover any potential problems with the property before the sale is final.
This way, the home seller has a chance to make things right. However, there are certain reasonable requests after a home inspection, and things that a home buyer should never expect the seller to repair when they buy a home. You need a modest list of repairs to ask the seller for before home purchase, though you have more leeway in a buyer's market.
Work with a top agent in your market to ensure you make the right requests after you get the home inspection report. You need a great negotiator with the right experience in your corner to help you succeed.
Here's a list of sensible demands after a home inspection, so you know what to ask for to get the best deal:
What are reasonable requests after a home inspection?
A home inspection functions to find a laundry list of things wrong with a home. The older a house, the more likely you are to find out lots of things wrong with it. Home inspectors are state-qualified third parties who take an impartial look at a home and then provide an inspection report.
If your inspector finds any of the following things, it is within your rights as a buyer to request the seller fix them before you finalize the sale:
Lead paint. Keep in mind: the federal government requires sellers to disclose this
Major defects with the electrical panel
Any major drainage problems
Issue with the HVAC system or other heating or cooling systems
Major structural issues, like a leaking roof or substandard building violations (foundation problems)
Plumbing problems, including issues with the water heater
Radon levels above local EPA suggested levels
Significant presence of mold
Traces of termites or other wood-destroying insects
Well water problems, such as a lack of pressure or volume of water
Wild animals like bats, squirrels, or raccoons living in the attic
Buy with a top agent, get cash back!
Qualifying Clever buyers get cash back after closing.
How do you decide what needs to be repaired?
During the home inspection process, when you find an item needing repair you think will decrease the life expectancy of the home, you have a few options when you approach the seller.
The first option: You can ask the seller to fix the problem outright. For example, if there are raccoons in the attic, you can insist that the seller gets rid of the pest infestation on their own dime before you close on the house.
The second option is to negotiate a lower price because you will need to invest time, effort, and money into getting rid of the raccoons yourself once you become the homeowner.
You can apply this strategy to many issues as they come to light. However, if the problem is serious, like lead paint or a cracked foundation, proceed with caution.
These issues are serious and can take a lot of money and time to fix. Asking the seller to take care of them before closing is a reasonable request and you should be wary of taking on the responsibility as a buyer, even for a great price.
However, sellers will probably not grant every repair request.
What will sellers likely not fix?
Cosmetic Issues
Sometimes, contracts of sale get specific about cosmetic repairs. They state that a seller won't fix anything cosmetic, only items like structural issues, building code violations, or safety infractions. Some sellers only want to fix things the law requires them to fix. Check your local laws to ensure you get what's required fixed.
Inexpensive Repairs
If it would cost less than $100 to fix a problem, don't waste your time asking the seller to fix it. All this kind of nitpicking does is drive up the overall cost of repairs and annoy the seller. Instead, just make a note of the small things you would like fixed and complete the repairs yourself after closing.
External Building Repairs
If the home has a shed, pool house, clubhouse, or detached garage, it is best to just let any issues with them go, especially if you are buying your home in a competitive market. Just focus on the safety and soundness of the main house when making your requests.
Looking for a realtor who knows the inspection process inside and out? Clever Partner Agents in your area are expertly qualified to help you negotiate on home repairs. An experienced local buyer's agent will walk you through the home buying process, pointing out major issues during the home inspection, whether you're a first-time home buyer or experienced homeowner. Additionally, when you work with a Partner Agent, you're eligible for money back with the Clever Cash Back program. Qualified buyers get cash back after the sale is final!
FAQs About Home Inspection Requests
Can you negotiate with the seller after a home inspection?
Yes, you can. The seller is not obligated to repair their home before they sell it, but they are required to provide certain disclosures depending on the state. The one that's required throughout the United States is a lead paint disclosure for homes built in 1978 or earlier. Depending on the results of the home inspection, the buyer can negotiate down the price of the home, ask for home buyer credits, or even a home warranty to address future issues with major appliances. If it's an older home, this might be a wise decision.
What fixes are mandatory after a home inspection?
There are no mandatory fixes after a home inspection. If the buyer has an FHA loan, major structural issues or significant water damage may need to be fixed before proceeding with the home purchase.
How long after a home inspection does the buyer have to back out?
Home inspection contingencies are frequently set for seven days, which means the buyer has seven days from the time they signed the purchase agreement to complete the home inspection and then subsequently cancel the contract, if you don't like what you find. If the buyer discovers it's not their dream home, this is the time to do so. After the home inspection, the buyer can make reasonable requests for home repair, but if the buyer and seller can't come to an agreement, the buyer can back out.
When is a home inspection bad?
There's no such thing as a "bad" home inspection. Even if the inspector reveals faults the seller didn't know about, there are still ways to salvage a deal. If both buyer and seller want to work together, the seller can offer to make repairs or give a repair credit. They can also sell the home "as is" and disclose the issues with the home. A home warranty (one year or two year) can also be a great option to help assuage buyer concerns.
Related Articles