A home inspection may be the last thing buyers think about as they're searching for a new home. But it is also one of the most important steps. A thorough home inspection can save you headaches and money down the road. Here's our guide on what you need to know about who pays for a home inspection.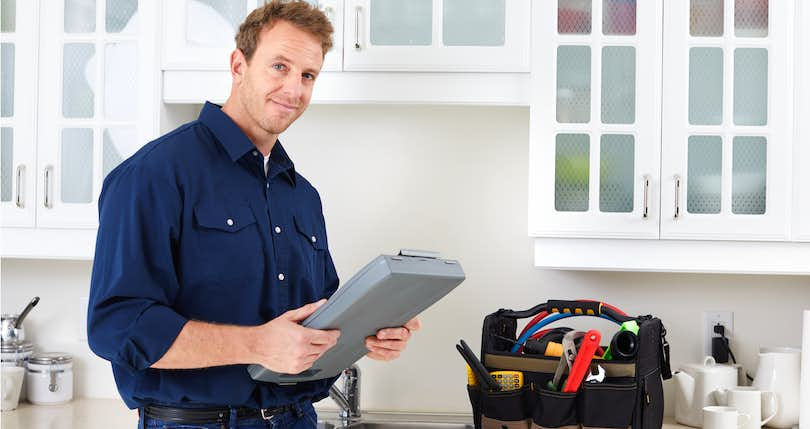 The home inspection is one of the most important and essential steps of the home buying process. It allows a licensed inspector to look over the potential purchase property for defects. These may include structural, electrical, or mechanical problems.
It's important to note that you must begin thinking about the implications of a home inspection well before the actual inspection. But one of the first questions you may have is: Who picks up the cost of home inspection, the buyer or seller? Here's our comprehensive guide on what you need to know about who pays for a home inspection.
Who Hires and Pays for the Inspector?
Generally, the home buyer pays for the cost of a home inspection, which should be undertaken as soon as an offer for a home is accepted by the seller. It can range anywhere from $300 to about $500. The overall cost is determined by the location and size of the property.
Ultimately, you must remember that you are negotiating to buy a home. That means you can put anything on the table when it comes to bargaining. That can include asking the seller to pay for the home inspection, if it comes out favorably and you end up buying the property.
Sellers may also include the cost of the home inspection as part of the overall closing costs. After all, if the seller believes that his or her property is up to code and the standards of most buyers, he or she will want to make the final sale as easy as possible for potential buyers.
Your offer for the home you want to buy should include a dollar amount (a limit) that you are willing to pay for repairs. This way, if a home inspector finds major repairs are needed and they go beyond what you had noted in your offer, you have some options. At this point, you can choose to negotiate a new price for the property with the homeowner, take on the total or partial costs of repairs, or walk away from the negotiation and look for a new home.
Why Do I Need A Home Inspection?
Home inspections are not required by law. That's probably why many homebuyers consider them to be a cost that they would rather not undertake, especially just before making one of the most expensive purchases of their lives.
After all, the financial toll of buying a home isn't easy. Home buyers have to contend with down payments, homeowners insurance costs, and closing costs. And all of that comes even before the first mortgage payment is due.
So, there may be a temptation to skimp on the added cost of a home inspection. In almost all cases, that would be a mistake.
Even if a home inspection finds that the home is in excellent condition and requires no repairs or additional costs, knowing these facts is well worth the cost. Think of the home inspection cost as a way to ensure that one of the biggest purchases of your life won't end up being a lemon or a costly money pit.
A few hundred dollars can save you tens-of-thousands of dollars in the long run, not to mention the headache and frustration of buying a home that turns into a costly money pit.
That's why potential home buyers should have an inspection done as soon as possible after the seller accepts an offer on a property. You want to give yourself plenty of time to let the seller know of any issues that the inspector finds. This way he or she can make the necessary repairs or you can come to an agreement for an altered final price.
A home inspection is necessary even if you're considering putting in an offer for a brand new house or condo. Even newly built homes can have defects. Some new home projects are built so quickly that not everything works the way it's supposed to.
The rule is: never assume. Spend the money to hire a home inspector to make sure the final cost of your home doesn't shoot up after you move in.
What Does A Home Inspection Cover?
A home inspection covers both the interior and exterior of a home. On the outside, home inspectors look for cracks in walls, damaged or missing siding, any damage to the roof (are there missing shingles?), and signs of damage to the property and attached structures such as garages.
When it comes to the foundation, they will look for visible cracks and any damage from the root systems of large nearby trees. A good home inspector will also check for proper drainage in the yard and any problems with decks and patios.
In the interior, a home inspector will look for leaks in faucets or toilets. They will also check for any fire hazards and test the heating and ventilation systems. They will also examine the hot water tank and plumbing systems. A home inspection may not necessarily cover appliances, so you will want to make sure you find out beforehand what is and is not part of your home inspector's examination.
More About Home Inspections
It's not easy to find a good home inspector. Don't go it alone. Buying a home is the most important purchase many of us will make. Find out more about home inspections from knowledgeable and professional Clever Partner Agent. A professional agent will be able to guide you through all aspects of the home buying process so that you can be sure that you can enjoy your home when you move in rather than deal with major repairs.
Related Articles
You May Also Like