Getting ready to sell your house in Michigan? Our in-depth guide breaks the entire process down into 8 simple steps. Learn how to find a great agent, price your home, negotiate with buyers, breeze through closing, and more!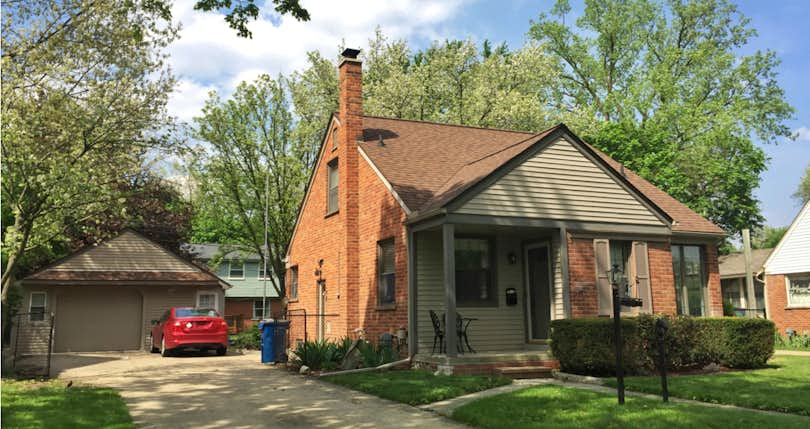 Now is a good time to be selling a house in Michigan! According to Zillow Research, property values in the Wolverine State rose 4.45% in 2019, and are projected to rise a further 3.95% over the next year.
Of course, even the best Michigan properties will struggle to sell if you don't price the home properly, do a poor job of marketing it, or don't know how to handle the negotiations.
Read on to learn the eight steps to successfully selling your home in Michigan!
JUMP TO SECTION
1. Finding a Michigan realtor
Selling a home isn't easy. It's a high-stakes, complex transaction and requires a considerable amount of time and expertise to get a good outcome. If you're looking to sell your Michigan home for the best price — and minimize stress along the way — you need to find a top-rated real estate agent in your area.
The best Michigan listing agents know exactly what local buyers want and how to reach them. They'll offer expert advice, guidance, and support every step of the way, from the initial listing all the way through closing.
In fact, sellers who work with real estate agents net 33% more, on average, than those who list on their own. For a $169,475 home — the median home value in Michigan, according to Zillow — that's a premium of $55,927. In other words, hiring an agent is well worth the investment.
2. Deciding when to sell
If you want your home to sell fast and for the best price, you can't list it whenever you want. Real estate markets go in cycles, and it's best to list at a historically good time to sell.
Best time to sell a house across the U.S.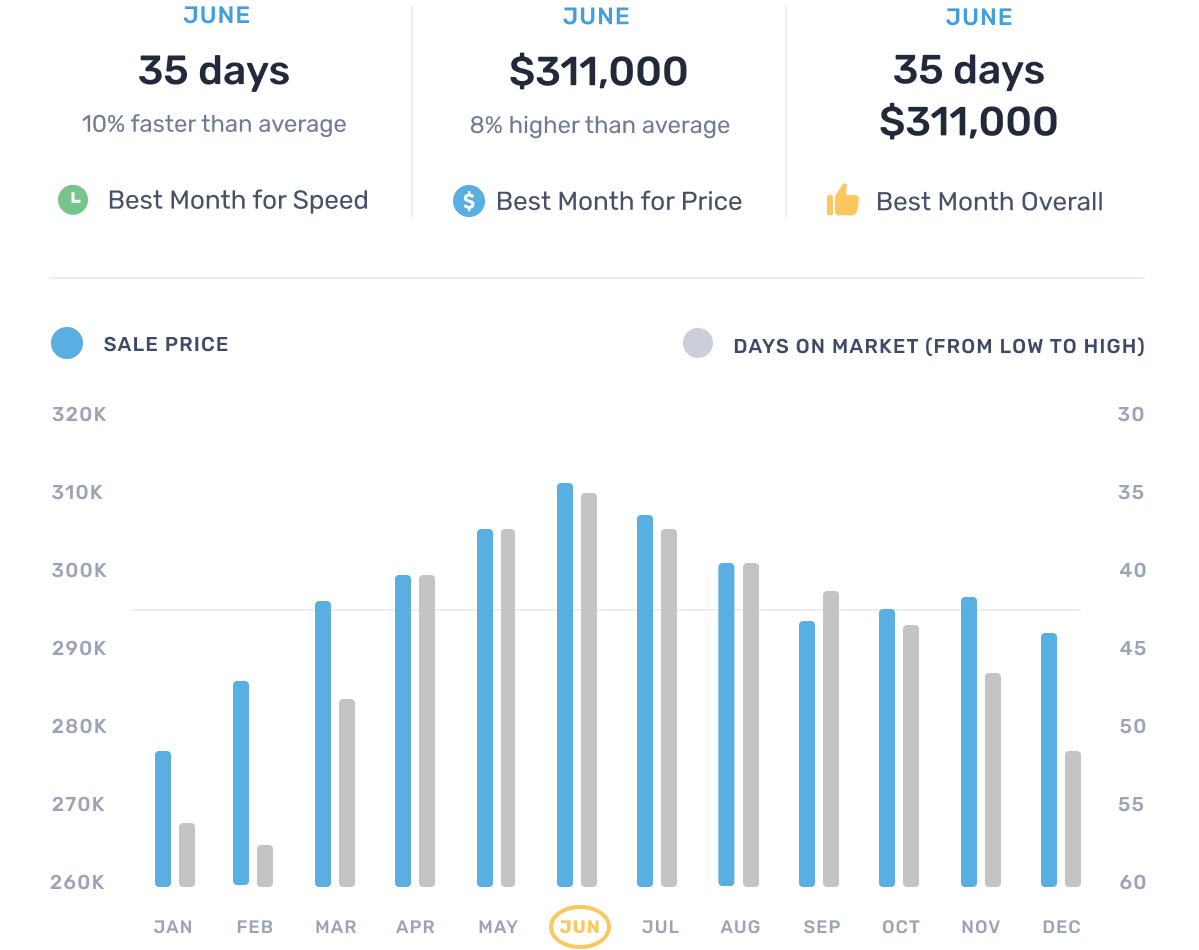 Source: 2019 Redfin Data Center
Best time to sell a house in Michigan for speed
| | | | |
| --- | --- | --- | --- |
| Best Month to Sell for Speed in Michigan | June | 17 days on market | 12 days faster than average |
June is the best time to sell a house in Michigan for speed. The average number of days on market for homes listed in June is just 17 days. In comparison, Michigan homes listed in January were on the market for an average of 40 days.
Just remember that the number of days on market does not include how long it takes to close. In any month, you can expect closing to take another 30-40 days.
Best time to sell a house in Michigan for price
| | | | |
| --- | --- | --- | --- |
| Best Month to Sell for Price in Michigan | July | $185,000 median sale price | 7% more than average |
The best time to sell your house and get a great price is also June. Michigan homes listed in January sell for a median price of $157,000, but homes listed in July sell for a median price of $185,000.
Learn More: The Best Time to Sell a Home in Michigan
3. Pricing your home
A comparative market analysis, or CMA, is used to competitively price given the current market conditions.
When conducting a CMA, your realtor will go through currently listed, recently sold, and pending sales for homes that are similar to your own to get an idea of how to price the house. They'll also take into account other factors like local real estate trends and your selling goals.
Quick Tip: How to get a comparative market analysis for free
If you'd like some professional guidance with no strings attached, Clever can help! Enter your basic info below to get matched with top real estate agents in your area. During your initial meeting with your agent, you'll get a professionally prepared CMA, advice on how to price your home, and learn what matters most to buyers in your area.

Note: This service is 100% free and there's no obligation to sign — get started below!


4. Preparing, marketing, and showing your home
Once you're all set to sell, you'll need to list your home and market it to sell. Here are some tips to help you on your way.
Home Staging Works!
Staged homes sell 86% faster than non-staged homes, and nearly 50% of listing agents say that staged homes sell for more, so don't skip over this step!
Home staging is all about helping prospective buyers imagine themselves living in your home. To do this successfully, you'll need to understand what local buyers are looking for and what they'll pay more for. Your real estate agent or a local staging company can help you make your home look like a Michigan buyer's dream home.
Craft an Appealing (and Accurate) Listing Description
Nowadays, many buyers start looking for a home on popular real estate sites like Zillow. Considering these websites have thousands and thousands of listings, you need a fantastic description for your home to stand out.
Start by getting professional photos taken of your home. Along with your realtor, choose which photos will highlight your house and make it memorable for buyers.
In the written description, you want to convey all the necessary information without overwhelming buyers. Use bulleted lists to make it easy to see the most attractive features of the home.
Market Your Home
There's no lack of opportunities to market your home. Your real estate agent will handle most of the marketing (including listing on the MLS), but it's always a good idea for you to put a "for sale" sign in your yard and share your listing on social media.
Showings and Open Houses
Hopefully, your listing will get buyers in the front door to check out your home. But this means you need to be willing to accommodate frequent showings and open houses.
Sure, this can be inconvenient at times and you'll have to keep your home clean and organized, but it's well worth it in the end.
5. Fielding offers and negotiations
When a buyer wants to make a purchase, they'll submit an offer with the price they're willing to pay and a deadline to accept by. At this point, you can either accept their offer or submit a counteroffer. If you submit a counteroffer, the deadline will be reset.
Both sides will continue negotiating until an agreement is reached, at which point you sign a purchase agreement.
The purchase agreement will state a number of contingencies that must be met for the sale to go through, such as a clean inspection, approved financing, etc. If any of these contingencies are not met, you or the buyer can back out of the sale.
Learn More: Real Estate Counter Offer Etiquette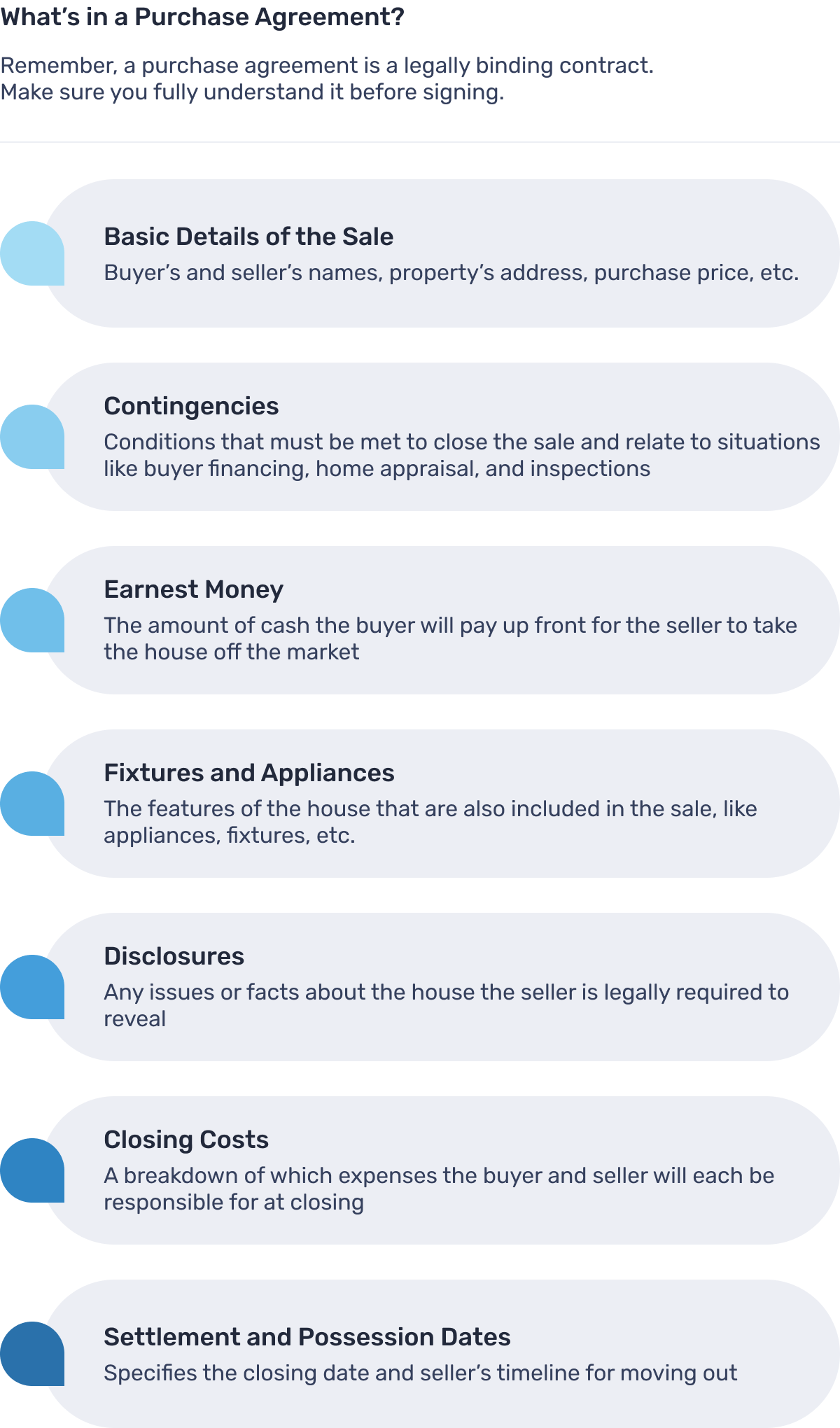 6. Appraisal and inspections
A licensed appraiser will appraise your home to determine its value. This is an important step in the financing process for the buyer; the lender needs to see that your home is worth enough to serve as collateral for their loan.
However, if the appraisal comes up short, this can have negative consequences for you as a seller as well. If the buyer can't secure financing, they probably won't be able to purchase your home, and the sale will fall through.
After the appraisal is completed, the buyer will hire a professional to inspect your home for any previously unknown issues that may need repair.
If something turns up during the inspection, negotiations will begin again about who's going to pay for or complete repairs. Buyers may ask home sellers to lower their selling price or pay for the repairs.
Whether you as a seller need to agree to either of these demands will depend on your local market conditions, so check with your realtor before making any concessions.
Learn More: Can the Seller Back Out of Contract Before Closing?
7. Paperwork and required Michigan disclosures
If everything goes smoothly, you'll be ready to sign the dotted line and seal the deal.
On closing day, the buyer will perform a final walkthrough of your home before meeting you at the title company to sign the closing paperwork and grab the keys to your home.
A lot of paperwork goes into selling a house. It's good to be familiar with all the documents you might need to close on your home, but always consult your agent or attorney before signing or filing paperwork. A licensed professional should walk you through all the paperwork and ensure you have everything you need for your situation.
According to Michigan law, almost all home sellers need to fill out a Seller Disclosure Statement prior to selling their home. This form asks sellers to list any known problems with the house that could affect the buyer's desire to make a purchase.
Failure to list relevant items can result in the cancellation of a purchase agreement, or if the property has already been sold, legal action from the buyer.
Learn More: Disclosure Requirements in Michigan
Forms and Documents for Selling a House in Michigan
Required for All Real Estate Sales in Michigan
2 Forms of ID
Copy of Purchase Agreement and Any Addendums
Closing Statement
Signed Deed
Bill of Sale
Affidavit of Title
Possible Additional Documents
Loan Payoff Information
HOA Forms and Guidelines
Survey Results or Survey Affidavits
Home Inspection Results
Proof of Repairs or Renovations
Home Warranty Information
Copies of Relevant Wills, Trusts, or Power of Attorney Letters
Relevant Affidavits (Name Affidavits, Non-Foreign Affidavit Under IRC 1445, etc.)
Closing Disclosure (for certain seller concessions)
Correction Statement and Agreement
Michigan Disclosure Forms
Flood Zone Statement
Lead-Based Paint Disclosure
8. The closing process
Unfortunately, closing comes with a number of expenses, broadly referred to as "closing costs". Typical closing costs for sellers include:
Transfer taxes
Title search
Title insurance (for the buyer)
Loan payoff costs
Mortgage prepayment penalties
Outstanding amounts owed on the property
Overall, sellers in Michigan should budget 1-3% of their home's value in closing costs.
Learn More: How Much Are Closing Costs for the Seller?
Next steps: Sell your Michigan home and save thousands
Whether you're looking to list your Michigan home immediately or 6-12 months from now, it's never too early to start looking for an agent, getting advice, and making a plan.
Clever is here to help guide you through the home selling process — and save money along the way! In fact, homeowners who list with us save an average of $9,000 on home selling costs.
>> LEARN about Clever's free service and read reviews from real home sellers here!
Top ways to sell your home in Michigan
Additional resources for Michigan home sellers
Related links