Getting ready to sell your house in Virginia? Our in-depth guide breaks the entire process down into 8 simple steps. Learn how to find a great agent, price your home, negotiate with buyers, breeze through closing, and more!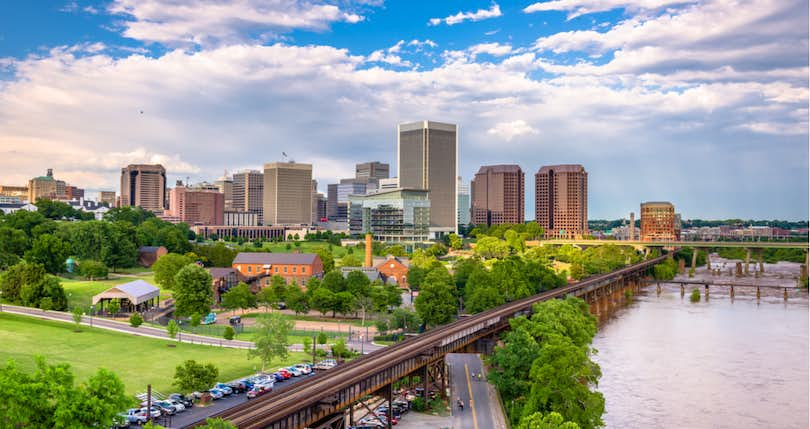 Now is a good time to be selling a house in Virginia! According to Zillow Research, property values in the Old Dominion rose 3.63% in 2019, and are projected to rise a further 4.01% over the next year.
Of course, even the best Virginia properties will struggle to sell if you don't price the home properly, do a poor job of marketing it, or don't know how to handle the negotiations.
Read on to learn the eight steps to successfully selling your home in Virginia!
» MORE: Get a free, instant home value estimate now!
JUMP TO SECTION
1. Finding a Virginia realtor
Selling a home isn't easy. It's a high-stakes, complex transaction and requires a considerable amount of time and expertise to get a good outcome. If you're looking to sell your Virginia home for the best price — and minimize stress along the way — you need to find a top-rated real estate agent in your area.
The best Virginia listing agents know exactly what local buyers want and how to reach them. They'll offer expert advice, guidance, and support every step of the way, from the initial listing all the way through closing.
In fact, sellers who work with real estate agents net 33% more, on average, than those who list on their own. For a $281,035 home — the median home value in Virginia, according to Zillow — that's a premium of $92,742. In other words, hiring an agent is well worth the investment.
2. Deciding when to sell
While timing the market can be difficult, certain fluctuations can be expected and even predicted. Typically, the best time of the year to sell is in late spring and early summer.
But the best month to list in will depend on what your selling goals are. The best month for speed may not be the best month for price.
Best time to sell a house across the U.S.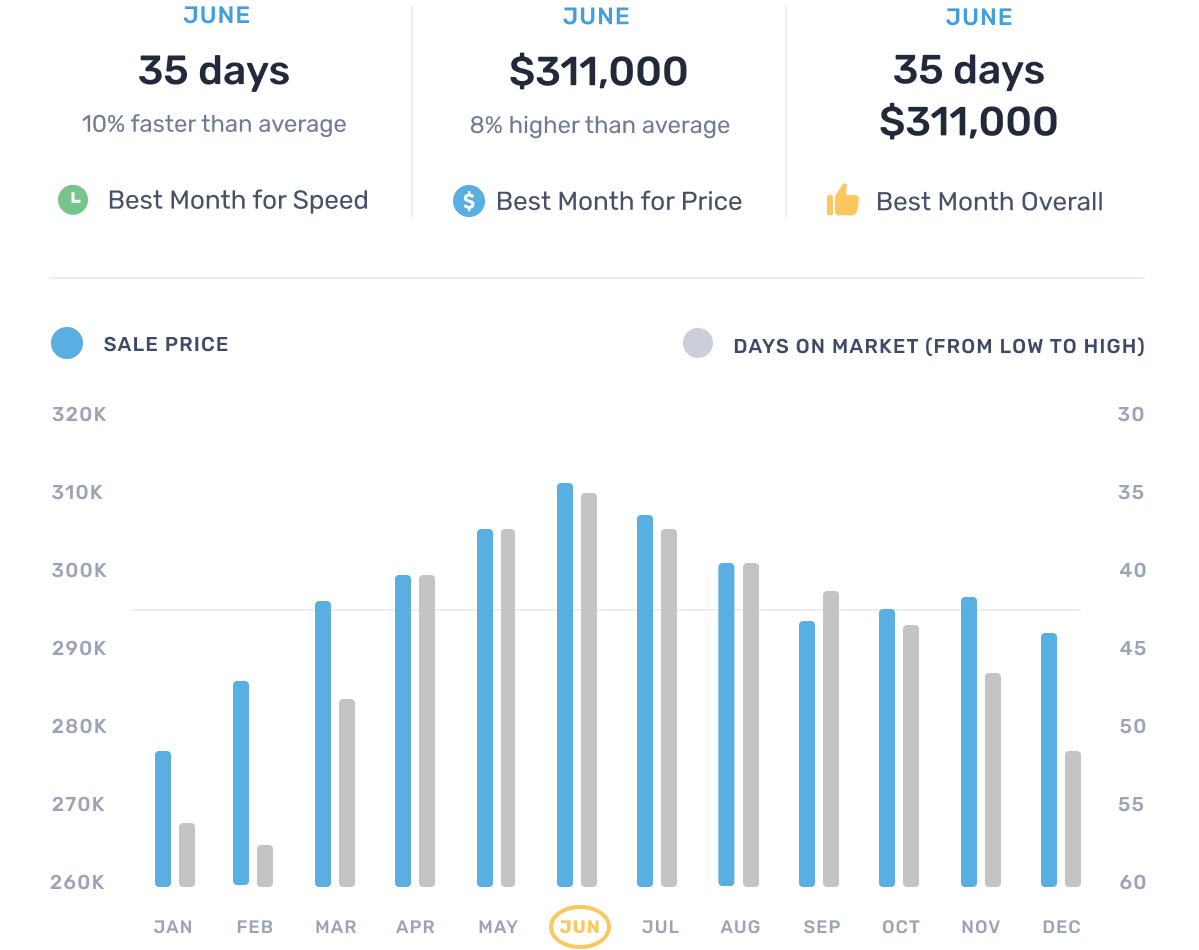 Source: 2019 Redfin Data Center
Best time to sell a house in Virginia
| | | | |
| --- | --- | --- | --- |
| Best Month to Sell for Speed in Virginia | June | 25 days on market | 13 days faster than average |
| Best Month to Sell for Price in Virginia | June | $348,000 median sale price | 8% more than average |
In late Spring, sales prices in Virginia tend to average $25,000 more than winter prices. Time on market also typically falls during this time of year. Competition between buyers heats up, increasing sale prices and speeding up sales.
Seasonality isn't the only factor that affects timing though. Northern Virginia is currently benefiting from economic growth and the announcement of Amazon's new headquarters there. Government regulations can also affect the market as interest rates rise and tax policy changes.
If you're shooting for the fastest sale possible, listing in June is your best option. Homes listed in this month spend 25 days on market — significantly quicker than the Virginia average of 38 days on market.
To get the highest sales, June is also the best month. The median sale price of homes listed then is $348,000, which is $25,333 more than average.
Learn More: The Best Time to Sell a Home in Virginia
3. Pricing your home
A Comparative Market Analysis (CMA) is the best way to arrive at what the listing price of your home should be. You can compare similar sales by size, bedrooms, neighborhood, or other conditions of your home. Setting a baseline price, and calculating a price per square foot will help you set a competitive starting point.
You may have special features or other things about your home that add value, but it is important to remember all buyers are different. The CMA will provide an objective view of value for you. However, if you are looking at ways to add more value there are certain renovations and preparations you can do and should consider.
But if you're earlier in the process and just want a general idea of what your house is worth, a free online home value estimator is a great place to start. Enter your address below to see your estimated sale price, as well as useful local real estate market trends. Find out how much your house is worth now!
💰 How much is your home worth?
Discover the true value of your home with our Home Value Estimator!
Find My Home's Value
4. Preparing, marketing, and showing your home
There are several steps to preparing your home to put on the market. You are going to want to clean and declutter anything that makes it hard for a buyer to imagine living in your home. This includes make rooms seem large and open with a new paint job, proper staging, or even making impactful repairs and renovations.
A knowledgeable agent will know who to target and the best ways to reach out to those potential buyers. This could include creating a website, utilizing social media, setting up private showings, and organizing open houses to show off the best features of your home.
For example, buyers in Virginia may want to know your home has central air during those hot humid summers. Highlighting special features, as well as preparing your home for a successful open house are vital to a quick and smooth sale.
Learn More: The Best Paint Colors For Selling A House
5. Fielding offers and negotiations
Getting a strong initial offer is the goal when selling your home. After all the preparation and marketing you've done, if the initial offer is not within the range of your listing price you will have to negotiate. This can often be a frustrating process.
Buyers will typically submit their offer with an expiration date. Sometimes this will be a few days or even a little longer. If it is below what you were hoping for your agent can help recommend a counteroffer and you and the buyer will hopefully settle on an agreed-upon price.
However, you can also reject the offer or let it expire and wait and see what else comes in. Once you've agreed to an offer or negotiated a purchase price, you'll then sign a purchase agreement.
The purchase agreement is also when an initial deposit is due and then usually held in escrow until the purchase closes. The closing period is typically 30 days and gives buyers a final chance to back out of the deal.
Learn More: Real Estate Counter Offer Etiquette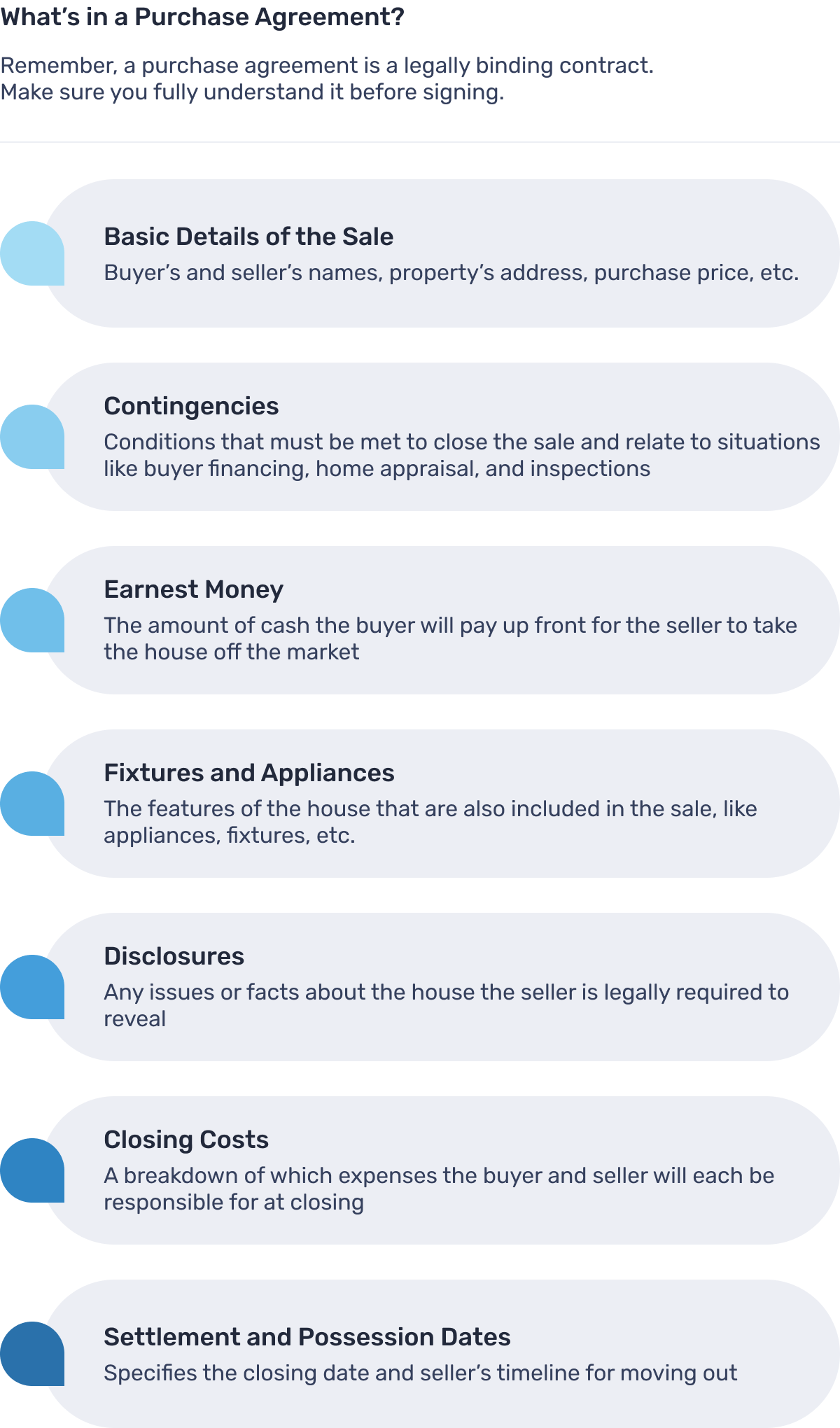 6. Appraisal and inspections
Home inspections are often part of the aforementioned process and included as contingencies when the offer is made. Savvy buyers will typically have their own inspections done before closing, which should be common in Virginia.
Appraisals also happen at this time and are important for the buyer. If a home doesn't appraise at or near purchasing price it can affect the buyer's financing. When homes fail to appraise they usually fall out of contract.
All of these issues can lead back to another round of negotiations over the final purchasing price. Major issues uncovered during inspections may lead a buyer to counter with a lower price based on the cost of necessary repairs.
Learn More: Can the Seller Back Out of Contract Before Closing?
7. Paperwork and required Virginia disclosures
Virginia is a "buyer beware" state, which means that state law doesn't require the seller to actively look for new issues and tell the buyer. Sellers are required to answer buyer's questions about the property honestly, however, so if you do know about certain problems, there are several forms you'll need to prepare.
Failing to make the right disclosures or have the correct documents at closing can derail the entire sale — or lead to legal problems.
Always consult your agent or attorney before signing or filing paperwork. They can walk you through all the paperwork and ensure you have everything you need for your situation.
Forms and Documents for Selling a House in Virginia
Required for All Real Estate Sales in Virginia
2 Forms of ID
Copy of Purchase Agreement and Any Addendums
Closing Statement
Signed Deed
Bill of Sale
Affidavit of Title
Possible Additional Documents
Loan Payoff Information
HOA Forms and Guidelines
Survey Results or Survey Affidavits
Home Inspection Results
Proof of Repairs or Renovations
Home Warranty Information
Copies of Relevant Wills, Trusts, or Power of Attorney Letters
Relevant Affidavits (Name Affidavits, Non-Foreign Affidavit Under IRC 1445, etc.)
Closing Disclosure (for certain seller concessions)
Correction Statement and Agreement
Virginia Disclosure Forms
Residential Property Disclosure Statement
Flood Zone Statement
Lead-Based Paint Disclosure
Septic System Disclosure
Military Air Installation Disclosure
Defective Drywall Disclosure
Methamphetamine Disclosure
Building Code or Zoning Ordinance Violations Disclosure
New Dwelling Disclosure
Learn More: Disclosure Requirements in Virginia
8. The closing process
Closing is the final stage of the home selling process and typically takes place at the title office. The closing officer will coordinate all documents that need to be signed and reviewed, and advise you on how to pay closing costs. If it is taking place at the property a final walkthrough may also occur.
Closing costs typically total 2-3% of the purchase price and include taxes, realtor fees, and any final negotiations and credits can be discussed. The seller's agent usually disburses realtor fees, and the buyer pays the majority of recording or transfer taxes. However, these can all be negotiated and likely have been in advance.
Loan and title documents are signed, filed with the appropriate government agencies, and then finally keys are handed over to the buyer or their representative agent. The transaction is finally complete and the buyer can begin moving in.
Learn More: How Much Are Closing Costs for the Seller?
Next steps: Sell your Virginia home and save thousands
Whether you're looking to list your Virginia home immediately or 6-12 months from now, it's never too early to start looking for an agent, getting advice, and making a plan.
Clever is here to help guide you through the home selling process — and save money along the way!
💰 Get a lower rate with a top local agent!
Want to find a top local agent without overpaying on realtor fees? Clever negotiates 1.5% listing fees with top-rated realtors from trusted brokerages like Keller Williams, RE/MAX, and Berkshire Hathaway.
Get guaranteed full service for a fraction of the 3% rate agents typically charge. Schedule a free, no obligation consultation with a top local agent today!
Top ways to sell your home in Virginia
Additional resources for Virginia home sellers
Related links