Getting ready to sell your house in North Dakota? Our in-depth guide breaks the entire process down into 8 simple steps. Learn how to find a great agent, price your home, negotiate with buyers, breeze through closing, and more!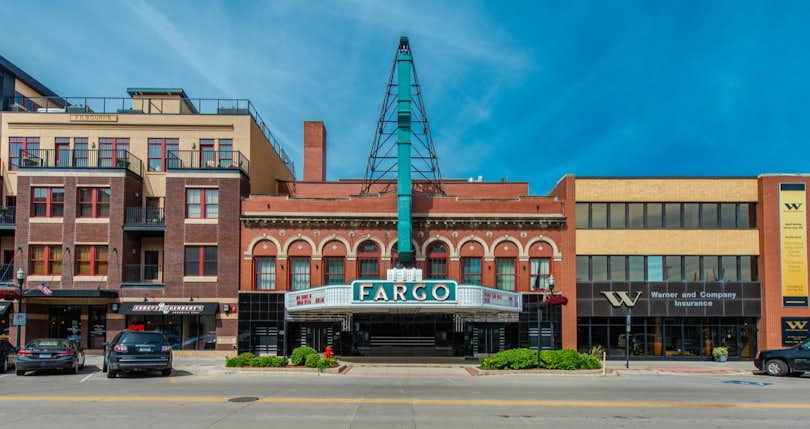 Now is a good time to be selling a house in North Dakota! According to Zillow Research, property values in the state rose 1.80% in 2019, and are projected to rise a further 4.24% over the next year.
Of course, even the best North Dakota properties will struggle to sell if you don't price the home properly, do a poor job of marketing it, or don't know how to handle the negotiations.
Read on to learn the eight steps to successfully selling your home in North Dakota!
» MORE: Get a free, instant home value estimate now!
JUMP TO SECTION
1. Finding a North Dakota realtor
Selling a home isn't easy. It's a high-stakes, complex transaction and requires a considerable amount of time and expertise to get a good outcome. If you're looking to sell your North Dakota home for the best price — and minimize stress along the way — you need to find a top-rated real estate agent in your area.
The best North Dakota listing agents know exactly what local buyers want and how to reach them. They'll offer expert advice, guidance, and support every step of the way, from the initial listing all the way through closing.
In fact, sellers who work with real estate agents net 33% more, on average, than those who list on their own. For a $234,309 home — the median home value in North Dakota, according to Zillow — that's a premium of $77,322. In other words, hiring an agent is well worth the investment.
2. Deciding when to sell
When you list your house can matter almost as much as the condition of your house. Your home can be completely renovated and in a highly desirable area, but if you list at the wrong time of year, it won't get the best price.
When you put your home on the market can also impact how long it takes to get an offer.
By looking into seasonal real estate trends, you can choose the best time to list your home given your goals.
Best time to sell a house across the U.S.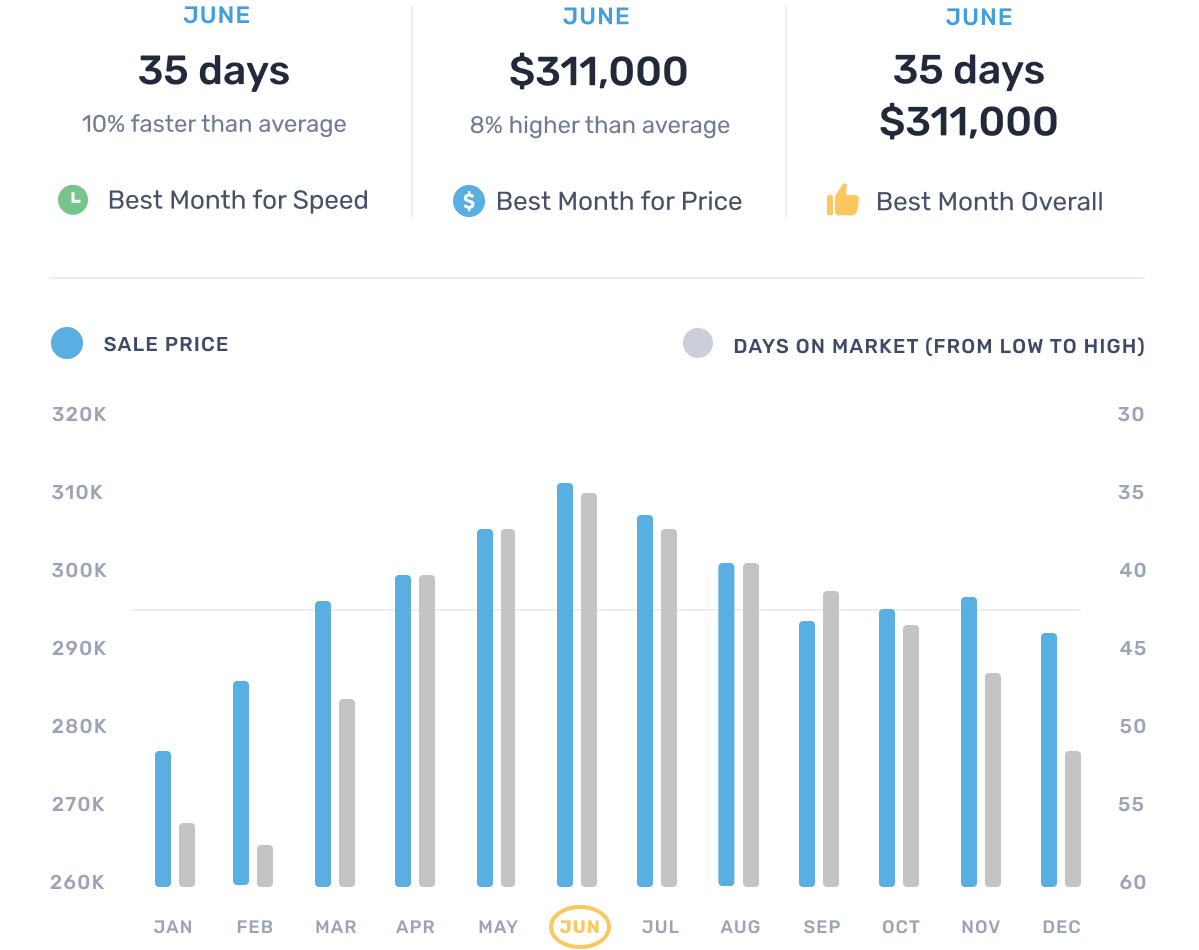 Source: 2019 Redfin Data Center
Best time to sell a house in North Dakota
| | | | |
| --- | --- | --- | --- |
| Best Month to Sell for Speed in North Dakota | June | 74 days on market | 30 days faster than average |
| Best Month to Sell for Price in North Dakota | June | $221,500 median sale price | 4% more than average |
If you're shooting for the fastest sale possible, listing in June is your best option. Homes listed in this month spend 74 days on market — significantly quicker than the North Dakota average of 104 days on market.
To get the highest sales price, put your house on the market in June. The median sale price of homes listed then is $221,500, which is almost $8,725 more than average.
Learn More: The Best Time to Sell a Home in North Dakota
3. Pricing your home
To sell your home, you'll need to price it competitively. And to determine what a competitive price is for your home, you'll need to do a comparative market analysis (CMA).
A CMA will tell you what other properties in your market are going for and compare your home, based on its square footage, amenities, lot size, and more. A good CMA will look at similar current, expired, and sold listings in your area, to help you price your home effectively.
Your real estate agent should help you with this process — Clever Partner Agents provide free CMAs for their clients.
But if you're earlier in the process and just want a general idea of what your house is worth, a free online home value estimator is a great place to start. Enter your address below to see your estimated sale price, as well as useful local real estate market trends. Find out how much your house is worth now!
💰 How much is your home worth?
Discover the true value of your home with our Home Value Estimator!
Find My Home's Value
4. Preparing, marketing, and showing your home
Before you list your home, you should take some steps to ensure you get top dollar. Every homeowner should take time to declutter and make their property as clean and tidy as possible.
There are also repairs and improvements that can help your house sell. Repainting walls in bright, neutral colors and improving your landscaping add to your curb appeal and add real value to your home.
Learn More: The Best Paint Colors For Selling A House
Paying attention to marketing can also pay dividends when it comes to real estate sales.
Staging your house helps potential buyers picture themselves living there. Getting professional photos for your listing will help emphasize the best parts of your home. Writing a great listing and maximizing its visibility will get your property seen by more people.
These are all things a good realtor will help you with.
Learn More: 4 Cool Real Estate Technology Trends That Help Sell Homes
When start to open your home up to people, you'll have more decisions to make. If you're not living in your house, set up a lockbox with keys, so your realtor can show it to buyers on demand.
Consider whether it makes the most sense to have private showings, perform open houses, or use some combination of both. Private showings are more personal and allow you to make a hard sell, but open houses can help open up your home to several potential buyers at the same time.
Learn More: Real Estate Open Houses: Do They Sell Homes Faster?
5. Fielding offers and negotiations
With proper planning and a little luck, offers will start rolling in once you begin showing your home. The initial offer is often just a starting point for the negotiations that come next.
You may receive offers at, below, or above the listing price. Offers can include a number of contingencies and requests the buyer wants to be finished before the sale is completed.
Once you get an offer, you need to decide whether you want to accept, reject, or make a counteroffer. Offers usually specify a timeframe in which to make your decision. At this point, you may want to negotiate things like closing costs, real estate transfer taxes, escrow fees, title insurance, and earnest money deposit amount.
After negotiations, you and the buyer will come to a purchase agreement, which will be signed and notarized at closing. It's important to read and understand the purchase agreement before the closing date arrives.
Learn More: Real Estate Counter Offer Etiquette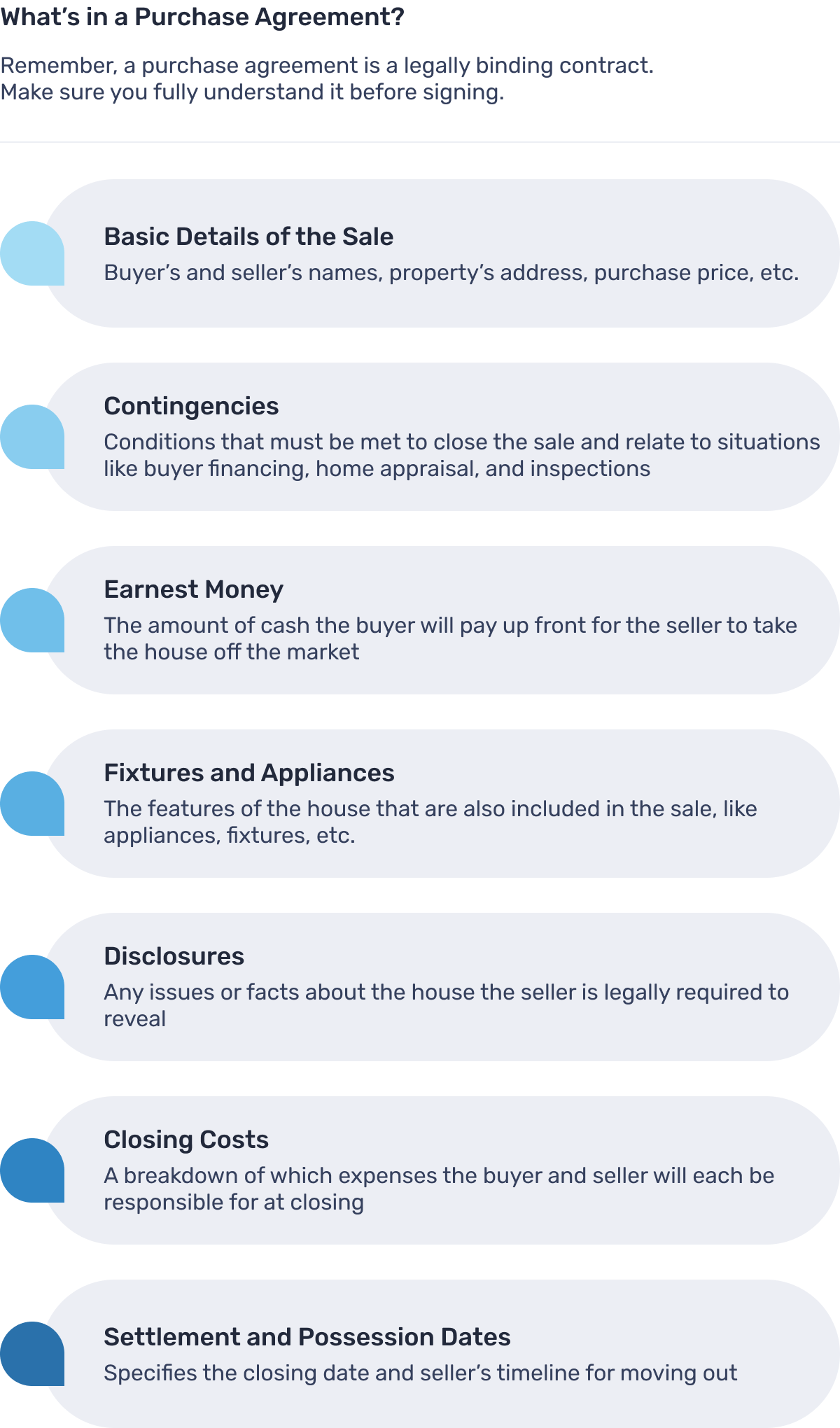 6. Appraisal and inspections
Most purchase offers come with appraisal and inspection contingencies.
Appraisals are a standard part of the selling process and required by most lenders. Appraisals are done to determine the home's actual value, so the lender can be sure it's a good investment.
Inspections are also required by many buyers and lenders, alike. The types of inspections required can vary, but generally include pest and mold inspections and inspections for structural integrity.
Learn More: Can the Seller Back Out of Contract Before Closing?
7. Paperwork and required North Dakota disclosures
North Dakota is unique, in that it doesn't have a state law requiring affirmative disclosure of latent defects. It uses caveat emptor, which is Latin for "Let the buyer beware." As a general matter, this means that the onus is on the buyer to have the home thoroughly inspected, rather than on the buyer to make disclosures
However, there are some exceptions to this general rule — the federal law about disclosing lead-based paint, for example, still applies. And sellers still must be truthful with any potential buyers about their property; misrepresentation and fraud are grounds for monetary damages and/or canceling the transaction entirely.
Even without required disclosures, there are several legal documents and forms you'll need to close on your home. Always consult your agent or attorney before signing or filing paperwork. They'll ensure you have everything you need for your situation.
Forms and Documents for Selling a House in North Dakota
Required for All Real Estate Sales in North Dakota
2 Forms of ID
Copy of Purchase Agreement and Any Addendums
Closing Statement
Signed Deed
Bill of Sale
Affidavit of Title
Possible Additional Documents
Loan Payoff Information
HOA Forms and Guidelines
Survey Results or Survey Affidavits
Home Inspection Results
Proof of Repairs or Renovations
Home Warranty Information
Copies of Relevant Wills, Trusts, or Power of Attorney Letters
Relevant Affidavits (Name Affidavits, Non-Foreign Affidavit Under IRC 1445, etc.)
Closing Disclosure (for certain seller concessions)
Correction Statement and Agreement
North Dakota Disclosure Forms
Residential Property Disclosure Statement
Flood Zone Statement
Lead-Based Paint Disclosure
Note: North Dakota is a "buyer beware" state and, in most situations, sellers are not legally required to make disclosures. However, to give buyers peace of mind, many homeowners still provide a disclosure statement.
Learn More: Disclosure Requirements in North Dakota
8. The closing process
Once the purchase agreement is signed and all of the appraisals and inspections have been completed, all that's left to do is close the deal.
At closing, the buyer and seller will sign all of the documents, have them notarized, and complete the transfer of the property title. This can take place with the buyer and seller in the same location or different locations, and can be conducted at a lawyer's office, real estate agent's office, neutral location, or at the home itself.
Learn More: How Much Are Closing Costs for the Seller?
Next steps: Sell your North Dakota home and save thousands
Whether you're looking to list your North Dakota home immediately or 6-12 months from now, it's never too early to start looking for an agent, getting advice, and making a plan.
Clever is here to help guide you through the home selling process — and save money along the way!
💰 Get a lower rate with a top local agent!
Want to find a top local agent without overpaying on realtor fees? Clever negotiates 1.5% listing fees with top-rated realtors from trusted brokerages like Keller Williams, RE/MAX, and Berkshire Hathaway.
Get guaranteed full service for a fraction of the 3% rate agents typically charge. Schedule a free, no obligation consultation with a top local agent today!
Top ways to sell your home in North Dakota
Additional resources for North Dakota home sellers
Related links