Are you concerned about receiving a counter offer when buying or selling your home? With the right real estate agent at your side and the proper knowledge, you can navigate the negotiation table and sell or buy for the best price.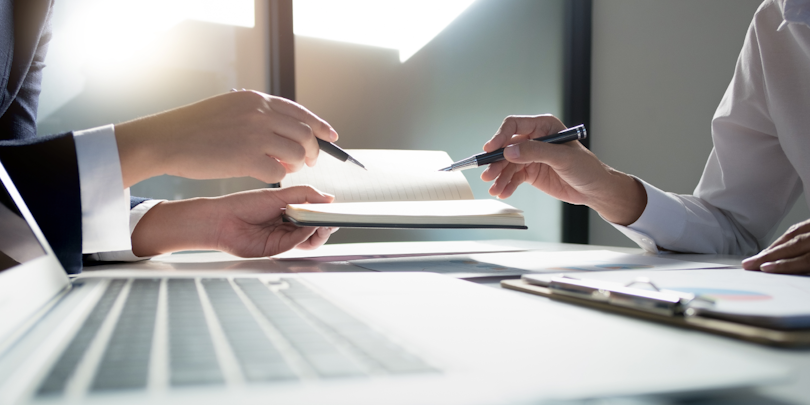 If you're a first-time home buyer or seller, you may not be familiar with the concept of counter offers or negotiating. How does negotiation work and what is proper negotiating etiquette?
A top realtor has negotiated hundreds of deals and knows the ins and out of counter offers, from the buyer's or seller's side. Learn from them and have them guide you along the real estate process.
Connect with a top-rated, full-service real estate agent to save thousands on commission and gain an expert negotiator.
Why would you need to counter offer?
Real estate transactions start with a seller putting his or her house on the market for a certain asking price. The home buyer then makes an initial offer, sometimes lower than the list price. Now the seller may accept it or to make a counter offer.
The likelihood of a buyer receiving a counter depends on several factors. These include whether your local market is a buyer's market or a seller's market, how long the home has been on the market, and whether your offer comes close to the sellers' expectations.
The seller can accept the offer as presented, decline the offer, or make a counter offer to close the gap between the asking and offering price.
The art of negotiation is tricky, which is why it's often best left to the experts. Experienced real estate agents are expert negotiators, ensuring you get the best price possible without jeopardizing your sale.
What is a counter offer in real estate?
A counter offer is an offer given in response to a proposal that implies a rejection of the original offer. It turns the tables — now it is the original party who now has three options. The seller faced with a counter offer can 1) accept it, 2) issue another counterproposal, or 3) reject it. It is important to note that no one can create a binding contract until one party agrees with the other's offer.
Reasons You'll Likely Face a Counter Offer
A counter offer may include explanations of the terms of the offer or requests for additional information. Finalizing counter offer negotiations requires the buyer and seller to accept the terms with no other conditions or modifications.
Negotiating in real estate is a process that could go on for weeks or even months. There is no limit on the number of counter offers that can be submitted back and forth during negotiations. When countering, each offer should present a price closer to what the other party wants, or with concessions to make up for money. Each party will use their realtor for advice at each stage, determining the proper next step.
Common negotiating tactics for buyers when producing counter offers include:
Boost their earnest money deposit
Change service providers
Modify contingency time frame
Alter closing date or possession date
Exclude or add a personal property from the contract
Agree to an early release of deposits
Pay for more of closing costs
Increase sale price
When should you accept a counter offer?
If the seller issues the offer, the buyer can accept the counter offer. You should be ready to move quickly in this situation because counter offers expire, just like purchase offers. A seller cannot accept another offer until they reject a counter offer or the buyer doesn't accept their counter offer. They cannot just take a new outside offer that seems better during the negotiation process.
As you review the offer, remember that there are several factors besides offer price that could be undesirable, such as contingencies, closing cost splits, or an extended (or shortened) timeline. When making a counter offer, never let emotions affect negotiations, even if you're the buyer and this is your dream home. Now is the time to be bold. Ask questions, research, and take additional time to review the new offer.
Say a house listed at $200,000. A buyer comes along and offers $180,000. The seller provides a counter offer of $190,000 with a deadline in three days. The buyer accepts with a home inspection and financing contingency. Then, the sale moves forward.
Quick Tip: Expect a lot of back and forth. Everything in real estate is a negotiation.
It's not just the counter offer...
Post-inspection updates and repairs. Closing costs. The counter offer is just the kickoff for a long series of negotiations, where you'll need to know when to stand firm or walk away.

The good news: You're not the one who has to negotiate.
Unless you have a good bit of experience in selling homes, this is where your real estate agent earns their keep. Just make sure your agent is a full-service agent who will be by your side through closing.

And like we said, EVERYTHING is a negotiation.
At Clever, we offer a free service that negotiates with real estate agents, so you get full service locked in at a lower rate. We'll bring you top-rated local agents. And since we can bring them more business, they agree to lower your fee.
Sellers save an average $7,000 in fees
Get your first offer 2.8x faster than the national average
Zero commitment — Clever is 100% free


What should you do if your counter offer is rejected?
There are a few reasons to reject an offer. Many purchase contracts provide a spot near the bottom for the seller to initial that the offer has been denied. Sellers can also write "rejected" across the face of the contract, initial, and date it.
Usually, an offer will specify a date of expiration of the offer if the seller decides not to respond. The listing agent can email the buyer's agent to communicate the fact that the seller will not respond because the offer is unacceptable. However, sellers are not required to reject an offer in formal writing.
What do you do if the seller at first rejects the offer, but later changes his mind and wants to accept the offer? The original party can just choose not to take the offer. Therefore, the offeree must present a new counter offer or move on.
Imagine the same house is listed for $200,000, and the buyer offers $180,000. The seller declines and provides a counter offer of $190,000. The buyer may accept, counter, or withdraw. They are not obligated to purchase because they made an offer. However, if the seller takes the counter offer, you are likely legally bound to go through with the deal. So you must be entirely sure you are comfortable with your offer.
Your best resource during this stage of buying a home is your real estate agent. Ask your real estate agent to talk to the listing agent and found out what is most important to sellers — such as the move out date, the price, or perhaps avoiding having to make repairs. Tailor your offer so it's acceptable and attractive to the seller. The more you know about the sellers' motivations, the easier that will be.
Navigating the negotiation process isn't easy without an experienced real estate agent. That's why we created Clever, a free services that matches home sellers with top local agents from well-known brokerages like Keller Williams, Berkshire Hathaway, and RE/MAX. When you find your agent through Clever, you get all the benefits of working with a top-tier agent while paying a low, pre-negotiated listing fee of just 1.5% — about half the typical commission.
👋 GET A TOP NEGOTIATOR IN YOUR CORNER: Sell with a top local agent for a low 1.5% listing fee!
FAQs about Counter Offer Etiquette
How do you counter a lowball offer on a house?
As the seller, it's important to handle a lowball offer with grace and follow these steps:
Don't get insulted and take it personally. It's your home, but this is a financial transaction.
Before sending out a counter offer, respond through your real estate agent politely.
Work with your realtor to send out a strategic counter offer if you think you can make it work. If not, you need not respond.
Since they originally sent out a lowball offer, expect another counter offer to your offer.
Determine a way to move forward, especially if you're not receiving other offers.
Depending on the circumstances of your home sale, you may not need to work with someone who starts off with a lowball offer. Trust your agent and determine the best way forward.
How do you negotiate a real estate offer?
Here are some tactics to negotiate your real estate offer:
Learn what the other party (seller or buyer) needs from the deal. Whether they want deal points, a faster close, or closing cost credits, you can prepare the best counter offer.
Don't get too emotionally involved. Especially if you're a buyer, if you get too invested in a house, you may show your cards and offer too much. Staying unattached is the right move.
If you're the buyer, include an escalation clause to ensure you win in a multiple offer situation. This kind of clause says that you'll pay a certain amount more than the highest offer, usually up to a certain amount.
Negotiate over the phone or email before committing to a written counter offer. This can help both sides come up to an amicable conclusion.
What is considered a lowball offer?
A lowball offer is an offer significantly below market value. You can determine market value through a comparative market analysis (CMA) or an appraisal. A lowball offer may be an attempt at getting a home for a steal or just a starting point for negotiations.
Can a seller withdraw a counter offer?
Once the offer has been signed by both parties, the offer cannot be withdrawn. However, if both parties have not signed the offer, then the seller can withdraw their counter offer. Counter offers also usually have an expiration date, at which point they are null and void, and a new offer would need to be presented.
Related Articles
You May Also Like