If you're buying a home, it's always best to get the home inspected before you close the deal. While the inspection will probably reveal more than a few defects, it doesn't mean its an immediate deal-breaker. Here's how inspections work and next steps on how to move forward after you have one.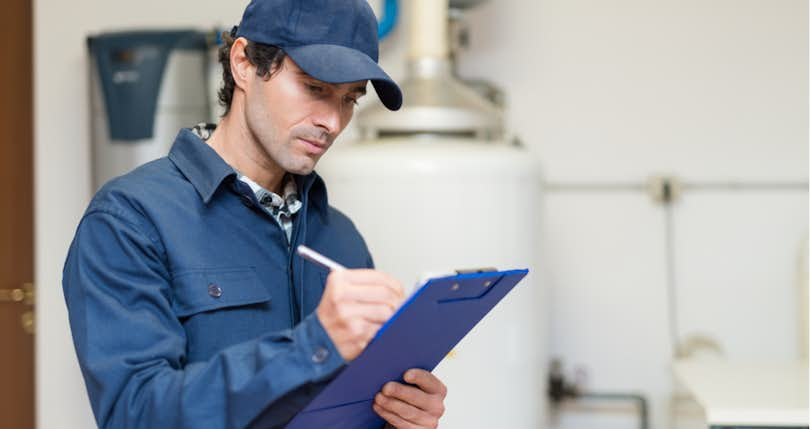 In almost every situation, it is advised that anyone buying a home first request a whole home inspection prior to closing. It's important to understand what is — and isn't — included in a home inspection and your options for moving forward if — or more likely, when — defects are found.
How Home Inspections Work
When you decide to have the home you're buying inspected, you get to choose which company you use. If you don't have a reliable one in mind, your real estate agent likely has a company they use frequently and would recommend. As the buyer, you pay for the inspection and are able to (and encouraged to) attend the inspection in person.
The standard inspection evaluates the condition of the homes heating and air systems, interior plumbing and electrical, roof, walls, ceilings, floors, windows, doors, foundation, and structure. Plus, you may want to (or be required to) get additional inspections for things like pests, or radon. The report provided to you after the inspection should include detailed descriptions and photos of any defects.
Fixes You Can Make Yourself
It is rare that a home inspector finds absolutely nothing wrong with the house. In fact, if this is the case, you may question the thoroughness of the inspector. Finding some problems doesn't automatically mean you shouldn't buy the house, only that you may need to be address the defects down the road.
If you're planning on remodeling a bathroom or kitchen shortly after purchasing the home anyway, don't ask the seller to make any repairs in those locations unless they're major electrical or plumbing defects.
Here are some fixes typically handled by the seller after move-in:
Cosmetic issues — Touching up paint or restaining a wood floor
Simple, or cheap repairs — If it's less than $100, don't bother asking the seller to fix it
Broken switches or sockets — This may seem like a big deal. It's not, unless your inspector says that it is the result of a major electrical problem. It's usually a common issue with a loose wire or a worn out part and is an easy fix.
Outside structures — Garages and sheds aren't usually fixed by a seller, especially in a competitive market.
When To Negotiate for Fixes
If you're short on cash, or don't think you can handle much future repair work, you have two options to remedy defects in the house. You can either ask the seller to fix them at their cost or you can negotiate for a lower selling price or cash-back.
While you can request that the seller make repairs following an inspection, it's important to pick your battles and the seller can always say no. These asks should mainly be reserved for major structural or mechanical defects. Rely heavily on the expertise of your real estate agent when deciding which repairs to ask a seller to make.
Common defects that a seller may fix include significant plumbing problems, a leaking roof, elevated radon levels, unsafe electrical defects, mold issues, and drainage or water problems. You may also ask the seller to hire an exterminator to handle a wildlife or termite infestation. Since these are usually issues you would want resolved before moving into the home, it would be typical for a seller to foot the bill to have these issues fixed prior to closing, instead of knocking money off the selling price.
When To Negotiate for Money
In certain instances, you may ask for cash-back credit at closing, meaning the seller provides money you can use to complete the project yourself. The seller may also offer to lower the purchase price. These options are similar in that you're essentially paying the same amount for the home, but they may have different implications for your mortgage.
You may ask for cash-back or a lower selling price if you think the seller's hired contractor might perform shoddy repairs, or you or the seller wants to expedite closing. If a problem is major, but doesn't necessarily need fixed immediately, this may also be a time to ask for a discount of the asking price.
When To Walk
Most any defect found in a home can be fixed — but it may come at a steep price. If you find a major problem like a foundation issue and the seller refuses to make the repair, it may be time to walk away from the deal. Additionally, just because the issues gets repaired doesn't mean it won't rear its ugly head again, and you'll have to fix it at your own expense.
Problems Not Found During An Inspection
While an inspector will do his or her best to thoroughly inspect the property for defects they are trained to spot, they may not catch everything. Plus, they aren't experts on everything. For example, they may check to see that an air conditioning unit is functional, but without a thorough examination by an HVAC specialist, there's no way to guess whether or not it will likely still be working when you move in.
Leaks and some structural problems can also be easy to miss on an inspection. While an inspector is trained to look for telltale signs of a leak, if their inspection took place after a dry season, there may be very few signs.
Employ the Experts
If you're looking to buy a home, connect with an experienced, local agent for guidance and support throughout the process. They know what homes are worth and can ensure you get the home for the best price possible, with the needed repairs. They also know the ins and outs of the inspection process and can help you determine when to make repairs yourself, how much you can ask of the seller, and when to walk away.
Clever Partner Agents are also able to offer on-demand showings — sometimes in less than an hour — so you know you won't miss out on a good flip deal. Plus, if you may qualify for Clever Cash Back if you buy a home over $150,000.
Related Articles
You May Also Like