Overall rating | Quality of service | Marketing | Customer experience | Cost | User friendliness | Methodology
You can list your home on ForSaleByOwner.com for free, though a paid "Closing Assistance" package is available. However, your home won't be listed on the MLS (multiple listing service), which seriously shrinks the pool of potential buyers.
ForSaleByOwner.com was founded in 1999 and was one of the first websites to offer a listing platform for FSBO sellers. Below we'll dig deeper into its services and track record to see if it offers you the best value.
Bottom line: Do we recommend ForSaleByOwner.com?
We don't think ForSaleByOwner.com is right for every FSBO seller. The company's biggest shortcoming is the fact that it doesn't list you on the MLS or any other popular real estate sites (like Zillow). Your home will be listed only on ForSaleByOwner.com, which gets decent traffic but not enough to compete with Zillow or Realtor.com. By not exposing your home on an MLS, you will severely limit who sees your listing.
That said, if you live in a really hot real estate market — and you're confident your home will sell itself without much marketing — it won't hurt to list your home on ForSaleByOwner.com for free. But we recommend you do this in addition to other strategies, like listing on Zillow.
When you list FSBO, you'll still do all the legwork yourself, including crafting a listing description, pricing the home right, taking photos, scheduling showings, and reviewing the paperwork on closing day. ForSaleByOwner.com may provide you with some assistance, but that help doesn't compare to that of a licensed real estate agent.
If you want your home to be listed on an MLS, check out our guide on flat fee listing (FFMLS) companies that will better suit your needs.
Are you sure you want to sell FSBO?
Selling FSBO requires a lot of time and effort. Companies like Clever Real Estate negotiate with top-performing agents who provide full service for only 1.5% in listing fees. Save thousands today! Learn more.
ForSaleByOwner.com vs. FFMLS alternatives
| | | | |
| --- | --- | --- | --- |
| FFMLS company | Locations | Avg. customer review | Listing fee |
| Beycome | AL, CA, CT, FL, GA, MN, NC, SC | 4.3 | $99-499 + 1% |
| Fizber | Nationwide | 3.9 | $295 |
| Homecoin | CA, FL, GA, MI, MO, NY, NC, SC, TN, VA, WI | 4.9 | $95+ |
| Houzeo | Nationwide | 4.9 | $199-999+ |
In-depth breakdown
Services
📊 Our rating: 3.0/5
Few essential services

Limited photo allowances

Unlimited free edits
ForSaleByOwner.com offers two plans: Do It Yourself and Closing Assistance.
| | | |
| --- | --- | --- |
| Plan | Do It Yourself (free) | Closing Assistance ($495) |
| Listing on "ForSaleByOwner.com" | ✅ | ✅ |
| Home-pricing tools | ✅ | ✅ |
| Integrated dashboard | ✅ | ✅ |
| Home listing coordinator | ✅ | ✅ |
| Buyer listing coordinator | ✅ | ✅ |
| Licensed real estate advisor | ❌ | ✅ |
| Help finding inspectors, appraisers, and title company | ❌ | ✅ |
| Closing assistance | ❌ | ✅ |
| Legal documents | ❌ | ✅ |
Although the Do It Yourself plan is free, it provides very little in essential services. You'll be listed on ForSaleByOwner.com, which gets significantly less traffic than Zillow and Realtor.com, and you won't get MLS exposure. The plan offers some pricing assistance, but this is a digital tool and should not replace an expert's comparative market analysis (CMA).
Both plans do offer sellers a lot of assistance. You get a dedicated "Home Listing" and "Buyer Listing" coordinator under the free plan, as well as a "Real Estate Advisor" under Closing Assistance. But this advisor is an employee of ForSaleByOwner.com, and they may or may not be qualified to assist you with your real estate needs.
As far as the title, inspection, and appraisals go, you can expect ForSaleByOwner.com to connect you with affiliates of Rocket Homes. The "Closing Assistance" package is sponsored by Rocket, and they're likely biased on who they can recommend. They can point you to companies who offer these services, but it's not guaranteed that you're getting the best deal.
Marketing
📊 Our rating: 3.5/5
No MLS exposure

No listing on major real estate sites, like Zillow or Realtor.com

Heavy website traffic
The biggest downside with For Sale By Owner is that it doesn't put you on the MLS, nor any major listing site — e.g., Zillow, Realtor.com, Trulia, Redfin — no matter which package you choose.
Not listing on the MLS can severely limit your pool of buyers. Buyers agents will predominantly use the MLS to find homes for their clients, while buyers will regularly search popular listing sites to look at homes.
That said, ForSaleByOwner.com does get some heavy traffic. According to our analytics tool, the website gets roughly 469,000 visitors per month, and "forsalebyowner.com" is searched around 1,600 times per month. That suggests a large pool of buyers are using the site to look for homes.
In comparison, Zillow receives around 93.2 million visitors per month, while Realtor.com has over 11 million visits. Again, if you only list with this tool, you might reach fewer buyers than if you had chosen a listing service that puts your home on these websites.
Customer experience
📊 Our rating: 3.5/5
Few reviews

Poor BBB standing
It's hard to rate customers' experiences with ForSaleByOwner.com, as we could find very few trustworthy reviews. There are currently no reviews on Google, nor any on other popular third-party websites.
We did find some reviews on TrustPilot, but we suspect that the positive reviewers were compensated to leave good feedback. Meanwhile, the negative reviews reflect the company's old pricing model, not its current one. ForSaleByOwner's Better Business Bureau profile has one star and four complaints over the past three years.
Cost
📊 Our rating: 4.0/5
Free listing-only package

Paid package not worth the price
ForSaleByOwner.com is one of the only free listing service websites. But you won't get listed on the MLS or any of the major real estate websites, such as Zillow and Trulia. That means the only people who will see your listing are
The company does offer a $495 package called "Closing Assistance" that offers help with closing, filling out legal documents, as well as guidance from a licensed real estate professional. But since you won't be exposed to the MLS, this plan is way overpriced. For the same cost, you can get more services from other flat-fee listing companies, such as professional photography, a lockbox, and help with home showings.
Tip: If you choose ForSaleByOwner.com, you can also post your home as a FSBO listing on Zillow for free. Find out more in our Zillow guide.
User friendliness
📊 Our rating: 4.5/5
Easy to get started

Intuitive listing process
We were very impressed with the company's platform. It's super easy to create an account and list your home fast.
When you first sign up, you'll be taken to a listing journey and fill out a questionnaire.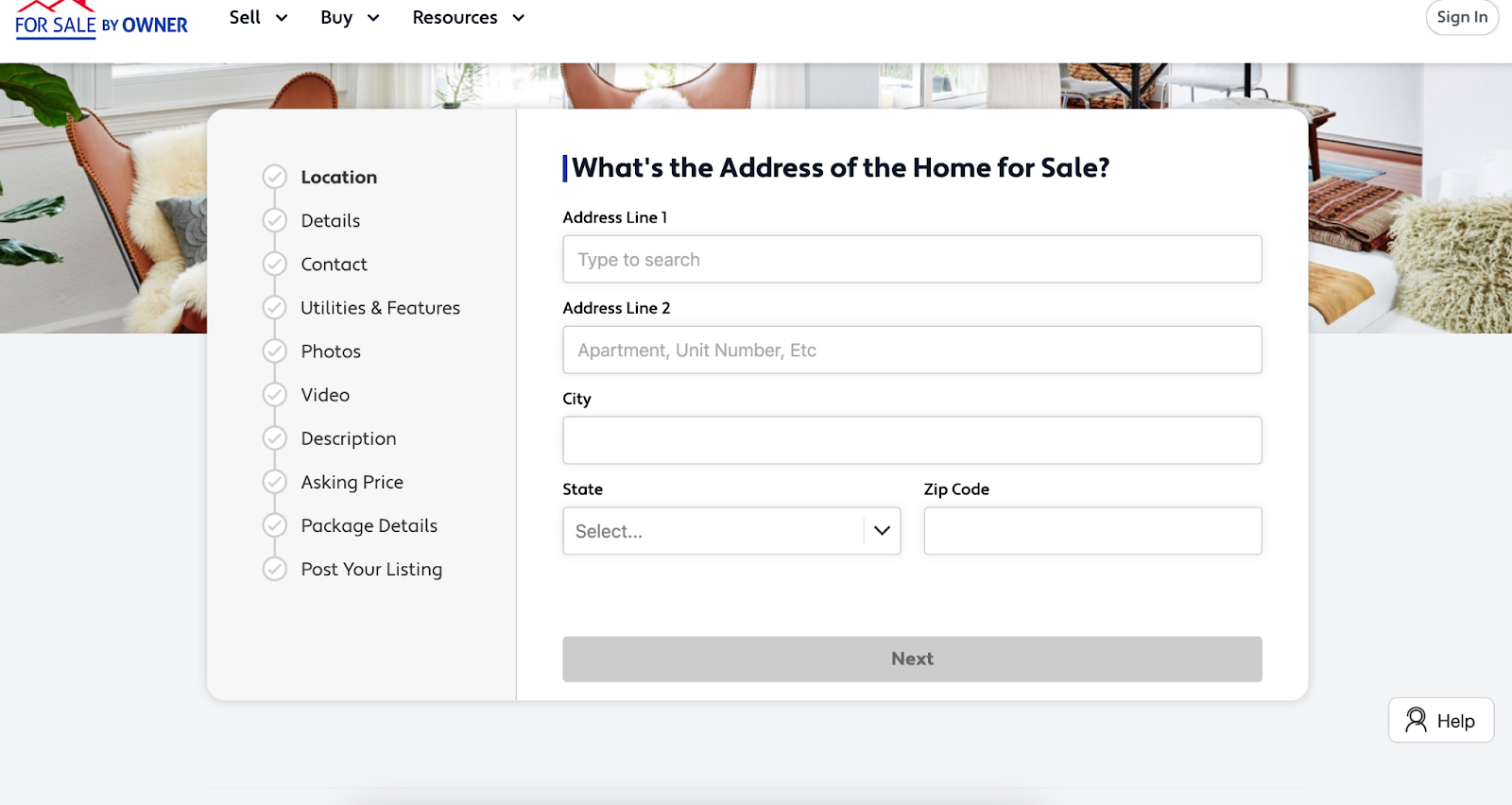 Tip: If you think you'll need help, try signing up during the day. The online customer support team is only available from 9 a.m. to 6 p.m. on weekdays and from 9 a.m. to 1 p.m. on Saturdays.
ForSaleByOwner.com contact info
Next steps
If you're dead-set on selling your home FSBO, we strongly recommend finding a flat-fee listing service that will at least put your home on the MLS.
» SEE: Best FSBO Sites
We can't stress this enough: the MLS is the go-to resource for nearly all licensed real estate agents. If your home is not on the MLS, you're going to severely limit your exposure and possibly get fewer offers. In addition to the company's free service, consider using a higher quality brand, or at least a company that will put you on more websites than ForSaleByOwner.com.
On the fence about FSBO? Consider a low-commission real estate company, which can connect you with a listing agent who charges a lower commission rate than industry standards (usually 1–2%). You'll pay more to list with an agent than you would with For Sale By Owner, but your agent might also help you sell your home for more.
Methodology
We evaluated the value and quality of flat fee MLS (FFMLS) and for sale by owner (FSBO) listing services based on five core criteria:
Quality and range of services

Brand recognition and marketing methods

Customer reviews and experience

Cost value

User friendliness
Quality of service
FFMLS companies should provide basic services, including:
Listing to your local MLS

Pushing listings to sites like Zillow and Trulia

Maximum allowable photos

Unlimited free listing changes

Keeping an listing active until you cancel or close on your home
We noted add-on services that actually help you sell and manage your sale, like professional photography or an online dashboard. We didn't give credit for fluffy offerings, such as video tours that are just photo montages or listings on Craigslist.
Marketing
We assessed how each company's services actually makes your listing visible to buyers, compared with the MLS, which is the baseline. Additional marketing services (via social media, digital ads, etc.) count to higher visibility, as does the company's website traffic.
Customer experience
Our evaluation:
Aggregated customer reviews from across the web and created a weighted average rating

Ran reviews through a sentiment analysis program to identify key themes

Checked for complaints with the Better Business Bureau
Cost
We checked the actual costs of the company's services and compared them with other brands and national averages.
User friendliness
We checked how easy the company app or portal was to use, and how easy it was to upload and manage the listing.