Overall rating | Quality of service | Marketing | Customer experience | Cost | User friendliness | Methodology
Clickit Realty is a flat fee MLS listing service that can help you price and market your home without an agent. The company offers two packages nationwide, plus two premium plans in Georgia and North Carolina. If you're thinking about selling your home by yourself, Clickit Realty offers great value.
Bottom line: Do we recommend Clickit Realty?
For experienced FSBO sellers, Clickit Realty is certainly worth the price. Both plans are reasonably priced ($299–399) and will put your property on the MLS and major real estate sites for six months. You'll also get a comparative market analysis (CMA) with both packages — rare for an FFMLS.
The platform is simple and easy to use, and the customer service team has favorable reviews. Homeowners in Georgia and North Carolina can also get additional help from a realtor.
If you're not experienced with FSBO, you may have trouble selling your home with Clickit Realty. Fortunately, you can cancel your plan and get a full refund — the company will even connect you with a full-service brokerage to help you sell your home.
⛔ Are you sure you want to sell FSBO?
Selling FSBO requires a lot of time and effort. Companies like Clever Real Estate negotiate with top-performing agents who provide full service for only 1.5% in listing fees. Save thousands today! Learn more.
Clickit Realty vs. top FFMLS alternatives
| FFMLS company | Locations | Avg. customer review | Listing fee |
| --- | --- | --- | --- |
| Fizber | Nationwide | 3.9 | $295 |
| Homecoin | CA, FL, GA, MI, MO, NY, NC, SC, TN, VA, WI | 4.9 | $95+ |
| Houzeo | Nationwide | 4.9 | $199-999+ |
| Beycome | AL, CA, CT, FL, GA, MN, NC, SC | 4.3 | $99-499 + 1% |
In-depth breakdown
Quality of services
📊 Our rating: 4.5/5
Essential services provided
Comparative market analysis included
Few photos allowed with the cheapest plan
Both of Clickit's plans offer all the FSBO services you'd expect from a flat fee listing service. These include:
A 6-month active listing on an MLS
Listing on Zillow, Realtor.com, Trulia, and 24 other major real estate sites
Unlimited free listing changes
Assistance from real estate professionals
The main downside to these plans is a limit to photos you can upload. Silver lets you post 6 photos, while Gold will let you upload 25. Other FSBO websites allow you to upload 40 photos and might even send a professional photographer to take them.
In addition to these, Clickit does give FSBO sellers some valuable add-ons that are worth mentioning:
Comparative market analysis to help you price your home accurately.
State contracts and disclosures to buyers of any known problems with your home. Not having disclosures could lead to legal problems later.
No agent, no commission: If your buyer isn't represented by an agent, Clickit won't charge you a fee — something other FSBO websites often do.
Finally, Clickit will let you add six "upgrades" to any plan:
| Upgraded service | Price | Is it worth it? |
| --- | --- | --- |
| 5 additional photos | $50 | Might be necessary if your plan doesn't allow many photos |
| Rental package upgrade | $149 | If you want to market your home to renters |
| Home warranty | $650 | Maybe. If you're going to offer a home warranty to entice buyers, shop around your area first to find the best rates. |
| Yard sign design | $45 | No, buy or design your own sign |
| Combination lockbox | $42 | No, there are cheaper lockboxes online |
| Professional photography | $250 + travel fees | Not if you can find a better rate (most photographers charge $100–250/hr) |
Extra services for North Carolina and Georgia
Since Clickit is a licensed real estate corporation in both North Carolina and Georgia, it can offer FSBO sellers in those states some unique services, including social media marketing and scheduling assistance.
Platinum offers the ability to schedule open houses within the platform and a combination lockbox for your door. But most experienced FSBO sellers can handle these services on their own. If you want to save some money, get Gold and buy your own lockbox.
Full Service, on the other hand, will put you in contact with a licensed realtor in Georgia or North Carolina. They can help you write offers and contracts, conduct negotiations, and prepare the final contract at closing. These are invaluable services, and they certainly justify the higher price of this plan.
Marketing
📊 Our rating: 5/5
Listing on MLS and all major real estate sites
Higher placement on Realtor.com for Gold plan
Clickit Realty will give your property excellent visibility: on the MLS, which will syndicate your listing to both major real estate pages (e.g., Zillow, Trulia, Realtor.com) and local websites (e.g., Century 21, RE/MAX, Keller Williams). Those FSBO sellers who choose the Gold plan or higher will also get a "showcase" on Realtor.com, meaning it'll get placed higher on Realtor.com's listing pages.
Customer experience
📊 Our rating: 4/5
4.1 stars on Google
No complaints on BB
We found 65 reviews on Google with an aggregate rating of 4.1 stars. That's not too bad, though it's not the best rating we've seen. The company also has four reviews on its Better Business Bureau profiles.
After running these reviews through an emotional language detector, we found the following themes:
🟢 Top positive themes
🔴 Top negative themes

Home selling experience
Responsiveness
Professionalism

Customer service
Advertising
Fees
In the positive reviews, customers were pleased with how fast the team responded and the level of attention they gave to each inquiry. Others were upset by Clickit reps calling them to upsell.
Cost
📊 Our rating: 4.5/5
Fairly priced plans
All plans come with a free CMA
Full Service plan is the best value
Clickit Realty's plans start at $299 (Silver) and end at $399 (Gold). If you live in Georgia or North Carolina, you can also choose from a $599 plan (Platinum) and a $995 plan (Full Service). On the whole, these plans are fairly priced. They come with all the essential services — plus a comparative market analysis (CMA).
A CMA compares data about your home (like number of bedrooms and bathrooms) with 3 to 10 similar properties that have sold in your area. it typically costs $100–200, and they can help you set the right price.
If you'll need more than six photos, the Gold plan (which allows 25) might be a better value. It's worth comparing the price of this plan with similar plans from other FSBO websites, as you might be able to get a better deal from another listing service.
If you live in Georgia or North Carolina, the Full Service plan is an excellent deal: many other FSBO websites will charge more than $1,000 for the same services (and no CMA).
User friendliness
📊 Our rating: 5/5
Easy-to-use dashboard
Strong technology
After signing up for a free account and paying around with some properties, we were pretty impressed with the strength of Clickit's technology.
The dashboard is intuitive and easy to navigate. You can easily see your property information, MLS number, and expiration date. Your offers will all be listed together and you'll be notified via email or text a new one comes your way.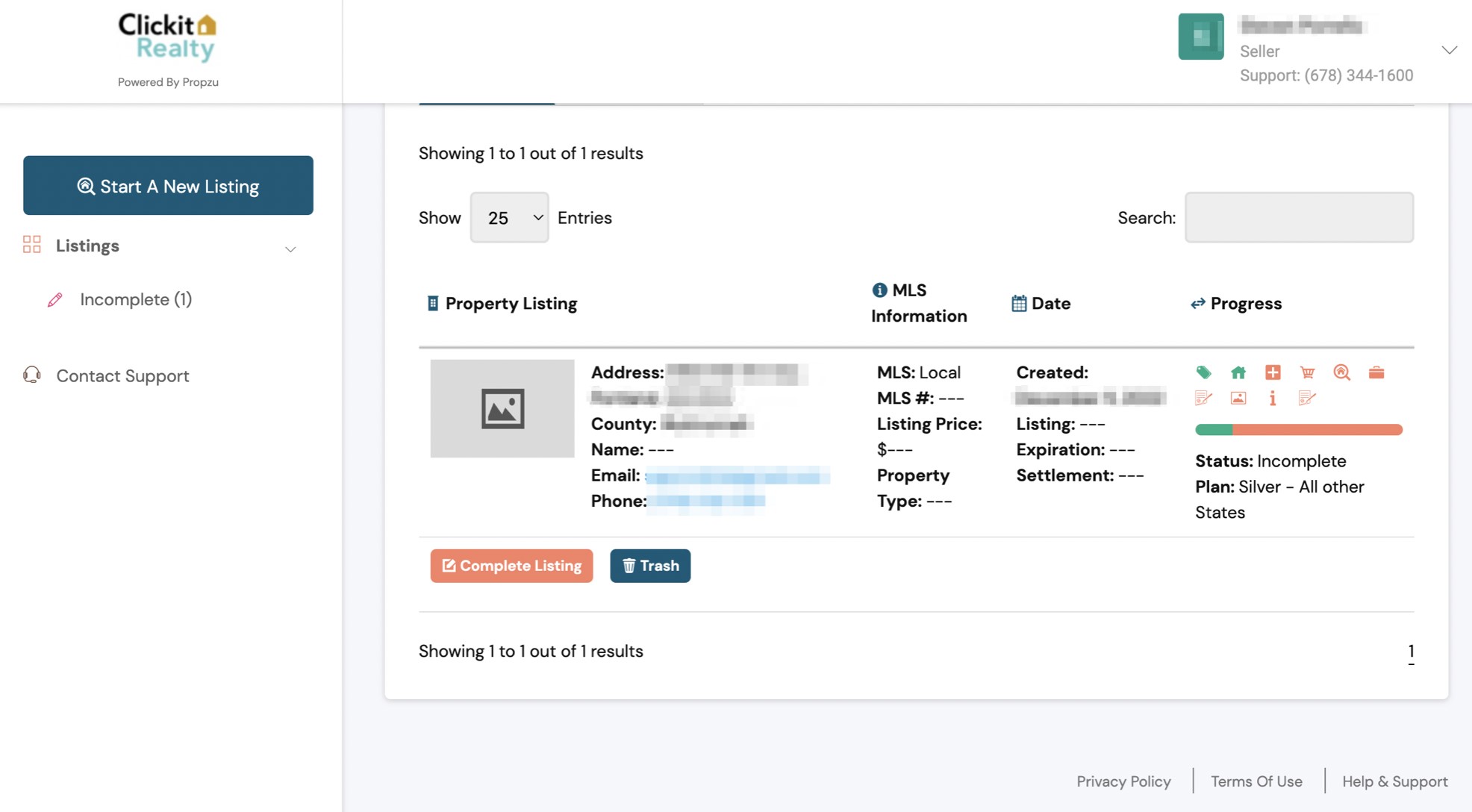 Next steps
If you're really set on FSBO, Clickit Realty might be a flat-fee MLS service worth trying. The plans are decently priced, and you'll get full exposure for your home. Admittedly, the basic plan (Silver) allows you to upload very few photos, which is a major turnoff. If you'd rather have more photos while paying the same price, you might want to look at some other FSBO websites first.
👋 Skip the DIY: Get a better agent AND bigger savings
Why do all the work of selling FSBO only to end up with less money than you would have with an agent? Clever offers you bigger savings without sacrificing the service you expect from a traditional realtor.
With Clever:
✅ You'll only pay 1.5% to list your home
✅ You'll work with a full-service realtor from a top broker
✅ It's free, with zero obligation — you can walk away at any time
Saving on realtor fees doesn't have to mean sacrificing service. Find a top local agent today!
Methodology
We evaluated the each flat fee MLS (FFMLS) and for sale by owner (FSBO) listing service based on five core criteria and created a weighted score:
Quality and range of services (25% of final score)
Brand recognition and marketing methods (25%)
Customer reviews and experience (15%)
Cost value (25%)
User friendliness (10%)
Quality of service: 25% of final score
FFMLS companies should provide basic services, including:
Listing to your local MLS
Pushing listings to sites like Zillow and Trulia
Maximum allowable photos
Unlimited free listing changes
Keeping an listing active until you cancel or close on your home
We noted add-on services that actually help you sell and manage your sale, like professional photography or an online dashboard. We didn't give credit for fluffy offerings, such as video tours that are just photo montages or listings on Craigslist.
Marketing: 25%
We assessed how each company's services actually makes your listing visible to buyers, compared with the MLS, which is the baseline. Additional marketing services (via social media, digital ads, etc.) count to higher visibility, as does the company's website traffic.
Customer experience: 15%
Our evaluation:
Aggregated customer reviews from across the web and created a weighted average rating
Ran reviews through a sentiment analysis program to identify key themes
Checked for complaints with the Better Business Bureau
Cost: 25%
We checked the actual costs of the company's services and compared them with other brands and national averages.
User friendliness: 10%
We checked how easy the company app or portal was to use, and how easy it was to upload and manage the listing.