Should you use Opendoor Exclusives? | How it works | FAQs
💡 Key takeaways
Opendoor Exclusives features off-market homes that haven't been listed on the MLS yet
Homes on Opendoor Exclusives are discounted about 2–4%
They're available for 14 days, after which they're listed on the MLS for full price
You can't negotiate on price and Opendoor won't pay buyer's agent commission
Opendoor Exclusives is a list of off-market homes that are available to buy at a discounted price before they hit the open market. Currently, the service is available as a pilot program for homes in three Texas metros: Austin, Dallas-Fort Worth, and Houston.
Opendoor Exclusives is offered by Opendoor, a nationwide iBuyer that buys homes for cash, fixes them up, and then resells them for a profit. Typically, Opendoor would list these renovated homes on the MLS, the main database where most homes for sale are listed. Opendoor Exclusives, however, is a selection of homes the company is selling off market. If they don't sell in 14 days, Opendoor places them on the MLS for a slightly higher price.
You can click on a home and reserve it for up to 48 hours while you fill out the paperwork to buy the home. Other buyers can't swoop in to outbid you, and the price is a firm, no-haggle number.
Of course, "no-haggle" pricing means you can't negotiate for a lower price. Also, if you bring a buyer's agent along, you'll be responsible for their commission, even though the 2–2.5% fee is typically paid by the seller. These terms are how Opendoor can afford to discount the homes while increasing their profit margin.
The biggest risk of using Opendoor Exclusives is buying a home without consulting with an agent on the price and condition of the home. We recommend working with an agent and bringing them to tour the home. Even if you don't use Opendoor Exclusives, an agent can connect you with sellers of other exclusive, off-market properties in your area.
Clever can match you with a buyer's agent and get you cash back in your pocket after closing.
Is Opendoor Exclusives actually exclusive?
Not really. One way the properties are "exclusive" is they are listed only on Opendoor's site for two weeks. But anyone can log on and search for houses. As long as you can provide a pre-approval letter from a mortgage lender or proof of funds to pay with cash, you can buy a home using Opendoor Exclusives.
You can also put a home on hold while you're completing the contract, which is not something you're able to do elsewhere. This means there's no risk of being outbid or losing the home to another buyer.
What Opendoor Exclusives means for real estate
According to real estate analyst Mike DelPrete, more "exclusive" inventories like this could create a fragmented marketplace.[1]
If companies continue to avoid paying buyer's agent commission to discount the home for the buyer, it cuts agents out of the deal, which leads to more buyers making big decisions without professional advice.
But it's still early. While Opendoor has plans for a nationwide roll-out of Exclusives[2], the program is currently available in just three cities in Texas with only a few hundred homes for sale.
Complaints about Opendoor
In August 2002, the Federal Trade Commission (FTC) fined Opendoor $62 million for "deceiving customers about the supposed benefits of its service."[3]
The FTC claimed that Opendoor lied to sellers by telling them they would make more money selling to Opendoor than they would selling on the open market. In reality, most people made less selling to Opendoor than they would have by selling the traditional way.
Opendoor has also been accused in customer reviews of performing low-quality renovations on the homes they buy and flip, like the homes listed on Opendoor Exclusives. While no major lawsuit has been filed, it may be something to keep in mind if you tour an Exclusives home.
Should you use Opendoor Exclusives?
If you're buying a home in an area currently served by Opendoor Exclusives, you can include the site along with the MLS when looking for homes to tour. It doesn't hurt for you to check out what's available, but we recommend you consult with an agent before purchasing a home.
There's no fee to look, and if you want to buy the home, you'll have to put down an earnest money deposit of 1% of the purchase price to hold the home. This is a standard procedure for buying any home in Texas and many other states.
Benefits of Opendoor Exclusives
If you buy an Opendoor Exclusives home that appraises for less than the purchase price, Opendoor will reduce the price by up to $50,000 to match the appraised value under its Appraisal Price Match Guarantee.
You can also avoid bidding wars and negotiations—once you reserve the home, it's yours unless you back out. And if you do back out any time before closing, you'll get a full refund on your earnest money deposit of 1%.
Drawbacks of Opendoor Exclusives
You'll need to pay for your buyer's agent commission, which will eat into any savings you get from the "exclusive" discount.
You can always take your chances, wait two weeks, and hope that the home is listed on the MLS. The discount will be gone, but Opendoor will offer buyer's agent commission once the home is listed on the MLS. You'll also be free to make whatever offer you feel is fair and negotiate.
It could be challenging to use Opendoor Exclusives if you need to sell a home before you buy a new one. If you have a home seller's contingency clause, Opendoor will wait, but for only five days.
If you want professional advice or are looking for other off-market opportunities, a Clever agent can help.
👋 Need a great agent on your side?
Connect with top local agents who can help you get a great deal on a new home. Eligible buyers also earn cash back after closing.
How does Opendoor Exclusives work?
Browse homes online
Visit https://www.opendoor.com/exclusive to browse currently available homes.
Be sure to pay attention to the dates—some homes may be moving to the MLS in just a day or two, where they'll be about 2–4% more expensive. (We followed several homes that didn't sell on Opendoor Exclusives and sure enough, they were listed for the non-discounted price on Zillow the next day.)

Tour the home
Most homes are available to self-tour from 8am–8pm CT. Click the self-tour button and schedule a time to visit.

Sign your contract
To reserve a home, you'll need to sign a contract. The process is first-come, first-serve: the first person to sign a contract will be under contract to buy the home and Opendoor will reserve the property while they complete the contract.
After clicking "Buy" you'll provide some information to generate a contract, which will be emailed to you.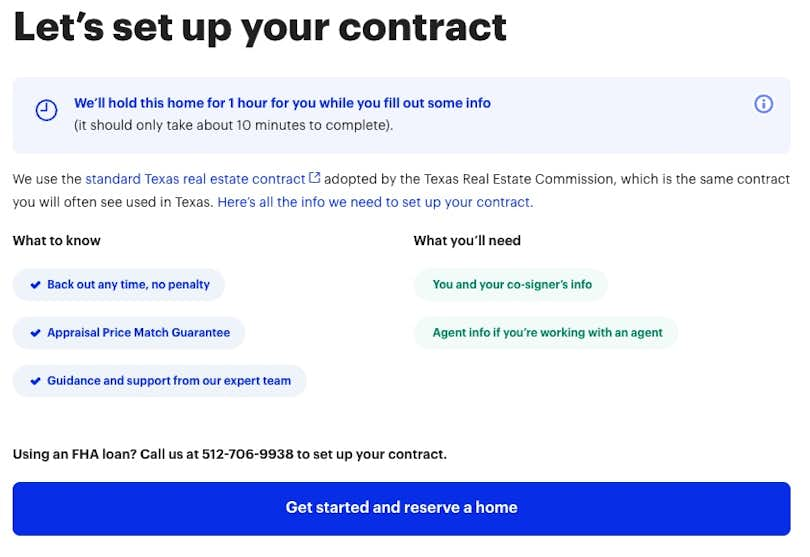 You'll have 48 hours to complete and sign the contract. During this period, the home will be reserved and no one else can purchase it.
To see if Opendoor actually holds the home for you, we started the online purchase process. Sure enough, when we logged in to look at the home on another device, we were given this message:
"A buyer is currently setting up a contract on this home. Add to watchlist to get notified if this home becomes available to buy."
Submit a deposit to hold the home
After signing the contract, you'll have three days to submit your earnest money deposit, which is 1% of the purchase price. This is a standard deposit that is held in escrow, just like it would be with a traditional home sale. Opendoor allows you to back out of the purchase at any time before closing and receive a full refund of the deposit.
Submit pre-qualification letter
Within five days of signing the contract, you'll need to submit your pre-qualification letter from your lender. If you're purchasing with cash, you'll need to submit proof of funds, such as a bank statement.
If your purchase is contingent upon the sale of another home, that home must be in contract to sell. Any contingency periods for the sale of your property must end no later than five days after the signed contract.
Finalize lender details
If you're financing the purchase, your lender will probably order an appraisal. If you're paying cash, you should still hire an appraiser on your own to make sure the home's value is in line with the price.
Remember, if the home appraises for less than your purchase price, Opendoor will reduce the price by up to $50,000 to match the appraised value under its Appraisal Price Match Guarantee.
Close on the home
Choose any closing date up to 35 days after signing the contract. You can reschedule your closing date within the 35-day period without any penalties.
Other off-market options
There are other off-market options available beyond Opendoor Exclusives. However, they tend to accommodate sellers of luxury homes who want to avoid the MLS to maintain privacy. It's not likely that you'll find discounted homes here.
Aalto
Aalto features homes for sale in the San Francisco Bay Area. The platform launched in April 2021 and currently has just over 700 homes listed on it.
Aalto features homes listed by independent sellers who sign up with Aalto to market their home. This is different from Opendoor Exclusives, which only has homes owned by the company.
Aalto charges a 1% fee to list. It says its approach gives sellers more privacy: the platform won't reveal when a home was listed, price reductions, or the exact address.
Compass Private Exclusives
Compass is an independent brokerage serving clients in 30 states. In addition to its traditional listings, the brokerage also has its Private Exclusive Listings, which feature off-market homes for its agents to privately share with their buying clients.
Sellers can ask their agent to keep details about their home mostly private, or decide when to share details—such as price—based on their own timeline.
Frequently asked questions about Opendoor Exclusives
What is Opendoor Exclusives?
Where is Opendoor Exclusives available?
Is Opendoor Exclusives actually exclusive?
Not really. The homes listed for sale on Opendoor Exclusives are exclusive to Opendoor—meaning they're not yet listed on the MLS—but anybody can log on to the site and buy a home. Learn more about Opendoor Exclusives.