Are 'we buy houses' companies a rip-off? | Types of scams | When a cash offer might be a good deal | Alternatives | FAQ
💡 Key takeaways
"We buy houses" companies aren't necessarily a rip-off — but they do make money by buying low and selling high.
For sellers with hard-to-sell properties, an offer from a "we buy houses" company might be a good option.
Cash-buying scams do exist, so look out for offers that come out of the blue from individuals or entities whose identity you can't verify.
You may have seen "We'll buy your house for cash!" advertised on a billboard or postcard. The investors behind "we buy houses" companies promise an all-cash offer on your home and a fast closing process. But is the promise legit?
If you need fast cash or can no longer afford to maintain a property, selling to a "we buy houses" company might actually be a good deal.
"We buy houses" companies generally purchase distressed properties at a bargain price. In many cases, the cash buyer will cover all or most of the closing costs and can close the deal within 7–14 days.
Just keep in mind that an investor's ultimate goal is profit, so they're never going to offer you what they think your house could actually be worth.
Be sure to compare any offer against other options before accepting it — including listing with an agent. Good realtors adapt their marketing strategies to sell your home quickly and can usually get you way more than a cash buyer would.
Are 'we buy houses' companies a rip-off?
Some people who've worked with "we buy houses" companies complain that they're a rip-off or a scam — but it really depends on how you look at it.
If you're looking to get top dollar for your home, you're likely not going to get it from a "we buy houses" company. In a situation where you've fallen behind on your mortgage payments or can't afford the upkeep on a property, though, a fast cash offer might be your best option.
Businesses that advertise buying houses for cash aim to buy cheap properties that need significant repairs so that they can flip them for a profit.
As a general rule, they won't pay more than 70% of the home's expected after-repair value. If a home could be worth $140,000 on the real estate market after an $8,000 repair, an investor might try to offer $70,000–90,000.
So while selling your house to a cash buyer might not be a scam by itself, it could feel like a rip-off if you have better options on the table that could net you more money.
Important: You're never obligated to accept an offer. If any buyer tries to rush you, pressure you, or make you feel desperate to take an offer you're not comfortable with, it's a sign to walk away.
Why would you sell to a cash buyer?
Speed: Cash buyers can close in as little as two weeks. In a traditional sale, it takes 25 days, on average, to sell a house and another 30–45 days to close.
Buyers might not be able to get financing: Not only is an extremely distressed property expensive to fix up, it could be difficult to get financing for. If a property is in very poor condition, many lenders won't agree to finance a mortgage on it.
⚡️ Compare cash offers to your home's ACTUAL value with Clever Offers.
Who are 'we buy houses' companies good for?
In a competitive market, selling to a cash buyer is more of a last resort than a go-to choice for home sellers. But there are some scenarios where a "we buy houses" company may be a good option:
| Good for | Bad for |
| --- | --- |
| Sellers who are facing foreclosure and/or have other debt problems. | Sellers whose homes only need minimal prep and repairs before listing. |
| Sellers with distressed properties that need significant repairs. | Sellers in hot markets where houses easily sell as is. |
| Sellers who have inherited a property and don't want to put any money into fixing it up and selling. | Sellers who have a house that's already in good condition — the best value will be on the open market. |
'We buy houses' scams
Despite the fact that there are lots of legitimate cash buyers out there, scams do exist.
As a home seller, there are a few common cash buying scams that you should be aware of:
Email phishing: Someone sends an email to you with an all-cash offer and requests more information, like where to wire money. In the end, this information is used to steal from you.
Wholesaling: Someone puts your house under contract, then resells the contract to an actual buyer. This is technically legal, but it can be misleading for the homeseller if the wholesaler doesn't explain who the real buyer is, or if they include a clause in fine print that allows them to walk away if they can't find a buyer.
Up-front fees: The cash buyer requests that you pay a fee or put down a deposit before they proceed with buying your home. You should never have to pay anything upfront, so don't! In all likelihood, the buyer intends to keep your payment and then cancel the deal.
Equity skimming: A more elaborate scam in which the investor buys a property from a distressed homeowner, then promises to let them buy it back when they're able. Instead, the investor refinances the home and takes out all of the equity.
Foreclosure relief: The supposed buyer promises to make a deal with the borrower's bank to pay the mortgage for them, then takes a fake fee from the borrower, sometimes for a few months, before disappearing.
What home sellers say about 'we buy houses' companies
Reviews of some of the major cash buying companies are mixed. That's probably because the pros and cons of working with a cash buyer really depend on your situation.
A low, all-cash offer might be a rip-off if you know you can get more on the open market, or it might be a life-saver if you need to sell the house quickly and get a little bit of money in your pocket.
For every negative experience that someone has with a cash buyer, there's an equally positive one, so you can't give too much weight to individual reviews.
Furthermore, there are thousands of companies and private investors that buy houses for cash, so there's bound to be a wide range in the quality of their service.
Positive experiences
Positive customer reviews of major "we buy houses" companies like Homevestors note how timely and convenient a service like this can be.

Negative experiences
Negative customer reviews primarily come from homeowners who complain that a "we buy houses" company offered them way less money than they expected for their homes.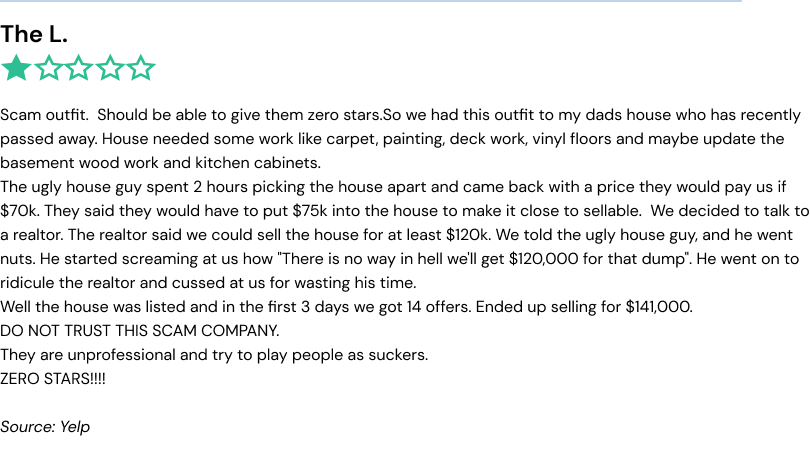 Alternatives to selling for cash
If you want an all-cash offer from a buyer who can move quickly, selling to a "we buy houses for cash" company isn't your only option. You could:
Sell to an iBuyer. iBuyers only operate in select markets, but they buy houses slightly below fair market value, do minimal repairs, and then sell them for a profit. If your home qualifies and isn't in need of extensive repairs, this might be a good option since most iBuyers can close in as little as two weeks.
Find a good real estate agent. If you're in a hot real estate market where homes are selling quickly, regardless of their condition, listing with the help of an agent might be the best way to get the most money for your home.
Sell as is. With an as-is listing, the seller still lists their home on the open market, but they're telling prospective buyers that they won't make any repairs or upgrades before the sale is finalized. An as-is sale might still net you more than a "we buy houses" company is willing to pay, and it could even attract the interest of an investor who will agree to close quickly.
FAQ
How do you know if a cash offer is legit?
If you get a cash offer, verify the company website or the buyer's identity, check for company reviews, and ask for proof of funds so that you can get a mortgage payoff letter from your lender. Before agreeing to make a deal, compare offers from multiple companies to ensure you get a reasonable price. Don't let them rush you!
Are 'cash for houses' companies a rip-off?
A low offer from a company that advertises "cash for houses" might seem like a rip-off to some homeowners, but it really depends on your situation. Cash buyers almost always pay less than fair market value, but it might be worth it to you if you need to sell quickly and your home is in poor condition. If you have time, listing your home on the open market will almost certainly allow you to sell for a higher price.
Why is someone trying to buy my house?
"We buy houses" companies flip homes for profit. They'll often target older or distressed homes (owned by people in difficult financial situations) that they could buy for an affordable price. While it's legal to offer to buy a house for cash, these companies often make offers for far less than the home's actual value, hoping the homeowner is desperate and doesn't fully understand their options.
Related articles