What is Offerpad? | Where is Offerpad available? | Is Offerpad legit? | Offerpad customer reviews | How Offerpad works | Selling to Offerpad | Buying from Offerpad | Additional services | FAQs
Offerpad can give you the convenience of a cash offer for your home and a fast closing on a date you choose. Compared to competitors, Offerpad is more flexible — it can close in just 8 days in most markets, or up to 90 days if you need extra time.
The company operates in 25 U.S. cities and, like other iBuyers, uses its own research and pricing model to buy homes, providing cash offers within 24 hours.
If you're in a hurry to sell your house, Offerpad may be a good option. The company says it pays fair market value for homes, and customer reviews of Offerpad show that most sellers have a positive experience.
Just be sure to compare Offerpad's offer against a few others. That way, you can make sure you get your home's full value.
To easily compare offers, try using Clever Real Estate. With Clever, a local agent will gather cash offers from Offerpad and other cash buyers in your area.
They'll also give you a professional home valuation so you know what your home is really worth. Then you can decide if taking a cash offer or selling on the open market makes the most sense for your situation.
Compare cash offers now!
Compare offers from top cash buyers to the sale price you'd get with an agent.
Offerpad, at a glance
💰 Service fees
5%
⏱️ Closing timeline
As little as 8 days
⭐ Average customer rating
⭐⭐⭐⭐ (4 stars, 2,656 reviews)
📍 Locations
25 cities across AL, AZ, CA, CO, FL, GA, IN, KS, MO, NV, NC, OH, SC, TN, TX
What is Offerpad?
Offerpad is an iBuyer, a company that uses technology and its automated valuation model to buy homes.
Like its competitors, Offerpad's goal is to rethink the way real estate transactions unfold. Its cash offers provide an alternative to the time-consuming and uncertain process of preparing, listing, and marketing a home on the open market.
Once Offerpad purchases your home, it completes any repairs or renovations before relisting it on the open markets.
In exchange for these services, Offerpad charges sellers a 5% fee, plus closing costs.
If you accept an offer from Offerpad, be aware that you may be charged a 1% cancellation fee if you decide to cancel the sale.
🏠 Does your home qualify for Offerpad?
Because Offerpad expects to earn a profit by reselling homes, it's selective about the homes it purchases.
Homes only qualify if they are:
Within one of the 25 cities Offerpad serves
A single-family residence that isn't manufactured, pre-fab, or mobile
Built after 1960
Worth less than $1 million (depending upon market)
On less than one acre of land
If your home doesn't meet these criteria, Offerpad will not purchase your home.
Other disqualifying factors may come up later in the process. For example, Offerpad may back out if there are problems with your home's title or if the inspection reveals significant structural or foundation issues.
Not eligible for Offerpad?
Looking for a real estate agent but short on time? Clever can connect you with top-rated listing agents in your area within 24 hours.
Our network of agents work for pre-negotiated low rates: 1.5% listing fees (half the typical rate).
Submit the form below for a free, no-strings-attached phone consultation with one of our Licensed Concierges.
Offerpad vs. the competition
| iBuyer | Service Fee | Avg. customer rating |
| --- | --- | --- |
| Offerpad | 5% | 4 out of 2,656 reviews |
| Opendoor | 5% | 4.2 out of 3,419 reviews |
| RedfinNow | 5–13% | 2.5 out of 7 reviews |
Against the competition, we think that Offerpad is one of the best iBuyers because of its reasonable fees, personalized customer service, and flexible closing window.
The fees are competitive
Offerpad charges 5% for its iBuying services, the same as competitor Opendoor. This is more affordable and transparent than RedfinNow's 5–13% fee.
You get more human interaction
Initially, you'll go online to submit information about your home. But once you are presented with the offer, an actual representative will reach out to you to discuss the next steps. Not all iBuyers provide this level of human interaction, which can be comforting when you're contemplating decisions about a major asset: your home.
Close quickly, or take your time
We like Offerpad's flexible closing timeline because it accommodates clients who need to sell their home in a hurry as well as those who may need a little extra time. If time is of the essence, you can close in as little as eight days in some markets. However, if you need more time, you can request a closing date up to 90 days away.
If you need a little more time because your new home isn't ready, Offerpad's Extended Stay program allows you to stay in your home up to three days after closing.
Be aware of the 1% cancellation fee
If you back out of the deal beyond four days after the post-inspection report, Offerpad charges you a 1% cancellation fee. While it might not be a dealbreaker, neither Opendoor nor RedfinNow charges such a fee. Be aware of the fee BEFORE you sign a purchase agreement.
Consider Offerpad, but talk to an agent first
If you're prioritizing speed over getting top dollar for your home, an iBuyer like Offerpad might be a good option for you.
However, regardless of your situation, your home is an incredibly high-value asset. It's always worth exploring every option before choosing how to sell.
We encourage sellers to interview with qualified local agents to see if they can help you evaluate your options.
If you're looking to sell your home fast and are unsure of which way to go, Clever can help!
Get in touch to speak with our team of real estate experts who can present offers from local cash buyers like Offerpad and compare them to what you can earn on the open market.
Compare cash offers now!
Compare offers from top cash buyers to the sale price you'd get with an agent.
Is Offerpad available near me?
Offerpad buys and sells homes in 25 U.S. cities including:
Atlanta, GA
Charlotte, NC
Dallas, TX
Las Vegas, NV
Phoenix, AZ
St. Louis, MO
Is Offerpad legit?
Yes. Offerpad is a legitimate business that buys and sells homes.
Launched in mid-2015, Offerpad was the second-ever iBuyer after Opendoor. After a quiet start,[1] the company raised $260 million in 2017[2] and began to expand across the U.S.
In 2021 Offerpad continued its growth, expanding its revenue to $2 billion and its total transactions by 58% from two years before.[3]
Offerpad reviews from real customers
Sellers praised Offerpad's customer service
In the reviews we read, many customers had positive comments about Offerpad's customer service. Customers were especially impressed with how accessible the company reps were and how they could talk to an actual human instead of an automated help system.
Customers felt Offerpad kept its promises
Many of the reviews said that Offerpad worked just as advertised, giving them a smooth, hassle-free selling experience. Reviews used language like "no surprises" and "great from start to finish."
Final offer less than initial offer
Not all of the reviews were glowing, however. Some customers complained that Offerpad's final offer was significantly less than the initial offer. Often, these reductions were due to problems uncovered during the inspection.
Complaints about third-party vendors
A common thread we found among the complaints in reviews was dissatisfaction with the third-party vendors Offerpad used. Some sellers thought that the contractors hired to do repair work provided low-quality repairs and were overpriced, leading to steep deductions in the offer.
How Offerpad works
Whether you're buying or selling a home, you'll work with a combination of Offerpad's in-house team and its third-party vendors.
Offerpad employees rely on their professional real estate experience and the company's unique algorithm to analyze homes submitted online.
This process allows Offerpad to set cash offers based on fair market value, as well as establish prices for homes available for sale.
It also means that instead of working with a real estate agent, you'll probably have several points of contact throughout the process.
If you already have an agent, you can sell to Offerpad through them — Offerpad will pay a standard 3% commission at no cost to you. If you're buying a home from Offerpad, Offerpad will pay your agent's commission too.
Wondering how much your home is worth?
Clever's top-rated real estate agents can provide a comparative market analysis (CMA) to help you determine what your home is worth. A free, no-obligation CMA is a great way to compare your Offerpad offer to what your house might fetch on the open market.
Connect with an agent and get a free CMA today!
Selling with Offerpad Express
Sellers
✅ Offerpad's cash offers are worth considering if…
Selling on your timeline is more important than getting top dollar
You don't want to prepare, list, or show your home
❌ You may want to avoid Offerpad's cash offers if…
Your top priority is getting the most money for your home
You're uncomfortable signing a contract before knowing the amount Offerpad will pay at the closing table
Step 1: Submit your information
To receive our initial cash offer, we submitted our details about our hypothetical home to Offerpad.
The website guided us through the process, prompting us to provide:
The home's square footage
When the home was built
The layout of the house
Permitted and unpermitted additions
Countertops and flooring
Appliances
Landscaping
Our desired closing date
The process was very simple and only took us a few minutes to complete. First, Offerpad asked specific questions about the house's features: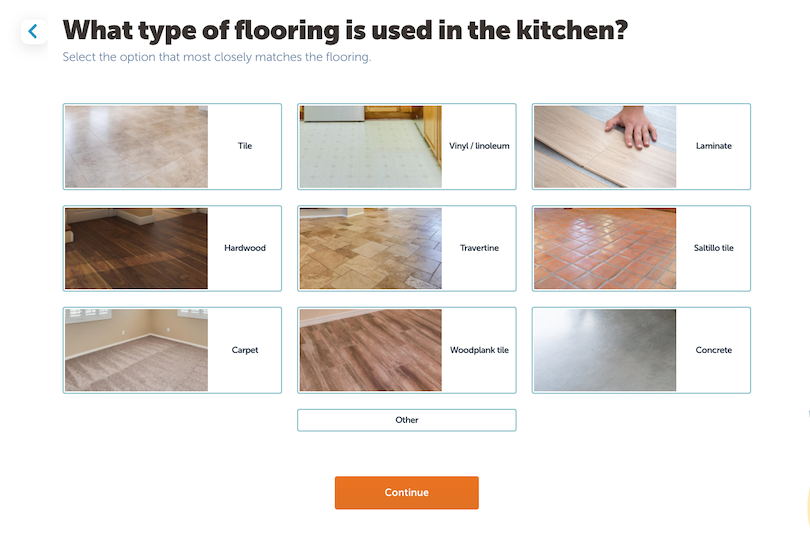 Offerpad also wanted to know about the community our house was in.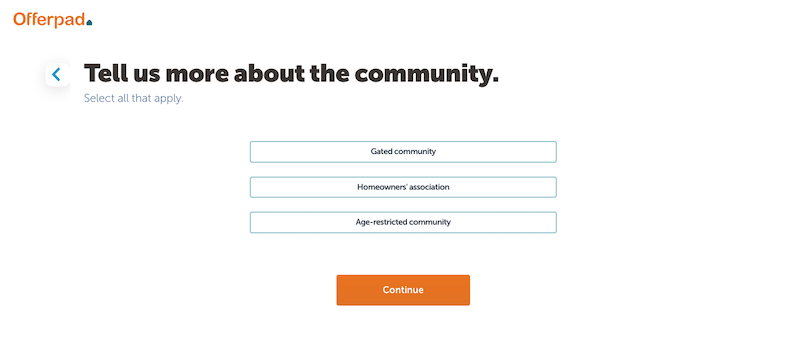 Then it asked about our desired closing date.

Since this was just a test to get a feel for the Offerpad process, we didn't actually hit submit. If we had submitted our request using a real-life property, we would have been contacted with an offer in 24 hours.
Here's what that would look like.
Step 2: Accept the offer
When we receive our initial cash offer in about 24 hours, we'll face our first big decision: whether or not to accept. We'll have four days to decide, after which our offer will expire. (After this point, we can renew our offer — but it may be higher, lower, or the same.)
When we accept Offerpad's cash offer, we'll have to sign a legally binding contract to progress to the next step — without actually knowing how much money we will ultimately receive from the sale.
If we feel the offer is too low, we can question Offerpad's reasoning or point out anything the company may have missed. However, there's no guarantee Offerpad will adjust its offer.
Step 3: Complete the inspection
The day after we and Offerpad sign the contract, our inspection period will begin. Within 15 days, Offerpad will send a third-party inspector to our property.
This part of the process will be the same as a traditional sale. The inspector will spend about two hours combing over every inch of our property, looking for issues such as water damage, structural problems, or general wear and tear.
Offerpad requires homeowners to be present for the inspection, so it'll be a good idea for us to follow along and ask questions as the inspector evaluates our property. This can help avoid any surprises.
Step 4: Receive an updated offer
After the inspection, Offerpad will provide a list of repairs it deems necessary — as well as the estimated cost of completing them.
At this point, Offerpad might also update its cash offer — or back out entirely, if our home doesn't meet its criteria.
If we're able to move forward, we'll have two options for how to proceed:
Accept a credit equivalent to the cost of repairs
Agree to hire contractors to make the repairs to Offerpad's specifications
Note that for especially pricey repairs, we may be required to agree to Offerpad's repair credit to proceed with the transaction.
Our conversations with Offerpad employees revealed something important to consider. If we want to reject Offerpad's updated offer, we only have four days to do so — after which we'll be charged a cancellation fee equivalent to 1% of the offer price.
The fee is not disclosed on Offerpad's website or in its terms of use.
This is a tight window that would make it difficult to conduct our own inspection, receive estimates from contractors, or negotiate with Offerpad.
Step 5: Closing
One of Offerpad's key services is to offer flexible closing dates. We can schedule our closing date anywhere from eight to 90 days after accepting Offerpad's cash offer.
We can also arrange to stay in our home up to three days after closing through the company's Extended Stay program.
Two days before closing, Offerpad will schedule a walk-through to ensure all repairs have been completed. Unfinished or inadequate repairs could delay closing.
If everything looks good, we can proceed to the closing table. We'll be responsible for paying closing costs (typically 1–3% of the purchase price).
Offerpad uses third-party vendors for title services, depending on the location:[4]
In Arizona, Colorado, Florida, Indiana, Nevada, Tennessee, and Texas, Offerpad uses First American Title
In Alabama, Offerpad uses Statewide Title Services
In Georgia, Offerpad uses the law offices of McMichael & Gray
In North Carolina and South Carolina, Offerpad uses the law offices of Hankin & Pack
At closing, we'll receive a check for our net proceeds — the cash offer price, minus Offerpad's service fee, closing costs, and any repair credits.
🖐 When can Offerpad back out of a deal?
The fine print: Offerpad's terms of use state, "We reserve the right to change the price and/or credits if we discover that the condition of the house is not consistent with your description, or that the information provided by you is otherwise incomplete or inaccurate. Any such change will require your approval, but if you disapprove, Offerpad may terminate the PSA (purchase agreement)."[5]
Translation: Offerpad can change its offer price and repair credits at any time during the transaction. If you don't agree with the changes, Offerpad can back out without penalty.
Although Offerpad reserves the right to back out of the deal, doing so wouldn't be in their best interest and it's unlikely to happen if there's nothing wrong with your home.
🖐 How accurate is Offerpad's initial cash offer?
The fine print: "Further, if you accept an offer, you will be asked to agree to a purchase agreement (the "PSA"), which, once executed by the parties, will govern the sale of your house. The terms of the PSA may be subsequently amended to include differing or supplemental terms (the "Supplemental Terms"). If you choose to accept the Offer Terms and PSA (as amended by any Supplemental Terms), they will be incorporated and deemed part of these (Terms of Use)."[5]
Translation: Although Offerpad tries to provide an accurate cash offer from the start, it reserves the right to charge a repair credit after the inspection, or to adjust your cash offer, after the inspection stage.
By contrast, other iBuyers such as Opendoor only require a contract after the inspection, when you know exactly how much money you'll receive for your home.
Fees for Selling to Offerpad
When you use Offerpad, you'll spend about 7–10% of your home's purchase price on service fees and closing. This may be a little more expensive than using a traditional real estate agent, but not by much.
There is also a 1% cancellation fee if you want to back out of the deal after four days after receiving the updated offer.
| | |
| --- | --- |
| 💰 Service fee | 5% of offer price |
| 📎 Closing costs | 1–3% of offer price |
| 🔨 Repair credits | 1–2% of offer price |
| 🚫 Cancellation fee | 1% of offer price if you cancel outside the four day post-inspection report window |
Offerpad's fees are similar to Opendoor, which has a service charge of 5% and tells customers to expect 1% for closing costs. However, Offerpad is potentially less costly than RedfinNow, which has variable selling fees ranging from 5–13%.
» READ: We Found the True Cost of Offerpad's Fees
Buying from Offerpad
Buyers
✅ Buying from Offerpad is worth considering if…
You need a flexible closing date that aligns with the sale of your old home
You see an Offerpad listing that has everything you're looking for
❌ You may want to avoid buying from Offerpad if…
You're concerned about subpar repairs or homes that have been vacant
You want to explore all financing options to find the lowest rates
Step 1: Get prequalified for a mortgage
To buy a home through Offerpad, you'll have to be prequalified for a mortgage.
In this stage, you'll gather all of the information about your financial history, such as your credit score and any debt you currently have. A lender will review your self-reported information and recommend home loans you might qualify for.
Note that this is different from pre-approval, which is not exclusively self-reported.
» READ: Pre-Approval vs. Pre-Qualification: What's the Difference?
Step 2: Browse homes online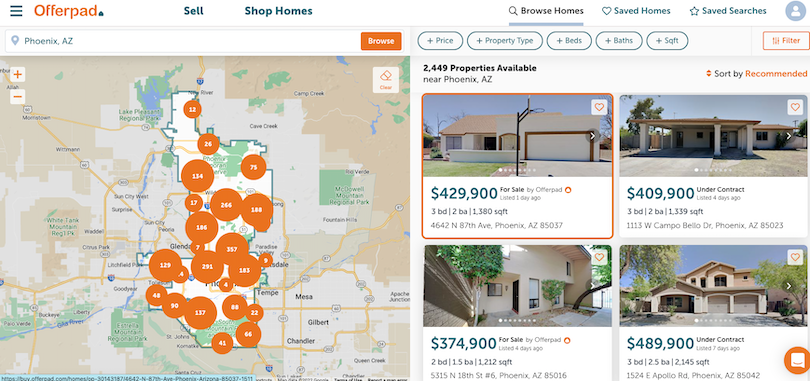 Similar to Zillow or Redfin, Offerpad has an online portal listing available homes in a given area.
You can filter results based on your criteria, such as the number of bedrooms or the square footage.
Step 3: Download the app
Rather than in-person tours, Offerpad allows prospective buyers to enter and tour properties on their own schedules.
Once you download the Offerpad app and verify your identity, you can use your smartphone to unlock Offerpad properties you're interested in.
You can view homes any time between 6 a.m. and 8 p.m., seven days a week.
Step 4: Make an offer
If you find your dream home through Offerpad, you can make an offer with or without an agent's representation. If you already have an agent, you may be responsible for the 3% buyer's agent commission.
If your offer is accepted, you'll have to work with Offerpad's third-party lender, loanDepot, which has a 3.8 star rating on Trustpilot (based on 3,798 reviews).
Step 5: Closing
If you're buying a home directly from Offerpad, you can schedule a closing date at your convenience — which can help you coordinate the timing if you're also selling your home.
Offerpad uses third-party vendors for title services, depending on your location.[3]
🖐 Are Offerpad's listing prices fair?
Offerpad uses its own research and valuation models to price houses. The listing price reflects the cost of repairs and other expenses incurred while Offerpad held the home, and current local real estate trends.
Offerpad intends to make a profit on each home it purchases. You can try to negotiate a lower price if you believe Offerpad has overpriced the home you're looking at.
Fees for buying from Offerpad
Offerpad doesn't charge any fees to the buyer, but you'll be responsible for the down payment, inspection fee, appraisal fee, and closing costs.
Listing with Offerpad Flex
Offerpad's Flex program allows you to list your home for up to 60 days on the open market with the guarantee of a cash offer in your back pocket.
Offerpad charges a 6% fee for this service, which covers the commission for the listing agent who will help you sell the home. This fee also includes the cost of the buyer's agent commission, which is typically paid by the seller.
Offerpad will provide cleaning and staging services to get the house in market-ready condition. You can also take out an interest-free loan from Offerpad for improvements like painting, flooring, and new appliances. You'll pay back the loan at closing.
Offerpad Flex
✅ Offerpad Flex is worth considering if…
You're selling in a competitive market and could get a higher price for your home on the open market
You're not in a huge rush to sell
❌ You may want to avoid Offerpad Flex if…
You need to sell your home quickly
Homes in your area aren't selling for much more than they're listed for
Step 1: Request an offer
The first step is to answer questions about your home online, just as you would with the Offerpad Express program. You have the chance to submit photos of your home to help Offerpad produce an accurate price estimate.
Step 2: Get the home ready for showings
Offerpad will provide listing agents who will help you sell your home. You'll get help with cleaning, landscaping, and handyman services so your home looks its best. If you decide to make repairs, Offerpad will allow you to take out an interest-free loan you can pay back at closing.
Step 3: Find a buyer or take the cash offer
If you find a buyer, you'll close on the home with them.
If you don't find an offer you want to accept on the open market, you can take Offerpad's initial offer any time within 60 days. If you accept the offer, you'll need to sign a purchase agreement and then have your home inspected. Offerpad will then adjust your offer and may require home repairs before closing.
Additional Services
Free local move
If you're moving within a 50-mile radius, Offerpad will cover the cost of your move.[6] Depending on the size of your home, this is an estimated $560–1,100 value.[7]
To provide this service, Offerpad partners with Bellhop, a third-party vendor with a 4.4 star rating on Trustpilot (based on 3,315 reviews). On the day of your move, Bellhop will pick up your belongings and deliver them to your new home.
One caveat: Bellhop does not provide any packing supplies or services. If you want your items to be boxed, wrapped, or protected, you'll need to do so yourself in advance.
Extended Stay
Offerpad allows sellers to stay in their old home for up to three days after closing,[8] providing some breathing room for a less stressful move.
To be eligible, you'll first have to complete a post-possession addendum. This contract allows you to legally remain on the premises after selling your home, and it outlines the specific dates and deadlines you'll have to abide by.
If you take advantage of this option, Offerpad will temporarily withhold $3,000 from the proceeds of your home sale. Once you vacate the home, Offerpad will inspect the property to make sure it's in good condition and release the funds back to you.
Opendoor has a similar service called Late Checkout that allows you to stay up to 17 days, but you'll need to pay a security deposit and daily rent based on a percentage of the home's value.
Instant access
If you're interested in touring an Offerpad listing, you can take advantage of the company's Instant Access tool.[9]
To use Instant Access, you can:
Download Offerpad's app via the Apple App Store or the Google Play Store
Take a selfie with your smartphone
Submit your U.S. driver's license
Once you've verified your identity, you can walk up to the front door of any Offerpad home you're interested in and request access via your smartphone. The door will automatically unlock, allowing you to tour the property at your convenience.
Properties can be unlocked any time between 6 a.m. and 8 p.m., seven days a week, meaning that you never have to schedule tours or attend an open house.
Bundle rewards
Offerpad's Bundle Rewards program allows you to streamline the process of selling one home and buying another, provided the home you want is already owned by Offerpad. This program enables you to coordinate closing dates, line up your move, and avoid paying two mortgages at once.
Other iBuyers like Opendoor have a complete trade-in program that gives you the option to make a cash-back offer on any home on the open market.
But Offerpad's Bundle Rewards program isn't a true home trade-in program, as it's limited to homes owned by Offerpad. Unless you find an Offerpad-owned home that meets all of your search criteria in one of the company's 25 markets, this option won't be helpful.
» MORE: Home Trade-in Programs: How to Buy a House Before You Sell.
Contact Offerpad
Frequently Asked Questions about Offerpad
What is Offerpad?
Offerpad is an iBuyer that provides cash offers to sellers in over 20 U.S. cities. The company also sells homes and offers an MLS listing service. Like other iBuyers, Offerpad aims to streamline real estate transactions. Using proprietary technology and an in-house team, Offerpad promises to provide cash offers within 24 hours and allow sellers to close in as little as 8 days. However, these perks can come at a cost. Though Offerpad claims to pay fair market value, its customers sacrifice the opportunity to potentially net more on the open market. Read More.
Is Offerpad Legit?
Offerpad is a legitimate business that buys and sells homes. However, we found that it's less transparent and more rigid than some competitors in the iBuying space, such as Opendoor. Read More.
Does Offerpad have good reviews?
Offerpad's reviews are mostly positive, with some complaints. While some customers praised Offerpad's hassle-free approach to cash offers, others felt the reduction in offer price after inspections amounted to a bait and switch. Read More.
Where does Offerpad buy homes?
Offerpad buys homes in over 20 U.S. cities across AZ, AL, CO, FL, GA, IN, KS, MO, NV, NC, OH, SC, TN, and TX. Read More.
What fees does Offerpad charge?
In total, you'll spend 7–10% of your home's purchase price on service fees and closing, plus a variable repair fee. In some cases, you may also encounter a 1% cancellation fee. Read More.