Find Offerpad fees | Offerpad vs. other iBuyers | Offerpad vs. a real estate agent | Hidden Fees | Closing costs | Additional services | Repairs | Can you negotiate with Offerpad?
When you sell your home to Offerpad, you can expect to pay 7–10% of your home's final sale price in fees and costs.
Part of this cost is the 5% service fee that Offerpad charges for its fast cash offer and flexible closing options. Offerpad also deducts any necessary repair costs from its final offer. You'll pay typical seller closing costs, usually 1–3%.
Offerpad's fees are slightly lower than the average commission you would likely pay to a listing agent to sell your home. However, selling with an agent on the open market will likely net you a little more money than Offerpad's offer.
Clever can match you with a top local agent who will show you which choice is best for your situation. Your Clever agent will present you with offers from companies like Offerpad along with a competitive listing price so you can compare your options.
What is Offerpad?
Offerpad is an iBuyer, which is a real estate company that makes cash offers on homes in select markets for a service fee. If you need to sell quickly, iBuyers like Offerpad, Opendoor, and RedfinNow can provide an offer on your home in 24–48 hours and give you a closing date within a few weeks.
However, Offerpad's expensive fees mean you may earn less overall from your sale. Offerpad reviews also cite pricey repair costs that often exceed the concessions you'd pay for in a traditional home sale.
» MORE: Offerpad Reviews: Everything You Need to Know
How much does Offerpad charge?
Offerpad charges a 5% service fee — in addition to an average of 1–2% in deductions for necessary repair costs. You'll also have to pay typical closing costs, which vary by market and circumstances, but are usually about 1–3%.
How much are Offerpad fees?
| | |
| --- | --- |
| 💰Service fee | 5% |
| 📁Closing costs | 1–3% |
| 🛠Repair costs | 1–2% |
| Total | 7–10% |
How do Offerpad's fees compare with top competitors?
Offerpad's fees are competitive: its 5% flat fee is the same as leading iBuyer Opendoor. This is better than most other iBuyers — RedfinNow, another popular competitor, charges a variable fee that can be as high as 13%.
How do Offerpad's fees compare with selling with an agent?
Home seller


Service fee


Cost*


Offerpad

5%

$20,000

Listing agent

5–6%

$20,000–$24,000

Discount broker

3–5%

$12,000–$20,000

*Based on $400,000 home
Offerpad's 5% service fee is slightly less than what you would pay in commission selling with a conventional realtor, but its offer amount is likely to be less than what you would get on the open market.
If you want to sell on the open market, you can potentially save by working with a discount broker while still maximizing the sale price on your home.
It's possible to sell your home for top dollar without navigating hidden fees. Clever Real Estate is a free service that pre-negotiates lower fees on your behalf with top realtors in your area. Sellers who list with Clever pay just $3,000 or 1.5% in listing fees, while still getting incredible service from top-rated real estate agents.
» SAVE: Match with top local agents, save thousands on listing fees!
Does Offerpad charge hidden fees?
Most Offerpad fees are transparently listed on its website, though it's not obvious that the company charges a 1% late cancellation fee.
When Offerpad provides the initial cash offer, the seller must sign a purchase agreement before the deal can proceed to the inspection stage.
This is when it gets tricky. When Offerpad provides the inspection report, it will also provide an updated cash offer that reflects the repair credits.
At this point, you'll have four days to consider Offerpad's offer. It's a tight turnaround, especially if you want to get a second opinion from a contractor or inspector. During this window, you can:
Accept the offer and agree to the repair credit.
Negotiate over the repair credit.
Reject the offer and walk away.
But if you decide to back out AFTER this four-day window, you'll be subject to a cancellation fee: 1% of Offerpad's initial cash offer.
Are closing costs included in Offerpad fees?
No, Offerpad's service fee does NOT include closing costs. You should set aside 1–3% of the sale price to cover these expenses.
Closing costs vary by location, but are typically shared by the buyer and seller. In general, sellers pay administrative fees, transfer taxes, and title insurance.
» LEARN: Who pays closing costs when you sell a home?
How much do Offerpad's extra services cost?
If you decide to sell to Offerpad, you can take advantage of several perks at no additional cost:
Extended Stay. Offerpad allows you to stay in your home for up to three days after closing. Offerpad would hold $3,000 of your proceeds as a security deposit, to be refunded after you move out.
Local Move Program. If you're moving within a 50-mile radius, Offerpad will pay for your moving services. The company partners with local movers and will pay them directly to move homes up to 2,800 sq. ft. You'll be responsible for the packing and any additional costs, such as extra insurance for expensive items.
Does Offerpad charge for repairs?
Yes. When you sell your home to Offerpad, repairs are the biggest variable — they're hard to predict and can reduce your net sale amount by tens of thousands of dollars.
In any sale, it's normal for buyers to negotiate over repair credits. Based on an inspection, buyers identify repairs they want and then request a discount equivalent to the estimated cost of fixing those items.
» JUMP: Can you negotiate with Offerpad?
The same is true with Offerpad. When you accept Offerpad's initial cash offer, the company will send a third-party home inspectorto your home to evaluate its condition.
Then, Offerpad uses the inspection report to identify necessary repairs and estimate the cost of completing them. Repairs fall into two general categories:
Repair categories
| | |
| --- | --- |
| 🏡 Structural repairs | Major fixes such as the roof, foundation, and other big-ticket items |
| 🎨 Cosmetic repairs | Minor fixes such as flooring, paint, and other less costly items |
When you sell to an individual buyer, you can negotiate the cost of repairs or simply reject the request for repairs altogether. The buyer may drop the request, make a counteroffer, or walk away.
Repair credits work differently with iBuyers. Instead of negotiating the cost of repairs, Offerpad is more likely to offer sellers two options:
Agree to provide a repair credit, which deducts the cost of repairs from Offerpad's cash offer.
Hire a contractor to complete the repairs to Offerpad's specifications.
However, if you live in a seller's market — one where the demand for homes outpaces available listings — you may be well positioned to sell your home without having to make repairs or concessions.
In this case, you may earn more from listing your home on the open market than you would from selling to Offerpad.
Offerpad reviews about repairs
Repair costs are a hot topic in Offerpad reviews. Overall, we found that Offerpad has a weighted average rating of 3.9 out of 5 stars. Despite the moderately high rating, complaints about repairs were a common refrain in many reviews.
Some sellers are disappointed when Offerpad adjusts their offer — sometimes dropping it by thousands — following the home inspection.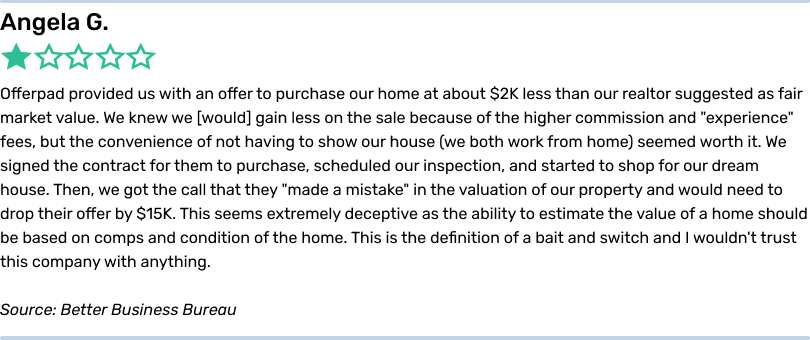 Other sellers found that Offerpad charges surprisingly high repair fees — which they learned when contractors offered work at a fraction of the price.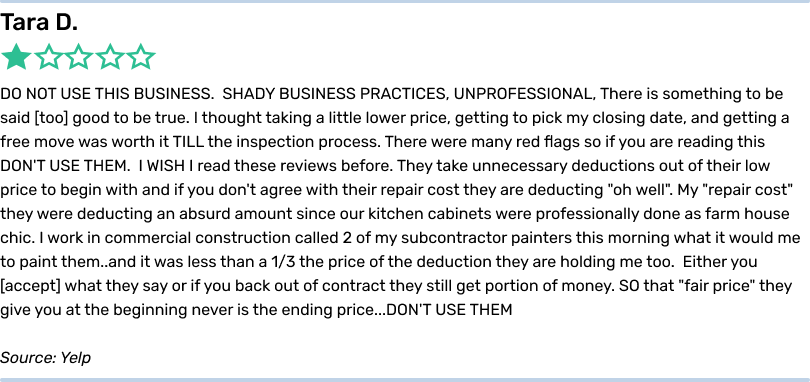 Additionally, some buyers who purchased homes from Offerpad reported major issues with the quality of Offerpad's repairs.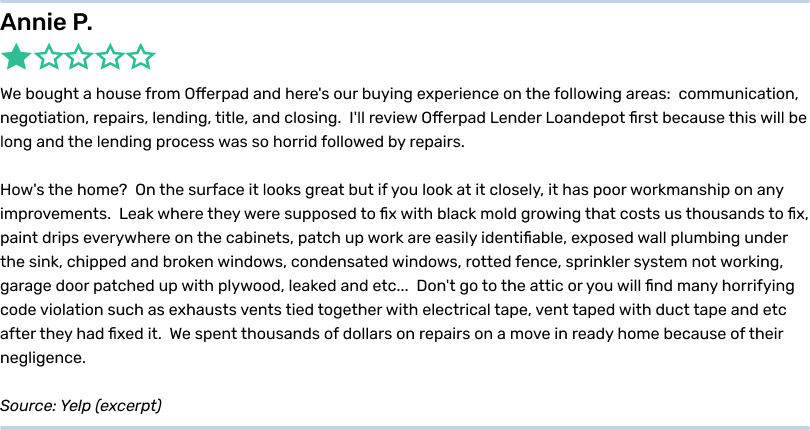 Still, some customers do feel Offerpad's repair costs are fair. For example, one seller knew their home's major systems were outdated, so there were no surprises when Offerpad requested some big ticket repairs.

» MORE: Read our in-depth Offerpad review!
Can you negotiate with Offerpad?
Yes — according to Offerpad, sellers can negotiate the offer price and repairs. However, the reality is that Offerpad is unlikely to budge on either. In general, you'll have much more room to negotiate if you list your home on the open market.
You'll have a better shot at successfully negotiating with Offerpad, though, if you're armed with information. Recent appraisals, inspection reports, and maintenance reports can help you make a stronger case for a higher offer or lower repair credit.
When it comes to repairs, gather as much information about your home as possible ahead of time. For example, if Offerpad suggests installing a new roof, but you have documentation showing that your roof isn't due for an upgrade for several years, you may be able to successfully push back.
You have much more room for negotiations when selling your home with a real estate agent — especially if you work with a company that's already negotiated commission savings on your behalf. A full-service agent from Clever will gather offers from companies like Opendoor and compare these to what you could expect to list your home for on the open market.
How much does Offerpad charge?
In total, Offerpad fees range from 7–10% of your home's sale price, including Offerpad's 5% service fee, which is the same as competitor Opendoor. Compare Offerpad and Opendoor now!
Does Offerpad charge hidden fees?
Offerpad requires sellers to accept its initial cash offer before knowing the final purchase price. It's also not obvious that Offerpad charges a 1% cancellation fee to sellers who back out more than four days after receiving the final cash offer. If you value transparent pricing, we recommend selling with a leading low commission real estate company.