Find Offerpad fees | Closing costs | Repairs | Hidden fees | Can you negotiate with Offerpad? | Additional services | Offerpad vs. a real estate agent
💰 Editor's take: In total, Offerpad fees will add up to 8-15% of your home's sale price, including a service fee, closing costs, and estimated repair costs. For comparison, selling your home for full price with a real estate agent costs around 6-11%.
Offerpad is a real estate company that buys eligible homes in select markets. To make a profit, Offerpad charges fees and flips homes to resell them on the open market.
If you need to sell quickly, Offerpad and other iBuyers can provide near-instant cash offers and a fast closing date.
However, Offerpad's expensive fees mean you may earn less overall from your sale. Offerpad reviews also cite pricey repair costs that often exceed the concessions you'd pay for in a traditional home sale.
If you want to sell your home for top-dollar, without navigating hidden fees, Clever is a free service that pre-negotiates lower fees on your behalf with top realtors in your area. Sellers who list with Clever pay just $3,000 or 1% in listing fees, while still getting incredible service from top-rated real estate agents.
💰 SAVE: Match with top local agents, save thousands on listing fees!
Or, read on to learn exactly how much it costs to sell your home to Offerpad.
How much are Offerpad fees?
If you sell with Offerpad, you can expect to pay fees of 8-15% of your sale price. In many cases, Offerpad fees are higher than the typical 6-11% you'd pay while working with a real estate agent.
Cost


Offerpad fees


Real estate agent


💵 Commission*

-

4-6%

🤝 Service fee

6-10% (average: 7%)

-

💰 Closing costs

1-3%

1-3%

🛠️ Repairs and concessions

1-2%

1-2%

Total

8-15%

6-11%

*If you're selling to Offerpad through an agent, you'll have to pay the commission specified in your listing agreement.
The biggest variable is Offerpad's service fee, which can be as low as 6% or as high as 10%. This fee is determined by Offerpad's underwriting team, which analyzes your property and the market where you live. According to Offerpad, the typical seller pays around 7%.
It's worth noting that Offerpad's service fee is somewhat higher than what other iBuyers charge. For example, Opendoor's service feeis capped at just 5% and can be as low as 3.5%.
» COMPARE: Request a no-obligation cash offer from Opendoor today!
Does Offerpad charge hidden fees?
While most Offerpad fees are transparently listed on its website, it's not obvious that the company sometimes charges a 1% cancellation fee.
When Offerpad provides the initial cash offer, the seller must enter into a contract — essentially, a purchase agreement— before the deal can proceed to the inspection stage.
This is when it gets tricky. When Offerpad provides the inspection report, it will also provide an updated cash offer that reflects the repair credits.
At this point, you'll have four days to consider Offerpad's offer. During this window, you can:
Accept the offer and agree to the repair credit
Negotiate over the repair credit
Reject the offer and walk away
But if you decide to back out after this four-day window, you'll be subject to a 1% cancellation fee, based on Offerpad's initial cash offer.
It's a tight turnaround, especially if you want to get a second opinion from a contractor or inspector.
Are closing costs included in Offerpad fees?
No — Offerpad's service fee does not include closing costs. You should plan to set aside 1-3% of the sale price to cover these expenses.
Closing costs vary by location, but are typically shared by the buyer and seller. In general, sellers pay transfer taxes, title insurance, and various administrative fees.
» LEARN: Who pays closing costs when you sell a home?
How much does it cost to use Offerpad's extra services?
Along with purchasing homes, Offerpad provides several free add-ons:
Extended Stay: Offerpad allows you to stay in your home for up to three days after closing. If you choose this option, you'll have to allow Offerpad to hold $3,000 of your proceeds, which are returned after you move out.
Local Move: If you're moving within a 50 mile radius, you can take advantage of Offerpad's Local Move program at no additional cost. Offerpad partners with Bellhop, a third-party moving company — but note that you'll have to pack your belongings yourself.
Does Offerpad charge for repairs?
Yes. When you sell your home to Offerpad, repairs are the biggest variable — they're hard to predict and can reduce the amount you net from the sale by tens of thousands of dollars.
In any sale, it's normal for the buyer to negotiate over repair credits. Based on the inspection, the buyer identifies repairs they want or need, then usually requests a discount equivalent to the estimated cost of fixing them.
The same is true with Offerpad. When you accept Offerpad's initial cash offer, the company will send a third-party home inspectorto your home to evaluate its condition.
Then, Offerpad uses the inspection report to identify necessary repairs and estimate the cost of completing them. Repairs fall into two general categories:
| | |
| --- | --- |
| 🏡 Structural repairs | Major fixes such as the roof, foundation, and other big ticket items |
| 🎨 Cosmetic repairs | Minor fixes such as flooring, paint, and other less costly items |
After receiving the inspection report, sellers can choose between two options:
Accepting a repair credit, which deducts the cost of repairs from Offerpad's cash offer
Hiring a contractor to complete repairs to Offerpad's specifications
However, if you live in a seller's market — one where the demand for homes is on track to outpace available listings — you may be well-positioned to sell your home without having to make repairs or concessions.
In this case, you may earn more from listing your home on the open market than you would from Offerpad's selling costs.
Offerpad reviews about repairs
Repair costs are a hot topic in Offerpad reviews. Overall, we found that Offerpad has a weighted average rating of 2.3 out of 5 stars — and complaints about repairs help to explain why it scores so low with customers.
Some sellers are disappointed when Offerpad adjusts their offer — sometimes dropping it by thousands — following the home inspection.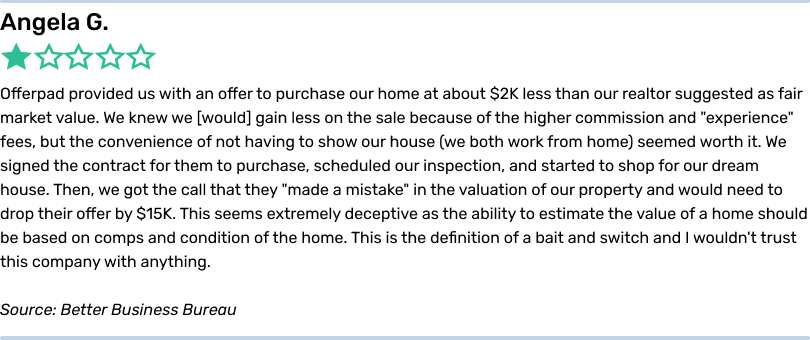 Other sellers found that Offerpad charges surprisingly high repair fees — which they learned when contractors offered work at a fraction of the price.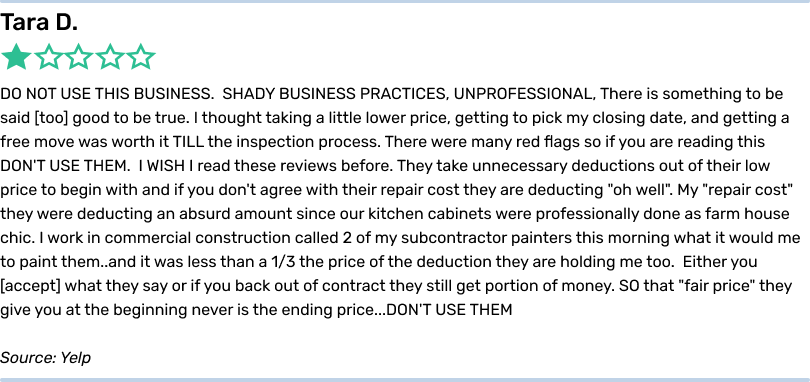 Additionally, some buyers who purchased homes from Offerpad reported major issues with the quality of Offerpad's repairs.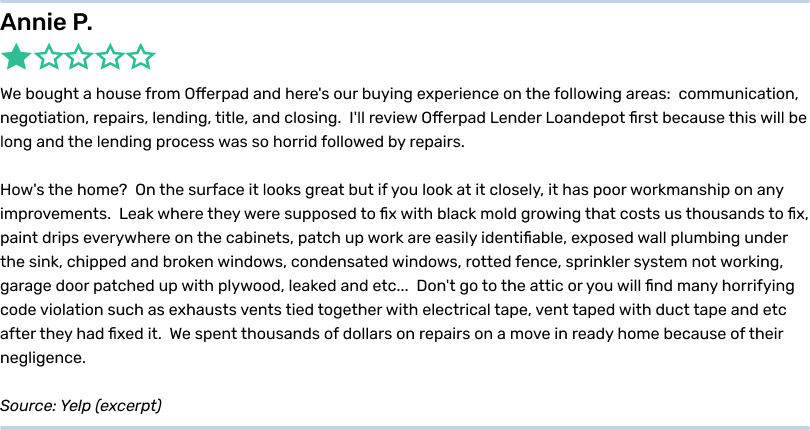 Still, some customers do feel Offerpad's repair costs are fair. For example, one seller knew their home's major systems were outdated, so there were no surprises when Offerpad requested some big ticket repairs.

🔎 MORE: Read our in-depth Offerpad review!
Can you negotiate with Offerpad?
Yes — according to Offerpad, they are willing to negotiate with sellers. There are two main areas sellers can negotiate: the offer price and repairs. However, the reality is that Offerpad may not budge on either. In general, you'll have much more room to negotiate if you list your home on the open market.
You'll have a better shot at successfully negotiating with Offerpad, though, if you're armed with information. Recent appraisals, inspection reports, and maintenance reports can help you make a stronger case for a higher offer or lower repair credit.
When it comes to repairs, gather as much information about your home as possible ahead of time. For example, if Offerpad suggests installing a new roof — but you have documentation showing that your roof isn't due for an upgrade for several years — you may be able to successfully push back.
The one thing that you can't negotiate is also Offerpad's most expensive fee — a 6-10% service fee determined by its underwriting team. Even if you manage to negotiate other aspects of your sale, Offerpad fees may add up to 10% of your home's sale price.
By contrast, selling your home with a real estate agent leaves ample room for negotiating with your buyer — especially if you work with a company that's already negotiated savings on your behalf. Clever's network of top-rated agents come from top brokerages and work for pre-negotiated listing fees of just $3,000 or 1%. Learn more today!
Offerpad fees vs. real estate agent fees
In general, you're more likely to incur lower selling costs — and get a higher sale price — by listing your home with a real estate agent.
To illustrate how Offerpad fees compare to a traditional sale, let's say you're planning to sell a $200,000 home that requires $3,000 in repairs or concessions. This is how it could shake out.
| Cost | Offerpad fees | Selling on the open market |
| --- | --- | --- |
| 🤝 Service fee (6-10%) | $12,000 - $20,000 | - |
| 💵 Commission (4-6%) | - | $8,000 - $12,000 |
| 💰 Closing costs (1-3%) | $2,000 - $6,000 | $2,000 - $6,000 |
| 🛠️ Repairs | $3,000 | $3,000 |
| 💡 Preparation and staging | - | $400 |
| Total cost to sell | $17,000 - $29,000 | $13,400 - $21,400 |
| Proceeds | $171,000 - $183,000 | $178,600 - $186,600 |
While fees are a helpful metric, it's also crucial to consider every factor that could impact your bottom line before choosing the option that's best for you.
Again, Offerpad's business model is set up for the company to make a profit when they resell your home. You'll usually earn more on the open market by leveraging a real estate agent's expertise to find the right buyer.
For example, a real estate agent can help you find a buyer who's willing to pay closer to your full asking price or agree to fewer repairs. Your agent will also negotiate on your behalf — unlike negotiations with Offerpad, which you'd have to navigate on your own.
If you're ready to meet top-rated agents near you, Clever can help. Not only do our partner agents come from leading brokerages including Keller Williams, RE/MAX, and Coldwell Banker, but we've pre-negotiated affordable rates of just $3,000 or 1% in listing fees.
With Clever, you'll get incredible support and earn thousands more from your sale, thanks to built-in savings!
Related articles
FAQs
How much does Offerpad charge?
In total, Offerpad fees range from 8-15% of your home's sale price. The biggest variable is Offerpad's service fee, which can cost up to 10% — which is twice as much as Opendoor's maximum service fee (another leading iBuyer). Compare Offerpad to Opendoor now!
Does Offerpad charge hidden fees?
Offerpad requires sellers to accept its initial cash offer before knowing the final purchase price. It's also not obvious that Offerpad charges a 1% cancellation, which applies to sellers who back out more than four days after receiving the final cash offer. If you value transparent pricing, we recommend selling with a leading low commission real estate company.