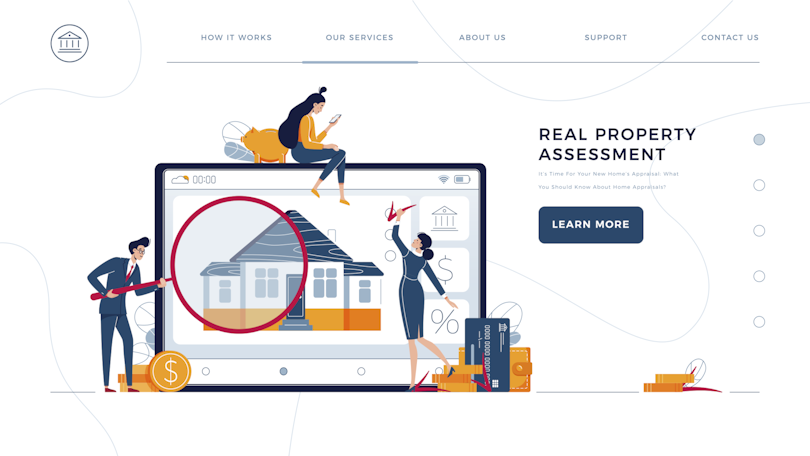 Should you trust an AVM? | How AVMs work | AVM accuracy | Zestimates | AVM uses | AVMs vs. appraisals | AVM FAQs
An Automated Valuation Model (AVM) is a software tool that estimates a property's current or future value using mathematical modeling and various data points related to the property and surrounding market.
If you've ever looked up a home's estimated value on Redfin or come across a "Zestimate" on Zillow, you've encountered an AVM.
To arrive at an estimated home value, AVMs weigh variables such as individual property details, comparable home sales and current listings, neighborhood information, historical sales data, and local market trends.
However, unlike traditional appraisals, which include a visual property inspection, AVMs cannot account for a home's current physical condition or improvements and renovations that aren't part of the public record.
AVMs are only as accurate as the data they pull from. If the information is incorrect or outdated, the estimates they produce may be wildly off the mark.
In the end, you risk leaving serious money on the table when you rely solely on an AVM to price your home.
Should I trust an AVM to price my home?
AVMs are great at providing ballpark estimates of a home's value based on available data. However, they're not a substitute for a traditional appraisal or comparative market analysis (CMA), which involve a physical inspection of your home.
When it comes to determining a fair asking price for your home, the stakes are high. You want the opinion of someone who's familiar with the market and willing to put in the time to evaluate your home's unique selling points (with actual eyes on your house).
💁 Appraisers vs. realtors: How they approach home valuations
An appraiser is certified to offer a professional opinion of a home's value relative to other properties on the market. A real estate agent is concerned with helping you maximize your home's value, which often comes with a lot of free advice for how to stage it or get the highest return on updates and repairs you make before selling.
Additionally, while appraisals may cost $250–500, real estate agents are often willing to conduct a comparative market analysis for free in the hopes of earning your future business.
During a comparative market analysis, a realtor will size up every inch of your home and offer a realistic assessment of its value based on their knowledge of the local real estate scene — including anything that might scare off potential buyers.
When analyzing its value in relation to comparable homes in the neighborhood, a good real estate agent will also assess intangibles like curb appeal, neighborhood vibe, or "wow factor" when you walk through the door — things an automated pricing model simply can't take into account.
A savvy agent can also advise you on a pricing strategy based on your timeline and priorities as a seller (like making a quick move vs. getting top dollar).
To get a detailed assessment of your property value, talk to an experienced real estate professional about a free comparative market analysis.
👋 See what your home is really worth!
A Clever Partner Agent can provide you with a free, no-obligation analysis of your home value. If you decide to list, you'll pay just a pre-negotiated 1.5% listing fee (half the usual rate), saving you thousands in commissions when you sell.
Connect with an agent for a free CMA!
How do Automated Valuation Models (AVMs) work?
To generate a home value estimate, AVMs pull information from public deed transfer and tax assessor records as well as hundreds of multiple listing services advertising properties for sale.
While AVM providers don't disclose the exact algorithms they use to compute their estimates, many claim to use thousands of data points in their calculations.
With access to databases covering millions of real estate listings and transactions, AVMs look for patterns in how different variables — like a property's age, the number of bedrooms and bathrooms, and neighborhood schools and amenities — influence home sale prices over time.
Drawing comparisons between the subject property and similar properties that have recently sold in the same market, the algorithm adjusts its valuation based on how closely the details match.
For example, an AVM might add value for an extra bathroom and subtract value for a missing bedroom — much like a realtor would when determining a competitive asking price for a home.
AVMs continually analyze and learn from the available data in order to more accurately predict a home's value based on how it measures up to recent property sales and listings in that market.
📈 What variables do AVMs analyze?
Home characteristics
Location, age, square footage, number of stories, number of bedrooms and bathrooms, lot size, presence of a garage or covered parking, water access, sewer type
Neighborhood information
Local safety ratings; area schools; access to parks and recreation; proximity to groceries, restaurants, retail, and entertainment
Information from sellers or listing agents
Property description, photos, recent home additions or upgrades, home facts (like usable square footage)
Comparable home data
Prices of recently sold or currently listed homes that are similar in location, size, proximity, and features
Local market conditions
Recent and historic pricing trends, including seasonal fluctuation in demand
While AVMs are great at processing information and drawing comparisons among similar properties, they can't account for everything.
❓What variables do AVMs leave out?
A property's actual condition
Whether it's well-maintained or in need of deep cleaning, restoration, and repairs
Recent improvements or renovations
New cabinets and countertops, updated appliances, new landscaping or water features, the addition of a deck or patio, and other add-ons not found in the public record
Missing or incorrect property information
Unclear information about ownership, previous title transfers, lot size, usable square footage, unpermitted additions, and more
Unique or custom home features
Homes that are atypical for the area or those with one-of-a-kind features like an amazing backyard, mother-in-law suite, or water view
Rental and other income
Income from long-term or short-term rental, event or storage space, signage such as billboards, and more
How accurate are AVMs?
The accuracy of automated valuation models varies widely based on the product, locale, and property.
An AVM's reliability depends on:
The underlying statistical model
The quality of data available for the property and market
The quantity of data available for the property and market
The presence of recent comparable sales
Because AVMs rely on comparisons of like homes to predict how a subject property will measure up in a particular market, they aren't particularly good at pricing unique or custom-built homes.
AVMs also tend to be less accurate in rural areas where there are fewer home sales and therefore less data to go on.[1]
Because no AVM is perfectly accurate in all circumstances, many AVM providers develop multiple valuation models for specific use cases. One AVM might be particularly good at calculating agricultural land values while another might target dense metropolitan areas.
If you want a realistic estimate of what your home could be worth in your particular market, it's best to enlist the help of an experienced listing agent with a track record of selling homes in your area and price range.
» READ: 11 Questions You Should Ask a Listing Agent
How is AVM accuracy determined?
There's no single standard for evaluating AVM accuracy.
Commercial AVM providers like CoreLogic and Equifax, which supply property valuations for large investors and mortgage lending institutions, voluntarily submit to third-party testing from independent raters.
Sites like Zillow and Redfin, whose AVMs are targeted directly to home buyers and sellers, do their own reliability testing.
How accurate is a Zestimate or Redfin Estimate?
The estimates you see on Zillow and Redfin are just that — estimates. Their accuracy and reliability of their AVM outputs can vary widely from market to market.
In Nevada, for example, 90% of Zestimates fall within 5% of the eventual sale price.[2] In New Hampshire, however, that percentage drops to 69.9%.
Listing status — whether a property is actively for sale or previously sold and off the market — can also influence AVM accuracy. On-market listings can improve AVM accuracy because they usually have more up-to-date information, including a property description and target sale price supplied by the seller or listing agent.
Both Redfin and Zillow publish median error rates for active and off-market listings, showing the proportion of home value estimates that fall within a given range of the eventual sale price.
A median error rate of 2% means that half of home valuations fall within 2% (+/-) of the final sale price, while half of the valuations don't.
Redfin Estimate and Zestimate median error rates by listing status
To account for the inevitable margin of error, Redfin and Zillow usually post a broader range alongside their estimate (or Zestimate) of a home's current value.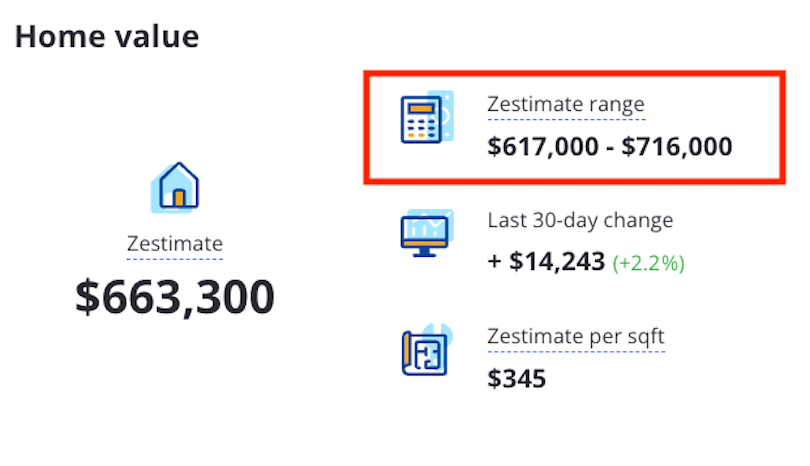 Why are there discrepancies in AVM values?
Each AVM uses a unique proprietary algorithm to calculate home values — and not all AVMs draw on the same data sources.
Not surprisingly, large discrepancies can occur between the estimates churned out from one AVM to the next.
For example, here are home value estimates for the same property in a popular Austin, TX suburb provided by a few reputable online AVMs.
| | Estimated Value | Estimated range |
| --- | --- | --- |
| Chase | $575,000 | n/a |
| Realtor.com | $536,500 | $511,648–614,633 |
| Redfin | $629,342 | $554,000–648,000 |
| Zillow | $663,300 | $617,000–716,000 |
Despite each of these AVMs boasting a reasonable degree of accuracy, the high and low ends of their estimated ranges vary by more than $200,000.
» MORE: Which home value site is the most accurate?
What could make an AVM valuation inaccurate?
Factors that influence automated valuation model accuracy include:
Lack of historical sales data (a home may be new construction)
A hot market (where extreme competition boosts housing prices to the point that home sale data quickly becomes outdated)
Lack of similar, nearby homes for comparison
How long a home has been off the market since it was last sold
Faulty or missing data
Errors in the mathematical model
Whether a property and its current condition is typical for the area
Whether a home has recently undergone renovations or repairs
AVMs are most reliable when the property is similar to others in the area, the property details are complete and accurate, and recent comparable sales data is abundant.
How are AVMs used in real estate?
Curious homeowners can access AVMs on sites like Zillow and Redfin to get a sense of how much their house might fetch on the local real estate market.
Buyers can also use AVMs to see if a home they're interested in is fairly priced compared to other recently sold homes in the neighborhood.
Apart from powering home value estimates on consumer real estate sites, AVMs are an increasingly popular tool among:
Appraisers
Insurance providers
Investors
Mortgage lenders
Real estate agents and brokers
Brokerages use AVMs for marketing and lead generation
When you do an online search for "home value estimate" or "how much is my home worth," you'll likely see multiple ads from real estate brokerages and lending institutions offering a free, instant home valuation.
Real estate brokerages offer these free home valuations to lure prospective homeowners into using their platform to list their home, find an agent, or use one of their mortgage partners for their next home purchase.
Likewise, mortgage lenders like Chase and Bank of America market free AVM tools to gauge when a homeowner is in the market for a loan to refinance or purchase a new home.
However, the accuracy of these tools is questionable, and the values you get from one online estimate to the next are prone to major discrepancies.
An additional catch to using one of these free AVMs is that you'll likely have to give up some personal information — like your email address — to see a more detailed assessment of your home value.

Once a platform like Zillow or Chase has your contact details, they'll send you messages with information like:
Changes to your home value estimate
Local housing market reports
Tips for how to sell or refinance
Lending institutions and real estate brokerages provide this useful useful information about your home and real estate market so you'll feel more inclined to use their services once you decide to sell or apply for a loan.
iBuyers use AVMs to generate cash offers
iBuyers like Opendoor and Offerpad use AVMs to generate instant offers for homeowners interested in selling their house quickly and without the hassle of having to fix it up or put it on the market.
Once a homeowner lands on an iBuyer's website, they'll be prompted to enter their home address and input additional details and property photos not already accounted for in the AVM.
iBuyers use the information you supply to update the valuation estimate and generate a preliminary offer, which is either verified or possibly adjusted with an onsite home inspection.
» MORE: What are the top iBuyers and how do they work?
Other uses of AVMs
Commercial AVMs like CoreLogic and Equifax help reduce manual processes across a variety of real estate functions, including:
Investment portfolio valuations. Compared to a manual appraisal, AVMs offer a far more efficient way of calculating the value of a large real estate portfolio — especially one that contains various property types or that's spread out across multiple regions.
Loan underwriting/risk assessment. Before issuing a home loan, lenders want to make sure that a property is worth at least the intended loan amount. AVMs provide a quick gauge of the loan-to-value ratio for a given property and whether a lending decision requires a more rigorous appraisal.
Home insurance quotes. When determining coverage amounts, insurance providers may use AVMs to verify the estimated home value and property information supplied by a homeowner.
Appraisals and comparative market analyses (CMAs). CMAs provide preliminary valuations for real estate agents and appraisers who then verify the information.
Automated valuation models (AVMs) vs. appraisals
While AVMs rely solely on data and mathematical modeling to produce their estimates, appraisers incorporate a visual property inspection into their analysis in order to offer a formal opinion of its value.
For better or worse, appraisers also also have the ability to select the properties they feel are most relevant for a comparative analysis, whereas AVMs choose comps based on pre-established criteria coded into the algorithm.
Before the advent of automated valuation models, appraisals were THE method for determining a home's value prior to a sale or refinance.
While appraisals are still done in most situations before a lender will issue a home loan, AVMs are increasingly used to supplement the expertise of professional appraisers.
» LEARN: What appraisers look for
Advantages and disadvantages of AVMs vs. appraisals
| Advantages | Disadvantages |
| --- | --- |
| Less manual effort on the part of appraiser | Not as detailed or thorough as a human appraisal |
| More cost-effective than traditional appraisal | Cannot take into account certain factors like build quality, renovations, or level of upkeep |
| Faster valuations mean faster loan processing | Valuations may be based on incomplete or inaccurate data |
| Less prone to human mistakes and bias | Can be off by many thousands of dollars where comparable sales data is lacking |
When it comes to automated valuations vs. appraisals, both approaches have their advantages and drawbacks.
Compared to appraisals, AVMs require far less human effort. They can be done in minutes as opposed to hours and are far less expensive as a result.
Whereas appraisers used to have to hand-select and carefully compare comparable property sales to estimate a home's fair market value, AVMs can access and sort through data from literally millions of property transactions almost instantly. For this reason, AVMs are particularly useful for valuing larger real estate portfolios.
While AVMs are far more efficient than a manual appraisal, they're only as good as the underlying data. They may incorporate incomplete or outdated information resulting in wildly inaccurate home valuations.
Also, AVMs just aren't privy to certain information — like a property's physical condition and recent updates not reflected in the public record.
Manual appraisals, on the other hand, are more prone to human error and bias.
A 2021 report from Freddie Mac confirmed that homes belonging to Black and Latino homeowners are undervalued (appraised at a value lower than the contract price) more frequently than those of white homeowners.
In some cases, appraisers may feel pressured to value a home higher or lower depending on their client. In general, higher valuations are more desirable for lending purposes and lower valuations are more desirable for tax assessment purposes.
The aim of the appraisal could potentially influence the appraiser's selection when choosing comparable homes on which to base their pricing analysis.
Lending regulations are shifting to account for AVMs
While lenders still require some sort of professional appraisal before issuing a home loan, the Federal Housing Finance Agency (FHFA) — which oversees the two providers of government-backed mortgages, Fannie Mae and Freddie Mac — recently softened their appraisal requirements[3] to account for the increased efficiency and relative reliability of AVMs.
In October 2021, the FHFA announced that it would permanently allow lenders to submit "desktop appraisals," effectively waiving the requirement for appraisers to conduct an onsite inspection given the presence of enough data to offer an informed opinion of a property's value.
This alternative appraisal method was first introduced as a safety measure in response to the COVID-19 pandemic.
With a desktop appraisal, a professional appraiser must still perform the valuation. However, they can substitute an onsite inspection for a virtual one, confirming or adjusting AVM valuations using resources such as:
The internet
Digital imagery
Public records
Multiple listing services (MLSs)/online real estate portals
Information supplied by the homeowner
To qualify for a desktop appraisal, a home loan must meet certain requirements. For example, the home must be a single-unit primary residence and the borrower must not take a loan for more than 90% of the property value (meaning they must come up with at least 10% cash for a down payment).
Loans for second homes, investment properties, condos and co-ops, and many others aren't eligible for a desktop appraisal.
Bottom line: Should you rely on an AVM?
While AVMs can provide a useful starting point for determining a home's market value, human expertise is still required to verify the estimate and make adjustments for factors that automated pricing tools can't account for.
If you're thinking of buying or selling a home, the best way to determine its value is to have a realtor conduct a comparative market analysis.
An experienced agent can provide a detailed evaluation of your property, using their considerable knowledge of the local market to assess its value compared to similar listings.
👋 Next Steps: Talk to an expert!
If you're weighing your options for buying or selling a house, Clever can help!
Our fully licensed concierge team is standing by to answer questions and provide free, objective advice on getting the best outcome with your sale or purchase.
Ready to get started?
Give us a call at 1-833-2-CLEVER or enter your info below. Our concierge team will be in touch shortly to help.
Remember, this service is 100% free and there's never any obligation.
Automated Valuation Model (AVM) FAQs
What is an automated valuation model (AVM) in real estate?
An automated valuation model (AVM) is a software tool that estimates a property's current or future value.
To produce a home value estimate, AVMs use mathematical modeling and various data points related to the property and surrounding market.

Are AVMs accurate?
Automated valuation models (AVMs) vary in accuracy and reliability, often producing wildly different home value estimates for the same property.
For AVMs to produce accurate home valuations, they need complete, up-to-date information about the property in question, as well as a healthy supply of comparable home sale data — enough to make informed comparisons between the subject property and its peers within the market.

Is an AVM the same as an appraisal?
Automated valuation models (AVMs) and appraisals are both common methods for estimating a home's value, but they have some key differences.
While AVMs rely solely on data and mathematical modeling to produce their home value estimates, appraisers incorporate a visual property inspection into their analysis in order to offer a formal opinion of its value compared to other recently sold properties.