Does 'off market' mean sold? | What it means on Zillow | For investors | Buying an off-market house
'Off market' definition
In real estate, "off market" refers to a house that is not listed for sale — but depending on the context, "off market" can have two distinct meanings.
If you're using a home-browsing website like Zillow or Realtor.com, you may have seen a house labeled off market: this means that, based on the platform's available data, the home is not currently for sale.
On the other hand, you may have heard a real estate investor talk about buying an off market property. Here, "off market" refers to a house that has sold without ever being publicly marketed on the Multiple Listing Service (MLS) — a local database of homes for sale.
These "off market" properties — which agents might offer as pocket listings— often provide savvy buyers with an excellent opportunity to find a deal.
What does 'off market' mean on Zillow or Realtor.com?
Home-browsing websites like Zillow and Realtor.com label a property as "off market" when — to the best of their knowledge — it's not for sale.
Source: Realtor.com
But just because a home is listed as off market on Zillow doesn't mean it's necessarily not for sale. Although in most instances off-market properties are unavailable for purchase, there may be cases in which the owner wants to sell — and might even be marketing the home privately. It's also possible the website might have incomplete information about the property.
JUMP TO SECTION
How home-browsing platforms like Zillow, Realtor.com, and Redfin work
Home-browsing platforms like Zillow and Redfin obtain their data from four main sources:
The local MLS
Directly from real estate agents
Directly from home sellers when they list their house "for sale by owner"
Public records
Of these sources, the MLS is far and away the most important source of data, but because home-search sites supplement their data from agents, sellers, and public records, they may feature information that isn't available on the MLS.
However, buyers should be aware that home-search sites might be missing data. This explains why you may see a house that has a for sale sign in its yard described as "off market" on Zillow.
These discrepancies most frequently occur because there is a delay before these websites reflect updates to your local MLS.
Although the delay is usually short, it's not uncommon for houses in a hot market to sell within hours — potentially before they show up on popular home search websites. This means even a minor delay can be a major headache for buyers.
In other cases, houses for sale won't show up on Zillow because the listing agent has chosen not to make their properties available on third-party platforms.
Does 'off market' mean sold?
If a home has recently sold, sites like Zillow or Realtor.com usually label it "sold" and include the sale date.
However, after some time has passed, a "sold" home will be labeled "off market" instead. Each website sets its own convention about when to change a home's status from "sold" to "off market," so you may see the same property listed with a different label on Zillow than on Redfin or Realtor.com.
If you're using a home-browsing site, the best way to determine when a home last sold is to look for the property's price history. This will show you a record of each time the property has been listed for sale, gone under contract, or successfully changed hands.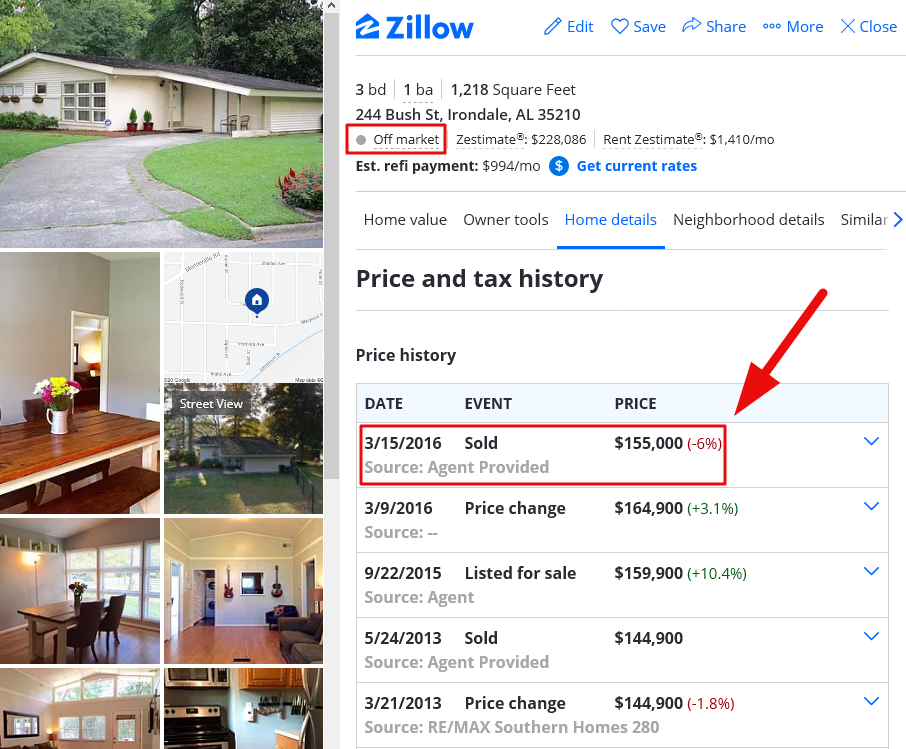 Source: Zillow
The detailed price history is more useful than the general status indicator if you're trying to determine whether a home sold recently, hasn't been listed for sale in years, or was recently listed but temporarily taken off-market.
Why would a house be temporarily delisted from the market?
Sellers delist their houses from the market temporarily for a simple reason: active MLS listings must typically be available for showings. When a home isn't available for showings, the listing agent will change its status in their local MLS to "Temporarily Off Market."
Here are two routine reasons houses get taken off the market temporarily:
The seller is making repairs to the home.
The seller has house guests — you'll see this most often during the holidays.
Withdrawing a property from the market temporarily is more common than you might think. Zillow's 2018 Consumer Housing Trends Report found that 45% of millennials and 30% of Gen Xers who sold their homes during the previous 12 months took them off the market temporarily at least once.
Note: Home-browsing websites may not distinguish between houses that are temporarily off the market and property listings that have expired or been permanently withdrawn. However, this information should be available in your local MLS.
What is an 'off market property' in real estate?
In the real estate industry, an "off market property" refers to a house that sells without ever being publicly marketed for sale.
This happens in one of two ways:
The seller advertises the home privately to a select group of potential buyers.
The seller negotiates with the buyer directly without ever advertising the property for sale.
Off-market property sales happen more frequently than many buyers realize. Including "for sale by owner" properties, 10% of all sellers find a buyer without ever listing their homes on the MLS, according to the National Association of Realtors (NAR) 2019 Home Buyer and Seller Generational Trends Report.
However, the share of home sales that don't involve MLS listings varies tremendously by region. It tends to be highest in areas where the local housing market is hot.
JUMP TO SECTION
What is a pocket listing?
A pocket listing is a type of off-market sale where the seller contracts with a real estate agent who markets the home privately without publishing it on the MLS.
Agents typically advertise these properties — which they may call "office exclusives" — to select clients within their brokerage. They may also share pocket listings with a small group of other agents in the area.
Brokerages used to reserve pocket listings for wealthy clients who desired to sell their high-end, luxury homes while concealing their affairs from the prying eyes of the general public.
However, the practice has become a lot more common — so common, in fact, that the National Association of Realtors (NAR) adopted a policy prohibiting its members from marketing pocket listings outside of their individual brokerages.
Compare top buyer's agents near you
Clever matches you with top agents in your area and helps you find the perfect fit. Qualifying buyers can also get cash back after closing.
Why sellers list houses off-market rather than on the MLS
Sellers most frequently list their houses off market because they desire privacy — they don't want their sale to become public knowledge.
Here are three common situations where sellers market homes privately:
Often: The seller owns a rental property and doesn't want their tenants to know the house is for sale.
Sometimes: The owner is selling as the result of a life event they don't want to publicize, such as a divorce or financial hardship.
Occasionally: The seller wants to avoid an endless stream of foot traffic from strangers — or nosy neighbors — traipsing through their home.
Other sellers plan to list their homes on the MLS eventually, but they desire to advertise the house and generate buyer interest before it officially hits the market. You may see these properties advertised as "Coming Soon" listings on the MLS and home-browsing websites.
Related Articles
How do I find off-market properties?
Finding an off-market property to buy isn't as simple as pulling up Zillow and typing in your zip code. You'll have to invest more time in your home search, and the process will look different depending on whether you're pursuing an off-market listing or a home that isn't being advertised for sale at all.
Pocket listings and properties that are already for sale
The easiest way to uncover pocket listings is to contact local real estate agents. However, not every agent will be privy to the same range of off-MLS properties. Experienced agents with vast networks are more likely to know how to find pocket listings than someone who recently obtained their real estate license.
You can also discover houses sellers are marketing privately by inspecting "pocket listing services," real estate auction websites, and other off-MLS marketplaces. These websites allow sellers to advertise properties not published on the MLS, although they may aggregate MLS listings too.
A few of the most popular sites to find off-market listings include HomeFinder, Auction.com, RealtyTrac (for foreclosures), and Craigslist.
» MORE: The Best Websites for Home Buyers
Off-market properties that aren't for sale — yet
But what if you want to buy a house that's not for sale at all? In that case, you should approach the owner directly. Of course, that works only if you have a specific property in mind.
If you don't have a property singled out, you should at least narrow down your search to a target area — like a neighborhood. Then you can advertise directly to homeowners using strategies like:
Mailing postcards or personalized letters to property owners
Going door to door (if the neighborhood contains mostly owner-occupied houses)
You may not generate many leads at first, but persistence will pay off. Even if owners aren't interested now, you want to be the first person they call when they do decide to sell.
Another strategy seasoned real estate investors use to find off-market properties is to monitor public records to identify owners who are potentially ready to sell.
Check pre-foreclosure listings to find owners who might be motivated to sell on a short timeline — and at a discount — to avoid foreclosure. You can often find these properties on third-party websites like Zillow.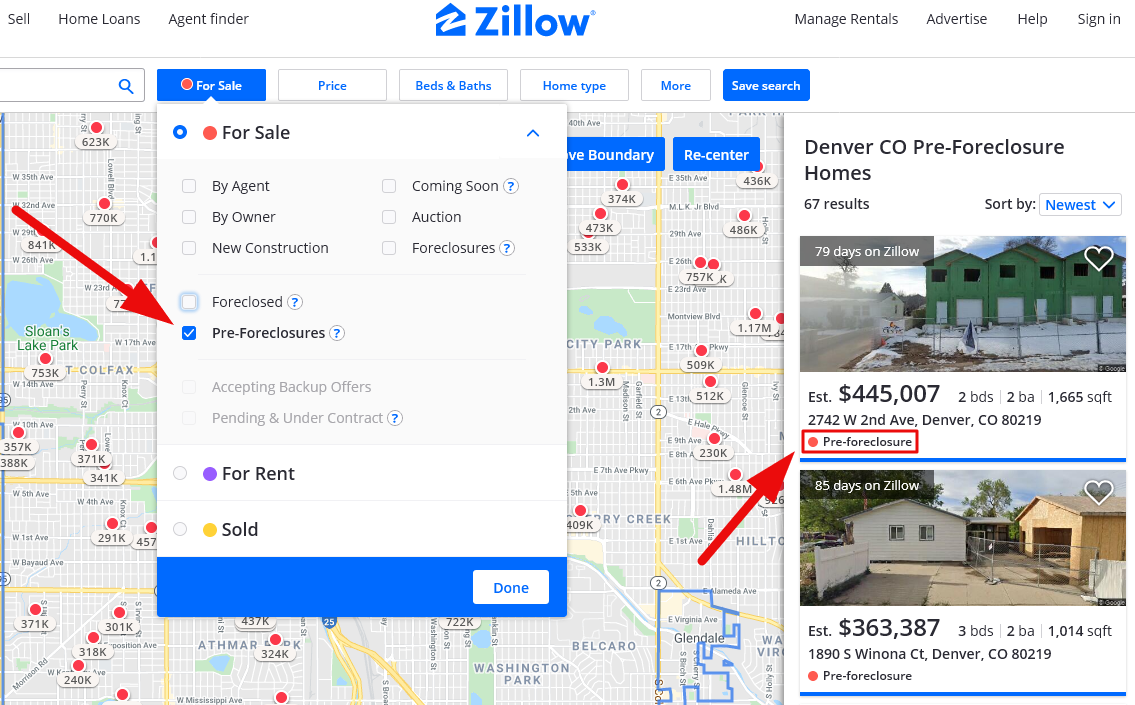 Source: Zillow
You should also monitor eviction records. Because eviction is an expensive, stressful, and time-consuming process, it's often when landlords are most likely to consider an offer to buy their property.
What are the pros and cons of buying an off-market house?
Buying an off-market house can save you money, but it's often more work — and it's not without its risks. That's why it's better suited to experienced investors than novice home buyers.
The pros of buying an off-market house
The most obvious benefit of buying an off-market house is that you may be able to purchase it at a discount.
There's a reason sellers choose to list their houses off the market, and — unless it's a luxury pocket listing — it's probably not because their chief priority is obtaining top dollar for their home. These sellers have more concerns than maximizing price, so buyers may have the opportunity to purchase a property below what it could command on the open market.
And since there's less competition for these properties, you're less likely to get lured into a bidding war.
Including off-market listings in your property search also increases the range of available properties compared to just looking at what's available on the MLS.
The cons of buying an off-market property
While off-market properties can yield buyers substantial discounts, a house isn't a good deal just because it's not listed on the MLS. For example, a seller could advertise their home as a pocket listing temporarily to test a particular price point. If it fails to generate much interest, they might ultimately list it on the market at a lower price.
Finding off-market houses can also take a lot more time — and be a lot more work — than limiting your search to properties you can find on Zillow or the MLS.
And because they're available to a smaller number of buyers, it's more difficult to determine their fair market value. This makes it important for buyers to perform a comparative market analysis on any property they're interested in — something that's less common for people purchasing houses in traditional sales.
You should also be prepared for potential up-front expenses. Pocket listing services and off-MLS marketplaces may charge membership fees. And if you're actively trying to tease out an off-market sale, your direct marketing expenses can pile up quickly, especially if it takes a while to generate leads. You can consider these costs an investment that will pay off when you find a deal, but you won't recoup them if you decide to abandon your search.
👋 Next Steps: Talk to an expert!
If you're weighing your options for buying or selling a house, Clever can help!
Our fully licensed concierge team is standing by to answer questions and provide free, objective advice on getting the best outcome with your sale or purchase.
Ready to get started?
Give us a call at 1-833-2-CLEVER or enter your info below. Our concierge team will be in touch shortly to help.
Remember, this service is 100% free and there's never any obligation.