✍️ Editor's note: We strive to provide objective, independent advice. When you decide to use a product or service we link to, we may earn a commission. Learn more.
How to Buy a House That's Not for Sale
You've fallen in love with your dream home, but it isn't on the market. The seller's market in your area means that you keep losing in bidding wars. You can still buy a house, but you'll have to think outside the box (and the MLS). Learn how to buy a house that's not for sale.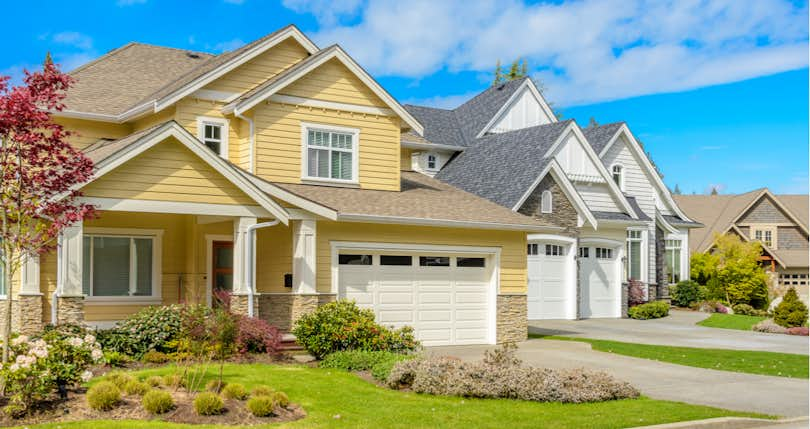 In 2021, final sale prices on homes sold came it at 99% of the final listing price, and they sat on the market just three weeks. Simply put, it's a seller's market in most areas.
If you're a buyer who's lost bidding wars on multiple homes, or can't find what you're looking for, you might be tempted to just throw in the towel. But don't give up on your dream of home-ownership just yet! Instead, learn how to buy a house that's not for sale.
How to Find Off-Market Properties
An off-market home is one that isn't listed on the MLS or isn't for-sale-by-owner. You can find them by driving through your desired neighborhood and identifying homes that look like a good fit for you.
1. Search online
Websites like Zillow and Trulia let you set up property alerts. Zillow has a "Make Me Move" feature where owners list their dream price for a property. Your off-market dream home could be on that list, which at least tells you that the owner has some interest in selling.
2. Hire an agent
Don't think that an agent can help you find a home that isn't already for sale? Think again! Agents are often aware of upcoming listings in their brokerage or in the neighborhoods they serve. Armed with your criteria, they can network with other agents to jump on a listing before it's actually on the market and avoid a bidding war.
3. Download real estate software
If you're looking for a great deal, downloading a real estate app can help you find cheap off-market properties and reach out to owners instantly.
Popular real estate software or websites for investors include:
DealMachine: The DealMachine app helps you find and research distressed homes and get in touch with motivated owners fast to see if they're interested in selling.

When you're driving around town and spot a home that looks like it could be a great deal, you pull up the home on your DealMachine app, where you can send the owner direct mail (no post office visits required). Download the DealMachine app (7-day free trial) to find undervalued properties as you drive around town.

Flipster: Primarily targeting house flippers, this app helps user find motivated seller leads, while also providing valuable comparable property information to help you estimate a home's fair market value before making an offer.

Flipperforce: The Flipperforce app helps BRRRR method investors analyze home values to calculate the maximum purchase price to offer on a property before making a purchase.

Zillow foreclosure center: Zillow makes it easy to find foreclosed and bank-owned properties in your area. However, unlike off-market properties you'd find on DealMachine and other software, most of Zillow's properties are publicly listed - meaning you'll likely face stiff competition from other investors.
Researching an Off-Market Property
Buying a house that isn't for sale requires more work than simply searching the MLS, attending an open house, and making an offer.
In the best case scenario, the property was previously on the market, and the owner withdrew the listing. This means that they once had an interest in selling, so you have a better chance of convincing them to sell now. What you need to find out, if possible, is why they took the house off the market.
The owners could have pulled the listing because they didn't receive the offers they wanted, they could have been unhappy with listing agent or their commissions, or their life circumstances changed. Addressing those reasons in your offer improves your chances of it being accepted.
A vacant property presents more of a challenge. If the owner died intestate (without a will) the house could be in probate, the city might have condemned the property, or it could be in litigation or foreclosure. You're going to have to do some digging.
Search online county records to find the last owner and see if you can track them down. Googling their name plus obituary will tell you if they've passed away but also possibly lead you to any heirs. Look up the property on zillow.com to see if it's in pre-foreclosure.
If your research isn't getting you anywhere, or you don't have the time, consider finding a buyer's agent who has great negotiating and research skills to help you in your quest. While much of this data is online, it's not always easily accessible. Clever Partner Agents may have contacts in the county assessor's office or at local banks where they can find answers.
Making an Offer on a House That's Not for Sale
Armed with the information on why the house isn't currently for sale, prepare an offer letter tailored to the owner's situation.
Be flexible and work with the owners on a possible move-in date, or offer to let them rent from you while they find a new house. And get pre-approved for the mortgage before making the offer. You want to make it as easy and attractive as possible to them to sell their house.
Along those lines, consider writing a personalized letter to the owners to explain why you want to buy the house. Maybe it's in the neighborhood you grew up in, or it's your childhood best friend's house. Perhaps you've always wanted a rock garden in your front yard. For more ideas, read about how to write a persuasive offer letter.
It's still possible to buy a house in a seller's market if you think outside the box (or in this case, the MLS). You'll have the best luck working with an experienced agent, so contact a Clever Partner Agent today!
» MORE: How to Win a Bidding War
Related Articles