Should you use the Chase Home Value Estimator? | How accurate is the Chase Home Value Estimator? | How to use the Chase Home Value Estimator | Chase Home Value Estimator vs. alternatives
The Chase Home Value Estimator is a free tool from Chase Bank that can give you a ballpark estimate of your property's value.
The tool analyzes basic details about your home, like the number of bedrooms and bathrooms. Then it looks at the sale price of similar homes in the area and calculates your home's estimated value.
The Chase Home Value Estimator basically makes an educated guess, which means it's not going to be perfectly accurate. For example, if the tool doesn't have access to all the data or has incorrect data, it won't be able to make a good estimate.
On the estimator website, Chase includes a disclaimer that all estimates "are provided as is without warranty or guarantee of any kind … and should not be relied upon in lieu of underwriting or an appraisal."
An estimator tool can give you an idea of how much your home is worth, which can be useful. But a local real estate professional will know the area well and have access to official tools and data to give you an accurate assessment.
💰 Discover what your house is really worth!
Don't sell your house without getting a local agent's expert opinion first. Fill out the form below to get a free home valuation from a top-rated realtor from a trusted brand like Keller Williams or Berkshire Hathaway. It's 100% free with no obligation.
Should you use the Chase Home Value Estimator?
The Chase Home Value Estimator can give you a passable estimate of your home's market value. But you shouldn't use it exclusively. The calculator has some issues that make it less accurate than other home valuation estimators.
We recommend using Chase Home Value Estimator with other home valuation estimators, like Clever, Zillow, and Redfin.
» MORE: Tools for Sale by Owner: Everything You Need to Sell Your House Without a Realtor
But even using multiple home valuation estimator tools might not get you an accurate home value. Only a local real estate expert will know the local market well enough to adjust your property's value to better match the nearby housing mark.
How accurate is the Chase Home Value Estimator?
We can't be sure how accurate the Chase Home Value Estimator is because Chase doesn't disclose its margin of error.
Home value estimators aren't designed to give you a perfect answer. That's why many home value estimators like Zillow and Redfin give a range to account for errors. But Chase's tool just gives one value, so we don't know how far off they could be.
Chase only tells users that its automated valuation model (AVM) analyzes tax records, public information about the properties, and market condition data.
Here are the factors that make us think that Chase's tool is not always accurate:
No renovations or repairs
The Chase calculator doesn't give you the option to add renovations. So any repairs that you've made aren't taken to account. And any additions, like swimming pools, solar panels, or energy-efficient appliances won't be included in the estimate. This is a major shortcoming, because it can undervalue a home.
Inaccurate or outdated information
The Chase Home Value Estimator compares your property to similar nearby homes (sometimes called "comps")that have sold within the last year. But the housing market shifts constantly. Comparing your home to one that sold six months ago might not be accurate and could result in your home being significantly over- or undervalued.
For comparison, real estate agents typically limit their market analysis to homes that have sold within the last three months.
Our team tested the calculator for a few houses we already had information for. We found Chase's data to be inaccurate and its choice of comps imperfect.
For example, Chase listed one home as a three-bedroom, two-bathroom property. But the house really has four bedrooms and three bathrooms. And the comparable house listed had an in-ground swimming pool and a fenced-in backyard, which weren't taken into account.
How to use the Chase Home Value Estimator
Chase's tool is easy to use. The site doesn't have a paywall or an email wall, and you don't even have to sign into a Chase account to use it.
Step 1: Find the calculator
Go to chase.com. Click on "Home Loans," then select "Access calculators and tools" in the dropdown menu. The home value estimator is the first tool from the left on Chase's features calculators page.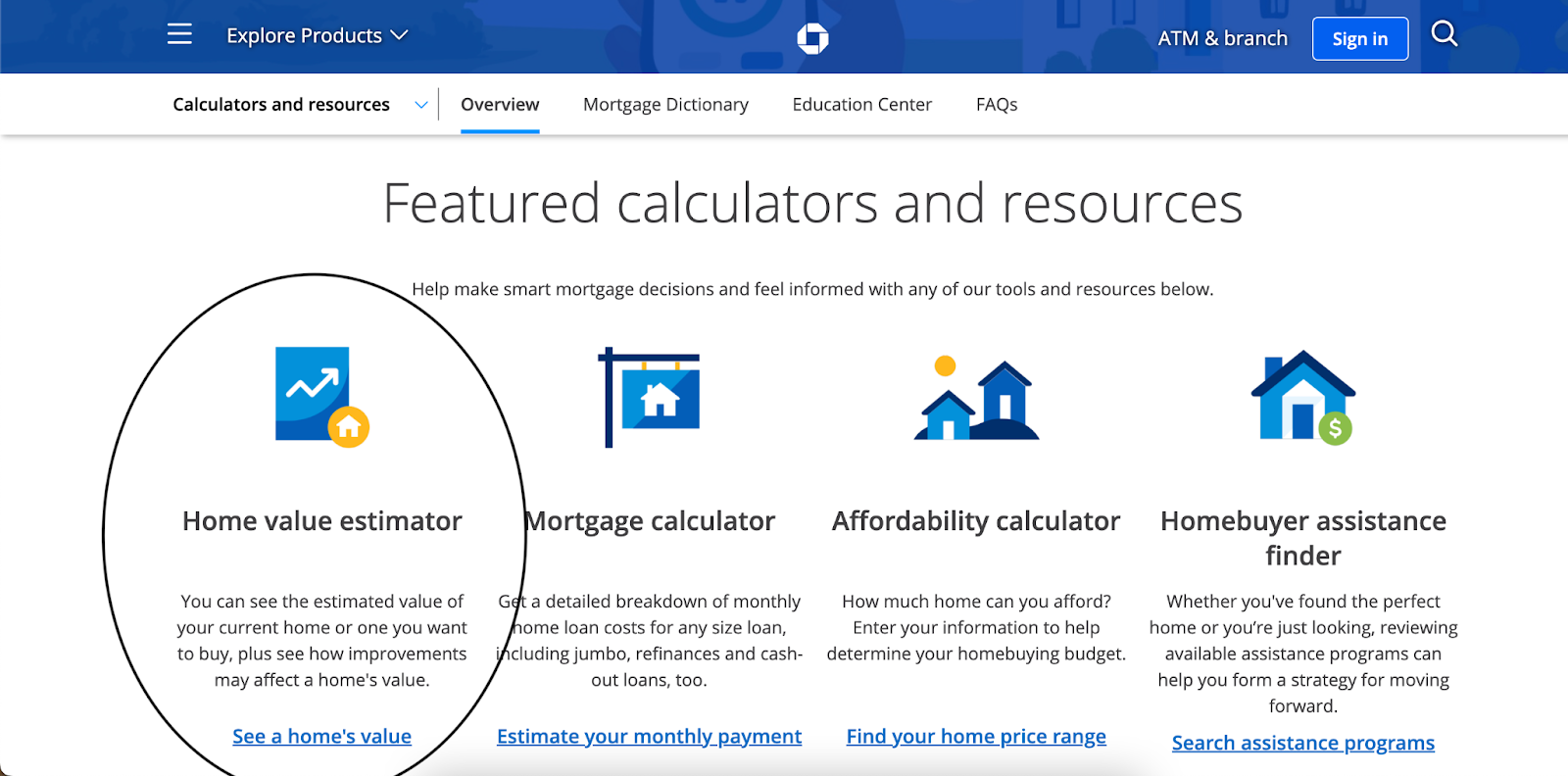 Step 2: Find your property
Type your address into the search bar.
Note: The green "Start Online" button takes you to a mortgage pre-approval page, not the valuation calculator.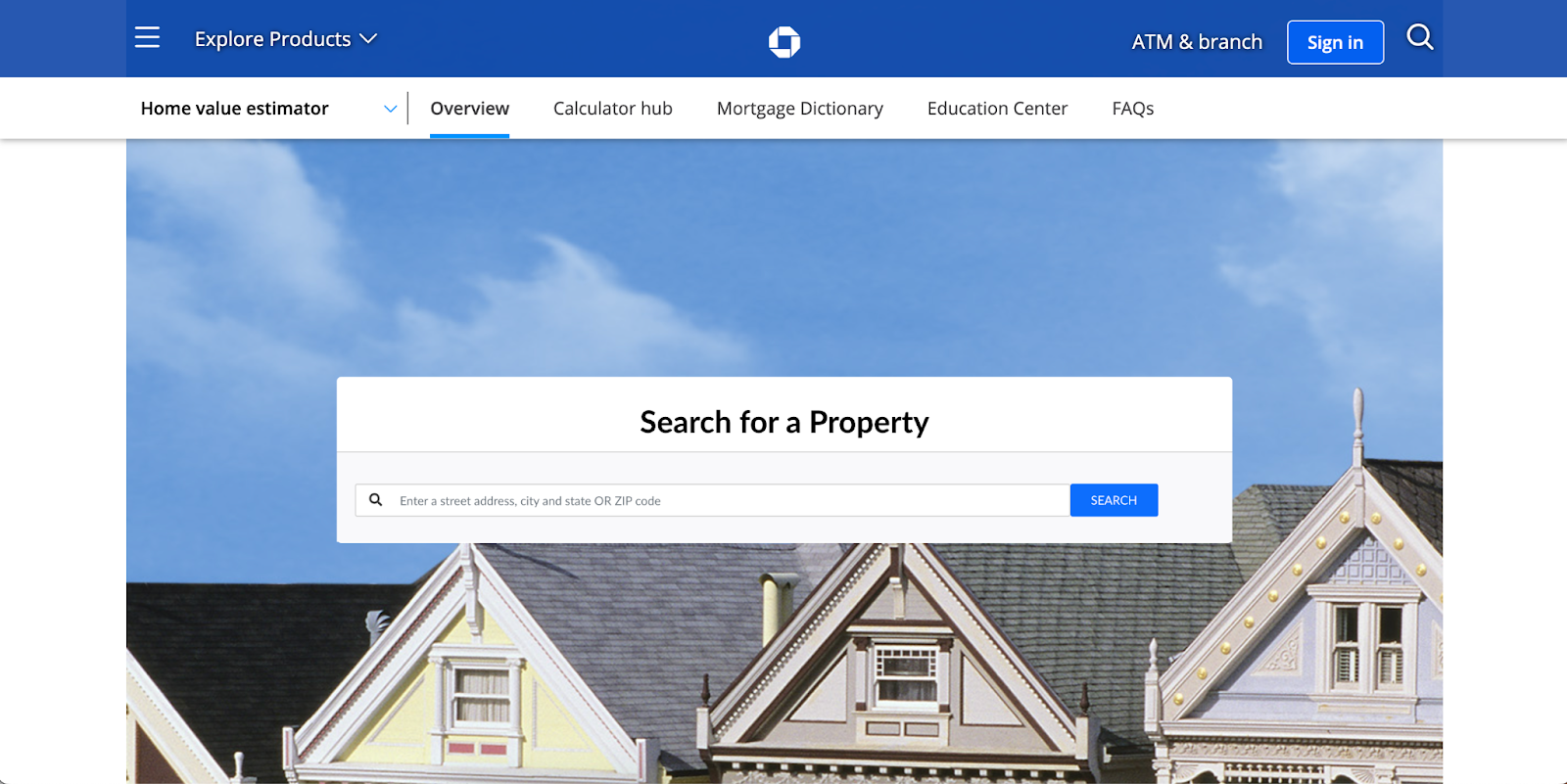 Step 3: Check your home's value
Chase will generate the estimated value of your home based on the number of bedrooms, bathrooms, and square footage. You can also scroll down to find comparable homes that sold in the past year.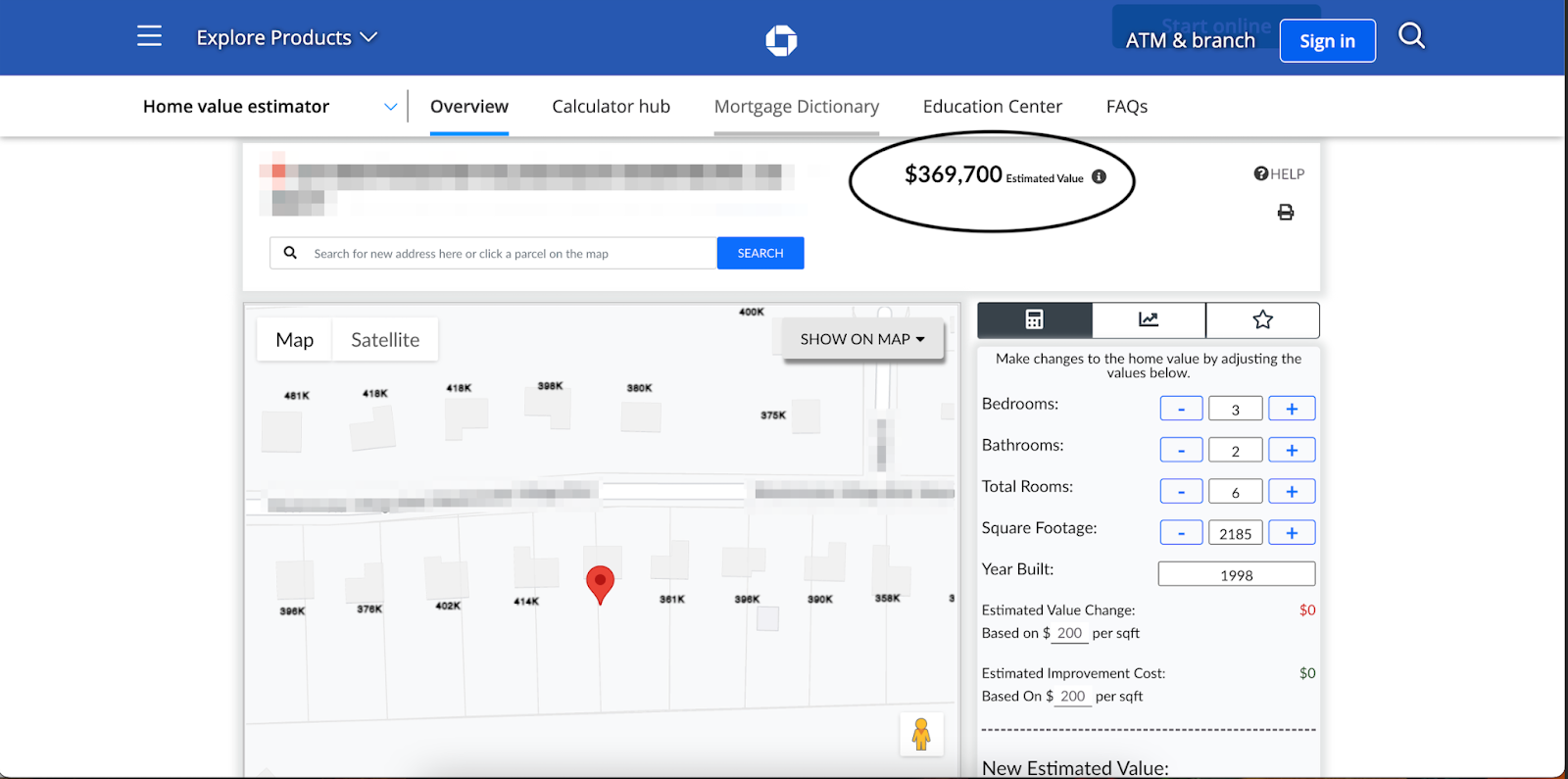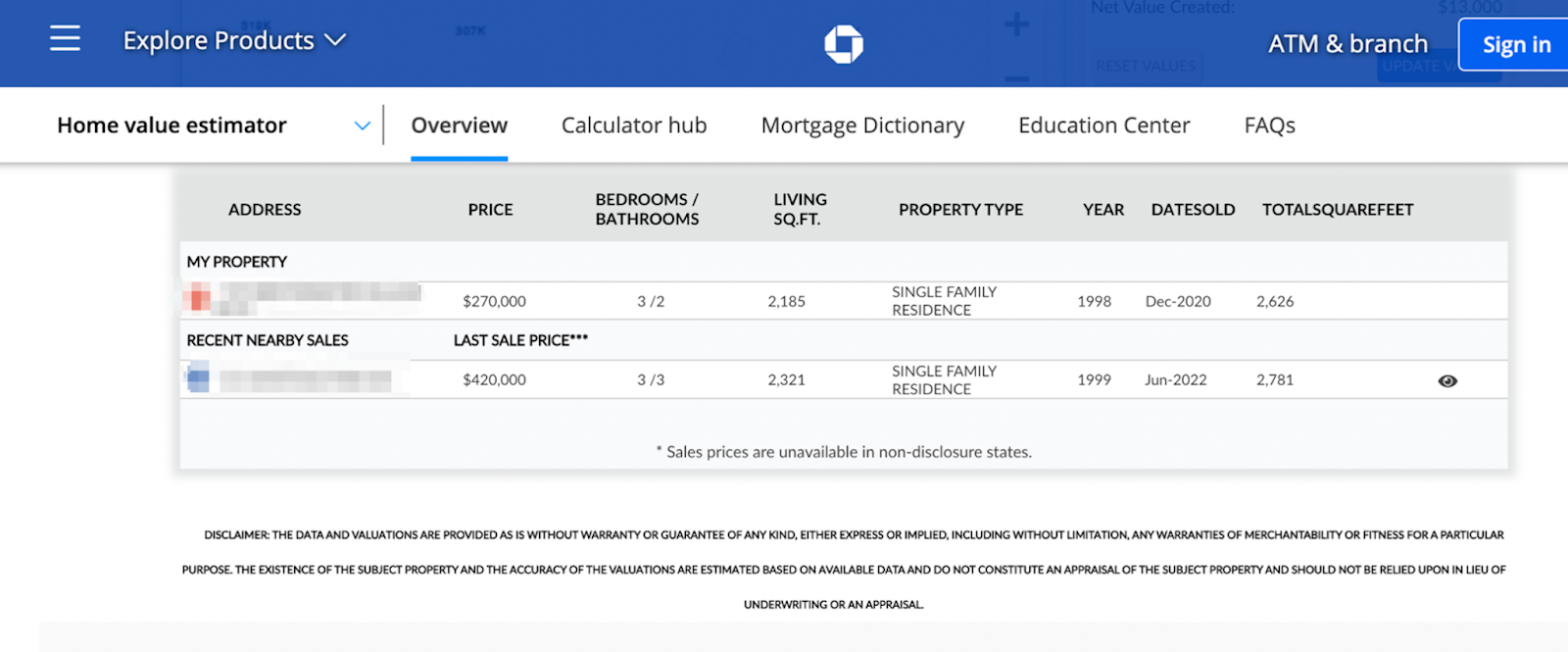 Step 4: Adjust criteria if you find errors
If your home's number of bedrooms or bathrooms is wrong, Chase allows you to adjust and provides a new valuation. For example, the house above originally came up incorrectly. It has four bedrooms and three bedrooms, not three and two. Here's the new calculation after we adjusted those numbers.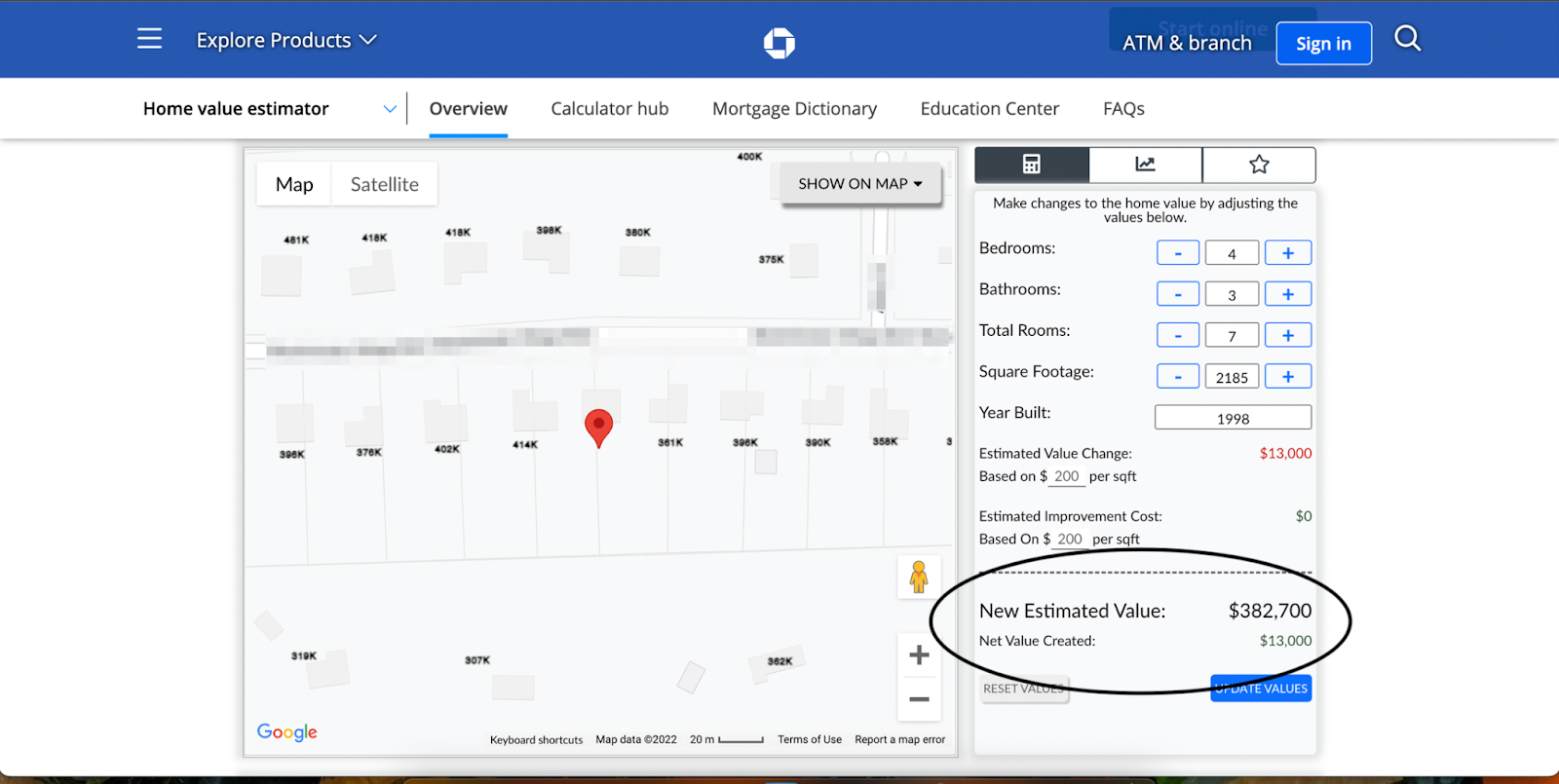 Chase Home Value Estimator vs. alternatives