Basic Information | Tax Liens | Recent Damage | Environmental Hazards | Historic Property | Title Search | Other Searches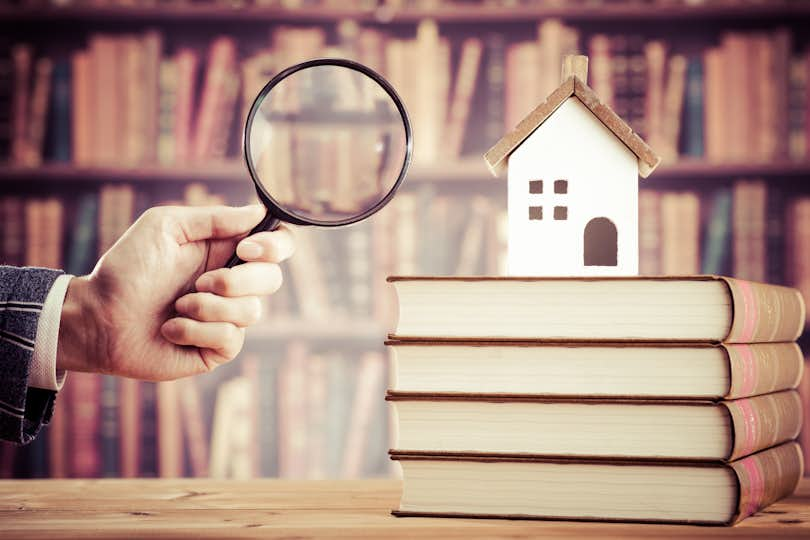 When you're house-hunting, it's natural to want to know more about a property before you fall in love with it.
Taking some time up-front to do a house history search can help you identify red flags that might cause issues later on. For example, you can see whether a property has a tax lien — something that may cause complications during closing — or whether it's in a flood zone.
Some searches can't be done until you actually make an offer, but others can be done online while you're still searching for homes.
Here are the best ways to find out more about a house before you make an offer.
1. Start with the basics
Start by looking at the listing for the property, either on a free site like Zillow, Redfin, or Realtor.com, or by asking your realtor to show you the MLS. The listing gives you a nice overview of the property. You can quickly see the benefits and drawbacks that will help you decide if you're interested in learning more.
Pay attention to the pictures of the home. Are there just a couple of photos, or are they taken from strange angles or with a wide-angle lens? This could indicate that the seller is trying to hide a defect or exaggerate the size of the space.
Look for the year the house was built. A home that's over 50 years old is generally considered old. This certainly doesn't have to be a dealbreaker, but it could signal foundation issues or problems with plumbing, electrical, or other systems.
The MLS listing will also include information about the number of rooms and bathrooms, how recently the home was renovated, the school district, size of the lot, and square footage of the home. Read this information carefully to see if the home fits within your criteria.
» MORE: How to Get Access to MLS Listings
Talk to your realtor
If you're already working with a real estate agent, ask them what they know about the house and area. Experienced, local realtors often know details about particular neighborhoods and houses that aren't available online or anywhere else. They may be able to connect with the listing agent to answer any questions you have.
A realtor will also be able to show you the MLS listing, as only licensed agents can access the MLS. Sites like Zillow, Redfin, and Realtor.com tend to be very reliable, but looking at the listing on the MLS will ensure that you're looking at the most up-to-date information.
💰 Find your dream home, get cash back
Why leave extra money on the table? Clever can connect you with one of the top real estate agents in your area, plus put cash back in your pocket.
With Clever:
 ✅ You'll work with a full-service realtor from a top broker
 ✅ You'll earn cash back on qualifying purchases
 ✅ It's free, with zero obligation — you can walk away at any time
Fill out the form below to get started!
2. See if there are any tax liens
Looking into a home's tax history can give you an idea of how much you might have to pay in taxes if you purchase this home. It'll also reveal if there are any tax liens on a property.
Tax liens can complicate the closing process, and knowing that a home has one can help you decide whether to move forward with an offer.
You can pull up the tax history for a property by looking at public records from the county's tax recorder or assessor's office. In many counties, this information is available online, but in others, you may have to go in-person.
To find your local tax recorder or assessor, go to the Nationwide Environmental Title Research (NETR) website. Click on your state on the map and choose your county. You'll see a list of contact information (such as a phone number or website) for the records offices in your county.
You can also google the name of your county + "property tax records" to find the relevant offices.
🏗 Get the inside scoop: Your local recorder, assessor, or property tax office might also have information about building permits. You can look through these to see what renovations were done to the property recently.
What to look for during a tax history search
Look at the tax history to see how much the current property owner is paying in taxes. This amount will be adjusted when the home is sold, but it gives you a ballpark idea of what the tax bill for this property may be like. This is helpful because taxes can vary quite a bit even within a single county.
The tax history should also reveal any liens on the property. This information will also come up during the title search, but seeing it now can help you decide whether to move forward with the process.
Should I buy a house with a property tax lien?
A property tax lien can be a red flag for a potential buyer, but it's not necessarily a dealbreaker.
Liens are attached to the property, not the homeowner. The seller may pay off the lien from the proceeds of the sale. But if not, the buyer will be responsible for it.
As a buyer, you can negotiate with the seller. But liens can certainly delay the closing process. If you're in a rush to find a home, it may be best to steer clear of a home with a tax lien.
It's also a good idea to consult a realtor. They can help you navigate the complications of liens.
» MORE: What To Know Before Buying a House With a Lien Against It
3. See if there's been any recent damage to the property
You can see if there's been any serious, recent damage to a property by looking at a Comprehensive Loss Underwriting Exchange (CLUE) report. This report will show the date, type and amount of past claims on a property.
🕵️How to find a CLUE Report: As a buyer, you'll have to ask the homeowner for their CLUE report. Property owners are the only ones entitled to request one. They can order the report through LexisNexis.
As a buyer, you can ask the seller for a CLUE report anytime. It's a good idea to request one before making an offer, because it can show you if there are any big issues to be concerned about, such as electric, HVAC, or mold problems.[1]
The CLUE report will reveal any insurance claims filed for the property over the past 7 years.[2] It can also give you a ballpark idea of how much you might pay for home insurance. If there have been a lot of claims on a property, your insurance rate will probably be higher.[3]
4. See if there are any environmental hazards nearby
Even if a house is in excellent condition, environmental factors can affect the value of the property. Living near a landfill, for instance, can lower your property value anywhere from 10–15%.
You can get a feel for the environment around a property by visiting NETR's Environmental Records Database. Type in an address, and the map will show you how close the property is to:
Sites on the National Priorities List (NPL)
National Wetlands
Flood Hazard Zones
The National Priorities List (NPL) is created and maintained by the EPA. It contains the most hazardous and out-of-control sites in the country.[4] If the address you're looking at is near a site on the NPL, steer clear.
A property in a flood hazard zone is considered high-risk, and it has a one-in-four chance of flooding during a 30-year mortgage. You'll also likely be required to get flood insurance. Flood insurance costs around $700 a year — so you're not breaking the bank, but it's still an additional expense to consider.
If you really want to get in the weeds, you can request a free PDF report from NETR. The report is sent to your email and contains detailed information on a number of environmental hazards, including:
Whether there are hazardous waste sites nearby
Any known or suspected hazardous substance facilities
Toxic chemical releases
Waste management
Underground storage tanks
Solid waste landfills
Industrial waste
Brownfields
💻 Tip for remote buyers
If you're attending virtual showings instead of being at a property in person, use NETR's environmental tools to get a better feel for the area. Pay attention to whether the home is near any landfills or hazardous waste sites.
You can also use a site like WalkScore to see the crime rating for the area, how walkable it is, proximity to public transportation, how long your commute would be, and more.
5. Find out if it's a historic property
Owning a historic house will likely impact the way you approach repairs and renovations. Historic properties often require specific upkeep. For example, you may need to hire a specialist to clean or repair historic windows. Your insurance may also be higher.
Depending on the area, your home may be subject to strict rules and regulations. For example, you may be restricted from building on to the house, adding a fence, or doing certain renovations. Check with your city development office to find out the specific regulations.
To find out whether a particular home is considered a historic property, check with the National Register of Historic Places, the State Historic Preservation Office (SHPO), or the National Trust for Historic Preservation.
6. Conduct a title search
The title search is one of the last things you'll do before closing on a house. The main purpose of the title search is to verify the ownership of the property. In other words, make sure that the seller is the true owner and that there aren't any disputes about it. It will also reveal if there are any liens, deed restrictions, easements, or covenants on the property.
Lenders require a title search before approving a loan, and they'll typically order it after the buyer and seller have signed a purchase agreement.
🏠Note for home browsers: If you're in the early stages of looking at homes, this section won't apply. You can find out if a potential property has a tax lien by looking into its property tax history, or ask your realtor to check with the listing agent to see if there are any known easements, claims, restrictions or covenants on the property.
Liens or claims
A lien is essentially a "claim" that a creditor puts on a property, marking it as collateral for a debt.
Not all liens are bad. For example, a mortgage is considered a lien against a property. However, other liens may delay the closing process, as they must be resolved before the sale of a home can be complete.
Most common types of liens
| | |
| --- | --- |
| Type of lien | What it's from |
| Homeowner's Association (HOA) lien | Homeowner failed to pay their HOA dues |
| Tax lien | Homeowner failed to pay their property or income taxes |
| Judgment lien | Homeowner lost a lawsuit |
| Mechanic's lien | Homeowner failed to pay a contractor for services for their home |
A property may also have a child support, divorce, or bankruptcy lien.
If there's a lien on the property, can I back out of the sale?
If the buyer has a title contingency, they will likely have the right to back out and get their earnest money back. They can also negotiate with the seller to pay off the lien.
If the buyer doesn't have a title contingency, and the seller pays off the lien, the sale will go through — and the buyer doesn't have the option to back out. If the seller doesn't resolve the lien, the buyer can withdraw and get their earnest money back.
» MORE: What to Know BEFORE Buying a House With a Lien Against It
Deed restrictions
A deed restriction is a clause that limits what a homeowner can do with their property. It may state that you can't operate a commercial business out of the home, can't put up a certain type of fence, can't keep certain vehicles (such as a boat or RV) or are limited to a certain number of vehicles at the same time.[5]
Easements
An easement gives someone else the right to use a piece of real estate. One common easement occurs when a utility hookup is located on a property, and the neighboring properties need an easement to be able to access it.
Not all easements stay with the property during a change in ownership, but some do.
Sellers are required to disclose all easements to the buyer. If the buyer finds out that there's an easement on the property that wasn't disclosed, this is generally grounds for backing out of the contract.[6]
» MORE: What Is An Easement?
Covenant
A covenant is an agreement about the use of a property. For example, a homeowner may be required to keep bushes trimmed that line the neighbor's property line. Or a property may not be allowed to put up a fence.[7]
Covenants generally don't have a huge impact on the value of a property, but they should still be disclosed during the title search. You can also ask your realtor to ask the homeowners about any possible covenants before you get to closing.
7. Other searches you can do
There are a few other fun, but not essential, searches you can do to get a feel for the history of a property.
You can use census records to see who used to live at a certain property. Or NETR has a historical aerials page that shows you an aerial view of a property from the past 10–60 years.
You can also visit WhatWasThere to get an idea of what an area looked like in the past. Photos may or not be available in your area. It seems as though anyone can upload a photo to this site, so the accuracy isn't necessarily guaranteed.
Find out if anyone died in the house
In most states, sellers are required to disclose violent deaths, such as a murder, that occur on a property. But they usually don't have to disclose peaceful deaths, like someone passing away from old age.
If you find out that a death happened in a house after you make an offer, that's not grounds for backing out of the deal — so you'd lose your earnest money.
You can order a report from DiedInHouse to discover whether a death occurred at a specific address. The report costs $11.99 and includes a bunch of information, such as:
Who, when, and why the person died
How close the home is to local cemeteries
Reported meth lab activity at the address
Registered sex offenders living at or nearby
The report isn't guaranteed to be complete or accurate, but it does give you information that would be time-consuming or impossible to track down on your own.
» MORE: Do Home Sellers Have to Disclose if Someone Died in a House?
Related Reading