Duties | Listing agent vs. selling agent | Buying with a listing agent | Find an agent | FAQ
A listing agent is a realtor who represents a seller in a real estate transaction. This agent's job is to help the seller find a buyer quickly and sell their home for the best price possible.
The listing agent, who is often called the "seller's agent," earns a "commission" for arranging the sale. This fee usually comes out of the seller's proceeds when the transaction is complete. The listing agent shares the commission with the buyer's agent.
» SAVE: List with a top local realtor and save thousands on commission
What does a listing agent do?
A listing agent guides a home seller through the complicated sales process, guarding their interests throughout the transaction's many twists and turns.
Before the house hits the market, the listing agent advises the seller on how to:
Increase their home value: The agent recommends any repairs or updates that could help the house fetch a better price.
Set a competitive list price: The agent conducts a comparative market analysis (CMA), a professional estimate of what the home is worth.
Attract buyers: The agent provides tips on how to "stage" the home to enhance its curb appeal and make it irresistible to potential buyers.
Next, the seller's agent "lists" the home for sale. This typically involves posting the house on the Multiple Listing Service (MLS), a database where local real estate companies advertise properties they're selling.
Listing on the MLS is the most common way realtors market properties, but most agents advertise in other places too. Common marketing strategies include:
Placing a "for sale" sign in the seller's yard
Hosting an open house
Posting the listing on home-buying websites like Zillow and Realtor.com
Displaying the listing on their website and sharing it on social media
Advertising on the web and/or in the local newspaper
Once purchase offers start rolling in, the listing agent helps the seller evaluate them. An experienced realtor advises their client on the advantages or drawbacks of an offer's finer points, such as buyer financing, contingencies, and other proposed terms.
If the seller desires to submit a counteroffer, their agent negotiates on their behalf until they reach a deal with a buyer.
The listing agent remains the seller's chief advocate throughout the rest of the sale, assisting them with paperwork and the other nitty-gritty details that accompany a real estate transaction.
A listing agent's legal obligations to a home seller
The listing agent has a fiduciary duty to the seller. This means they're legally obligated to act in their client's best interest at all times.
According to the National Association of Realtors (NAR), being a fiduciary means agents must fulfill six specific responsibilities:
This fiduciary relationship typically begins when the seller signs a listing agreement with their agent's brokerage — also known as the "listing brokerage" — although laws vary between states. So don't divulge any information you wouldn't want a buyer to know until you've signed this contract.
Besides formalizing an agent's fiduciary duty to the seller, a listing agreement spells out other details about the agent's role in the sale. This includes things like:
Whether the agent has the exclusive right to list the home
Commission rate and other terms of compensation
How the agent and their brokerage will market the property
Duration of the contract
Listing agent vs. selling agent
The listing agent and selling agent represent different parties in a real estate transaction: the listing agent represents the seller, while the selling agent represents the buyer.
Although each agent has a responsibility to get their client the best deal possible, they still cooperate with one another to complete the sale.
Don't confuse seller's agent (with an "er's") with selling agent (with an "ing").
Think of it like this:
The seller's agent is called the listing agent because they "list" the house for sale.
The buyer's agent is called the selling agent because the property can't "sell" until it has a buyer.
In fact, the realtor representing the buyer is sometimes called the "buyer's agent" until the sale is completed — then they're called the "selling agent." Even though they represented the buyer, they also helped "sell" the property by finding someone to purchase it.
Note that the distinction between listing and selling agents refers only to a realtor's role in a specific transaction. Most agents work with buyers and sellers alike, which means they could be the listing agent or the selling agent — it all depends on who they're representing in the sale.
A realtor may even be the listing and the selling agent for the same client if they're helping them sell one home and buy another.
Should I use the listing agent to buy a house?
Most home buyers should avoid using the listing agent when purchasing a house.
In most states, it's legal for a real estate agent to represent both a buyer and a seller in the same transaction, as long as the agent obtains written consent from both parties. This is called dual agency.
Unless you have lots of experience buying and selling homes, we recommend that you avoid getting caught up in a dual agency sale.
Why dual agency is usually a bad idea
Dual agency creates a conflict of interest. The agent owes a fiduciary duty to both clients. This means they must remain neutral — they can't negotiate for you or advocate for your well-being above all else.
Additionally, there's a risk that the agent could inadvertently reveal confidential information that weakens your bargaining position.
Agreeing to dual agency forces you to take the lead in negotiating the sale price and other contract terms. Your agent will convey offers back and forth, but they'll function more like a referee — they won't be 100% in your corner.
If you're comfortable negotiating without an agent's undivided support, you might be able to secure a better deal. Dual agents will sometimes work for a lower commission rate because they don't have to split the fee with another realtor.
And since the seller knows they'll save on commission, they may be more flexible when negotiating the sale price.
However, we believe you're more likely to have a positive home buying experience if you use an agent who represents only your interests.
Next steps: Find a listing agent
If you're selling a home, we recommend that you hire an experienced listing agent.
Home sales are complicated. It's possible to go it alone and list your house for sale by owner, but there are lots of pitfalls — especially for sellers without much experience negotiating real estate transactions.
Most sellers are better off relying on the market knowledge and expertise that can only be found with a professional agent.
However, not all agents are equally qualified. Before you sign a listing agreement, you should interview multiple agents. Look for a realtor who has:
A history of selling homes in your market and price range
A compelling strategy to advertise and sell your property
You should also verify that past clients have been satisfied with their level of service. It's wise to ask for a list of references. But if calling up a stranger makes you uncomfortable, you can look up agent reviews at Google, Yelp, and the Better Business Bureau.
Selling a house? We can help!
Clever can connect you with top local listing agents who work for pre-negotiated low rates: 1.5% listing fees (half the usual rate).
You can interview your Clever agent matches, get free pricing estimates, and compare marketing plans — all with no strings attached.
Ready to learn more? Submit the form below for a free phone consultation with one of our Licensed Concierges.
Top FAQs about listing agents
How do I find the listing agent for a property?
The easiest way to find the listing agent for a property is to look up the address on a home-buying website.
For example, on Zillow, you can find the listing agent at the bottom of a property's "overview" section: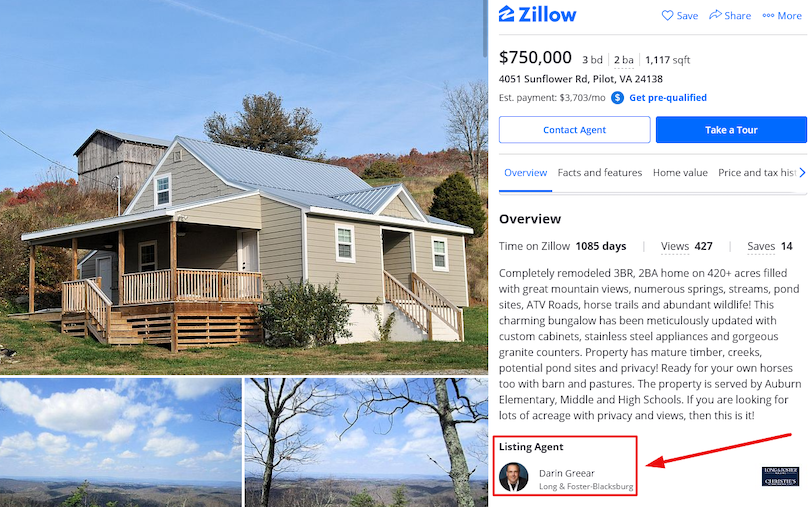 Additionally, if the property has a for sale sign in the yard, it probably includes the listing agent's name and phone number.
Note: if you're interested in buying a house, it's usually not a good idea to use the listing agent.
» MORE: Should I use the listing agent to buy a house?
What is the difference between a listing agent and a premier agent?
A listing agent is the realtor representing the seller in a real estate transaction, while a "premier agent" is any realtor who advertises on Zillow.
The only thing that separates a premier agent from other agents is that they've paid to advertise on Zillow. It doesn't mean the agent is more qualified than other realtors, nor does premier agent refer to a particular type of real estate agent.
How do you become a listing agent?
Any realtor can be a listing agent. So, to become one, you'll need to obtain your real estate license and find clients.
Getting licensed is fairly simple. Requirements vary between states, but an entry-level license typically requires 40-180 hours of real estate education and a passing grade on a licensing exam.
New agents must work under the supervision of a higher-level agent called a broker, so you'll need to find a broker to "sponsor" your license before you can start representing clients.
» MORE: Learn about what agents do and how to get licensed in your state
Is it better to be a listing agent or a buyer's agent?
Most real estate agents represent buyers and sellers relatively equally, but some prefer to be the listing agent.
While the average commission rate for listing and selling agents is roughly the same, listings tend to be more valuable because agents can sometimes leverage them into multiple deals.
In many cases, sellers who are moving within the local area use the same agent to sell their old home and find their new one.
Additionally, some buyers call the listing agent when they see a house they're interested in. Even if they don't buy that particular property, the agent may be able to sign them as a client and guide them on their home search.
Finally, on average, sellers are more likely to make it to the closing table than buyers. Some prospective buyers are really "browsers" — they look at a bunch of homes even if they're not completely sure they're ready to purchase one. It's less common for a seller whose home is on the market to change their mind about selling.