Why trust us: To create this guide, we surveyed and interviewed Utah real estate agents, studied Utah real estate law, and researched more than 20 FSBO companies and alternatives. Learn more about why you can trust our advice.
In Utah, the average realtor commission rate is 4.60% to 6.12%. If you sell a house worth $507,800 — the median home value in Utah — that's over $15,500, which is a huge chunk of your potential profits.
Selling without a realtor, known as listing For Sale By Owner (FSBO), is a viable option for experienced home sellers who are willing to put time and effort into the selling process.
However, selling FSBO has risks. Research shows that FSBO homes typically sell for about 6% less than those listed with agents AND you'll still usually be on the hook for offering a competitive buyer's agent commission. FSBO homes also often take longer to sell and are more likely to fall out of contract after accepting an offer.
If saving money on realtor commission is what you're after, it's worth looking into real estate agents who'll work at a lower-than-typical commission. Clever Real Estate matches sellers in Utah with experienced, local agents who offer traditional service for just 1.5%. You can save money and the headache of doing it all on your own.
In addition to looking into FSBO, reach out to Clever to connect with multiple agents in your area. You can interview agents and get a free home valuation so you'll know you've explored all of your options.
Connect with top, local agents in Utah!
What FSBO sellers in Utah need to know
🔑 Key benefits of selling FSBO
Direct control over the selling process, including the pricing strategy, showing schedule, and negotiation process.
No listing commission, which could save you 2.68%, based on the Utah average.
FSBO sellers who find a buyer without a realtor, save an additional 2.68%, the average buyer's agent commission rate in Utah.
Real estate laws, the selling process, and trends vary greatly across the country. Understanding the details of your market and getting accurate information can make a FSBO sale complicated.
We'll go into more details about what you need to do in Utah, but here's an overview of the state's laws and regulations.
Utah FSBO overview
Real estate attorney required?
No
Required state disclosures? (learn more)

Seller's Property Condition Disclosure
Flood Zone Statement
Lead-Based Paint Disclosure
Buyer Due Diligence Checklist

FSBO yard sign allowed?
Not if your home is on the MLS.
Competitive Buyer's Agent Commission (learn more)
2.30% to 3.06%
Additionally, you'll need to know and understand all of your responsibilities as a FSBO seller, which include:
Preparing your home by making necessary repairs, cleaning, and staging your home.
Accurately and competitively pricing your home.
Marketing your home by writing a listing description, taking high-quality photos, posting the listing on different sites (free and/or paid), and promoting your home on social media, in print ads, and via word of mouth.
Vetting buyers to ensure they're qualified, from a financial perspective. Accepting an offer from an unqualified buyer will cause your sale to fall through.
Negotiating the final price, contingencies, repair concessions, and other aspects of the purchase and sale agreement.
Properly filling out all necessary paperwork for a real estate transaction in Utah.
Clever gives you the savings of FSBO without the added stress!
If you're thinking about listing your home for sale by owner, you probably don't want to pay high real estate fees. We get it. That's why we started Clever.

Clever connects you with a top agent that will provide a full-service listing for a 1.5% fee — half the typical rate!

Listing with Clever gets you the benefits of a top agent and maximizes your sales price while saving you thousands in commission.

It's free to meet with an agent, and if you decide FSBO's a better fit, you can still use the professional price analysis the agent provides.
How to price your home
Pricing strategy is often make-or-break for FSBO sellers. List your home for too little and you leave money on the table. Price it too high and the listing goes stale, forcing a price drop that could make buyers wary of the home.
To get an accurate idea of your home's fair market value without a realtor's help, look at comparable listings in your area.
For example, if you live in Salt Lake City and think your house is worth about $531,000, search Zillow for active listings that are about $50,000 more and less than that. Analyze details about the houses and how they compare to yours. Ask yourself:
Is the school district better or worse?
Does it have the same number of bedrooms and bathrooms?
Has the house been renovated more recently than yours?
How do the neighborhoods and nearby amenities compare?
Answering these questions honestly will help you see if your price is in the right ballpark.
From there, be realistic about what pricing strategy will lead to higher offers. Here are some key pricing metrics that will help you decide the best listing price for your home and market:
State of the Utah real estate market
How to list your Utah home for sale by owner
Once you've decided on a price, it's time to write a listing description that speaks to local buyers. Understanding their priorities will help you identify what features of your property to highlight in your listing and attract more interest.
Top buyer priorities in Utah
When it comes to advertising and posting your listing, you have several options as a FSBO seller. Each choice has its own pros and cons as well as costs: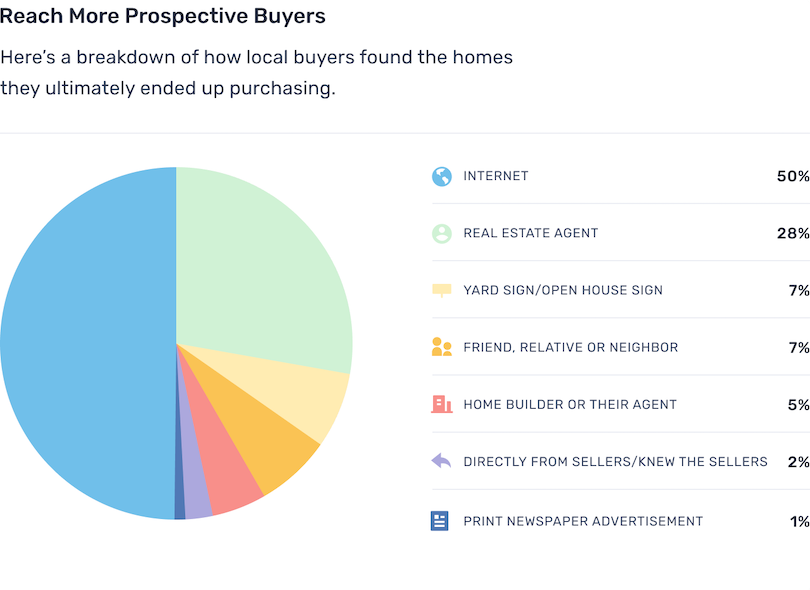 A quick note on using a flat-fee MLS listing in Utah: Once your home is listed on the MLS, you can no longer advertise your property with a sign that says "For Sale By Owner". You'll need to use a generic sign or get one from the brokerage that listed your house.
If you choose to use a flat fee MLS company, you'll have to offer a buyer's agent commission. The MLS is how real estate agents find homes for their clients, and typically a buyer's agent commission is included to incentivize these realtors to show the house to their clients.
List with a top agent for just 1.5%.
Sell your home for top dollar and save on commission.
How realtor commissions work in Utah
Traditionally, both the buyer's agent and the listing agent are paid a commission by the homeowner. When sellers work with a realtor, they negotiate a commission as part of the listing agreement.
Based on the average commission rates in Utah, this typically ranges from 2.30% to 3.06% of the sale price.
In a typical sale, the seller also agrees to a commission rate for the realtor who brings the buyer to the table, which runs between 2.30% to 3.06%.
As a FSBO seller, you automatically avoid paying a listing commission. However, there is a solid argument for offering a buyer's agent commission.
A buyer's agent's commission is an incentive for realtors to show your house to their clients. If you don't offer a commission that is competitive compared to similar homes in your area, then your home could be shown less. Agents may prioritize taking buyers to homes with a commission.
The best way to avoid paying any commission fees is to sell to an unrepresented buyer. However, know that nearly 87% of buyers work with a realtor. If you decide not to offer a buyer's agent commission, you may severely restrict your pool of buyers.
Further, if you list FSBO, you'll likely receive multiple calls from agents offering to connect you with their buyers...if you pay them a competitive buyer's agent commission (typically 2.68% in Utah).
» LEARN: How real estate commissions work
How commission costs break down in Utah
Whether you sell your home without or without a realtor, there are four common commission scenarios:
List FSBO and sell to a buyer without a realtor: Pay no commission
List FSBO and sell to a represented buyer: Cover the buyer's agent commission
List with a traditional agent and sell to a represented buyer: Cover both agents' commissions
List with a discount agent and sell to a represented buyer: Cover the buyer's agent commission, but save on the listing commission.
The table below shows how this could break down in Utah:
Paperwork to sell a house by owner in Utah
Once you find a buyer for your house, it's time to start the closing process. In a typical real estate transaction, your agent will make sure you fill out all the necessary documents and forms. As a FSBO seller, you'll have to navigate the paperwork by yourself.
This process varies by state — here's a quick breakdown of Utah's requirements.
Required for all Utah real estate sales
| | |
| --- | --- |
| 2 Forms of ID | In most cases, a valid passport, driver's license, or other form of Utah-issued ID. |
| Copy of Purchase and Sale Agreement and Any Addendums | Copy of the original, signed sales agreement as well as any agreed upon changes. |
| Closing Statement | A detailed list of all the costs associated with the sale and who pays them. This is often prepared by your escrow agent or title company. |
| Signed Deed | To legally transfer your property, you'll need the deed that proves you're the rightful owner. At closing, you'll sign the deed over to the buyer. |
| Bill of Sale | This is basically a receipt that includes both your information and the buyer's. It will also list the final price of the home and what was included in the sale. |
| Affidavit of Title | A notarized document that states you own the home, that there are no liens on the property, that you are not simultaneously selling the home to someone else, etc. |
Possible additional documents
| | |
| --- | --- |
| Deposit of Earnest Money With Title Insurance Company Addendum | If you want to collect earnest money from the buyer, this form allows you to have the title company hold it for you. |
| Loan Payoff Information | If you have a mortgage on your home, you'll need documentation of exactly how much you still owe and any payoff fees. If you've already paid your mortgage in full, you'll need documentation proving that. |
| HOA Forms and Guidelines | If your home is part of an HOA, you'll need to give the buyer documentation on the HOA's Covenants, Codes, and Restrictions, financial history, required fees, approval process, etc. |
| Survey Results or Survey Affidavits | A survey (or an affidavit verifying a previous survey) proves exactly where the property lines are. |
| Home Inspection Results | If you had a pre-sale inspection, you'll want the results to compare to the buyer's inspection. If having a buyer inspection was part of the sales agreement, you should receive a copy of the results before closing. |
| Proof of Repairs or Renovations | Documentation proving any major repairs or changes to the house help verify its fair market value. These receipts also provide the buyer with information about who to contact if they discover issues with the repairs in the future. |
| Home Warranty Information | The home warranty service agreement will explain what is covered, for how long, and any costs associated with the policy. |
| Copies of Relevant Wills, Trusts, or Power of Attorney Letters | If you are selling an inherited property, you'll need copies of all legal documents that passed ownership to you. |
| Relevant Affidavits (Name Affidavits, Non-Foreign Affidavit Under IRC 1445, etc.) | You may need additional affidavits like a name affidavit (which lists all of your or the buyer's previous names) or an affidavit proving you are not a foreign citizen and therefore exempt from certain property sales taxes. |
| Closing Disclosure | If your buyer is taking out a mortgage and you agreed to certain seller's concessions, you may need a copy of their closing disclosure to verify the lender approved your concessions. |
| Correction Statement and Agreement | In the event forms are lost or errors are discovered in the future, a correction statement and agreement requires you, the buyer, or their lender, to replace or fix those documents if need be. |
Utah disclosure forms
To see other forms you may need when selling without a realtor, consult the Utah Division of Real Estate.
Many closing documents are legally binding agreements. Any errors can derail your sale and cost you thousands in fees or in costs to re-list your house.
To avoid an expensive mistake, consider working with a low commission realtor instead.

💰 Incredible savings, none of the DIY
Selling your home is time-consuming, and fraught with potential legal issues.
There's a better option. Clever pre-negotiates lower listing fees with top agents in your area. You still save on commission, while getting the support of a full-service agent.
Clever partner agents offer full-service support for half the typical cost: a pre-negotiated 1.5% listing fee
Clever sellers save an average of $7,000 on commission AND they get offers 2.8x faster than the national average
Ready to find real estate agents who can help you save thousands on your sale? Enter your zip code below to get started!
FSBO alternatives to consider
If saving money is your main reason for selling your home by owner, there are alternatives.
Clever Real Estate
Clever is a nationwide real estate service that connects sellers with top, local agents. You pay Clever nothing and only pay your full-service agent 1.5% if and when your home sells.

💲 Listing Fee
1.5% ($3,000 min.)
💰 Buyer Savings
Cash back after closing
⭐ Avg. Customer Rating
5/5 (2,735 reviews)
✍️ Editor's Take
Pros
Cons
Reviews
Locations
Clever is a quick, easy, and free way to find a top-rated local agent. And, unlike many similar companies, Clever pre-negotiates big discounts on your behalf, so you can save thousands without sacrificing on service.
Clever is a free, nationwide agent matching service that partners with full-service local agents from conventional brokerages like Keller Williams, Century 21, and RE/MAX.
You get multiple agent matches so you can interview several, compare marketing plans, and choose the best fit.
Clever pre-negotiates low rates on your behalf — you get full service for just a 1.5% listing fee ($3,000 minimum).
If you buy with Clever, you can get cash back to help pay for your move.
You may not get matched with an agent from your preferred real estate brokerage.
Agents may not provide premium services like drone photography and professional home staging.
As of 11/6/2023, Clever has a 5.0 out of 5 rating on Trustpilot, based on 2,589 reviews.
Clever has pre-negotiated low commission rates with top agents in all 50 states and Washington, DC.
Discount real estate services in Utah
While pricing and services vary, discount real estate companies will help you sell your house for less than a traditional realtor. In most cases, you'll still need to offer a competitive buyer's agent commission, but you'll save on listing fees.

💲 Listing Fee
1.5% (min. fees vary)
⭐ Avg. Customer Rating
2.9/5 (331 reviews)
✍️ Editor's Take
Pros
Cons
Reviews
Locations
Redfin offers real savings and is a proven brand. But sellers could compromise on service — especially agent experience and availability.
If you buy and sell with Redfin, you'll get a 0.5% listing fee discount.
Redfin gives its listings premium placement in its popular home search app.
If finding the right agent is a top priority, you'll have limited options

—

Redfin only has a few agents in each of its markets.
Redfin agents handle more customers at once than the average realtor, so they may not be able to provide as much personalized service.
Redfin has a 2.9 out of 5 rating (331 reviews) across popular review sites like Google and Yelp.

⭐ Avg. Customer Rating
4.3/5 (1,317 reviews)
✍️ Editor's Take
Pros
Cons
Reviews
Locations
Homie offers legit flat-fee savings — but may provide less personalized service than a traditional agent.
The flat-fee pricing model offers big commission savings on higher-priced homes.
The self-service listing process lets you get your home on the market quickly.
Homie agents provide no in-person services or support.
Agents juggle up to 10 times as many customers at once, which increases the risk you'll have a bad experience.
Homie has a 4.3 out of 5 rating (1,317 reviews) across popular review sites like Google and Yelp.
Homie is available in the following areas: AZ, CO, ID, NV, UT.

💲 Listing Fee
2.5% ($9,000 min.)
⭐ Avg. Customer Rating
4.7/5 (1,041 reviews)
✍️ Editor's Take
Pros
Cons
Reviews
Locations
REX's promise of huge savings is misleading. Its advertising misrepresents the significant risks of its pricing model and marketing approach. And its high minimum fees mean that many sellers won't save anything.
REX's approach is incredibly risky — but if the gamble pays off, you could save about 50% on realtor fees
Like other full-service brokerages, REX agents provide in-person services and support
REX's 2.5% listing fee doesn't save you much — many full-price agents charge similar rates
REX doesn't list your home on the MLS, so up to 90% of buyers may not even know it's for sale
This risky marketing strategy seems likely to fail, so you may not save anything on commission
REX has a 4.7 out of 5 rating (1,041 reviews) across popular review sites like Google and Zillow.
REX is available in the following areas: AZ, CA, CO, FL, GA, MD, NV, NJ, OR, PA, TX, WA, DC.
» LEARN: About discount real estate services
Flat fee MLS services in Utah
As mentioned before, a flat fee MLS company will post your listing on the local MLS, usually for a low, upfront fee. In Utah, this will typically cost you a couple hundred dollars. This is the cheapest way to sell without a realtor and still get on the MLS.
Here are some Utah flat fee MLS companies to compare:

Best For
Sellers seeking a discount agent rather than an independent MLS listing.
Pros:
With no upfront fees and no cancellation fees, you can cancel your listing at any time with no financial loss.
You'll have a specific designated transaction coordinator, essentially a real estate agent lite, who assists you through the entire sale process.
Cons:
There's no cheaper option to list on the MLS for a flat fee.
Photography and video services don't seem to be provided, even with the full-service package.

Best For
Budget-conscious sellers who need a simple, affordable listing.
Pros:
Your personal name and contact information is added to the listing, so buyers will always contact you directly.
Listing details can be changed at any time for free.
Cons:
There's no support with marketing or photography in any packages.

Best For
Sellers who would prefer agent support throughout the listing process.
Pros:
You can modify, pause and restart your listing for free at any time, with no limitations.
An MLS photo tour with 35 photos is provided in all package options.
You have access to an online supply store with banners, stands, signs, boxes, etc. for additional fees.
Cons:
There's a $995 early termination fee if you cancel your listing or sell your home elsewhere.
Packages don't service all areas of Washington equally, so coverage may vary.
» LEARN: About flat fee MLS services in Utah
iBuyers
iBuyers will buy qualifying homes for cash, meaning you avoid realtor fees — and the stress of listing on the open market entirely. While these companies make fair-market offers, they will deduct any required repairs after an on-site visit. They also charge a service fee typically ranging between 6-14%.
» LEARN: How to sell to an iBuyer
5 tips for selling your home without a realtor in Utah
Pulling off a FSBO sale without a realtor is a difficult feat to accomplish. Here are some helpful tips from Clever CEO and real estate investor Ben Mizes, who has experience listing homes without a realtor.
1. Make minor repairs
Small upgrades and repairs can do a lot to sway potential buyers. The key is knowing how and where to spend your money to get higher offers. Simple DIY projects like a fresh coat of paint or new cabinet pulls have a high return on investment, whereas pricier improvements like adding a new bedroom may not.
Overall, the most important factor is knowing where the line is between necessary and over-the-top. You want your house to meet buyers' expectations.
"If your kitchen is a disaster, spending more money on a remodel to get it in solid condition will pay off in the end," said Mizes. "But spending money on high-end features to take it from good to extravagant will be a waste."
Also, consider how valuable specific repairs are to buyers in your area. Focus on upgrades that have a higher cost recuperation in your region.
Home repairs with highest resale value in Utah
Note: A resale value of more than 100% indicates a profitable repair.
2. Price your Utah home competitively
The first thing home buyers look for when browsing housing options is the price tag. With access to real estate websites and advice from their buying agent, they can easily gain insight on reasonable costs in their local market, so it is crucial that you do the same.
As of May 2020, median home values in Utah are $358,080 and demand is high, which could be good news for a FSBO seller. However, if you price your home too high, buyers won't even schedule showings. Price the house too low, and buyers will think something is wrong with it.
Bonus tip: A pre-sale appraisal house gives you a more accurate starting point for pricing your home.

Based on our research, in Utah, appraisals average $330 to $425, but help you walk away with thousands more once your home is sold.
3. Stage and market your home
Before showing your home, staging it to showcase it in the best light is important. This process is intended to give buyers a perspective on how they can use the space. It typically includes taking away personal elements, decluttering living areas, and sometimes bringing in neutral furniture or refreshing a design scheme.
Since 50% of home buyers found the home they purchased on the internet, an online presence is also crucial for a quick sale. In many cases, professional photographers and technology professionals are hired to use advanced methods like aerial photography, augmented reality, and virtual staging to provide house hunters an innovative way to view properties from their own homes.
Listing your property online and on an MLS advertises it to the broadest audience. When describing your home, you should fine-tune the listing to highlight things that are most important to local buyers. For instance, new heating systems, fireplace upgrades, and newer roofs show a property is ready for the cold and snowy winters prevalent in Utah.
Bonus tip: Hiring a professional stager can help alleviate some of the stress FSBO sellers go through. They know your local market and ensure your home is ready to impress, giving you one less thing to worry about.

Shop around to find out which local stagers offer reasonable rates and have a proven record of getting homes ready for sale.
4. Prepare for showings
Organization is key when showing your home to potential buyers. You'll need a good system for scheduling showings and saving buyers' and agents' contact information. You'll want to be flexible and try to show your house at buyers' convenience.
Keep the home clean and decluttered at all times. The last thing you want is to scramble around with a vacuum after a buyer calls for a last-minute showing.
Also, focus on creating a homey atmosphere for buyers. You want to make a great first impression on as many buyers as possible, so add little touches that speak to most people.
"Bake cookies or light scented candles before a showing," advises Mizes. "Smell plays a huge part in how buyers will perceive and remember your house. Use comforting scents to your advantage so they feel at home the moment they walk through the door."
5. Negotiate for the best possible price
Negotiations are about deciding more than the final sale price. You and the buyer (or their agent) will also have to agree upon contract contingencies, how closing costs are divided, the timeline, and more.
To gain the upper hand, get creative with the seller concessions you offer a buyer. While they might cost you a little more at closing, concessions sweeten the deal for buyers and could lead to a higher final sale price.
The most popular concessions vary from market to market. Knowing what works with buyers in your area will help you strengthen your offer.
For example, a Clever survey of local real estate professionals found that in Utah, sellers often cover 2.20% to 3.00% of buyers' closing costs. On a home of median value, that equates to $11,172 to $15,234, but can help you close the deal sooner and for more money.
You should also consider offering these popular seller concessions:
Most common seller concessions in Utah
| Concession | Benefits of Offering Concession |
| --- | --- |
| Repair Credits | Repair credits are win-wins for buyers and sellers. You'll credit the buyer a set amount to cover the cost of repairs. Once the deal closes, the buyer can personally oversee the project to their liking and you don't have to worry about repairs going over budget. |
| Home Warranty | If your home has major appliances or systems that are on their last leg, a home warranty can give buyers peace of mind. A warranty will cover possible issues and is typically less expensive than paying for the repairs (or accepting a lower offer from a wary buyer). |
| Attorney Fees | In Utah, an attorney must assist with real estate transactions. By offering to pay the buyer's legal fees, you can sweeten the deal. |
If you'd like some professional guidance with no strings attached, Clever can help. Fill out your basic info below to connect with a top, local realtor for a no-obligation consultation.
Get a free professional pricing consultation!
Interview top local agents, get free advice, no obligation to sign.
Additional resources for Utah home sellers