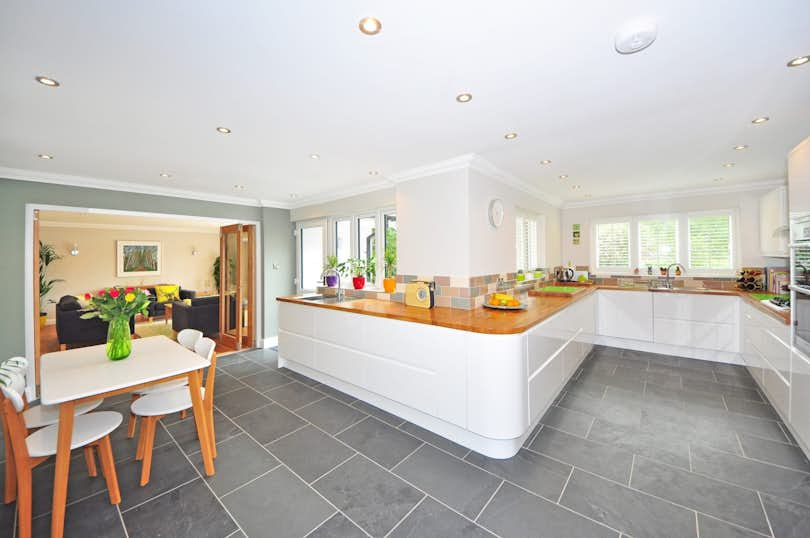 Preparing a home for sale is no small feat. It's overwhelming to clear spaces that have been lived in for years. You probably have too much furniture, too many picture frames, and a half dozen family souvenirs crammed in every room. Don't even get us started on the stained carpet, chipped wall paint and missing floorboards.
If you're getting ready to sell, it's time to take the first step: Staging. Trust us when we say it's worth the small investment of time and money. Homes that are set up to sell can reap more rewards than the ones that have not been staged. Here is all you need to know about whipping your home into selling shape that'll entice buyers to bite.
How Staging Helps You Sell Faster
Home staging is considered a marketing technique. It turns your average home into something unique that will appeal to the greatest common denominator of buyers so it will sell quickly and you can get out of there! Real estate agents use specific techniques to highlight the room's architectural features and make the rooms feel large and inviting. The agent will consider the ideal target market for the home. Homes of first-time buyers, empty-nesters, and blooming families will all look different.
🏡 Sell or Buy a Home with Clever and Save Thousands!
Enter your zip code to see if Clever has a partner agent in your area!
Home Staging Tips
There are some secrets behind a successfully-staged house. You might be surprised to know they don't require anything close to a full-on renovation.
Clear the Clutter
When an agent is prepping a home for the market, they usually sweep out half of the owner's furnishings, and the house looks much bigger for it. That could be a hard move, especially if you're still living in the space. But take a look at what you have and ask yourself what you can live without--the answer is probably with a lot less than what is cluttering up your rooms.
Clean, Clean, Clean
That about sums it up! Until the day it sells, your home should shine like it's never shined before.
Bring on the Light
Natural or artificial? It doesn't matter--light should flood the home! Swap out your light bulbs for ones with higher wattage, and leave your curtains wide open. Light brings life to a space and makes it feel much bigger!
Furniture Groupings
The next step is to group all the remaining furniture, placing everything floating away from the walls. Reposition sofas and chairs into conversational groups so that the traffic flow is evident. This flow makes your space seem more user-friendly and spacious. While you're doing this, feel free to play "musical furniture" by swapping items across rooms or repurposing spaces, especially those awkward ones that every house tends to have. You're appealing to the buyer so want to create balanced spaces.
Paint the Walls
In general, the walls should be warm and neutral. Neutral paint colors help to mask dated features of spaces, and it's overall clean and appealing. However, you don't want your house to look like a bowl of oatmeal. Give it a soft edge by adding an accent color in the powder room or on the inside of built-in shelving. If you have a tiny room, paint it the same color as it's larger neighbor the spaces flow together. Go a step further and paint the walls the same color as the drapery for a seamless and sophisticated look.
Small Repairs
This one is important. Nobody wants a house with a million little improvement projects so take the time to make the small repairs. Minor problems are a big turn off because it sends the message your home wasn't cared for. There are many houses on the market today, and home buyers can afford to be choosy. When your home falls into "fixer" status, you eliminate an entire pool of buyers.
Decor and Details: Keep things balanced and serene. Maybe you want to add some textured accent pieces or bring in some natural foliage to freshen up the space. Have fun, but remember to keep it sweet and simple.
Virtual Staging
All of those home staging tips are effective, but it still seems expensive and an overwhelming amount of work to some people. Enter "virtual staging," the real estate technology that enables agents to stage your home with the click of a button. We're in the digital age, and more and more agencies are embracing this impressive service. There are positive results for both the buyers and sellers.
Virtual staging gives sellers at all price points the ability to showcase the potential their space holds. The virtual furniture allows the stages to showcase the potential. And it helps the potential buyers to imagine the size of the space while viewing photos online. However, when they arrive at an empty house, they are immediately able to visualize their things occupying the space. For this marketing technique to work, the seller needs to provide full transparency and label the virtually-staged images appropriately.
Average Cost to Stage a Home
Staging your home does require you to shell out some cash, but it's worth it. According to the National Association of Retailers, for every $100 invested in staging, the potential return is $400. There are plenty of things you can do to spruce up the space for free, like decluttering and cleaning. Others, like painting or swapping light bulb, that you can do on a dime. If you decide to work with a professional stager, the price of the service hinges on the square footage of the home, as well as the possibility of fees.
The bottom line, you save when you stage. Staging your home can save you from a cost reduction. A staged home will sell for 17% more on average than a non-staged home. And 95% of staged homes sell in eleven days or less.
Staging your home for the real estate market can be stressful. Thankfully, Clever is here to help. With Clever, you will find local, flat fee, full-service agents who will lend expert advice about whipping your home into shape to sell — fast! Call us today at 1-833-2-CLEVER or fill out our online form to get started.
🏡 Sell or Buy a Home with Clever and Save Thousands!
Enter your zip code to see if Clever has a partner agent in your area!
Related Articles
You May Also Like