Is HomeVestors right for me? | Pros and cons | How much does HomeVestors pay for houses? | Reviews from real customers | Alternatives
What is HomeVestors?
HomeVestors is a national cash buyer that purchases homes as is. If you sell to HomeVestors, you'll probably get less than you would from a traditional sale. But you can close quickly, and you don't have to worry about repairs or closing costs.
| | |
| --- | --- |
| 🖋 Closing time | As little as 3 weeks |
| ⏱ Offer time | 24–48 hours |
| 📍 Locations | 1,000+ franchises in 47 states and Washington, DC |
| 📓 Customer reviews | 4.4/5 (1,351 reviews) |
| 📠 Related companies | We Buy Ugly Houses, DealVestors |
The company is a franchise known for its trademark phrase, "We Buy Ugly Houses." Each HomeVestors franchise is independently owned and operated by a local real estate investor.
HomeVestors reviews are generally positive. They mention professional and helpful franchise owners and quick, easy home sales. However, some reviewers complained that their offers were well below fair market value.
How does HomeVestors work?
HomeVestors buys homes in as-is condition, meaning you don't need to repair anything or even clean your home. The company will make repairs after purchasing your home, then resell the property for a profit.
Here's how to sell to HomeVestors:
You contact your local office or complete a form on the company website.

A HomeVestors property specialist visits your house and answers questions.

HomeVestors sends a cash offer based on the current condition of the house.

You accept or reject the offer. If you accept, HomeVestors can close in as little as three weeks.
Who is HomeVestors best for?
HomeVestors is best for people who need to sell a home quickly and as is. This includes people who:
Are moving on a tight timeline

Are facing foreclosure or other debt problems

Need to sell an inherited home

Don't have time or money to make repairs
But even if you're in a rush to sell, we don't recommend getting an offer from only HomeVestors. Make sure you compare offers from at least two more cash buyers to ensure you get the best price and terms for your situation.
A simple way to compare cash offers is with a free service like Clever Offers. A concierge will ask questions about your home, then collect multiple offers on your behalf from vetted, reputable buyers near you. 
Instead of chasing down investors who aren't serious about buying, you can choose between a handful of the best possible offers — then spend your time focused on moving.
💰 Compare cash offers for free today
Need to sell quickly? Just fill out a short quiz, and our concierge will present you with multiple cash offers from reputable buyers in your area. Request as many offers as you'd like, or walk away anytime — there's no obligation to move forward.
Pros and cons of selling to HomeVestors
✅ Pros
❌ Cons
You don't have to pay for repairs.

You'll likely receive

significantly less for your house than what you'd get on the open market.

You don't have to prep your home for listing photos.

Service quality may vary because each franchise is independently owned and operated.

You can close in as little as three weeks.

No one represents you or helps you negotiate.
How much does HomeVestors pay for houses?
Most HomeVestors locations will pay 55–70% of the home's after-repair value (ARV), minus repair costs. However, the actual offer you receive from HomeVestors is up to the discretion of each individual franchise owner.
For example, if an investor thinks your home could be worth $200,000 after it's fixed up, and they estimate that it needs $20,000 of repairs, they won't offer you more than $120,000. After completing the repairs, they'll sell it for the full market value — and turn a $60,000 profit.
That's a lot of money to leave on the table!
Another big problem with this formula is that HomeVestors estimates the repair costs for you, so it might inflate its costs in order to make the offer seem more favorable than it actually is.
If you want to sell your home without sacrificing your hard-earned equity, it's best to talk to a traditional real estate agent about your options.
HomeVestors reviews and complaints
| | Rating | # of reviews |
| --- | --- | --- |
| Weighted average | 4.4/5 | 1,351 |
| Google | 4.5/5 | 1,271 |
| Yelp | 2.5/5 | 65 |
| Better Business Bureau | 1.5/5 | 20 |
Overall, customers give Homevestors a 4.4/5 rating across 1,351 reviews.
Positive HomeVestors reviews mention:
The transaction speed
The professional service
The hassle-free selling process
Negative HomeVestors reviews focus on:
Very low offers
Pressure to sell
Constant, unwanted mailers and text messages
What customers liked about HomeVestors
This customer in Florida sold their home quickly enough to close on a new condo: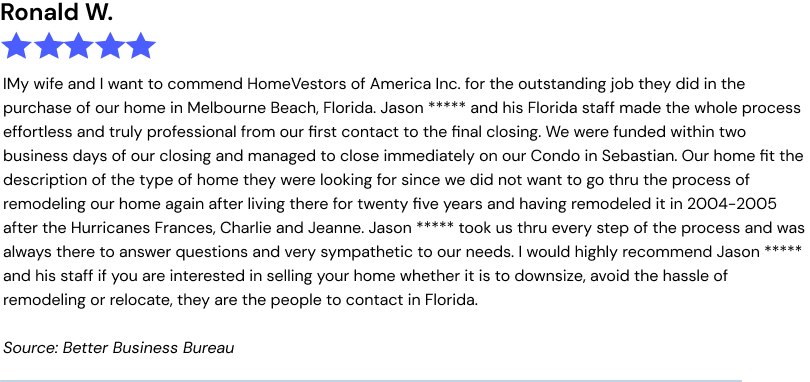 This home seller in Texas said the HomeVestors franchise they worked with was quick and professional:

What customers didn't like about HomeVestors
A reviewer in Georgia said that her mother quickly accepted an offer from HomeVestors, only to find out later that they listed it a week later and sold from almost $90,000 more: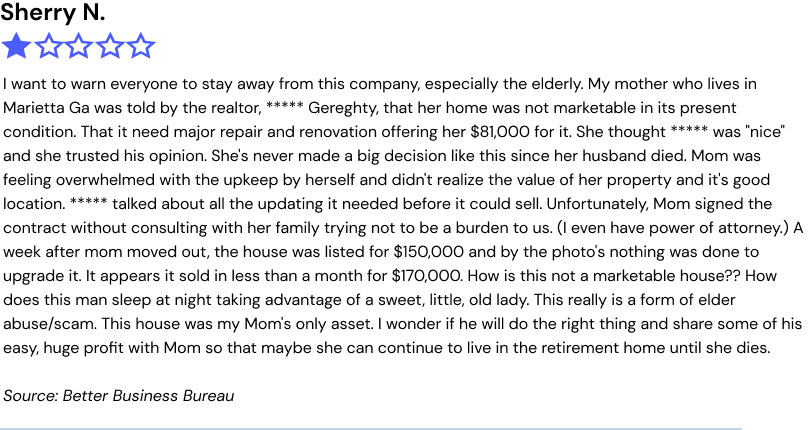 This home seller in Georgia was offended by HomeVestors low offer and felt that the company didn't reflect recent updates that had been made to the home: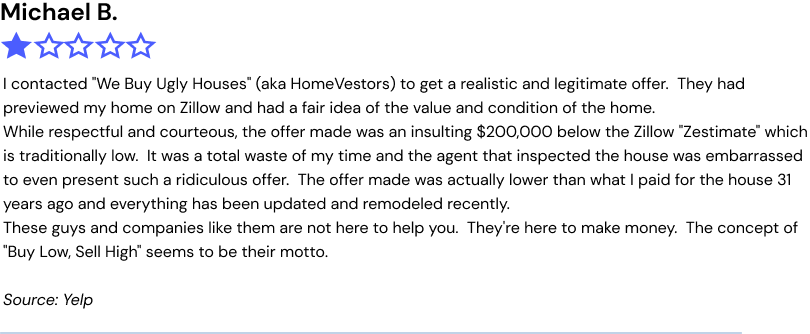 HomeVestors of America: Quick facts
| | |
| --- | --- |
| Headquarters | Dallas, TX |
| Who owns HomeVestors? | Bayview Asset Management |
| HomeVestors CEO | David Hicks |
| Year founded | 1989 |
| Company type | Private |
| HomeVestors reviews BBB | 1.5 rating (20 reviews) |
HomeVestors locations
HomeVestors has over 1,000 franchises in 47 states.
HomeVestors vs. top alternatives
There are three main alternatives to selling to HomeVestors:
1. You get the most overall value by consulting an agent
No matter the condition of your home or how quickly you need to sell, the best option for most home sellers is to seek out the advice of a trusted, local real estate agent.
"When we meet with clients, we almost always bring along several cash offers from partners of ours," says John Gluch, realtor and CEO of The Gluch Group San Diego. "Comparing actual cash offers and terms to what the market will bear gives you the most options and the least risk."
A top-notch real estate agent will be able to help you create a marketing plan that works for your home, timeline, and financial constraints. Be up front with your agent about your situation and timeline. They may advise you to take the cash offer and help you find the most reputable agency near you — or, you may discover that your home will sell quickly (and for more money!) on the market.
⚡ Interested in finding a real estate agent to help you navigate cash offers? Take this short quiz to get matched with agents in your area who work for just a 1.5% listing fee. You'll get a free home valuation so you can compare the cash offers to your home's current value.
2. An iBuyer could buy your home quickly for a higher sale price
If you need to sell your home quickly, selling to an iBuyer could help you keep more of your home's equity while still enjoying a speedy closing. As with HomeVestors, iBuyers pay cash for homes. You'll typically receive a preliminary offer within 24–48 hours, and you can close in as little as two weeks.
Although iBuyers also typically purchase homes for less than market value, they usually make higher offers than cash buyers like HomeVestors.
The one drawback is that iBuyers are strict about the types of homes they purchase — and they typically only operate in large metro areas. If your home is old, located in a slow market, or in need of extensive repairs, it may not qualify for an offer.
3. You can compare offers from several cash buyers to get the best deal

HomeVestors offers the same general range of services and pays about the same amount for homes as other cash buyers, such as We Buy Houses, Marketpro Homebuyers, and I Buy Houses.
The main benefit of these cash buyer companies is that they will buy your home quickly in as-is condition, and you won't have to pay for repairs or typical closing costs out of pocket.
However, you'll usually receive an offer that's far below the home's fair market value. Because of this, we recommend that most home sellers consider going with a cash buyer as an absolute last resort — after talking to a traditional agent and seeking out offers from any iBuyers in your area.
If your home is in poor condition, you're unable to make the necessary repairs, and you need to sell it immediately — even if it means leaving a lot of money on the table — a cash buyer may be your only option. In this case, we strongly recommend getting multiple quotes from different cash buyers in your area before accepting one.
» MORE: The best companies that buy houses for cash
FAQ about HomeVestors
Is HomeVestors a scam?
HomeVestors isn't a scam — it's a legitimate cash buying brand with franchises across the country. HomeVestors pays less than fair market value for houses in order to resell them for a profit. Research your local franchise and read customer reviews to find out if they have a good reputation before contacting them.
Is HomeVestors legit?
Yes, HomeVestors is a legitimate business. The company has franchises across the country that buy homes for cash. Home sellers who request an offer from HomeVestors might be disappointed by how little they pay, but their business model relies on purchasing homes at a discounted price. Learn more about who should use HomeVestors.
Are there any problems with HomeVestors?
As a home seller, the biggest problem you're likely to encounter with HomeVestors is that they won't pay much for your home. Cash buyers like HomeVestors often operate using the 70% rule, which means they'll pay no more than 70% of the home's after repair value, minus repair costs. In fact, they might pay even less than 70% to maximize their profits. Because of this, most home sellers will find better value with one of HomeVestors' competitors.
Can you negotiate with HomeVestors?
You can try to negotiate with HomeVestors, but most of the time, its best offer will still be less than what you'd get on the open market. Like other cash buyers, the HomeVestors business model relies on buying homes for less than market value and then reselling them for a profit. Because of this, most HomeVestors franchise leads probably won't have a lot of room to negotiate their offers.
How many HomeVestors franchises are there?
There are currently 1,000 HomeVestors franchises across 47 states in the U.S. Each franchise is independently owned and operated by a local real estate investor who pays franchise fees to HomeVestors. These franchise fees also give investors the right to advertise using HomeVestors' "We Buy Ugly Houses" trademark.
Related articles
Methodology
This guide draws on over 100 hours of collective research from Clever's editorial team — including analysis of the service offerings and business models of various real estate technology companies.
Our ranking and editorial positions drew from an in-depth analysis of HomeVestors and their subsidiary brand, "We Buy Ugly Houses". We read all of the customer reviews online for HomeVestors' franchise locations, and reviewed recent press articles about the company, and interviewed 25 licensed real estate professionals, including:
About Clever Real Estate
Clever is a free online platform with the goal of educating consumers about real estate and helping them save money when buying or selling a home. We strive to give 100% objective advice to help you make better real estate decisions.
Learn more about Clever's editorial policy and how we make money.
If you have more questions about finding realtors (or Clever's service), our licensed Concierge Team is standing by seven days a week, 7 a.m.–9 p.m. CST: (833) 225-3837.