Getting ready to sell your house in Washington? Our in-depth guide breaks the entire process down into 8 simple steps. Learn how to find a great agent, price your home, negotiate with buyers, breeze through closing, and more!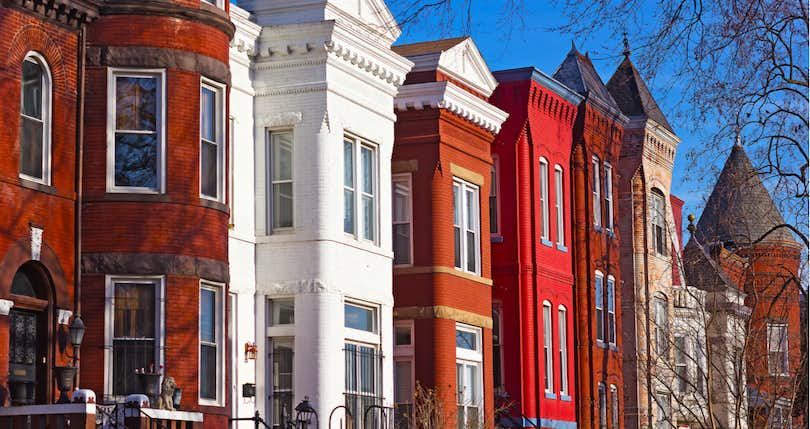 Now is a good time to be selling a house in Washington! According to Zillow Research, property values in the Evergreen State rose 4.13% in 2019, and are projected to rise a further 3.86% over the next year.
Of course, even the best Washington properties will struggle to sell if you don't price the home properly, do a poor job of marketing it, or don't know how to handle the negotiations.
Read on to learn the eight steps to successfully selling your home in Washington!
» MORE: Get a free, instant home value estimate now!
JUMP TO SECTION
1. Finding a Washington realtor
Selling a home isn't easy. It's a high-stakes, complex transaction and requires a considerable amount of time and expertise to get a good outcome. If you're looking to sell your Washington home for the best price — and minimize stress along the way — you need to find a top-rated real estate agent in your area.
The best Washington listing agents know exactly what local buyers want and how to reach them. They'll offer expert advice, guidance, and support every step of the way, from the initial listing all the way through closing.
In fact, sellers who work with real estate agents net 33% more, on average, than those who list on their own. For a $406,081 home — the median home value in Washington, according to Zillow — that's a premium of $134,007. In other words, hiring an agent is well worth the investment.
2. Deciding when to sell
Figuring out when to list your home in your local Washington market is essential. Local real estate markets fluctuate from month to month and listing at the right time can help you lock in the highest possible price for your home.
Best time to sell a house across the U.S.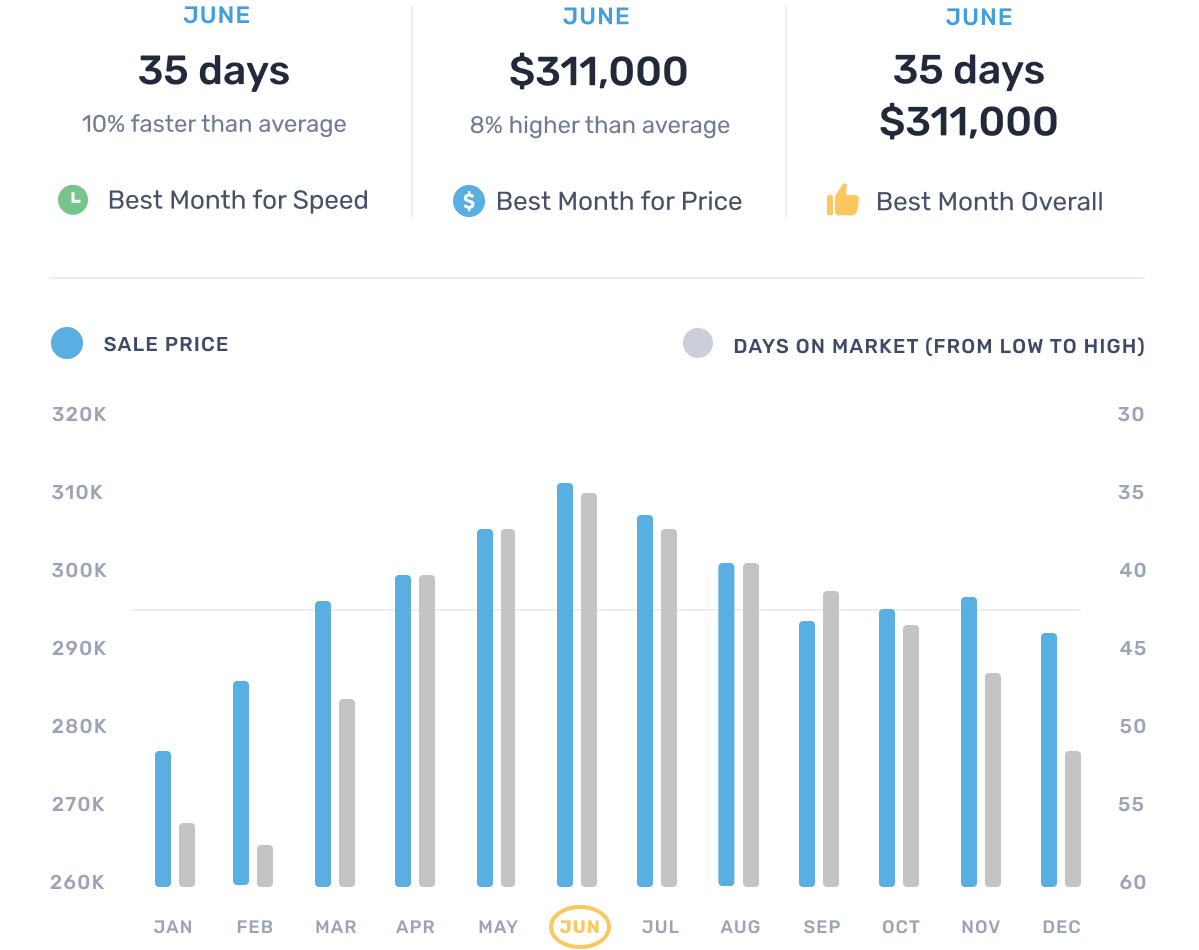 Source: 2019 Redfin Data Center
Best time to sell a house in Washington
| | | | |
| --- | --- | --- | --- |
| Best Month to Sell for Speed in Washington | May & June | 11 days on market | 11 days faster than average |
| Best Month to Sell for Price in Washington | May | $449,000 median sale price | 5.5% more than average |
The local market in Washington is on the rise, with home values having increased by 4.8% last year, and projected to continue increasing another 4.0% over the next 12 months.
If you're shooting for the fastest sale possible, listing in May or June is your best option. Homes listed in these months spend 11 days on market — significantly quicker than the Washington average of 22 days on market.
To get the highest sales price, May is also a great time to list. The median sale price of homes listed then is $1449,000, which is almost $24,000 more than average.
Learn More: The Best Time to Sell a Home in Washington
3. Pricing your home
The next step you'll need to handle is getting a comparative market analysis (CMA) so you can ensure your Washington home is priced to sell. Pricing too high can lead to a lack of responses from buyers, causing you to inevitably lower your price multiple times. Listing too high from the start also makes the selling process much longer. Pricing too low, of course, can lead to buyers thinking something is wrong with your home, and once it sells, it's often for less than a fair price.
To ensure your home is priced competitively, your agent will run a comparative market analysis to determine the best listing price for your home.
While many agents charge for this service, Partner Agents offer a competitive market analysis for no charge.
But if you're earlier in the process and just want a general idea of what your house is worth, a free online home value estimator is a great place to start. Enter your address below to see your estimated sale price, as well as useful local real estate market trends. Find out how much your house is worth now!
💰 How much is your home worth?
Discover the true value of your home with our Home Value Estimator!
Find My Home's Value
4. Preparing, marketing, and showing your home
Prepping your home to be sold is an important step that many homeowners forget about, but is essential for attracting the right buyers in Washington. Typical preparations include downsizing, packing, cleaning, staging, and marketing.
Readying Your Home for Sale
To begin preparing your home for sale, you'll want to start with downsizing or getting rid of any belongings and furniture you no longer need. From there, it's important to pack any items you do not need every day and move them out of the house.
Paring down your belongings will make staging much easier and will also ensure cleaning your home from top to bottom is as pain-free as possible.
This is also the time when you should consider making any repairs throughout the home. From fixing flooring issues to replacing burnt-out lightbulbs, it's important to ensure your home is fully restored to its original condition. Since Washington is home to many lovers of the outdoors, ensuring your windows look and work well is important.
You can have a pre-sale home inspection performed to ensure you're aware of anything else that may need to be prepared. This can also get you ready for the buyer's inspection down the road. Talk to your agent for more information on best practices in your local market.
Learn More: The Best Paint Colors For Selling A House
Stage and Market Your Home
Once all repairs are made and your home is cleaned, you'll want to start the staging process. This can mean paring down your belongings even more or renting furniture to help breathe new life into the house. Your agent can offer helpful suggestions on how to stage your home to attract buyers in the area.
Once staged, your agent will take high-quality photographs of each room in your house to help market your home online. A professional video tour may also be done to help buyers better understand the layout and flow of your property.
Next, your agent will list your home on the MLS and possibly some other local online portal sites. There may be other marketing strategies your agent recommends at this point, including signage, utilizing lockboxes for easier showings, and offering open houses to attract a wide number of buyers.
Learn More: 4 Cool Real Estate Technology Trends That Help Sell Homes
5. Fielding offers and negotiations
As you start receiving offers on your home, you'll be able to issue counteroffers and negotiate with buyers. Your agents will run you through this process to help ensure you make the most strategic decisions possible.
Typically, sellers have three days to respond to an offer, whether declining, accepting, or issuing a counteroffer.
Once you do accept an offer, a contract will be drawn for the real estate purchase. This contract will contain many key details about the property, the agreed-upon sales price, estimated date of closing, and usually, a list of buyer contingencies (such as appraisals and buyer's inspections).
After the contract is signed, the buyer will be required to deposit part of the down payment into escrow, where their money will remain until closing.
Learn More: Real Estate Counter Offer Etiquette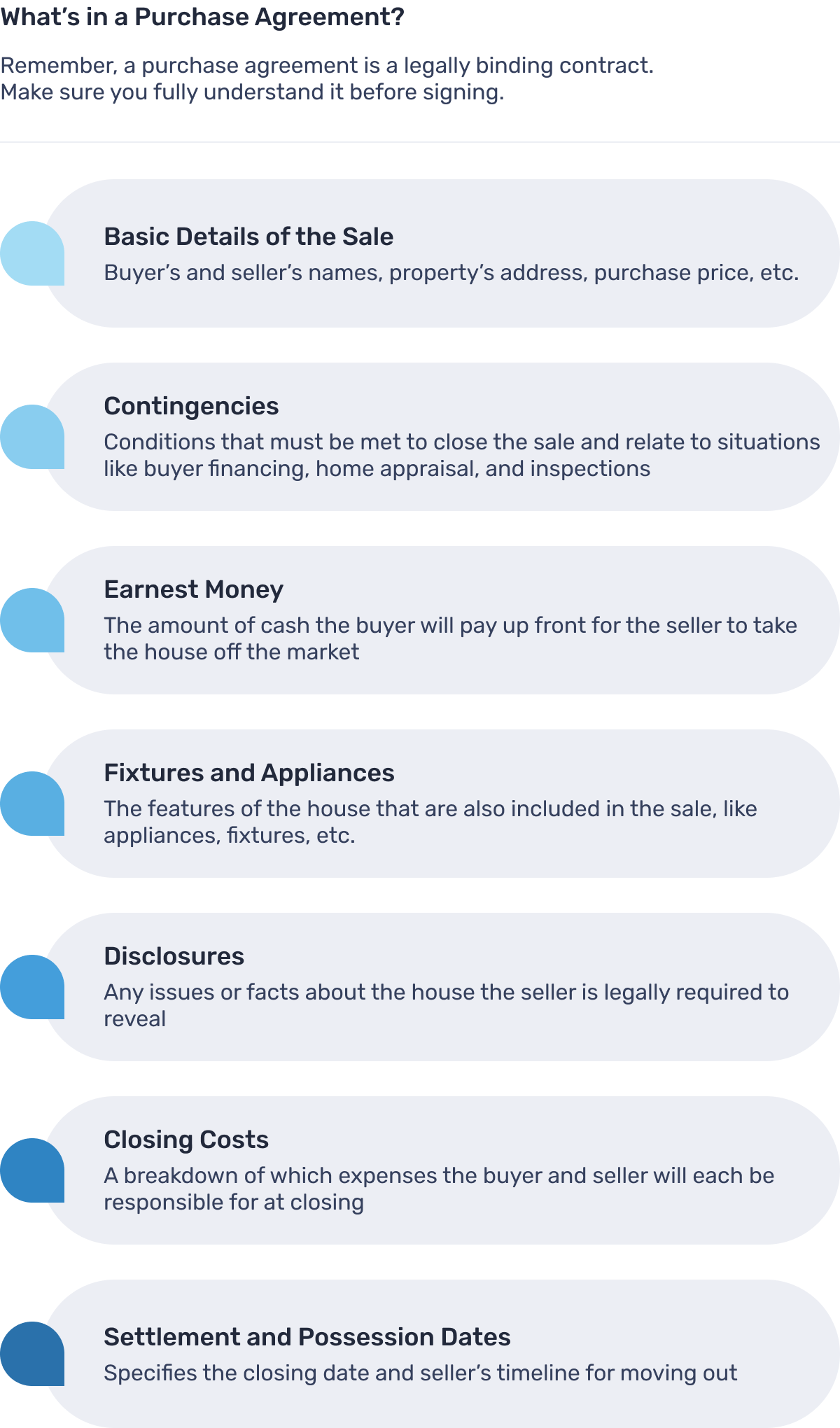 6. Appraisal and inspections
At this point, the buyer's lender will typically request a home appraisal, to ensure the property they're funding is worth the financial risk. An appraiser will come out and evaluate the home to ensure it really is worth its listing value. If an appraisal comes up short, sellers don't have to panic — there's time to make repairs or adjustments as needed. To avoid surprises, opt for a pre-sale home inspection.
After the appraised value is approved, the buyer is responsible for scheduling a home inspection which will take a more thorough look at the home's condition. The inspection will search for major issues, like HVAC problems, to minor issues, like broken door locks.
If the inspection comes up clean, you're good to proceed to the disclosure stage and then to closing. If not, work with your agent to determine what needs to happen next. You will likely need to make necessary repairs or adjust the asking price to accommodate the buyer and prevent the sale from falling through.
Learn More: Can the Seller Back Out of Contract Before Closing?
7. Paperwork and required Washington disclosures
Once the inspection is finished, it's important to disclose any and all issues existing in the home with the seller. This is typically done in writing and will help protect sellers in case of a lawsuit down the line. Your agent can offer advice on what needs to be disclosed by law in Washington.
Typically, your disclosure form will include any known problems within the house and may also have possible lead paint warnings and a smoke detector certification. Sellers are only responsible for releasing details about any known problems, which means as long as you're open with the buyer, you can't be held responsible for any hidden issues down the road.
There will be a lot of additional paperwork to legally close on your home. Always consult your agent or attorney before signing or filing paperwork. A licensed professional can walk you through all the paperwork and ensure you have everything you need for your situation.
Forms and Documents for Selling a House in Washington
Required for All Real Estate Sales in Washington
2 Forms of ID
Copy of Purchase Agreement and Any Addendums
Closing Statement
Signed Deed
Bill of Sale
Affidavit of Title
Possible Additional Documents
Loan Payoff Information
HOA Forms and Guidelines
Survey Results or Survey Affidavits
Home Inspection Results
Proof of Repairs or Renovations
Home Warranty Information
Copies of Relevant Wills, Trusts, or Power of Attorney Letters
Relevant Affidavits (Name Affidavits, Non-Foreign Affidavit Under IRC 1445, etc.)
Closing Disclosure (for certain seller concessions)
Correction Statement and Agreement
Washington Disclosure Forms
Seller Disclosure Statement
Flood Zone Statement
Lead-Based Paint Disclosure
Learn More: Disclosure Requirements in Washington
8. The closing process
Closing on your home is the last and final step in the home selling process. In some states, buyers and sellers have to sit down together to sign all closing paperwork, but in Washington, these documents can be signed separately.
This process can vary slightly, but here's what you can typically expect during this time period:
The title search is performed. The title company will ensure there are no disputes on the home title so they can cleanly transfer it to the new buyer.
Loan documents go to escrow. The buyer's loan documents will be sent once the funds are approved and ready for closing.
Closing documents are signed. A few days before the official closing date, both the buyer and seller will sign all documents (this is often done separately).
The loan is funded. Once everything is cleared, the escrow company will request funding on the loan. This typically happens one or two days before closing.
The final walkthrough is done. The buyer will do a final walkthrough to ensure the property is in the same condition as when they toured the home.
Closing day arrives. Once all paperwork is ready, the home will be officially closed on and the buyer will receive the keys to their new home.
Once the buyer receives the keys, the home sale is complete, and you'll receive the money that was released to escrow.
Learn More: How Much Are Closing Costs for the Seller?
Next steps: Sell your Washington home and save thousands
Whether you're looking to list your Washington home immediately or 6-12 months from now, it's never too early to start looking for an agent, getting advice, and making a plan.
Clever is here to help guide you through the home selling process — and save money along the way!
💰 Get a lower rate with a top local agent!
Want to find a top local agent without overpaying on realtor fees? Clever negotiates 1.5% listing fees with top-rated realtors from trusted brokerages like Keller Williams, RE/MAX, and Berkshire Hathaway.
Get guaranteed full service for a fraction of the 3% rate agents typically charge. Schedule a free, no obligation consultation with a top local agent today!
Top ways to sell your home in Washington
Additional resources for Washington home sellers
Related links