Like all home improvements, repairing a fence before putting your home on the market could make a big impact on the eventual sale price. But it could also put you in a big hole, if you don't carefully weigh the costs and benefits.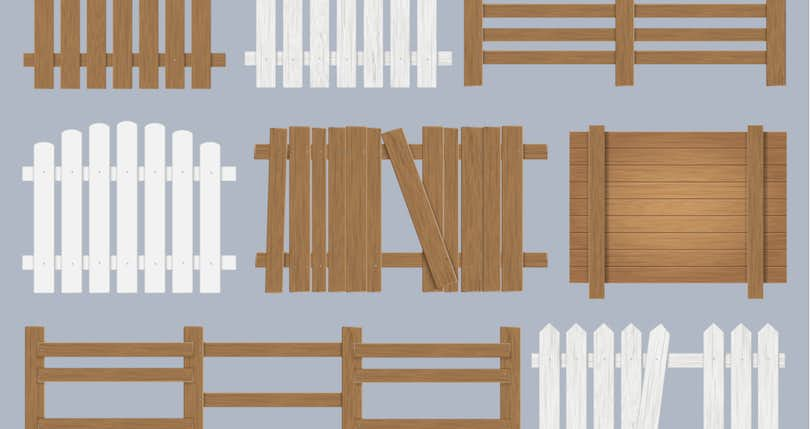 Preparing your home for sale is a lot like getting ready for a job interview. You're about to be evaluated by a bunch of strangers, you have one chance to make the best possible first impression, and your financial future hangs in the balance.
So much like the first thing you do before an interview is go get a fresh new hairstyle, the first thing you do before selling your house is to make sure it looks as nice and appealing as possible. This inevitably leads to the question of, what should you fix or upgrade, and what should you leave as-is?
Some calls are pretty easy to make. If your mailbox's paint is a little chipped, it's a no-brainer to slap a fresh coat on there. But what if it's something more expensive? What if the roof needs a major repair? Or what if the fence is falling apart?
That last question is a fairly common one for imminent home sellers. Your fence is not only a physical barrier safeguarding the integrity of your property, and therefore liable to pick up all sorts of dents, scrapes, and stains, but it's also out there, exposed to the elements, 24/7/365. So it's not surprising that fences tend to be in need of repair after a few years.
But whether you should fix it before you put your home on the market isn't an easy yes or no question. There are several factors to consider. Let's look at a few of them.
Where Is the Fence in Question?
You might look out your kitchen window every single day and see your pockmarked, faded backyard fence, but you'll be happy to hear that a fence in the rear of the house isn't nearly as bad for a potential home buyers as a fence in the front.
You've heard the term "curb appeal?" It's shorthand for how appealing your home is at the initial approach, which generally comes from the street. So if your fence is at the side or rear of your home, it might not be as pressing of an issue as you think.
However, if it's in front of the house, then yes, you should strongly consider repairing it.
How Bad Is It Really?
There are different degrees of disrepair. Does the fence need a new staining, or a coat of paint? Or does it have serious structural issues?
A general rule to follow in this area is the "30% Rule." If 30% or more of your fence is in disrepair, you should consider replacing the entire fence. If less than 30% is in bad shape, you could probably get by with small spot repairs.
What's the Rest of the House Like?
But wait: before you sink a lot of time and money into your fence, take stock of the rest of your property. Your fence is an important aspect of your home, but it's less urgent than some other aspects of the home.
How are the floors? How are the interior walls and light fixtures? Unless you're working with an unlimited budget, you should prioritize the interior of your home before your fence, especially the relatively inexpensive but impactful repairs you can make. For example, a fresh coat of neutral-colored paint on the walls of your home is one of the most inexpensive ways to make a big impact on the eventual sale price of your home. Same with refinishing floors, or replacing outdated light fixtures.
Don't get so fixated on your fence that you overlook these other, more impactful areas.
» MORE: Should you replace the roof before selling?
When In Doubt, Ask.
This is a two-pronged piece of advice. The first person you should ask about the fence is the prospective buyer, once you have one. One easy way to settle this issue is to agree on a fence credit, which is simply an amount of money that will be subtracted from the sale price of your home, and will be used by the buyer to install a new fence or repair an existing one. In this way, you can avoid the hassle of overseeing repairs or paying out of pocket for them, and the buyer gets a new fence.
If you don't have a buyer on the hook yet, you should take up the issue with your real estate agent. After all, the whole point of selling your home is to try and make the most money possible. So it doesn't make sense to spend, say, $3,000 on a new fence, if it's only going to raise the eventual sale price by $2,000.
Consult your real estate agent to gauge how much, exactly, a new fence might improve the asking price for your home, and compare it to the cost estimates you've acquired. If the numbers make sense, go ahead and call a contractor. But if they don't make sense, consider alternatives.
The best way to determine which home repairs will have the most value to buyers is always to consult with your agent. An experienced real estate agent will have an intimate knowledge of the local market, and will know exactly how much various repairs and renovations could add to your eventual sale price.
Clever Partner Agents are elite performers in their prospective markets, and can help with everything from home repair suggestions, to your state's unique disclosure requirements. Contact us today to set up a no-obligation consultation!
Related Articles
You May Also Like