Getting ready to sell your house in Oklahoma? Our in-depth guide breaks the entire process down into 8 simple steps. Learn how to find a great agent, price your home, negotiate with buyers, breeze through closing, and more!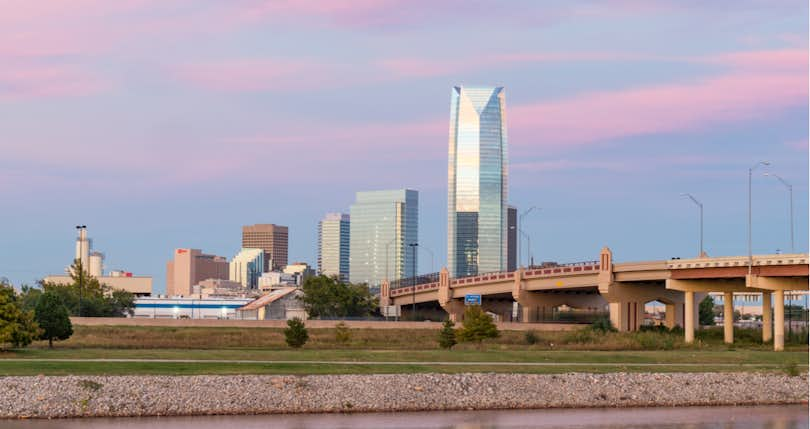 Now is a good time to be selling a house in Oklahoma! According to Zillow Research, property values in the Sooner State rose 4.44% in 2019, and are projected to rise a further 4.54% over the next year.
Of course, even the best Oklahoma properties will struggle to sell if you don't price the home properly, do a poor job of marketing it, or don't know how to handle the negotiations.
Read on to learn the eight steps to successfully selling your home in Oklahoma!
» MORE: Get a free, instant home value estimate now!
JUMP TO SECTION
1. Finding a Oklahoma realtor
Selling a home isn't easy. It's a high-stakes, complex transaction and requires a considerable amount of time and expertise to get a good outcome. If you're looking to sell your Oklahoma home for the best price — and minimize stress along the way — you need to find a top-rated real estate agent in your area.
The best Oklahoma listing agents know exactly what local buyers want and how to reach them. They'll offer expert advice, guidance, and support every step of the way, from the initial listing all the way through closing.
In fact, sellers who work with real estate agents net 33% more, on average, than those who list on their own. For a $127,440 home — the median home value in Oklahoma, according to Zillow — that's a premium of $42,055. In other words, hiring an agent is well worth the investment.
» FIND: Top Real Estate Agents in Oklahoma
2. Deciding when to sell
Home sales fluctuate throughout the year based on several factors. Although nothing is set in stone for the best time to sell a home, industry experts rely on recent trends and future expectations.
Some of the biggest drivers behind picking the right time to sell are lower interest rates, economic conditions, and local legislative changes. Traditionally, the largest number of new listings take place in the Spring, which is also when the competition is the fiercest.
Best time to sell a house across the U.S.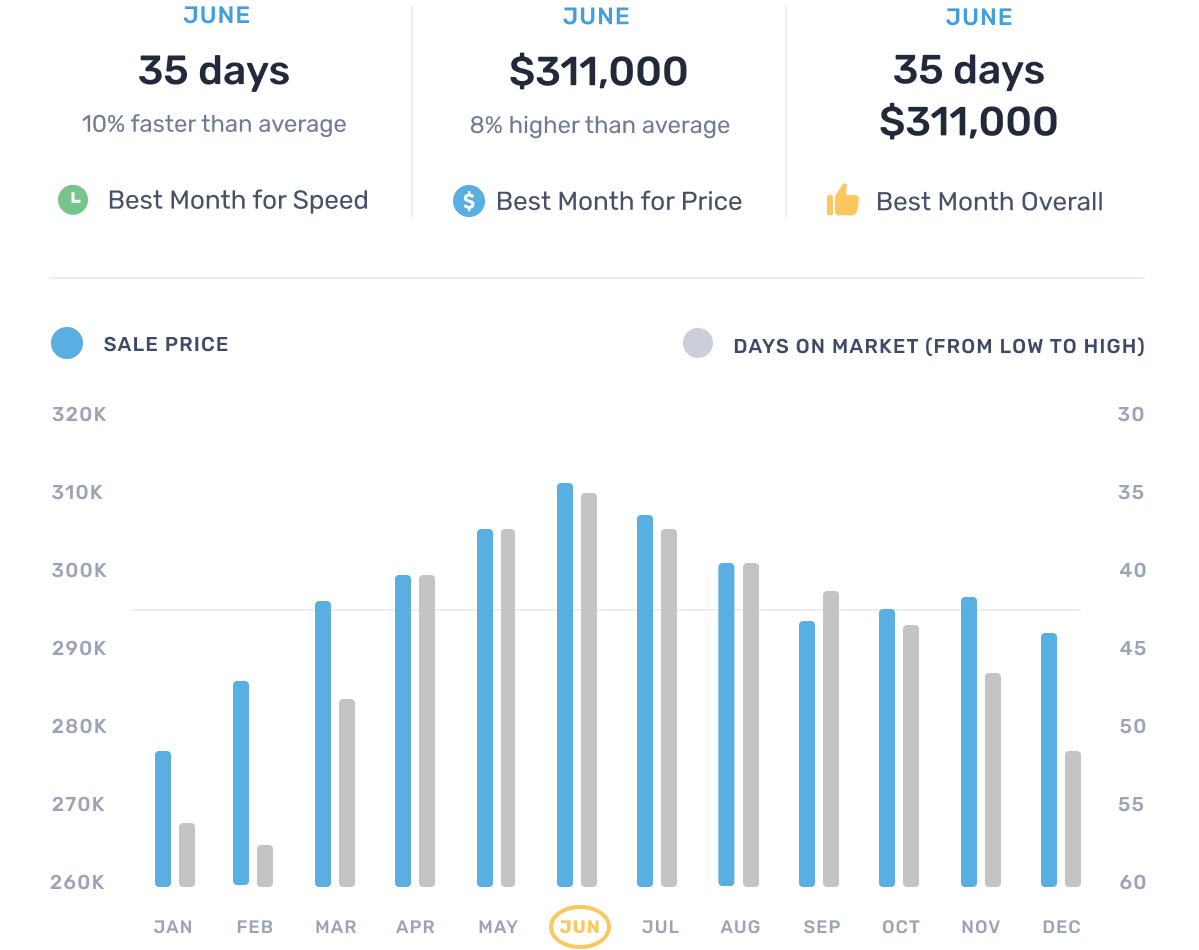 Source: 2019 Redfin Data Center
Best time to sell a house in Oklahoma
| | | | |
| --- | --- | --- | --- |
| Best Month to Sell for Speed in Oklahoma | June | 30 days on market | 14 days faster than average |
| Best Month to Sell for Price in Oklahoma | July & August | $169,000 median sale price | 4% more than average |
Oklahoma home values have increased 4.8% over the past year and the median home value is $125,800. And Zillow predicts values will rise 2.7% within the next year, all of which creates the ideal climate for selling your home.
Learn More: The Best Time to Sell a Home in Oklahoma
3. Pricing your home
Setting a competitive price for your home is key to reducing the number of days your home is on the market. You should base the price of your home on current market conditions and the recent performance of similar properties in the area. All the information you need to competitively list your home is included in a comparative market analysis (CMA). Clever Partner Agents provides this service for free.
Savvy home sellers use the CMA to review how much similar properties sold for, how long they were on the market, and to justify their asking price. The reports can vary from a 2-page simple report to a 50-page comprehensive guide. The size and complexity of the report is based on the agent's business practices.
Regardless of the length, the standard CMA reports generally include the following:
Active Listings are homes currently for sale. They are not indicative of true market value because sellers can ask anything for their home. The listings reveal your competition for buyers.
Pending Listings are formerly active listings currently under contract. Since they've not closed, they can't be considered a comparable sale. However, pending sales will show the direction the market is moving.
Sold Listings are homes that have closed in the past three months and are your comparable sales. We suggest you pay close attention to the comps because this is how market value is determined.
But if you're earlier in the process and just want a general idea of what your house is worth, a free online home value estimator is a great place to start. Enter your address below to see your estimated sale price, as well as useful local real estate market trends. Find out how much your house is worth now!
💰 How much is your home worth?
Discover the true value of your home with our Home Value Estimator!
Find My Home's Value
4. Preparing, marketing, and showing your home
Okay, so you've decided when to list your home, now what? Now it's time to get the house ready for sale. Now is a great time to give your house a good cleaning prior to listing. If you don't have the time for a deep cleaning, hiring a cleaning crew is a sound investment.
This is also a good time to consider upgrades and repairs. There's no reason to take on a major improvement project unless it's worth the investment. Generally, bathroom and kitchen upgrades will greatly enhance the home's value, however, we suggest consulting with your agent.
Proper staging can help your home sell faster, and may get you more money. Staging simply means presenting your home in a way that helps potential buyers picture themselves living there. So the goal of good staging is to appeal to them emotionally, and it's also important for attracting buyers through any online marketing efforts.
A good agent can assist with writing a great description, and maximize online visibility (social media, local MLS, and other realtor websites). Your agent will also recommend a photographer so you can get professional photos of your home. Aerial videos also help to solicit offers.
Learn More: The Best Paint Colors For Selling A House
5. Fielding offers and negotiations
In a competitive market, it is possible to receive several offers for your home. It may be tempting to accept the highest bid, however, it's a good idea to compare each aspect of those offers.
The process is simple. Just like the seller can counter an offer, the buyer is allowed to counter the counteroffer, and there is no limit to the number of times you can go back and forth.
Here's an example:
Let's say you list your house for $359,000 and it includes all the appliances and a home warranty. A buyer then submits an offer of $345,000. You counter back at $350,000 without a home warranty. The buyer then offers $355,000 and asks for you to pay some of their closing costs.
You can either agree to those terms, not respond, or submit another counter offer. At some point, the offer is accepted and both parties sign the purchase agreement.
The purchase agreement may also include contingencies. Like if the home appraises for less than the offer, the inspection is less than favorable, or the buyer is not approved for a mortgage, the agreement is void.
Learn More: Real Estate Counter Offer Etiquette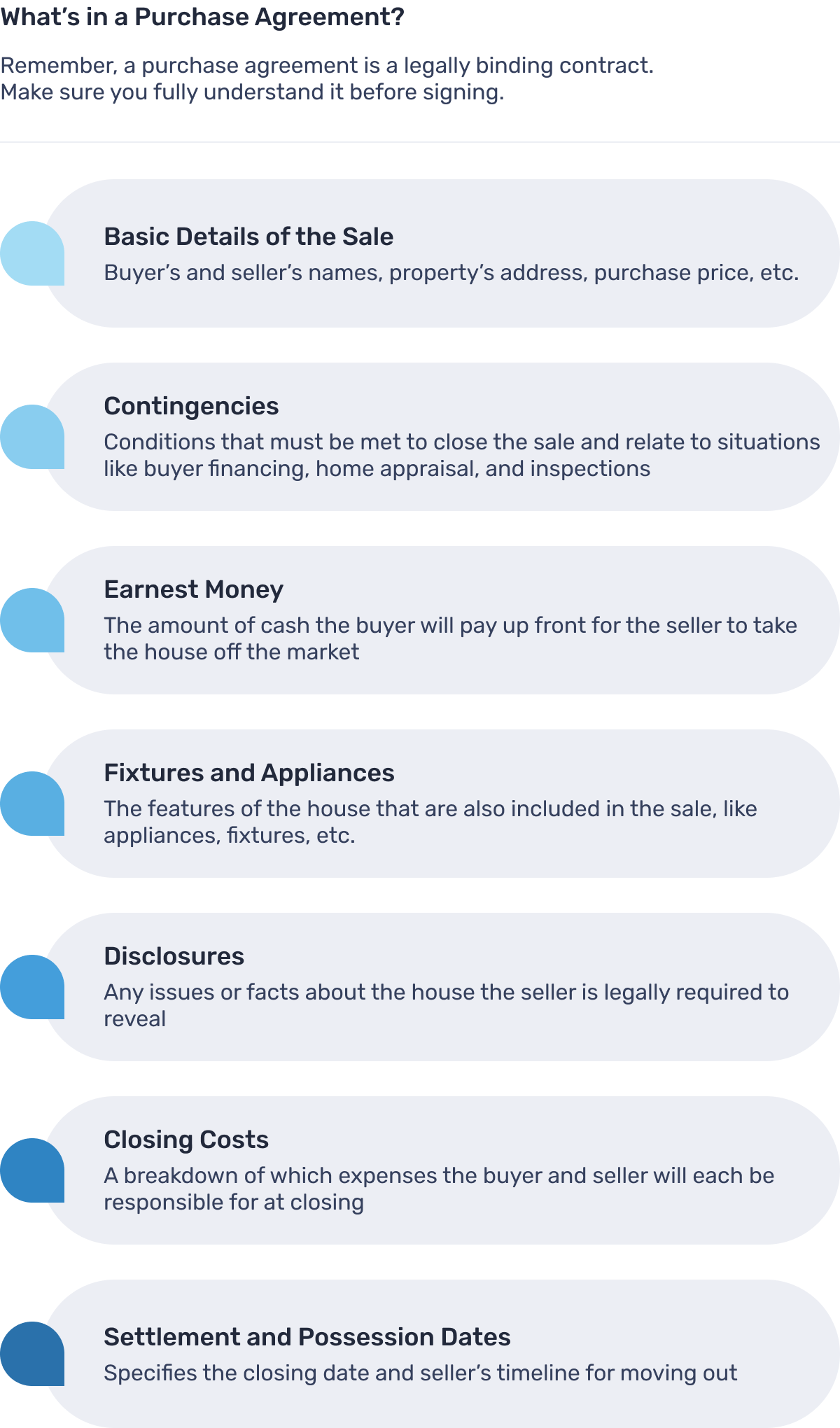 6. Appraisal and inspections
Appraisals are a critical part of the home buying process. It establishes the home's property value, and it's typically required by lenders. An appraisal is not the same as a home inspection so be careful not to confuse the appraisal with the CMA.
In Oklahoma, real estate agents include a repair cap, or a pre-set amount to cover the costs of potential repairs, in the contract. This is prior to the inspection. Some items an experienced real estate agent anticipate are a leaking shower pan or water in the crawl space.
If a repair is known to be needed, it can be added to the Additional Provisions section of the Oklahoma real estate contract and is not included in the amount requested for repairs. By the time the process reaches repair estimates and appraiser requirements, each party is invested in the transaction.
Learn More: Can the Seller Back Out of Contract Before Closing?
7. Paperwork and required Oklahoma disclosures
Oklahoma requires the seller to reveal certain details about the home to the buyer. The seller must disclose known defects, or any condition, problem, or malfunction that would have adversely affected the property value, or could potentially impair the health and safety of future occupants.
Your agent understands what needs to be shared with the seller. Such items include, but are not limited to:
Water and sewer systems
Structural systems, i.e. walls, roof, foundation, etc.
Plumbing, heating, air conditioning, and electrical
Also know, a lot of paperwork goes into selling a house. While it's good to be familiar with all the documents you might need to close on your home, always consult your agent or attorney before signing or filing paperwork.
A licensed professional should walk you through all the paperwork and ensure you have everything you need for your situation.
Forms and Documents for Selling a House in Oklahoma
Required for All Real Estate Sales in Oklahoma
2 Forms of ID
Copy of Purchase Agreement and Any Addendums
Closing Statement
Signed Deed
Bill of Sale
Affidavit of Title
Possible Additional Documents
Loan Payoff Information
HOA Forms and Guidelines
Survey Results or Survey Affidavits
Home Inspection Results
Proof of Repairs or Renovations
Home Warranty Information
Copies of Relevant Wills, Trusts, or Power of Attorney Letters
Relevant Affidavits (Name Affidavits, Non-Foreign Affidavit Under IRC 1445, etc.)
Closing Disclosure (for certain seller concessions)
Correction Statement and Agreement
Oklahoma Disclosure Forms
Flood Zone Statement
Lead-Based Paint Disclosure
*This disclaimer waives both parties' compliance with disclosures and can only be used if the seller can't disclose information for reasons like never having lived on the property
Learn More: Disclosure Requirements in Oklahoma
8. The closing process
The closing is when the property officially changes hands. In Oklahoma, the closing takes place at either the office of an attorney, lender, or title company where the buyer signs all documents related to their loan and the transaction.
An efficient and smooth home closing starts with a strategic to-do-list. Some things to keep in mind is canceling insurance policies and subscriptions, transfer utilities, and change your address.
A local Clever Partner Agent understands the market and is familiar with the Oklahoma real estate closing details. So list your home with a top-rated full-service agent for a flat fee of 1.5%.
Learn More: How Much Are Closing Costs for the Seller?
Next steps: Sell your Oklahoma home and save thousands
Whether you're looking to list your Oklahoma home immediately or 6-12 months from now, it's never too early to start looking for an agent, getting advice, and making a plan.
Clever is here to help guide you through the home selling process — and save money along the way!
💰 Get a lower rate with a top local agent!
Want to find a top local agent without overpaying on realtor fees? Clever negotiates 1.5% listing fees with top-rated realtors from trusted brokerages like Keller Williams, RE/MAX, and Berkshire Hathaway.
Get guaranteed full service for a fraction of the 3% rate agents typically charge. Schedule a free, no obligation consultation with a top local agent today!
Top ways to sell your home in Oklahoma
Additional resources for Oklahoma home sellers
Related links