Getting ready to sell your house in Kansas? Our in-depth guide breaks the entire process down into 8 simple steps. Learn how to find a great agent, price your home, negotiate with buyers, breeze through closing, and more!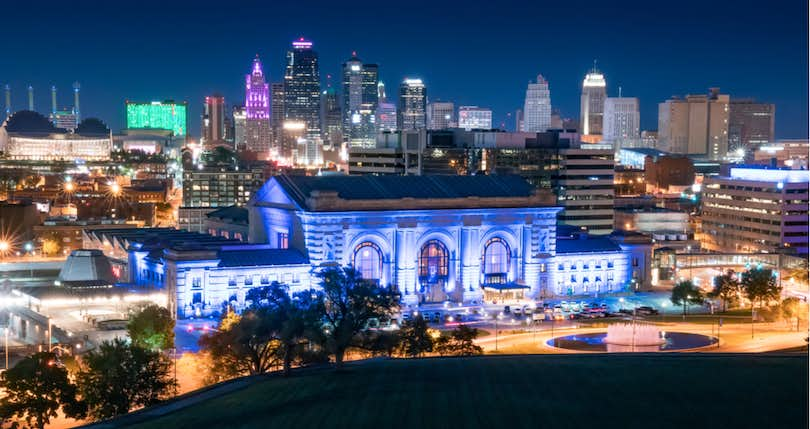 Now is a good time to be selling a house in Kansas! According to Zillow Research, property values in the Sunflower State rose 3.61% in 2019, and are projected to rise a further 3.85% over the next year.
Of course, even the best Kansas properties will struggle to sell if you don't price the home properly, do a poor job of marketing it, or don't know how to handle the negotiations.
Read on to learn the eight steps to successfully selling your home in Kansas!
» MORE: Get a free, instant home value estimate now!
JUMP TO SECTION
1. Finding a Kansas realtor
Selling a home isn't easy. It's a high-stakes, complex transaction and requires a considerable amount of time and expertise to get a good outcome. If you're looking to sell your Kansas home for the best price — and minimize stress along the way — you need to find a top-rated real estate agent in your area.
The best Kansas listing agents know exactly what local buyers want and how to reach them. They'll offer expert advice, guidance, and support every step of the way, from the initial listing all the way through closing.
In fact, sellers who work with real estate agents net 33% more, on average, than those who list on their own. For a $149,070 home — the median home value in Kansas, according to Zillow — that's a premium of $49,193. In other words, hiring an agent is well worth the investment.
2. Deciding when to sell
So at this point, you've decided how much you're going to ask for your home. The next step is to decide when you're going to list it.
Along with the price, the listing date is the other prime factor that determines whether your sale is quick and lucrative, or slow and marginally profitable. That's because the Kansas market, like every market, experiences seasonal fluctuations that can add or subtract weeks, or thousands of dollars, from your home's sale.
For example, in Wichita, houses sold an average of 11 days faster in the month of May. In March, homes took a little over eight days longer than the yearlong average to sell. That's a 19-day swing, all depending on when you list.
So is there some kind of objective, data-based tool, similar to a CMA, to determine when you should list your home? Unfortunately, no. Your best bet to hit that sweet spot would be to partner with a seasoned local agent, who'll be familiar with all the ebbs and flows of your market.
Best time to sell a house across the U.S.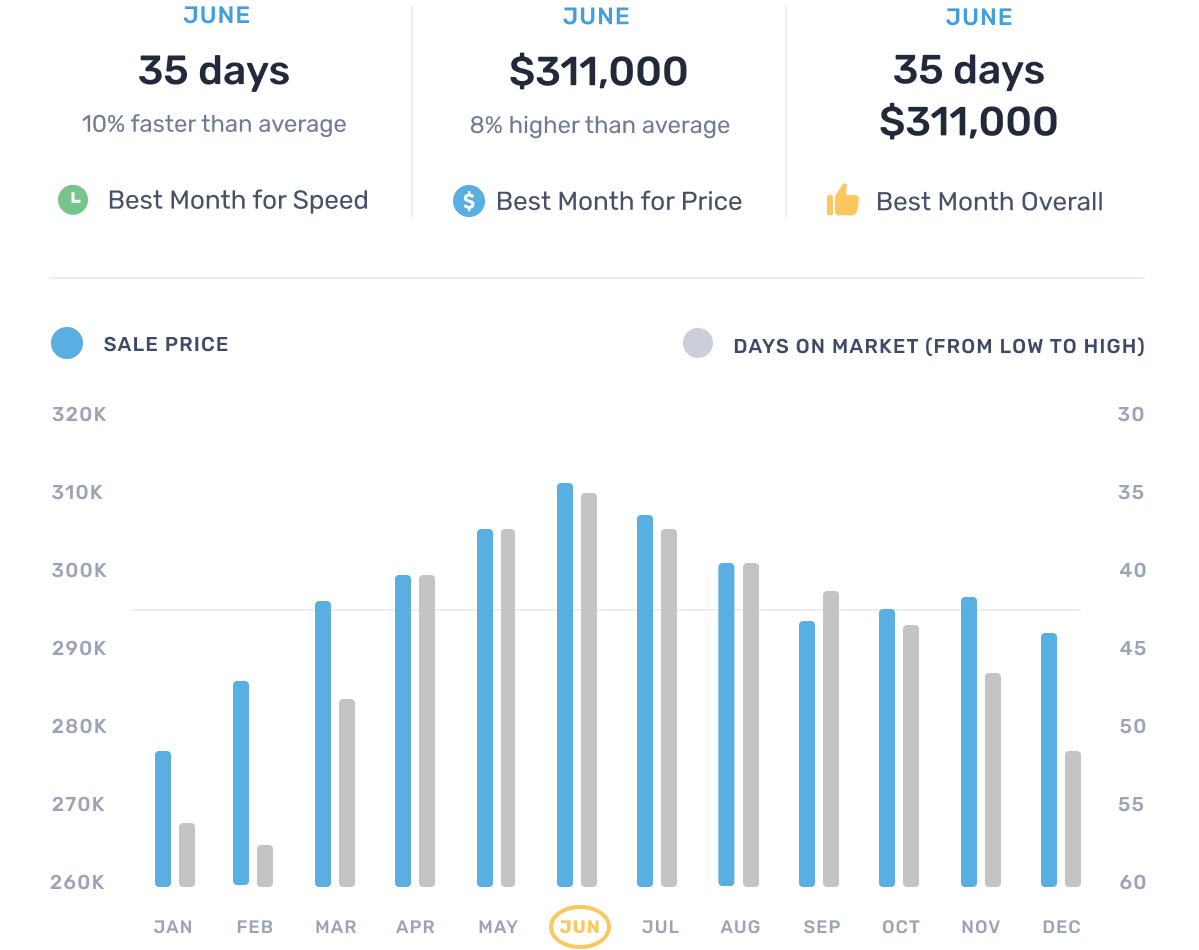 Source: 2019 Redfin Data Center
Best time to sell a house in Kansas
| | | | |
| --- | --- | --- | --- |
| Best Month to Sell for Speed in Kansas | May & June | 29 days on market | 7 days faster than average |
| Best Month to Sell for Price in Kansas | July | $259,000 median sale price | 5% more than average |
If you're shooting for the fastest sale possible, listing in May or June is your best option. Homes listed in these months spend 29 days on market — significantly quicker than the Kansas average of 36 days on market.
To get the highest sales price, put your house on the market in July. The median sale price of homes listed then is $259,000, which is around $11,800 more than average.
Learn More: The Best Time to Sell a Home in Kansas
3. Pricing your home
Since the odds of your home selling decrease the longer it's listed, it's more important than ever to come up with a realistic and competitive initial sale price.
How do you do that? Many people, when they sell their home, go with their gut when setting a price, or they simply price it high, assuming that an interested buyer will initiate a price negotiation. But a conspicuously high price can be off-putting to potential buyers, many of whom may find haggling intimidating or distasteful.
The best way to arrive at a competitive initial price is a comparative market analysis (CMA). A CMA uses existing data about recent sales to compare your home to similar properties in similar neighborhoods to come up with a solid, market-based price. The CMA takes guesswork and emotion out of the process to come up with an objective price supported by data.
Most agents can provide you with a CMA, though Clever Partner Agents will run a free CMA for you as part of their standard, full-service package.
But if you're earlier in the process and just want a general idea of what your house is worth, a free online home value estimator is a great place to start. Enter your address below to see your estimated sale price, as well as useful local real estate market trends. Find out how much your house is worth now!
💰 How much is your home worth?
Discover the true value of your home with our Home Value Estimator!
Find My Home's Value
4. Preparing, marketing, and showing your home
If you know how much you're going to ask, and when you're going to put your home on the market, the next step is to get your home ready for the critical gaze of potential buyers. Clear out clutter, put worn-out furniture into storage, and remove all heavy drapes and window treatments to make your home as bright and inviting as possible.
If your light fixtures and kitchen appliances are more than ten years old, you might want to consider updating. But don't do any work until you consult with your agent about how much renovations could add to your asking price; this late in the game, you don't want to spend more money than you're likely to get back.
Once your home's presentation has been polished, you'll want to get a professional real estate photographer to take photos. Your agent can likely recommend a good one. You'll also want to write a great listing description about your home. Think about what potential buyers are looking for, and how they might view your home. For example, Kansas is known for its great schools and low crime rate, so if your home is located in a family-friendly neighborhood, make sure you mention that in the description.
Open houses are a great tool to show off your home to potential buyers. Consult with your agent to decide if weekend or evening showings are more convenient for your home's target market. Also, consider using a lockbox to enable on-demand and after-hours showings; many buyers prefer to look at properties away from the weekend rush.
Learn More: The Best Paint Colors For Selling A House
5. Fielding offers and negotiations
When that first offer comes in, you'll feel a tremendous sense of gratification, but your work's not over. You now have to decide whether to accept the offer or submit a counteroffer. You generally have up to three days before the offer expires.
If the offer is completely unacceptable, you aren't obligated to respond at all, even to reject it.
If you're going to put together a counteroffer, keep in mind that you don't have to ask for more money. Sometimes it's easier to include less in the deal, for the same money: holding back, for example, the appliances, or eliminating a requirement to deal with termites or other problems.
You're on the home stretch. While these negotiations are happening, get your mandatory disclosures together so the final closing goes as smoothly as possible. At the same time, your agent will want to hash out all the fine print: the earnest money, the contingencies, the closing costs.
Once all the minutiae are settled, and the final price is agreed upon by both parties, it's time to put together the purchase agreement. To put it simply, the purchase agreement spells out the final conditions of the sale, from the exact price to all the contingencies. This is the document that, more than any other, defines your home sale.
Learn More: Real Estate Counter Offer Etiquette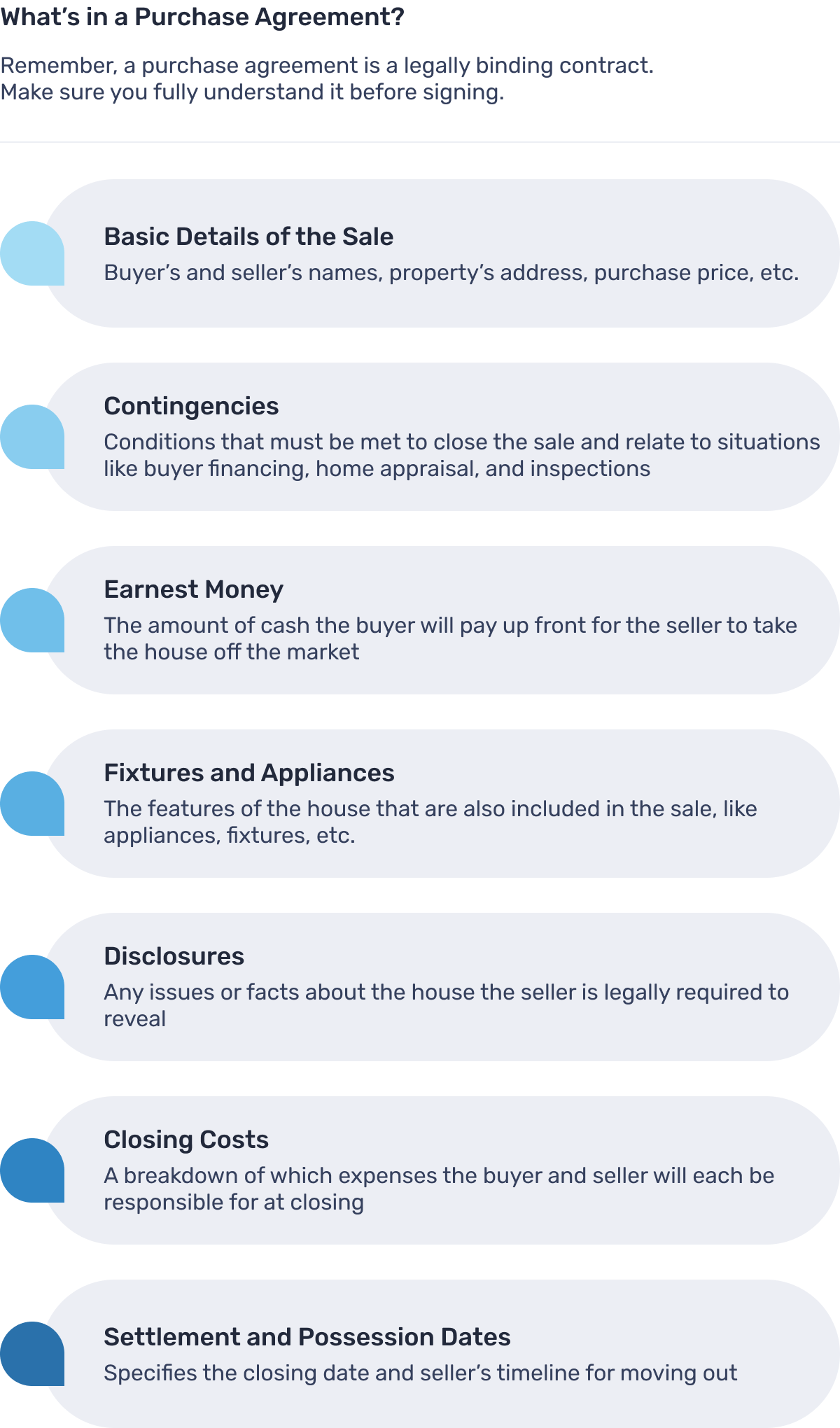 6. Appraisal and inspections
Now that the purchase agreement has been drawn up, your home will need to be appraised and inspected.
The appraisal is for the benefit of the lender. They'll want to make sure that the value of your home is equal to the loan they're extending to the buyer. If the appraisal comes in at less than the mortgage, the buyer's financing could be in danger. But as long as it comes in equal to or greater than the financing, there won't be any problems.
The inspection is just to make sure that there are no hidden problems with the home. Just as you wouldn't buy a car without kicking the tires, few buyers would buy a house without a very thorough inspection. A licensed state inspector will examine your home for contaminants like lead paint, radon gas, and asbestos. In Kansas, a termite inspection is also a high priority, because of the state's high incidence of these pests.
In the inspection report comes back clean, the sale will go forward. If problems are discovered, you'll have to re-engage in negotiations. It can be frustrating to have to make serious repairs on your home at this late stage in the game, but remember that if the sale falls through because of the inspection, you're legally required to give a copy of that same inspection report to the next buyer. It's probably easier to make the repairs now instead of trying to explain to a future buyer how a bad inspection tanked the entire sale.
Learn More: Can the Seller Back Out of Contract Before Closing?
7. Paperwork and required Kansas disclosures
Now it's time to cover your mandatory disclosures. Just keep in mind that if you fail to disclose any of these issues, you could be vulnerable to a lawsuit or worse down the line.
In Kansas, you have to disclose issues that relate to the following: environmental hazards, the property's physical condition, material defects, and material limitations on your ability to perform under the terms of the purchase contract.
You must also disclose the presence of radon gas, whether the property is subject to any special tax assessments, and how the buyer can find out if any individuals in the area have been convicted of sex crimes.
Kansas has a specific statute addressing "Deceptive Practices and Acts" regarding seller disclosures, so if you conceal any defects which are discovered later, you will likely have significant legal exposure.
Always consult your agent or attorney before signing or filing paperwork. A licensed professional should walk you through all the paperwork and ensure you have everything you need for your situation.
Forms and Documents for Selling a House in Kansas
Required for All Real Estate Sales in Kansas
2 Forms of ID
Copy of Purchase Agreement and Any Addendums
Closing Statement
Signed Deed
Bill of Sale
Affidavit of Title
Possible Additional Documents
Loan Payoff Information
HOA Forms and Guidelines
Survey Results or Survey Affidavits
Home Inspection Results
Proof of Repairs or Renovations
Home Warranty Information
Copies of Relevant Wills, Trusts, or Power of Attorney Letters
Relevant Affidavits (Name Affidavits, Non-Foreign Affidavit Under IRC 1445, etc.)
Closing Disclosure (for certain seller concessions)
Correction Statement and Agreement
Kansas Disclosure Forms
Seller Property Condition Disclosure Statement
Flood Zone Statement
Lead-Based Paint Disclosure
Learn More: Disclosure Requirements in Kansas
8. The closing process
So you've dealt with the pricing, listing, open houses, negotiations, inspections, and the disclosures. (Didn't we tell you this was going to be a long process?) Congratulations; all that's left is the closing!
In Kansas, the closing generally takes place across a table, usually at the office of an attorney or the lender. Prior to this, you'll want to do a final walkthrough, remove the last of your belongings from your home, and shut off all utilities.
At the actual closing, the buyer will be expected to bring a cashier's check for what they owe regarding the down payment and closing costs, and you and the buyer will sign all the closing documents. Then the attorney will record the transaction and deed with the appropriate municipality, and you'll hand over the keys to the buyer. At that point, your home is no longer yours; it's theirs.
Learn More: How Much Are Closing Costs for the Seller?
Next steps: Sell your Kansas home and save thousands
Whether you're looking to list your Kansas home immediately or 6-12 months from now, it's never too early to start looking for an agent, getting advice, and making a plan.
Clever is here to help guide you through the home selling process — and save money along the way!
💰 Get a lower rate with a top local agent!
Want to find a top local agent without overpaying on realtor fees? Clever negotiates 1.5% listing fees with top-rated realtors from trusted brokerages like Keller Williams, RE/MAX, and Berkshire Hathaway.
Get guaranteed full service for a fraction of the 3% rate agents typically charge. Schedule a free, no obligation consultation with a top local agent today!
Top ways to sell your home in Kansas
Additional resources for Kansas home sellers
Related links