Getting ready to sell your house in South Carolina? Our in-depth guide breaks the entire process down into 8 simple steps. Learn how to find a great agent, price your home, negotiate with buyers, breeze through closing, and more!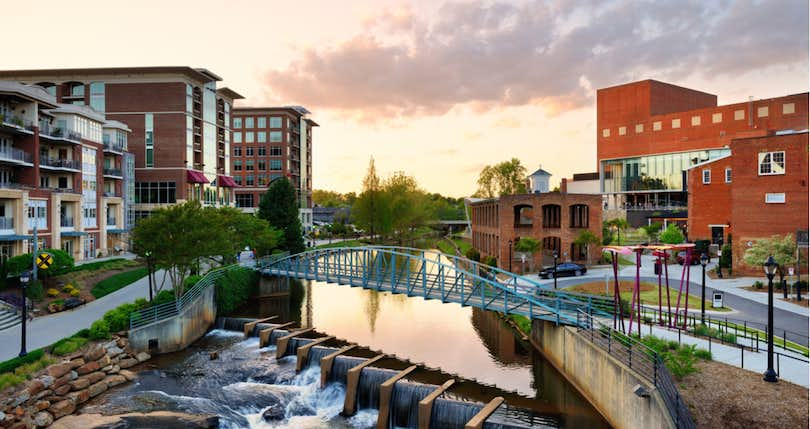 Now is a good time to be selling a house in South Carolina! According to Zillow Research, property values in the Palmetto State rose 3.66% in 2019, and are projected to rise a further 4.15% over the next year.
Of course, even the best South Carolina properties will struggle to sell if you don't price the home properly, do a poor job of marketing it, or don't know how to handle the negotiations.
Read on to learn the eight steps to successfully selling your home in South Carolina!
» MORE: Get a free, instant home value estimate now!
JUMP TO SECTION
1. Finding a South Carolina realtor
Selling a home isn't easy. It's a high-stakes, complex transaction and requires a considerable amount of time and expertise to get a good outcome. If you're looking to sell your South Carolina home for the best price — and minimize stress along the way — you need to find a top-rated real estate agent in your area.
The best South Carolina listing agents know exactly what local buyers want and how to reach them. They'll offer expert advice, guidance, and support every step of the way, from the initial listing all the way through closing.
In fact, sellers who work with real estate agents net 33% more, on average, than those who list on their own. For a $184,141 home — the median home value in South Carolina, according to Zillow — that's a premium of $60,767. In other words, hiring an agent is well worth the investment.
2. Deciding when to sell
One of the most important factors in getting the best price for your home is to time the market specific to your area. For South Carolina, this typically means selling in the spring or summer. April tends to be the hottest month for the South Carolina real estate market, with February and September seeing all-time lows in final prices for the state.
It's also important to take factors that tend to fluctuate, like the job market, pending tax decisions, and mortgage rates, into consideration. Property values have continued to rise in South Carolina, along with property taxes. While a time when property values are at their highest might seem like the best time to list your, take account of current property taxes and work with an agent to determine if this will deter buyers from entering the market.
Best time to sell a house across the U.S.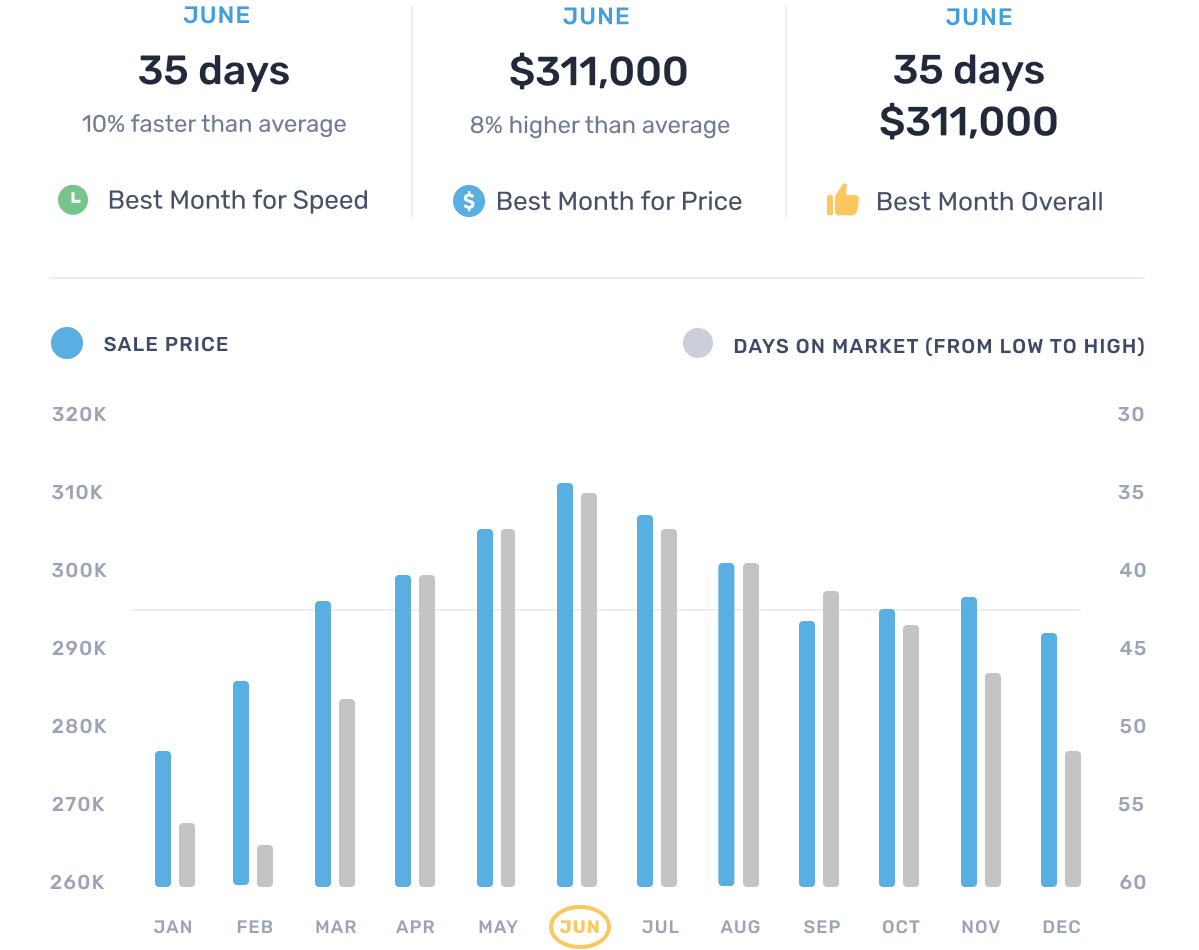 Source: 2019 Redfin Data Center
Best time to sell a house in South Carolina
| | | | |
| --- | --- | --- | --- |
| Best Month to Sell for Speed in South Carolina | May & June | 66 days on market | 10 days faster than average |
| Best Month to Sell for Price in South Carolina | June | $241,000 median sale price | 5% more than average |
If you're shooting for the fastest sale possible, listing in May or June is your best option. Homes listed in these months spend 66 days on market — significantly quicker than the South Carolina average of 76 days on market.
To get the highest sales price, put your house on the market in June. The median sale price of homes listed then is $241,000, which is $12,250 more than average.
Learn More: The Best Time to Sell a Home in South Carolina
3. Pricing your home
Setting a competitive price for your home based on your area is important for how long your home will stay on the market and how much it sells for. It's important to take current market conditions into consideration. For South Carolina, home values have continued to increase over the last several years and a real estate agent will be able to price your listing right with this in mind.
Your agent will also know which features, remodels, and upgrades are important to South Carolina buyers in your area so you can increase your sale for certain features, or make repairs to do so. Proximity to local attractions, like South Carolina's beaches and famous golf courses, could also come into play when pricing your home.
A real estate agent will be able to provide a comparative market analysis (CMA) to help you determine the best listing price for your home. This is a tool that will allow you and your agent to compare similar sold listings in your area to land on effectively price your home. This service is included for free when working with a Clever Partner Agent.
But if you're earlier in the process and just want a general idea of what your house is worth, a free online home value estimator is a great place to start. Enter your address below to see your estimated sale price, as well as useful local real estate market trends. Find out how much your house is worth now!
💰 How much is your home worth?
Discover the true value of your home with our Home Value Estimator!
Find My Home's Value
4. Preparing, marketing, and showing your home
Before listing, make repairs on any damages. Then, consider renovations that could have an impact on how quickly your home sells and the types of buyers it will attract.
With South Carolina comes southern hospitality, and that means entertaining. A kitchen remodel — or even an inexpensive kitchen update — could give your listing a huge lift because of this. Even buyers who don't like the cook are drawn to a great, up-to-date kitchen.
Outdoor areas for dining and entertaining are great features to attract buyers, as South Carolina is a warm state for most of the year. These updates are typically inexpensive to make and can increase the value of your home. Pools are popular in South Carolina and can bring in more buyers, so be sure to include several photos if you have a pool.
Also consider the climate when making renovations, as certain weather and storm-related updates could help buyers realize that your repairs will save them tons of money and headaches down the road. Top of the line, or updated, HVAC systems are also huge selling features in this hot, humid climate. Proper flood and hurricane protection in coastal areas of South Carolina consistently appeal to buyers.
Once you've updated your home, professional photos are important to include in your online listing. These photos could be the deciding factor on whether or not a buyer takes up an interest in your home. A real estate agent will have access to an MLS, which is by far the best way to get your listing out there and seen quickly.
A realtor's website and social media pages will also be important to local buyers. Social sites like Facebook and Instagram will allow your agent to reach a wider audience, with would-be buyers' friends tagging them in listings they might not otherwise see.
It's important to stage your home in a way that attracts buyers in your area so they can picture living there and what it might feel like. Staging your kitchen, bathroom, and bedrooms are among the top priorities here. A well-staged house will boost the effectiveness of your listing photos and your home houses.
Before finalizing your listing, consider other factors that could attract buyers to your home. Include proximity to nearby South Carolina attractions and access to community amenities like pools and clubhouses.
Once your home is updated and staged and your listing is live, the showings and open houses will begin. When it comes to an open house, a real estate agent will know how to get your home prepared and handle all of the hosting duties that come with a showing or open house event. This includes cleaning, perfecting the details like flowers, and getting food so buyers stick around longer to check out your home.
Private showings, however, will be one of the most important events for selling your home. This might seem overwhelming, but a real estate agent will be able to meet buyers quicker, and while you're at work, and manage scheduling multiple showings. A real estate agent can also work with you to set up a private lockbox with a key, so buyers can view your home quickly while you're away even if your agent isn't available.
Learn More: The Best Paint Colors For Selling A House
5. Fielding offers and negotiations
Before a buyer can make an offer in South Carolina, pre-approval from a lender needs to be acquired. The seller should respond to a buyer's offer with a counter offer within three business days.
Some sellers may wait to see if another buyer outbids the original offer. However, if the home has been on the market for more than 60 days, it would be wise for the seller to consider taking a good offer as it initially comes in.
Once an offer has been accepted, buyers may negotiate when it comes to closing costs, transfer taxes, inspection fees, and other fees associated with the close. A buyer might also negotiate other items, like timeframes for appraisals, approvals, inspections, and the amount of earnest money deposited.
In the state of South Carolina, it typically takes 30-45 days to finalize a sale and purchase agreement. This can be a stressful time for a seller, and working with an experienced real estate agent can help ensure the process goes smoothly.
Learn More: Real Estate Counter Offer Etiquette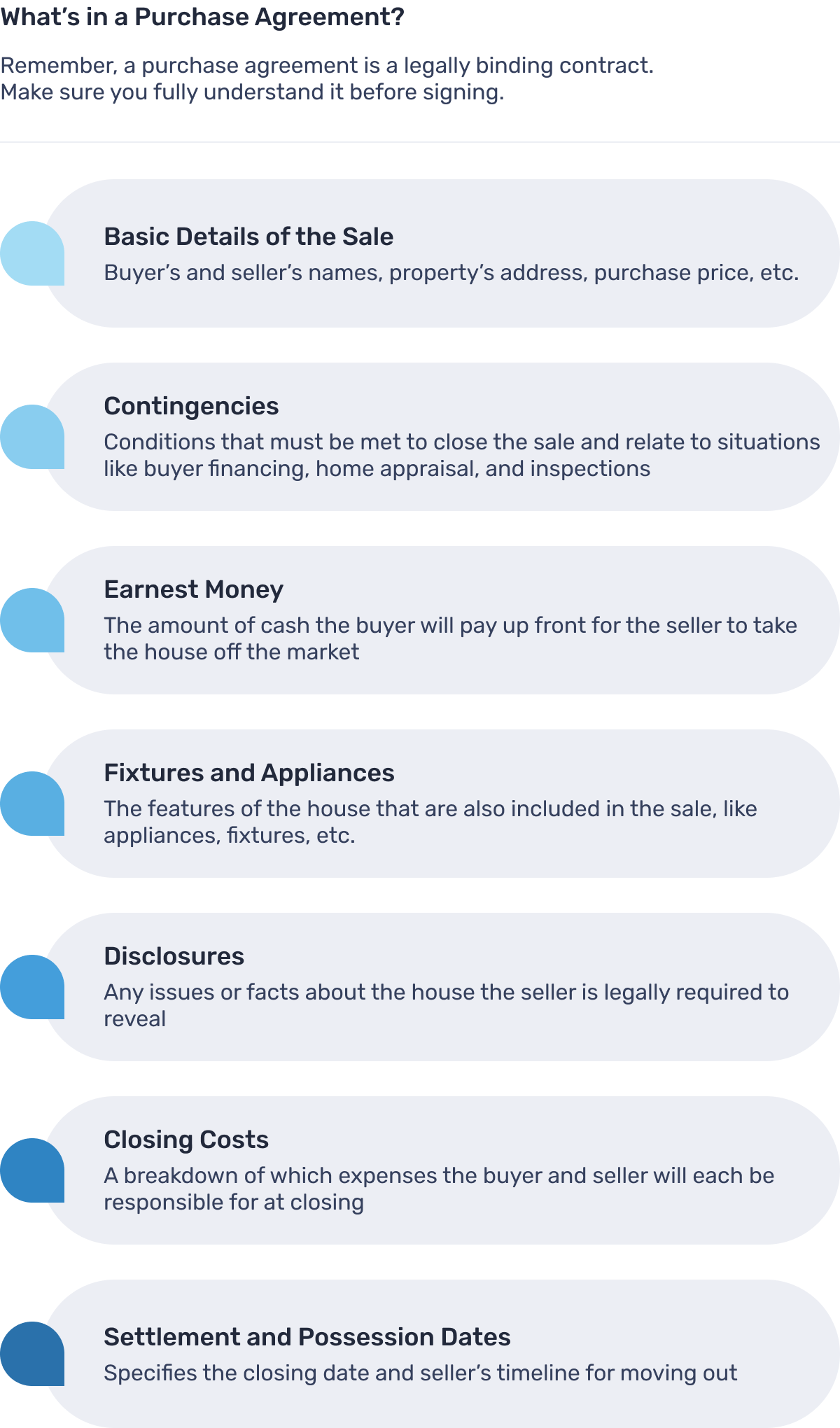 6. Appraisal and inspections
Before finalizing a purchase, both a home inspection and an appraisal done by a licensed South Carolina appraiser need to take place.
The buyer in South Carolina will pay for and arrange a home inspection before moving forward. If repairs need to be made following an inspection, you'll need to decide if you want to make the repairs or negotiate the cost of these repairs by lowering the final selling price. Typical repairs required after an inspection include structural defects, building code violations, and safety concerns.
An appraisal shouldn't be confused with a CMA. A CMA helps sellers understand what to price their home to sell based on other sale prices in the area for similar properties. An appraisal establishes the property's value and ensures the lender that the home will sell for, at a minimum, the amount of money that is being lent. In most cases, a seller can negotiate that the buyer pays the appraisal fees.
Learn More: Can the Seller Back Out of Contract Before Closing?
7. Paperwork and required South Carolina disclosures
The state of South Carolina requires that all sellers and brokers provide buyers with a disclosure statement before any contracts or paperwork can be signed. This is a document that shares any known defects or potential hazards with your home and the property it's on.
Defects like termite damage, water damage, damaged plumbing, and electrical systems, foundation problems, ceiling or flooring issues, broken appliances, and unpaid, are just some of the defects sellers must disclose in the state of South Carolina. Hazards such as methane gas, lead-based paint, asbestos, radon, or other toxic materials will need to be included in the disclosure statement. Knowledge of building codes, boundary disputes, or zoning laws must also be listed.
Seek advice from a real estate agent to make sure you include all disclosure requirements mandated by the state of South Carolina to avoid any legal ramifications or lawsuits. An agent will also help make sure you don't disclose anything unnecessary that won't harm the buyer, but could harm the listing.
Forms and Documents for Selling a House in South Carolina
Required for All Real Estate Sales in South Carolina
2 Forms of ID
Copy of Purchase Agreement and Any Addendums
Closing Statement
Signed Deed
Bill of Sale
Affidavit of Title
Possible Additional Documents
Loan Payoff Information
HOA Forms and Guidelines
Survey Results or Survey Affidavits
Home Inspection Results
Proof of Repairs or Renovations
Home Warranty Information
Copies of Relevant Wills, Trusts, or Power of Attorney Letters
Relevant Affidavits (Name Affidavits, Non-Foreign Affidavit Under IRC 1445, etc.)
Closing Disclosure (for certain seller concessions)
Correction Statement and Agreement
South Carolina Disclosure Forms
Flood Zone Statement
Lead-Based Paint Disclosure
Learn More: Disclosure Requirements in South Carolina
8. The closing process
When it comes time to wrap up a sale, your South Carolina real estate agent will make sure you have everything taken care of. Before sitting down at the table to finalize the close, the buyer will need to obtain all banking documents and inspection reports, and the seller will need to bring homeowner documents, loan insurance paperwork, and information about the remaining mortgage that needs to be paid off. A buyer should also get a good understanding of the closing costs associated with the sale at this time, as the buyer pays these fees in South Carolina.
A broker will examine the property title, help the seller apply for title insurance, and draw up the paperwork for closing day. On closing day, the seller, buyer, and broker will all meet. As a group, everyone will review the legal documents, sign them, and after a few signatures, the buyer will receive the keys. A real estate agent can help the buyer and seller make sure all transaction documents are filed to the appropriate public records per South Carolina law.
Learn More: How Much Are Closing Costs for the Seller?
Next steps: Sell your South Carolina home and save thousands
Whether you're looking to list your South Carolina home immediately or 6-12 months from now, it's never too early to start looking for an agent, getting advice, and making a plan.
Clever is here to help guide you through the home selling process — and save money along the way!
💰 Get a lower rate with a top local agent!
Want to find a top local agent without overpaying on realtor fees? Clever negotiates 1.5% listing fees with top-rated realtors from trusted brokerages like Keller Williams, RE/MAX, and Berkshire Hathaway.
Get guaranteed full service for a fraction of the 3% rate agents typically charge. Schedule a free, no obligation consultation with a top local agent today!
Top ways to sell your home in South Carolina
Additional resources for South Carolina home sellers
Related Articles