Getting ready to sell your house in Pennsylvania? Our in-depth guide breaks the entire process down into 8 simple steps. Learn how to find a great agent, price your home, negotiate with buyers, breeze through closing, and more!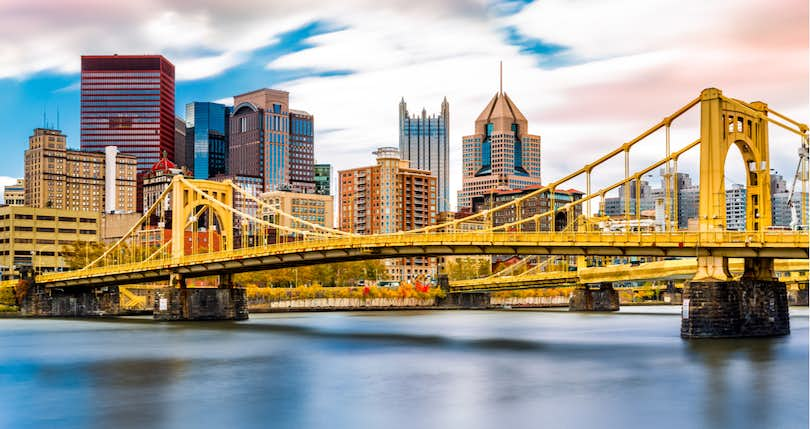 Now is a good time to be selling a house in Pennsylvania! According to Zillow Research, property values in the Keystone State rose 3.66% in 2019, and are projected to rise a further 3.84% over the next year.
Of course, even the best Pennsylvania properties will struggle to sell if you don't price the home properly, do a poor job of marketing it, or don't know how to handle the negotiations.
Read on to learn the eight steps to successfully selling your home in Pennsylvania!
» MORE: Get a free, instant home value estimate now!
JUMP TO SECTION
1. Finding a Pennsylvania realtor
Selling a home isn't easy. It's a high-stakes, complex transaction and requires a considerable amount of time and expertise to get a good outcome. If you're looking to sell your Pennsylvania home for the best price — and minimize stress along the way — you need to find a top-rated real estate agent in your area.
The best Pennsylvania listing agents know exactly what local buyers want and how to reach them. They'll offer expert advice, guidance, and support every step of the way, from the initial listing all the way through closing.
In fact, sellers who work with real estate agents net 33% more, on average, than those who list on their own. For a $191,689 home — the median home value in Pennsylvania, according to Zillow — that's a premium of $63,257. In other words, hiring an agent is well worth the investment.
2. Deciding when to sell
Timing is everything in the real estate industry. However, choosing the optimal time for your sale is dependent upon your goal. Are you looking to sell quickly? Or is it more important to sell as close to asking price as possible?
In a fickle market, an experienced local real estate agent greatly increases your odds of finding the perfect time to list your house.
Best time to sell a house across the U.S.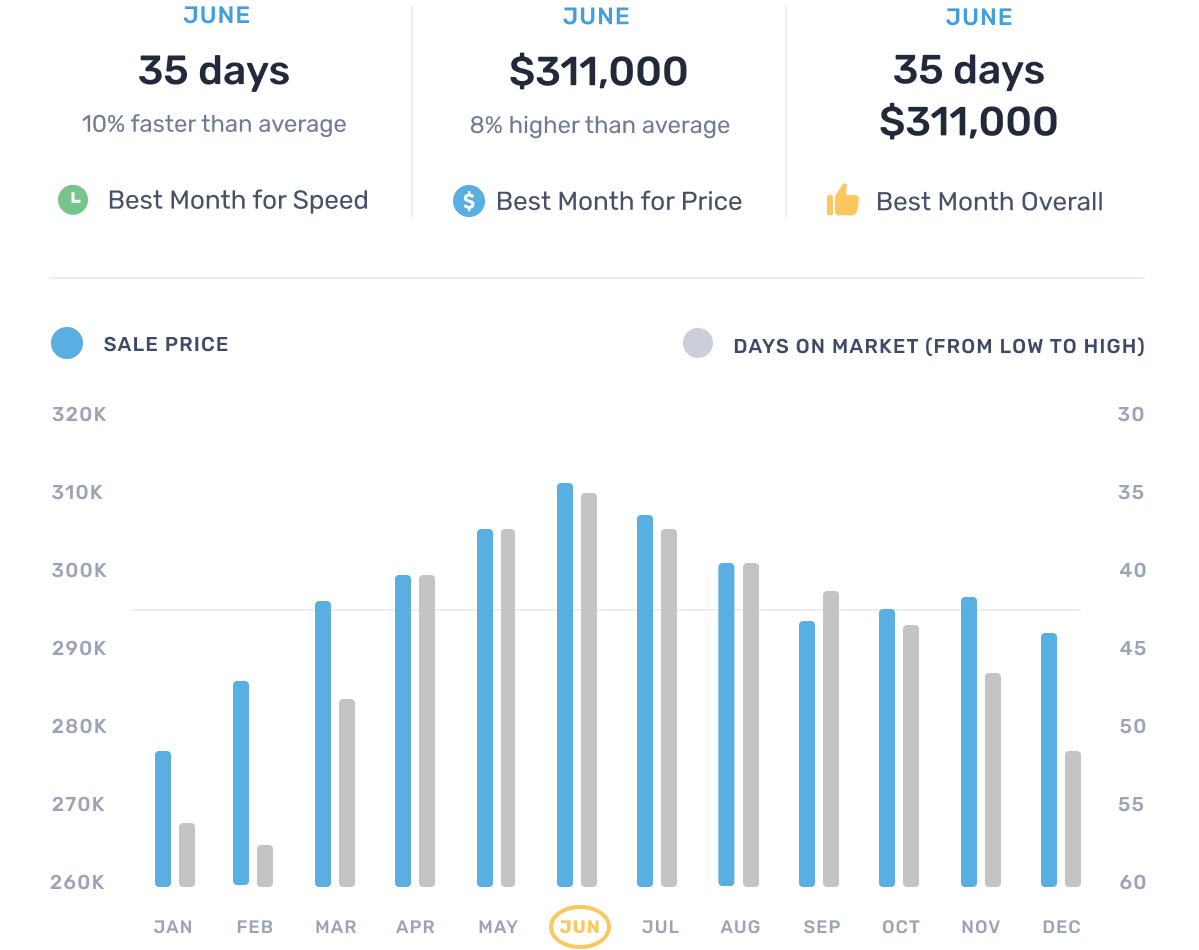 Source: 2019 Redfin Data Center
Best time to sell a house in Pennsylvania for speed
| | | | |
| --- | --- | --- | --- |
| Best Month to Sell for Speed in Pennsylvania | November | 36 days on market | 14 days faster than average |
Change is constant — especially in real estate. In Pennsylvania, depending on the season, there's a large variation in how long it takes to sell a home.
On average, Pennsylvania homes spend a median of 50 days on the market. "Days on Market" is the time it takes from a home being listed to accepting an offer.
But since Pennsylvania is currently in a seller's market, meaning there's a greater demand for homes than there is supply, it's definitely possible to beat the average.
In fact, homes listed in November take just 36 days to be sold. Overall Fall is a promising time to list your house in Pennsylvania. During this time, homes are on the market for a median of 38 days.
Best time to sell a house in Pennsylvania for price
| | | | |
| --- | --- | --- | --- |
| Best Month to Sell for Price in Pennsylvania | July | $225,000 median sale price | 8% more than average |
Pennsylvania's weather can range from mild summers to harsh winters with freezing temps and poor road conditions, which might explain November's short time-to-sell. Sellers know winter is coming and are more inclined to accept an offer instead of trying to sell in the winter. So, while homes listed in November sell the fastest, they aren't the most profitable.
Listings in July, however, have a median sale price of $225,000, making July the most profitable month to list.
Learn More: The Best Time to Sell a Home in Pennsylvania
3. Pricing your home
Pricing is one of the most complex factors when it comes to selling your house. On one hand, you need to ensure the final price doesn't fall below your needs or the house's value during closing. At the same time, though, a lofty initial price could leave your home sitting on the market for months — even years.
Ensure a competitive price is set from the start by staying updated on the market in your Pennsylvania neighborhood. Consider starting prices, often prices are dropped, and how long it takes for homes in different price ranges to be taken off the market.
Your real estate agent can help you with your research by performing a comparative market analysis (CMA) report. A CMA is a process of comparing your home to others that recently sold and are of similar size, age, and location, to calculate an accurate value.
CMAs take the number of bedrooms and bathrooms, the square footage of your home, upgrades and renovations, and even more unique details into account.
But if you're earlier in the process and just want a general idea of what your house is worth, a free online home value estimator is a great place to start. Enter your address below to see your estimated sale price, as well as useful local real estate market trends. Find out how much your house is worth now!
💰 How much is your home worth?
Discover the true value of your home with our Home Value Estimator!
Find My Home's Value
4. Preparing, marketing, and showing your home
Writing a description is the first step to listing a house, but it isn't the only critical factor that will draw positive attention to your home. You need to take steps to ensure as many buyers as possible see your listing — and that they like what they see.
Home Staging Works
According to the National Association of Realtors (NAR), staging your home puts more money in your pocket and assists in selling your home faster. In NAR's study, 31% of buyer's agents said effectively staging homes increases the price of a home by 1% to 5%. In addition, nearly two-thirds of listing agents said staged homes spent less time on market.
Focus on showing buyers the layout of your house and its potential. Help them picture their own couch sitting in the living room or imagine their family laughing around the dining room table.
First, declutter every room to remove unnecessary distractions. As you declutter and begin moving furniture for staging, look for small places you can make upgrades.
Touch up the paint around the trim you were hiding behind the couch or replace the pulls on your kitchen cabinets that went out of style 10 years ago. These are small and inexpensive changes but will make your home even more radiant for potential buyers.
Learn more: 7 Tips for Staging Your House Like a Pro
Craft an Appealing (and Accurate) Listing Description
Your list description is one of the first things potential buyers see. Aside from the image, this is what will either entice them to book a showing or move onto the next listing.
Remember, everyone is always short on time and likely reading from a mobile device. Start with a succinct lead-in that highlights your home's unique features but doesn't require a lot of scrolling.
Then, go into more detail with the listing description. This is where you'll share the home's main features, such as beds, baths, square footage, lot size, location, and more. Be honest and accurate through the description to prevent potential buyers from being disappointed or feeling lied to during showings.
Learn more: 4 Things Every Great Real Estate Listing Description Must Have
Market Your Home
Effective marketing of your home is just as important as repairs and renovations. The way you present your home on the web will determine the number of interested, serious buyers you gain.
Don't neglect the details on this step. Invest in professional photos of your home to market it on local listing sites, social media, and your realtor's website.
After you commit to making your listing live, it's time to get to work. Have your agent add your listing to the local MLS, share it on social media (enlist your friends' and families' help), and other listing portals and realtor websites. Don't forget, your real estate agent is there for constant support and suggestions.
Showings and Open Houses
Consider potential buyers as guests in your home during private showings. Make them feel welcome by offering a clean and well-lit atmosphere.
Open houses are also beneficial for generating buyer interest. Host open houses for a minimum of two hours on Sunday afternoons to fit into the maximum number of people's schedules. And pay attention to the weather forecast. More buyer leads will come out to view your home when the weather is sunny and pleasant, and you don't want to be caught without enough handouts for everyone.
Learn More: Real Estate Open Houses: Do They Sell Homes Faster?
5. Fielding offers and negotiations
Receiving offers is an exciting time. But you're not finished with the selling process yet. After an offer is submitted, you can present a counteroffer if your expectations aren't met. In Pennsylvania, you have 72 hours to respond to an offer.
You and the buyer can counter as many times as needed until an agreement is made -- or one party ends negotiations and leaves the table. Once you're satisfied with the presented offer, you can authorize your agent to accept the offer.
Once there's an offer and acceptance, purchase agreements are processed. Your purchase agreement includes disclosures, the agreed price, and any other conditions both parties agreed to.
Learn More: Real Estate Counter Offer Etiquette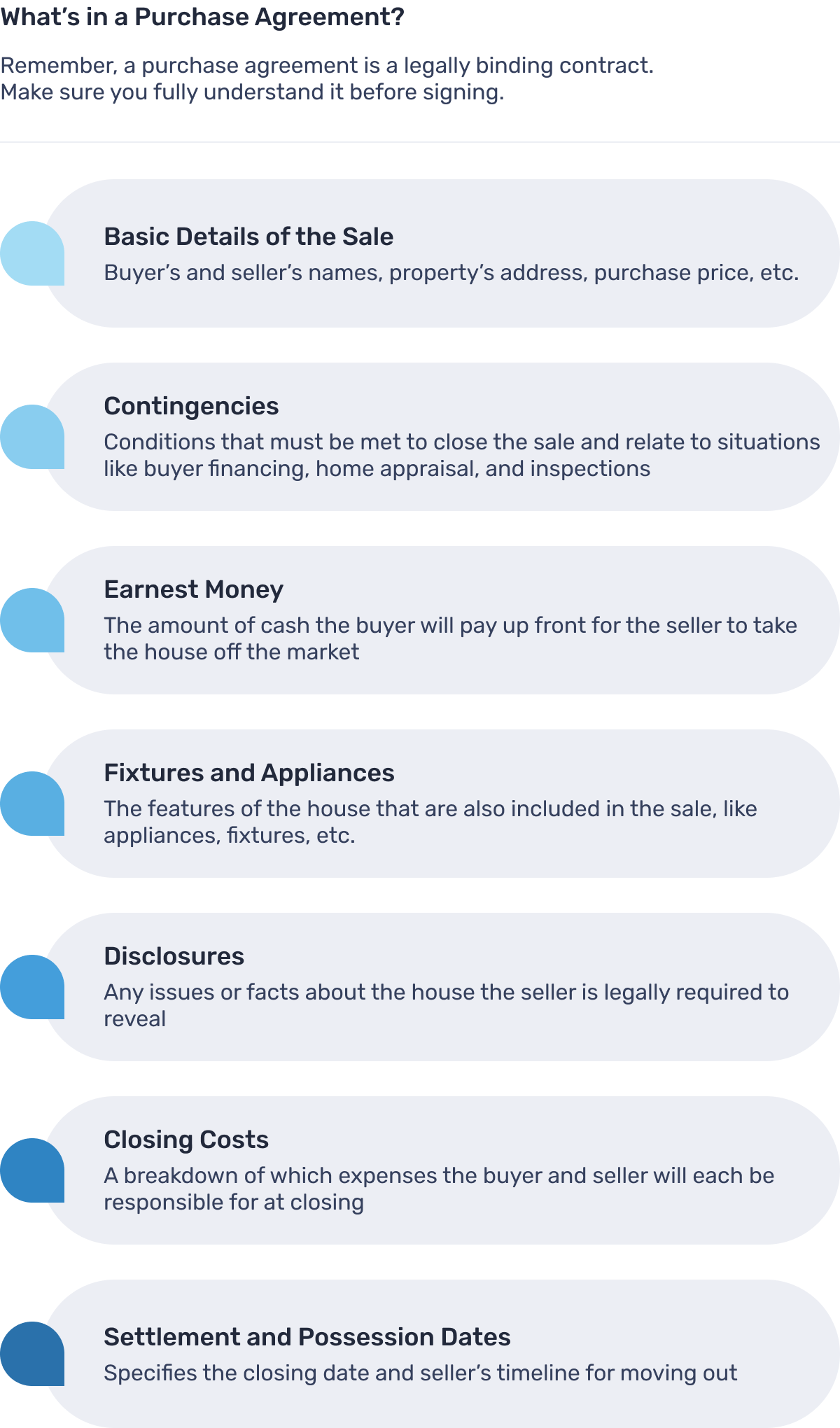 6. Appraisal and inspections
Appraisals, home inspections, and further negotiations occur once you've entered into a purchase agreement. Real estate appraisals are reports composed by licensed appraisers that determine the value of the home.
The appraisal is the only report lenders use to decide whether or not to lend buyers money. If the appraisal comes back lower than the sales price, the buyer's lender will not approve the mortgage.
Home inspections are an added step completely separate from your disclosure statement. Depending on what the inspection reveals, buyers may ask for help from sellers with closing costs, a decrease in the sale price, repairs to be made, or, if the problems are severe, they could exit the agreement if there was a relevant contingency in the agreement.
In Pennsylvania, a common issue discovered during home inspections is termite damage. Termite Infestation Probability Zones (TIP Zones) reports Pennsylvania as a TIP Zone 2 (moderate to heavy). If you see any potential damage before inspection, call a professional exterminator to assess the damage and infestation.
Learn More: Can the Seller Back Out of Contract Before Closing?
7. Paperwork and required Pennsylvania disclosures
Pennsylvania law requires sellers to disclose any known material defects to their property before closing.
Known material defects include those that are not readily observable, including:
The home's structure, including the roof, basement, foundation, and walls.
If the house has been treated for termites and other pests.
If the house has had water or sewage problems.
If the house has been remodeled.
Whether the plumbing, electrical, heating and air conditioning systems are in good, working order.
Accurate disclosures are critical for a quick and smooth sales process. Seek advice from your real estate agent on what you need to disclose and what is required by Pennsylvania law.
Learn More: Disclosure Requirements in Pennsylvania
Forms and Documents for Selling a House in Pennsylvania
Required for All Real Estate Sales in Pennsylvania
2 Forms of ID
Copy of Purchase Agreement and Any Addendums
Closing Statement
Signed Deed
Bill of Sale
Affidavit of Title
Possible Additional Documents
Loan Payoff Information
HOA Forms and Guidelines
Survey Results or Survey Affidavits
Home Inspection Results
Proof of Repairs or Renovations
Home Warranty Information
Copies of Relevant Wills, Trusts, or Power of Attorney Letters
Relevant Affidavits (Name Affidavits, Non-Foreign Affidavit Under IRC 1445, etc.)
Closing Disclosure (for certain seller concessions)
Correction Statement and Agreement
Pennsylvania Disclosure Forms
Seller's Property Disclosure Statement
Flood Zone Statement
Lead-Based Paint Disclosure
8. The closing process
The closing process ranges from a couple of days to a week. At the time of closing, it's typical for sellers, buyers, and an attorney or title company representative to gather around a table and sign all sales documents.
Deals closing in Pennsylvania, an escrow state, consist of several steps. Buyers first have their lender send final loan documents to escrow agents. Then, the final closing date is scheduled where you'll be the first to sign your closing documents. Next up is the buyer who signs all final loan documents and pays the remaining closing costs.
Now, finally, the deed is recorded with the municipality and the transaction is complete. You hand your keys over to the buyer and it's officially their property.
How much are closing costs for Pennsylvania home sellers?
Selling a house has many associated costs. Beyond repairs, renovations, and staging costs, you'll also pay commission, taxes, and closing costs. A total of 6% commission is split between the seller's agent and buyer's agent, giving each 3%. However, the seller pays the entire 6%.
It's also important to understand that selling your home is considered capital gain. As a result, you could be taxed on what you've earned. However, after living in your home for five years, you can have a tax-free profit of up to $250,000 (or $500,000 if you're married filing jointly).
In Pennsylvania, both buyers and sellers also pay transfer taxes of 1%, which go to the state and municipality. Other local government and school district taxes vary by location. Your real estate agent is the best source to estimate the taxes you can expect.
In general, sellers closing costs range from 2% to 4% of the total sale price.
Learn More: How Much Are Seller Closing Costs in Pennsylvania
Next steps: Sell your Pennsylvania home and save thousands
Whether you're looking to list your Pennsylvania home immediately or 6-12 months from now, it's never too early to start looking for an agent, getting advice, and making a plan.
Clever is here to help guide you through the home selling process — and save money along the way!
💰 Get a lower rate with a top local agent!
Want to find a top local agent without overpaying on realtor fees? Clever negotiates 1.5% listing fees with top-rated realtors from trusted brokerages like Keller Williams, RE/MAX, and Berkshire Hathaway.
Get guaranteed full service for a fraction of the 3% rate agents typically charge. Schedule a free, no obligation consultation with a top local agent today!
Top ways to sell your home in Pennsylvania
Additional resources for Pennsylvania home sellers
Related links