Getting ready to sell your house in Missouri? Our in-depth guide breaks the entire process down into 8 simple steps. Learn how to find a great agent, price your home, negotiate with buyers, breeze through closing, and more!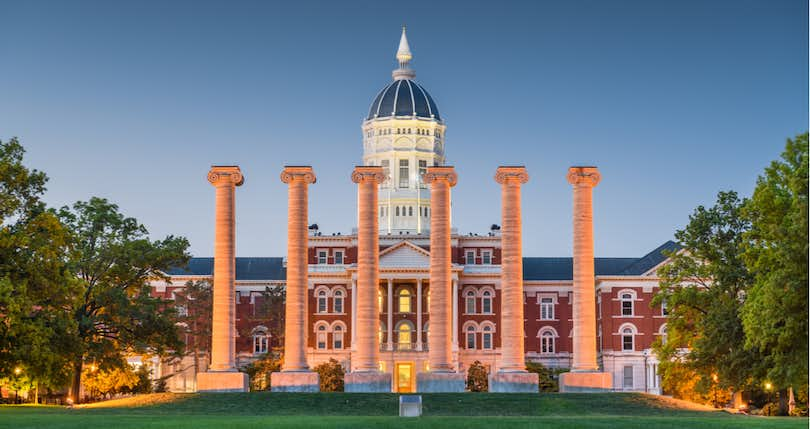 Now is a good time to be selling a house in Missouri! According to Zillow Research, property values in the Show Me State rose 3.73% in 2019, and are projected to rise a further 4.17% over the next year.
Of course, even the best Missouri properties will struggle to sell if you don't price the home properly, do a poor job of marketing it, or don't know how to handle the negotiations.
Read on to learn the eight steps to successfully selling your home in Missouri!
» MORE: Get a free, instant home value estimate now!
JUMP TO SECTION
1. Finding a Missouri realtor
Selling a home isn't easy. It's a high-stakes, complex transaction and requires a considerable amount of time and expertise to get a good outcome. If you're looking to sell your Missouri home for the best price — and minimize stress along the way — you need to find a top-rated real estate agent in your area.
The best Missouri listing agents know exactly what local buyers want and how to reach them. They'll offer expert advice, guidance, and support every step of the way, from the initial listing all the way through closing.
In fact, sellers who work with real estate agents net 33% more, on average, than those who list on their own. For a $160,817 home — the median home value in Missouri, according to Zillow — that's a premium of $53,070. In other words, hiring an agent is well worth the investment.
2. Deciding when to sell
The value of your home is literally dependent on one thing, how much buyers will pay for it. However, there are a number of factors that affect their willingness to buy. These include the time of year, the political climate in the area, economic outlook, the availability of jobs, school quality, and more.
For example, the real estate market in St. Louis is pretty hot right now. More people are moving the area causing more demand for housing which in turn causes prices to rise. Additionally, prices have been steadily rising for the last five years so buyers are looking to buy before they go up any further.
Best time to sell a house across the U.S.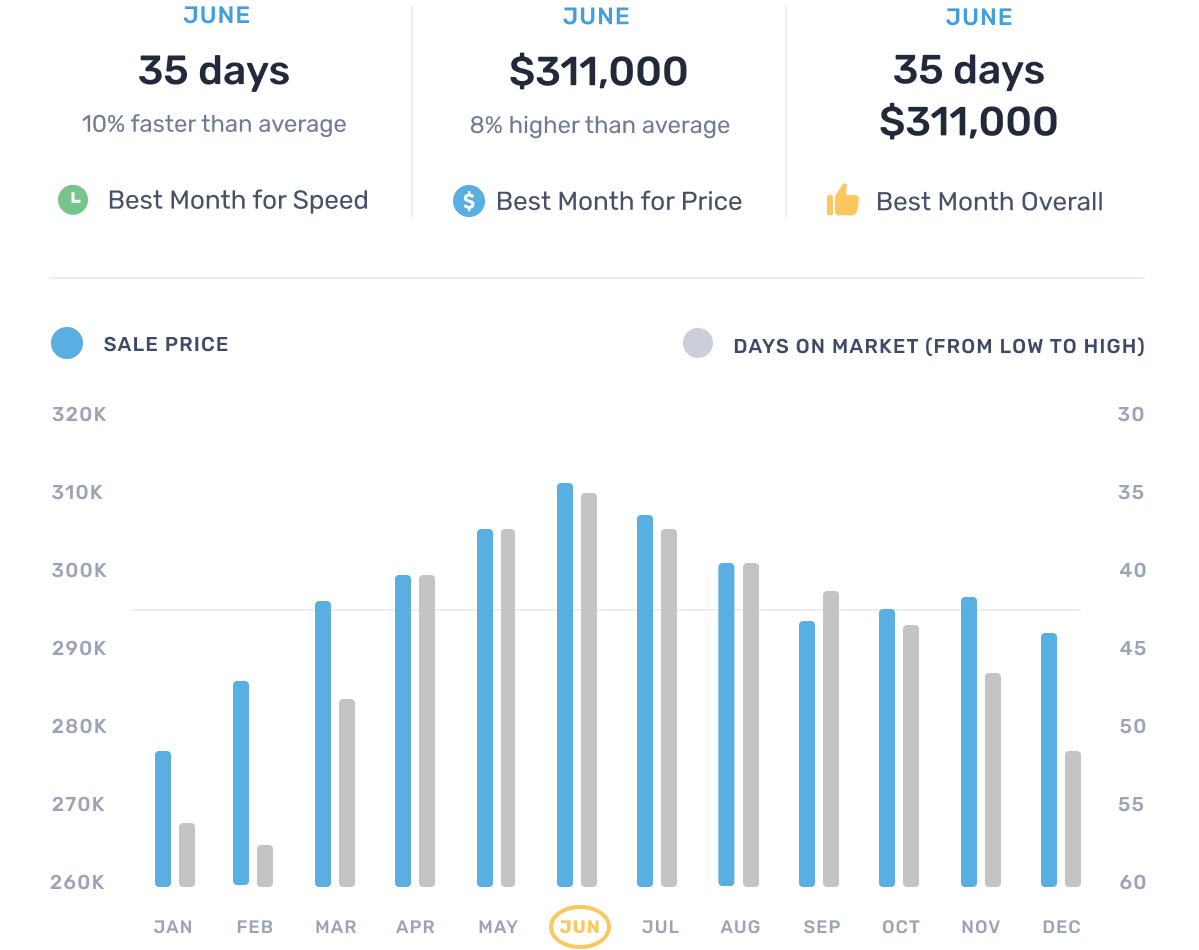 Source: 2019 Redfin Data Center
Best time to sell a house in Missouri
| | | | |
| --- | --- | --- | --- |
| Best Month to Sell for Speed in Missouri | June & July | 41 days on market | 8 days faster than average |
| Best Month to Sell for Price in Missouri | June | $190,000 median sale price | 7% more than average |
If you're shooting for the fastest sale possible, listing in June or July is your best option. Homes listed in this month spend 41 days on market — significantly quicker than the Missouri average of 49 days on market.
To get the highest sales price, put your house on the market in June. The median sale price of homes listed then is $190,000, which is $13,000 more than average.
Learn More: The Best Time to Sell a Home in Missouri
3. Pricing your home
Now it's time to find out how much your home is worth. Price your home too high and you'll hear crickets when you'd like to be hearing buyers with offers. Price it too low and chances are you'll sell your home quickly, but you'll walk away with a thinner wallet than you should.
Your Clever Partner Agent will run a free comparative market analysis to get a good figure. This involves compiling a list of comparable homes that have sold recently and looking at the sale prices. With this information, you can price your home accordingly.
But if you're earlier in the process and just want a general idea of what your house is worth, a free online home value estimator is a great place to start. Enter your address below to see your estimated sale price, as well as useful local real estate market trends. Find out how much your house is worth now!
💰 How much is your home worth?
Discover the true value of your home with our Home Value Estimator!
Find My Home's Value
4. Preparing, marketing, and showing your home
Once you've settled on a listing price, it's time to attract buyers. Prepare your home by giving it a thorough cleaning, making necessary repairs, and fixing up the yard. First impressions are important in sales and there's nothing worse than showing a dirty or cluttered house. Buyers will not be impressed.
You may even consider engaging the services of a professional home stager. Your agent can advise you on whether it will be worth it in your situation.
Learn More: The Best Paint Colors For Selling A House
Buyers won't come to look at your house if they don't know about it, so now it's time to shout it from the rooftops. For you, this process will be as simple as approving your agent's marketing plan.
There are a few key features that the plan should include. Getting professional photos, taking advantage of social media channels, writing an engaging listing description, etc.
Be sure to highlight desirable features. For example, energy-efficient windows are attractive to buyers in Missouri. The winters can get cold, and they don't want to blow all their money on energy bills.
Learn More: 4 Cool Real Estate Technology Trends That Help Sell Homes
There are two ways you can allow agents to show your home. One is by appointment only, the other is to set up a lockbox and let them come whenever they want. The first is more convenient for you but will result in fewer buyers coming to look. If you want maximum exposure, the lockbox is the way to go.
Learn More: Real Estate Open Houses: Do They Sell Homes Faster?
5. Fielding offers and negotiations
Once you receive an offer, you can do one of three things. You can accept, reject, or, most commonly, counteroffer. A counteroffer accepts some of the terms but suggests changing others.
Once all parties are satisfied with the terms, a purchase agreement will be drawn up for everyone to sign. This agreement outlines everything about the sale. The price, the closing date, what's included (appliances, fixtures, etc.), any contingencies, and more.
Contingencies allow the parties to back out of the agreement if a certain condition is not met. For example, a buyer's promise to buy may be contingent upon a satisfactory inspection report. Or a seller's promise to sell may be contingent upon the buyer securing financing within a specified, reasonable period of time.
Learn More: Real Estate Counter Offer Etiquette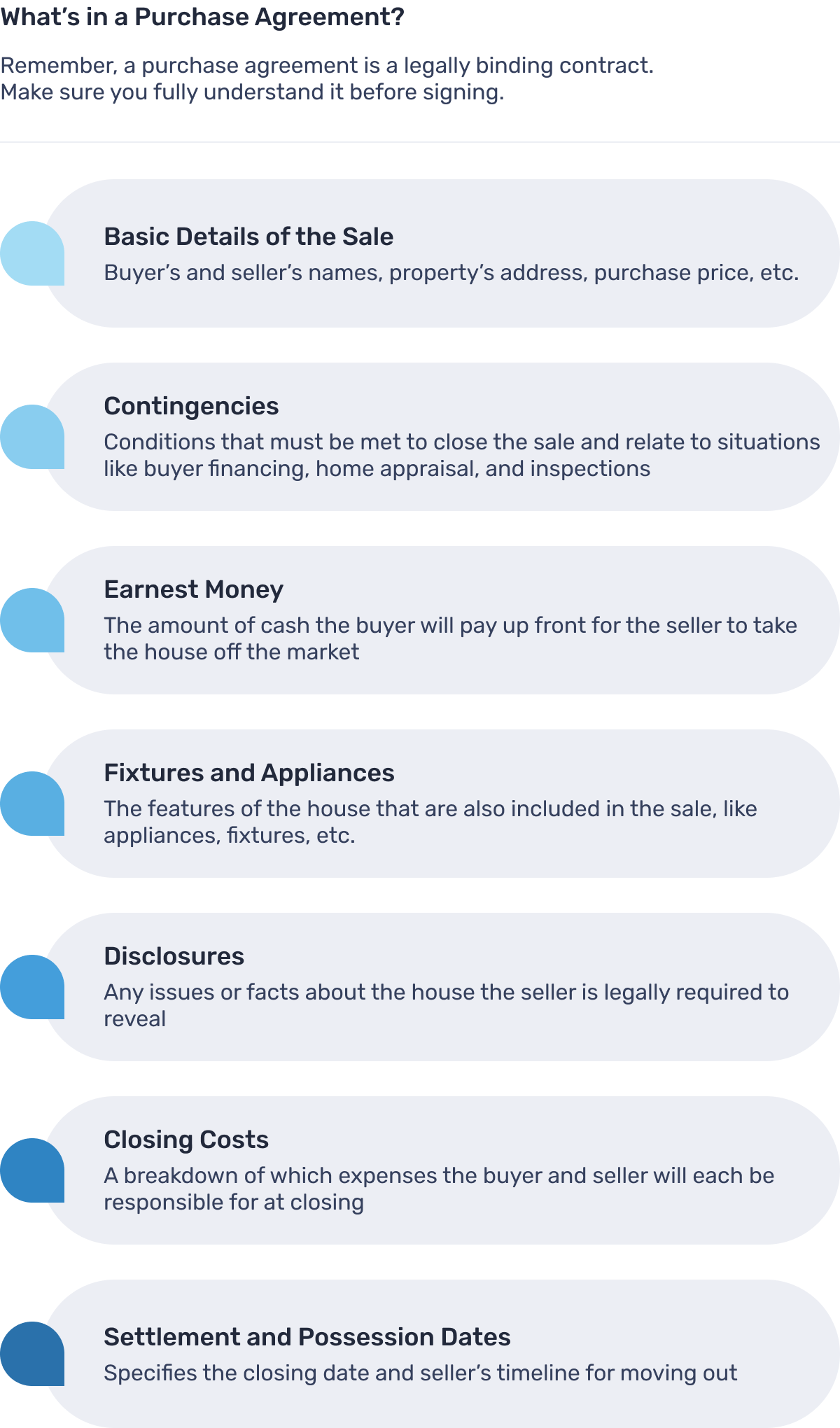 6. Appraisal and inspections
Once the purchase agreement is signed, the real fun begins. The buyer's lender will request an appraisal to ensure that the home is really worth the agreed-upon price. The buyer will typically request an inspection to ensure that the home doesn't have any major problems.
In many places in Missouri, the government requires a code inspection before new occupants can move into a house. It is customary for the seller to make any repairs necessary to pass this inspection. For this reason, it's a good idea to order this inspection before you even list your home. Some areas in Missouri also require a Fire District Inspection.
If the home doesn't pass the inspection you'll have to make repairs and order a new inspection. Once the home has passed, the buyer shouldn't have any trouble getting the required occupancy permit.
Keep in mind that during negotiations the buyer can request other repairs above and beyond those required by the government. It's up to you to decide whether you want to make them, adjust the sale price, or deny their request altogether.
Learn More: Can the Seller Back Out of Contract Before Closing?
7. Paperwork and required Missouri disclosures
While Missouri is a caveat emptor — or a "buyer beware" — state, there are some disclosures sellers are required to make. If the property was ever the site of a meth lab or a location where a child's welfare was endangered.
If your home was built before 1978, you also have to comply with the EPA's requirements for lead paint disclosure.
You should always discuss all disclosures and paperwork thoroughly with a knowledgeable local real estate agent or attorney. They can advise you which documents you need.
Forms and Documents for Selling a House in Missouri
Required for All Real Estate Sales in Missouri
2 Forms of ID
Copy of Purchase Agreement and Any Addendums
Closing Statement
Signed Deed
Bill of Sale
Affidavit of Title
Possible Additional Documents
Loan Payoff Information
HOA Forms and Guidelines
Survey Results or Survey Affidavits
Home Inspection Results
Proof of Repairs or Renovations
Home Warranty Information
Copies of Relevant Wills, Trusts, or Power of Attorney Letters
Relevant Affidavits (Name Affidavits, Non-Foreign Affidavit Under IRC 1445, etc.)
Closing Disclosure (for certain seller concessions)
Correction Statement and Agreement
Missouri Disclosure Forms
Seller's Disclosure Statement for Residential Property (Form DSC-8000)
Flood Zone Statement
Lead-Based Paint Disclosure
Note: Missouri is a "buyer beware" state and, in most situations, sellers are not legally required to make disclosures. However, to give buyers peace of mind, many homeowners still provide a disclosure statement.
Learn More: Disclosure Requirements in Missouri
8. The closing process
Unlike some states, Missouri does not require a real estate closing attorney to be involved in the process. However, it is always a good idea to hire one anyway. They will ensure that everything is in order and can facilitate a more stress-free process.
Closing means that all documents are signed, money is transferred to the seller, pertinent documents are transferred to the buyer, agent commissions are paid, the outstanding mortgage is paid, and everyone breathes a sigh of relief.
Sometimes this takes place with all parties meeting for the signing. Other times it takes place at different locations or even on different days. The specifics of your closing will be outlined in the purchase agreement.
Learn More: How Much Are Closing Costs for the Seller?
Next steps: Sell your Missouri home and save thousands
Whether you're looking to list your Missouri home immediately or 6-12 months from now, it's never too early to start looking for an agent, getting advice, and making a plan.
Clever is here to help guide you through the home selling process — and save money along the way!
💰 Get a lower rate with a top local agent!
Want to find a top local agent without overpaying on realtor fees? Clever negotiates 1.5% listing fees with top-rated realtors from trusted brokerages like Keller Williams, RE/MAX, and Berkshire Hathaway.
Get guaranteed full service for a fraction of the 3% rate agents typically charge. Schedule a free, no obligation consultation with a top local agent today!
Top ways to sell your home in Missouri
Additional resources for Missouri home sellers
Related links