Getting ready to sell your house in Minnesota? Our in-depth guide breaks the entire process down into 8 simple steps. Learn how to find a great agent, price your home, negotiate with buyers, breeze through closing, and more!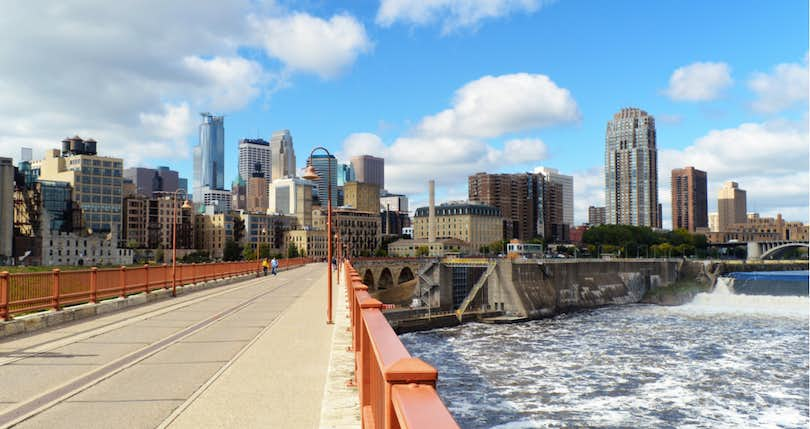 Now is a good time to be selling a house in Minnesota! According to Zillow Research, property values in the Land of 10,000 Lakes rose 3.89% in 2019, and are projected to rise a further 4.34% over the next year.
Of course, even the best Minnesota properties will struggle to sell if you don't price the home properly, do a poor job of marketing it, or don't know how to handle the negotiations.
Read on to learn the eight steps to successfully selling your home in Minnesota!
» MORE: Get a free, instant home value estimate now!
JUMP TO SECTION
1. Finding a Minnesota realtor
Selling a home isn't easy. It's a high-stakes, complex transaction and requires a considerable amount of time and expertise to get a good outcome. If you're looking to sell your Minnesota home for the best price — and minimize stress along the way — you need to find a top-rated real estate agent in your area.
The best Minnesota listing agents know exactly what local buyers want and how to reach them. They'll offer expert advice, guidance, and support every step of the way, from the initial listing all the way through closing.
In fact, sellers who work with real estate agents net 33% more, on average, than those who list on their own. For a $253,808 home — the median home value in Minnesota, according to Zillow — that's a premium of $83,757. In other words, hiring an agent is well worth the investment.
2. Deciding when to sell
The old adage that timing is everything certainly applies in real estate. Seasonal fluctuations and market trends can have a big impact on your sale.
When you should list will depend on what your selling goals are. Do you want a fast sale? Or is the final price a bigger priority?
Best time to sell a house across the U.S.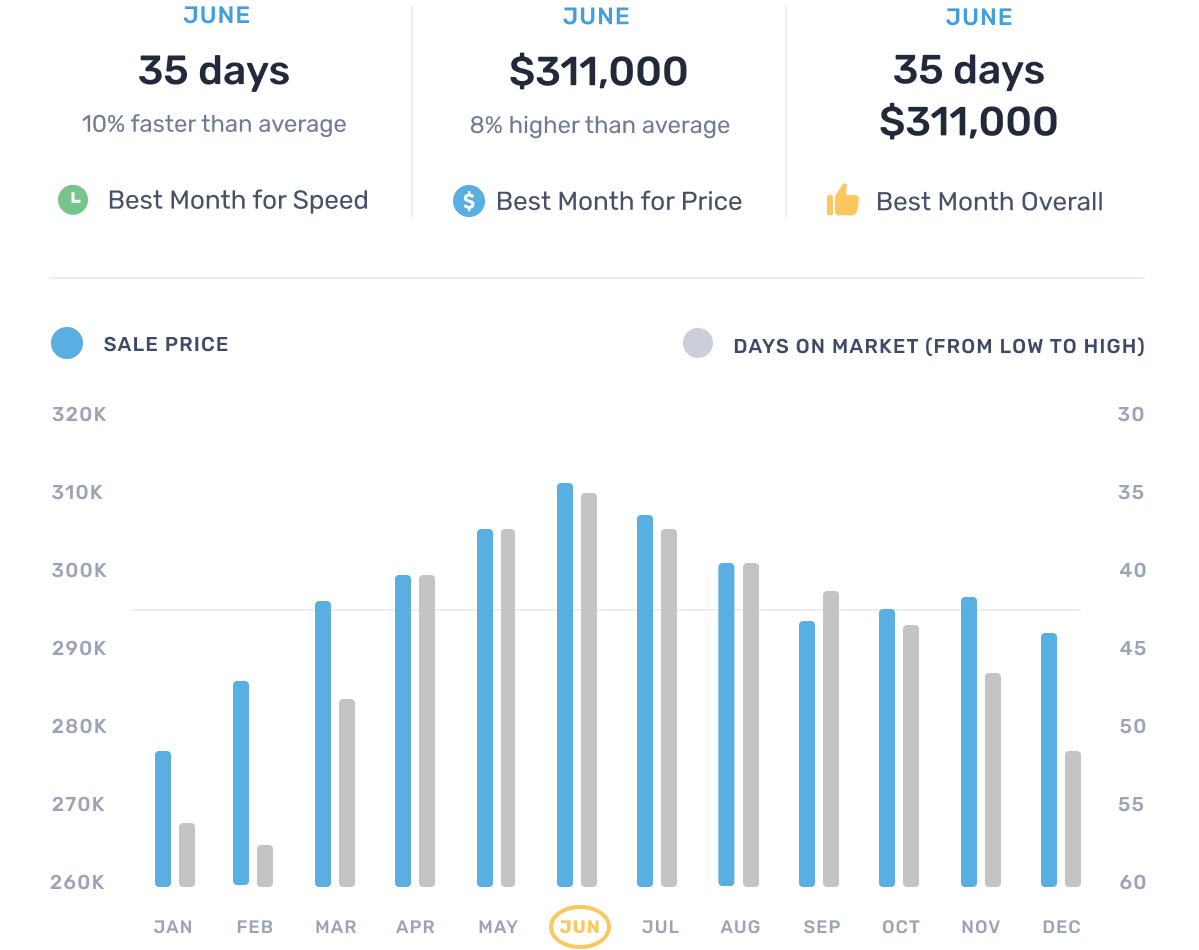 Source: 2019 Redfin Data Center
Best Time to Sell a House in Minnesota for Speed
| | | | |
| --- | --- | --- | --- |
| Best Month to Sell for Speed in Minnesota | July | 26 days on market | 11 days faster than average |
July and June are the fastest months to sell in the North Star State, with homes spending an average of 26 and 27 (respectively) days on the market.
Remember that this is just the time from when your home is listed to the day you accept an offer. After that, it typically takes another 30-40 days for your buyer to secure a mortgage and to close the sale.
So when you're planning for your sale, expect it to take a minimum of 56-66 days, list to close, if your house goes on the market in the summer.
Best Time to Sell a House in Minnesota for Price
| | | | |
| --- | --- | --- | --- |
| Best Month to Sell for Price in Minnesota | July | $255,000 median sale price | 3% more than average |
Late spring and summer generally return the best prices for Minnesota sellers. July was the most profitable month, with a median sale price of $255,000.
For comparison, January sales had the lowest prices, bringing in a median of just $231,000.
Learn More: The Best Time to Sell a Home in Minnesota
3. Pricing your home
Pricing your home correctly is incredibly important. Price it less than its value, and you leave money on the table. Price it too high, and your listing could languish on the market.
Finding the "Goldilocks" list price — not too high or too low, but just right — is an art form. A real estate agent can help you develop a pricing strategy by performing a comparative market analysis (CMA).
A CMA compares your house to similar properties, looking at factors like age, size, condition, list, and sale price.
Your agent can draw on their own expertise and the CMA to set an ideal sale price, depending on your goals. Whether you're looking to sell quickly, or for the highest price — or the best possible combination of the two — having an accurate CMA will give you a great chance to meet your goals.
But if you're earlier in the process and just want a general idea of what your house is worth, a free online home value estimator is a great place to start. Enter your address below to see your estimated sale price, as well as useful local real estate market trends. Find out how much your house is worth now!
💰 How much is your home worth?
Discover the true value of your home with our Home Value Estimator!
Find My Home's Value
4. Preparing, marketing, and showing your home
Once you've got your ducks in a row, it's time to get your home — and to get it noticed. Here are some pro tips:
Home Staging Works!
Home staging makes buyers fall in love with your house as soon as they walk in the door.
More than just dressing up your house, staging entails using design principles like decluttering and rearranging furniture so it speaks to buyers in your local Minnesota market.
And it pays off. In a recent study, 22% of seller's agents reported getting offers 1-5% higher for staged homes. Another 17% reported an increase of 6-10%.
Craft an Appealing (and Accurate) Listing Description
Since more than 90% of home buyers use the internet in their research, having a stand-out listing is more important than ever.
To compete in the online marketplace, your listing needs to entice prospective buyers to jump on the phone to schedule a showing.
Start with getting high-quality photos as they can help your home sell 32% faster. Make sure your description uses terms that catch a buyer's attention, highlight your home's unique features, and are not exaggerated or inaccurate. If you list your 1-bedroom as "palatial," buyers will see it a mile away and will wonder what else you're misrepresenting.
Learn More: How to Write Perfect Home Descriptions
Market Your Home
Marketing your home properly will go a long way in finding a pool of qualified, interested buyers. With your realtor, consider how you want to advertise.
Your agent will list your home on the local MLS, but you can contribute, too. Reach out to family, friends, social media, or even local message boards. Depending on your location, it might also make sense to run ads in community publications.
Showings and Open Houses
Stage your home to look its absolute best during showings and open houses. Make sure it feels welcoming, bright, and clean — no matter how many times it requires you to vacuum in a week.
Host open houses at times when most buyers will be available. Set aside windows of a few hours, ideally on weekend afternoons.
But for showings, you'll need to be flexible and accommodate buyers who have unconventional schedules. Remember, it only takes one to get a great offer.
If you're selling your home offseason, you and your agent could consider posting video walkthroughs or virtual tours to showcase your house. This will let interested buyers take a closer look no matter what the weather.
Don't Forget to Make Any and All Disclosures Required By the State of Minnesota!
According to Minnesota Statutes § 513.55, sellers must disclose, in good faith, any issues they are aware of that would negatively impact the property.
As the homeowner, you'll fill out a form that asks about the condition of the property and its systems.
Failure to meet disclosure requirements can put a snag in the sale and even lead to legal problems down the road. Speak with your agent to make sure you know what you need to disclose.
Learn More: Disclosure Requirements in Minnesota
5. Fielding offers and negotiations
Once you receive an offer, you can either accept the offer, reject it, submit a counteroffer, or do nothing. In Minnesota, there's no deadline to respond, which can be an advantage if sellers are considering multiple offers.
If you counter the offer, the buyer can review your counter and respond with a new offer, and so on and so on. It's up to both parties and their agents to negotiate until an offer is accepted, or one party drops out.
Once you accept an offer, you'll sign a purchase agreement. The purchase agreement is a contract that includes the negotiated price, financing information, and other terms of the sale.
This is also the point when the buyer typically fronts a good faith payment of earnest money, usually about 1-2% of the sale price. This will later be applied to the down payment if the sale goes through.
Learn More: Real Estate Counter Offer Etiquette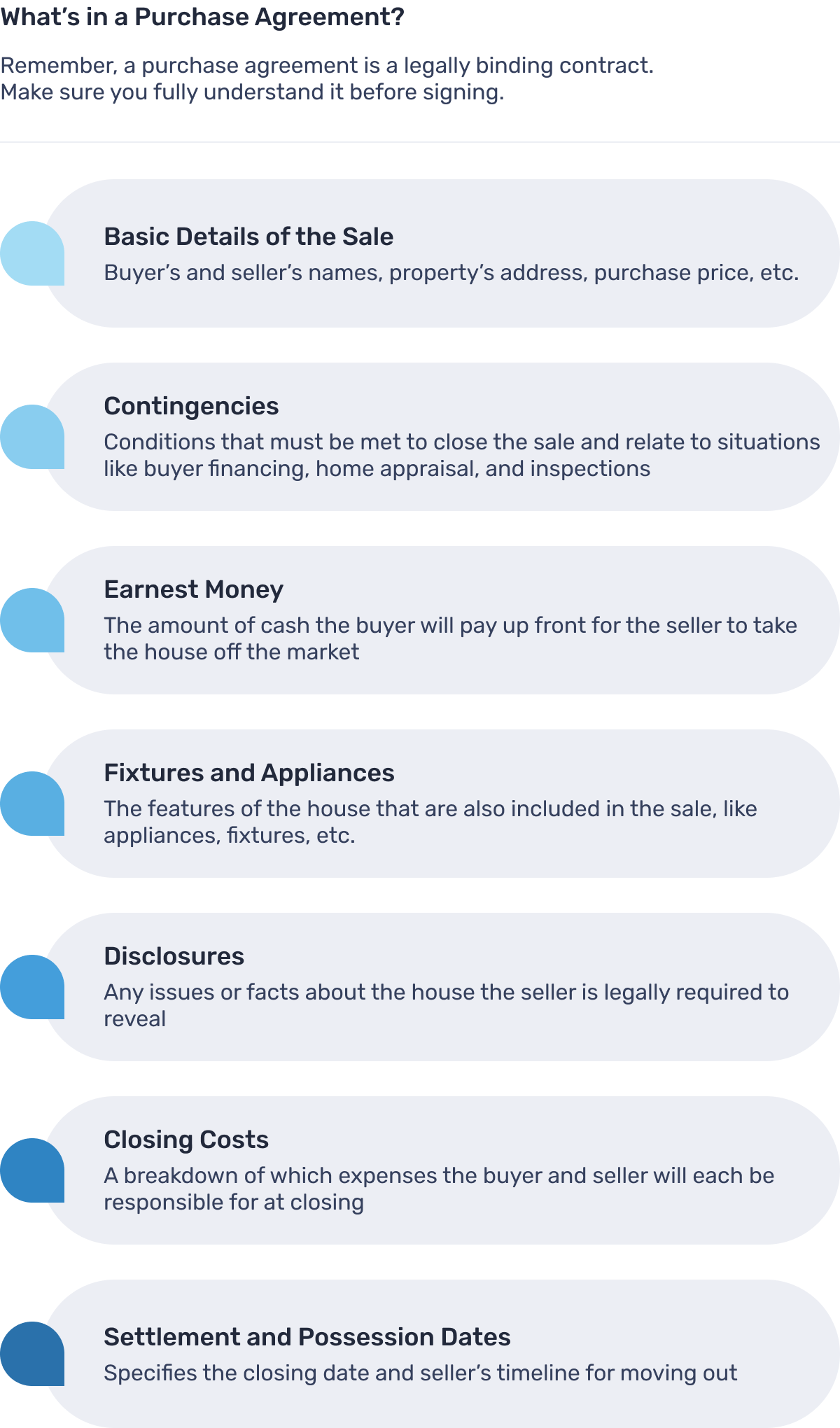 6. Appraisal and inspections
Once you've accepted an offer and signed a purchase agreement, you'll need to get ready for a home appraisal and an inspection. These might sound similar, but they have different purposes and possible ramifications for your sale.
A home appraisal is done by an independent appraiser, who assesses your home to determine its current value. The buyer's lender will use this amount to determine if the house can act as collateral for the loan. If the appraised value of your home is lower than the negotiated price, the lender won't issue a mortgage. The buyer will need to come up with funds to meet the purchase price, or you can both return to the negotiation table.
The home inspection will look for defects in your house. It's rare that nothing turns up in an inspection. Especially in Minnesota where homes take a beating in the winter, inspections often turn up problems with the roof. Depending on what issues are found, you and the buyer will negotiate how to proceed.
Your options for repairs are:
Have the repairs done before the sale
Lower the sale price
Give the buyer cash to pay for the repairs after the sale
Respectfully refuse to do anything
Remember, it's in your best interest to get a sale done quickly. Consult your agent for negotiation advice.
Learn More: Can the Seller Back Out of Contract Before Closing?
7. Paperwork and required Minnesota disclosures
Before finalizing your home sale, you'll need to get all your ducks in a row. Depending on your purchase agreement, you'll need documentation of things like a title search and any issues with the house you need to disclose.
Always consult your agent or attorney before signing or filing paperwork. A licensed professional should walk you through all the paperwork and ensure you have everything you need for your situation.
Forms and Documents for Selling a House in Minnesota
Required for All Real Estate Sales in Minnesota
2 Forms of ID
Copy of Purchase Agreement and Any Addendums
Closing Statement
Signed Deed
Bill of Sale
Affidavit of Title
Possible Additional Documents
Loan Payoff Information
HOA Forms and Guidelines
Survey Results or Survey Affidavits
Home Inspection Results
Proof of Repairs or Renovations
Home Warranty Information
Copies of Relevant Wills, Trusts, or Power of Attorney Letters
Relevant Affidavits (Name Affidavits, Non-Foreign Affidavit Under IRC 1445, etc.)
Closing Disclosure (for certain seller concessions)
Correction Statement and Agreement
Minnesota Disclosure Forms
Seller's Property Disclosure Statement
Flood Zone Statement
Lead-Based Paint Disclosure
8. The closing process
On the closing date, the buyer, seller, their agents, an escrow or title company representative, and possibly an attorney will come to the table to finalize the sale.
In Minnesota, sellers can expect to pay about 1-3% of the sale price in closing costs.
These expenses include outstanding balances on the home (the remainder of your mortgage, as well as utilities or HOA fees if applicable), recording fees, settlement and escrow fees, and transfer taxes.
The transfer tax is also paid at closing to transfer the property from one owner to another.
The biggest expense for sellers is agent commissions. In Minnesota, this typically totals 6%, with 3% going to each of the buyer's and seller's agents.
Learn More: How Much Are Seller Closing Costs in Minnesota
Next steps: Sell your Minnesota home and save thousands
Whether you're looking to list your Minnesota home immediately or 6-12 months from now, it's never too early to start looking for an agent, getting advice, and making a plan.
Clever is here to help guide you through the home selling process — and save money along the way!
💰 Get a lower rate with a top local agent!
Want to find a top local agent without overpaying on realtor fees? Clever negotiates 1.5% listing fees with top-rated realtors from trusted brokerages like Keller Williams, RE/MAX, and Berkshire Hathaway.
Get guaranteed full service for a fraction of the 3% rate agents typically charge. Schedule a free, no obligation consultation with a top local agent today!
Top ways to sell your home in Minnesota
Additional resources for Minnesota home sellers
Related Articles