Our rating | How it works | Alternatives | Competitors | Pricing | Customer reviews | FAQs
Richr is a flat-fee MLS company based in Florida. Instead of charging a flat rate like other companies — usually $100–700 — Richr asks for 1% of your home's sales price. In exchange for this cost, Richr will list your home on the MLS without using an agent.
After hours of research and testing, we gave Richr a score of 3 out of 5. Richr has a straightforward website and sales process, plus great customer service. BUT Richr is more expensive than virtually all of its competitors, and doesn't offer enough services to justify a 1% fee.
While you would save some money on real estate agent commission if you sell with Richr, you'd also potentially miss out on a higher sale price for your home. Selling FSBO, or without an agent, usually means a home sells for LESS than if it were sold with a realtor — as much as 5–26%.[1] [2]
In other words, the actual savings you'd get from selling with Richr would probably be marginal — and you'd have to handle most of the home selling process by yourself.
Since Richr offers few services in addition to listing on the MLS, we DON'T recommend it for sellers with little or no experience in real estate.
To get BETTER service while saving on realtor commission, work with a low commission real estate company like Clever. You'll get all of the perks of a traditional real estate agent — but at a lower rate.
Why you should trust us
To give you a fair and detailed review, our research team spent weeks reviewing publicly available information on Richr and its competitors. Our process included:
Mystery shopping Richr's services
Collecting and reviewing customer reviews
Analyzing company policies
Comparing their practices to competitors
Our rating for Richr
Our overall score for Richr is a 3 out of 5, based on our evaluation of four important categories: price, savings, website, and customer service. The company offers a good customer experience, but we find you aren't getting your money's worth when you pay Richr's 1% fee.
| Category | Score |
| --- | --- |
| Price | ⭐️ |
| Savings | ⭐️ ⭐️ |
| Website | ⭐️ ⭐️ ⭐️ ⭐️ |
| Customer service | ⭐️ ⭐️ ⭐️ ⭐️ ⭐️ |
| Total score | ⭐️ ⭐️ ⭐️ |
Richr's price — 1/5
Regardless of your home's price, Richr's 1% fee makes it more expensive than other flat-fee MLS companies. Competitors charge $99–$700 to list your home on the MLS, and somethrow in additional services that Richr lacks.
For instance, flat-fee MLS company Beycome offers professional photography and help marketing your listing — for $299. Richr offers neither of these services.
Simply put, you overpay when you use Richr. If you're looking to save big AND get great service, work with us! Clever will match you with a top local agent at a discounted rate, so you'll get better service without breaking the bank.
👨‍💼 Match with a top local agent and pay just 1.5% when you sell!
Savings on sale — 2/5
If you list with Richr, you'll likely save thousands of dollars on realtor commission. BUT you'll still be paying commission for the buyer's agent, which is 2.70% on average in Florida.
Before listing with Richr, consider this: Despite saving thousands on realtor commission, you're likely to sell 5–26% below the price you'd sell with an agent — while handling the complicated sale process by yourself.
(The person getting the best deal out of this arrangement is actually your BUYER, who will probably pay less for your home while still getting support from an agent.)
Website — 4/5
Richr's website is easy to navigate, and the process to list your home is straightforward.
Richr's online form takes about five minutes to fill out. You're asked questions one at a time, and it's simple enough that you can easily complete the form on your phone.
You can also easily schedule a call with a Richr consultant who will give you a free home valuation, something that can help you price your home.
Still, Richr's website includes a few holes in its info for users. There isn't a lot of detail on what Richr offers besides listing on the MLS, for instance.
The website could benefit from more information-based pages, like more topic-specific pages or more entries on its FAQ page.
Customer service — 5/5
Richr has very positive customer reviews on Google. Former clients have shared that Richr's staff is informative, patient, and incredibly helpful.
One client mentioned Richr staff "was wonderful to work with — they responded quickly, even on nights and weekends."
Should I use Richr?
We don't recommend using Richr if you have no real estate experience.
Ideally, you'd use Richr if you have previous experience in real estate (maybe you're an agent yourself!), or if you otherwise are prepared for all of the work involved in selling a home.
We should also caution potential sellers that Richr WON'T save them fully on realtor commission unless your buyer is unrepresented. Otherwise, you'll probably still pay 2–3% for the buyer's agent commission.
👍 What we like about Richr
Easy-to-use website
List on the MLS for free, with no upfront costs
Great customer service record
👎 What we don't like about Richr
Selling with Richr is more expensive than most flat-fee MLS companies
Richr doesn't offer much in addition to listing on the MLS, while some competitors offer add-on services like professional photography and staging consultation
Only available in parts of Florida
How Richr works
To sell on Richr, you start by filling out a short questionnaire that asks for basic info on your property. You'll need to set up an account and share details on your home, like what type of home it is, if it has amenities like a pool, etc.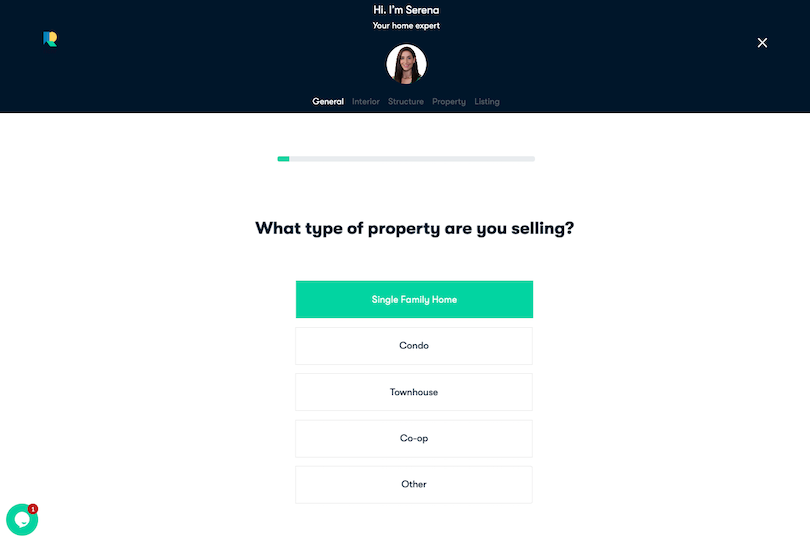 Using the info you provide and data from Zillow, Richr will create a listing for your home and send it to a participating broker. We should note here that Zillow's data can be outdated, meaning the info Richr includes on your listing might not reflect the value and condition of your home.
This broker will also provide a free comparative market analysis (CMA), which should give you an accurate valuation of your home.
To boost your listing after its live, you can upload photos of your home. Scheduling tours is entirely up to you, as Richr does not provide scheduling assistance.
You only pay Richr for listing your home after you sell.
Buy with Richr
Richr also lets you buy homes on its site, though not in a traditional way. With Richr One, you connect with an investor who will set you up with fractional ownership of a property.
Fractional ownership works a bit like a timeshare, but instead of owning part of "the right to use the property," you own a portion of that property's equity.
Because of this, we don't recommend Richr One for buyers who are interested in full (i.e., conventional) home ownership.
Richr vs. competitors
Price range
Add-on services?
Availability
Listing term
Richr
1%
No
Only in Florida
12 months
Beycome
$99–499
OR 1%
No
AL, CA, CT, FL, GA, MN, NC, and SC for Basic package and cash back rebate
Until sold
Jack Keller Inc. Realtors
$75–375
Yes
Florida
Until sold
Houzeo
$245–399
Yes
Nationwide (except ND)
3–12 months
Better for FSBO sellers: Beycome

Beycome
Locations
AL, CA, FL, GA, IL, MN, NC, RI, SC
✍️ Editor's Take
Pros
Cons
Beycome offers real savings for extreme DIYers. But if you don't have much experience selling a house, you'll want to look elsewhere.
Basic MLS packages are among the cheapest in the industry
Lack of add-ons mean DIYers aren't paying for things they don't need
Barebones service is risky for most sellers, especially those who lack selling experience, have a complicated sale, or prefer working with an agent.
"Concierge Package" is poor value for money.
Beycome has two cheap plans, including a barebones $99 plan to list on Redfin but NOT the MLS. You can pay $299 instead to list on the MLS and get additional services, like professional photography and marketing assistance.
Your listing on Beycome lasts until you sell the home. This company operates in eight states (six states for its more expensive plan).
» MORE: Our complete review of Beycome
Several ways to pay: Jack Keller Inc. Realtors

Best For
Sellers who want flexible payment options
Pros:
The company gives you several ways to pay, including monthly payment plans, $0 down, and bitcoin.
The site includes all the forms you'll need, like a contract, addendum, and seller's disclosure.
Jack Keller lets you pick and choose upgrade options such as Realtor.com statistic reports, ShowingTime scheduling software, and open house scheduling.
Cons:
The cheapest package is available only for vacant land, boat docks, and commercial properties.
You have to purchase an upgrade to get Realtor.com leads sent directly to you. If they go to an agent, that agent might direct the buyer elsewhere.
Another Florida-based company, Jack Keller Inc. Realtors lets you pay for their services in several ways:
Upfront
At closing
In monthly installments
Jack Keller Inc. Realtors offers several different price plans ranging $75–375, plus a 1% limited services package.
Best add-on services: Houzeo

Best for
Sellers looking for a lot of a-la-carte options
Overview
Pros and cons
Contact
Houzeo is a nationwide service that offers three plans, all with MLS access. While Houzeo does have a fourth "free" plan, that plan doesn't actually offer MLS access, so it's not worthwhile.
And watch out for surprise fees. Simple things that are free with other companies will incur charges that can quickly add up on Houzeo. Those charges tend to make Houzeo poor value for money.
Pros:
You can fill out, sign, and submit all your seller's paperwork on the Houzeo app.
When you enter your address, Houzeo auto-fills publicly available data about your property.
Houzeo lets you buy additional services like contract reviews, agent showings, and professional showings a la carte.
Your Houzeo listing gets syndicated to Zillow, Trulia, Realtor.com, and Redfin.
Cons:
You have to pay extra for pricing assistance — several local competitors offer this for free.
Houzeo offers four price plans, plus add-on services. Price plans cost $245–399.
However, Houzeo charges extra for pricing assistance, and it will charge you extra if you make more than 10 changes to your listing.
Houzeo is available nationwide (except in North Dakota).
Also consider: low commission real estate companies
The best alternative to using Richr — and best way to maximize your home sale — is to work with a low commission agency that will provide all the perks of an agent by your side while saving you money.
🏆 Clever charges a 1.5% of your listing price. We're available nationwide, we'll give you your pick of top local agents, and there are no upfront fees.
💰 SAVE: List for just 1% and get a top local agent by your side!
🏠 Redfin charges you 1.5% of your listing price and is a great choice if you would prefer to host remote showings of your home. You only pay after your home sells.
👨‍💼 Ideal Agent charges 2% of your listing price — more expensive than Redfin but still cheaper than listing with a traditional agency. It's free to list, and you'll be matched with a top local agent.
Richr's pricing
Richr only offers one price for its services: 1% of your sale price, which you pay after closing.
While this is cheaper than working with a traditional real estate agent, it's much more expensive than using another flat-fee MLS company.
Keep in mind: Even though you'll pay more, you WON'T get the same level of service from Richr as you would with an agent (or even other flat-fee MLS companies).
Richr will pay for title settlement fees and has great customer service, but it doesn't offer staging consultation, marketing help, contract negotiation — all things you'd get with an agent at no cost in addition to commission.
👋 Skip the DIY: Get a better agent AND bigger savings
Why do all the work of selling FSBO only to end up with less money than you would have with an agent? Clever offers you bigger savings without sacrificing the service you expect from a traditional realtor.
With Clever:
✅ You'll only pay 1.5% to list your home
✅ You'll work with a full-service realtor from a top broker
✅ It's free, with zero obligation — you can walk away at any time
Saving on realtor fees doesn't have to mean sacrificing service. Find a top local agent today!
Locations
Richr is available only in Florida. It operates in 30 counties and some of the state's biggest cities:
Jacksonville
Miami
Tampa
Orlando
Fort Lauderdale
Customer reviews
Richr has great customer reviews on Google, averaging a score of 5.0 out of 5 from 114 reviews. Customers said the staff was top-rate, and that the savings were substantial.
Great customer service
The majority of reviews stated Richr's reps were very helpful throughout the listing process. We can confirm this thanks to our mystery chopping of Richr's services.
One customer said staff was "fully attentive, responsive, and totally professional, and always answered all questions and addressed all issues." Several also mentioned Richr employees helped clients with the questionnaire, some of the paperwork, and parts of closing.
According to reviews, Richr reps are well-versed, providing "invaluable advice and always on top of (their) game."
Savings
Some customers shared how much they saved using Richr:
"I saved $20,860 by avoiding traditional 6% brokerage fees and using Richr to list for free!"
"I saved nearly $15,000 in real estate commission as I decided to offer a 2% buyer's agent commission only."
"I was able to list my homes without a realtor and saved over $10,000 on my closing costs."
❗Sellers beware
If you read these reviews and are considering selling with Richr, you might be impressed by how much people have saved. However, we think you should take them with a grain of salt.
While you won't pay commission for your own agent, you're likely missing out on a higher sales price for your home.
Contact info
| | |
| --- | --- |
| 🖥 Website | richr.com |
| 📞 Phone | (844) 957-4247 |
| 📍Address | 2627 NE 203rd St, Suite 202, Miami, FL 33180 |
FAQs about Richr
What is Richr?
Richr is a real estate company that will list your home on the MLS for 1% of your sales price. In addition to MLS access, you also get a free home valuation.
How does Richr compare to other flat-fee MLS companies?
Richr charges you 1% of your sales price, whereas most flat-fee MLS companies charge you a basic fee (usually $100–500). Other companies also offer different packages based on your needs; Richr just has the one price plan. Finally, Richr doesn't offer as many services as other flat-fee MLS companies, such as professional photography, and marketing and scheduling assistance.
Should I use Richr?
Richr works best for sellers who want to avoid agent commission BUT are also prepared to handle most of the work associated with selling a property: marketing, scheduling tours, staging, negotiating with buyers, etc.
Where is Richr available?