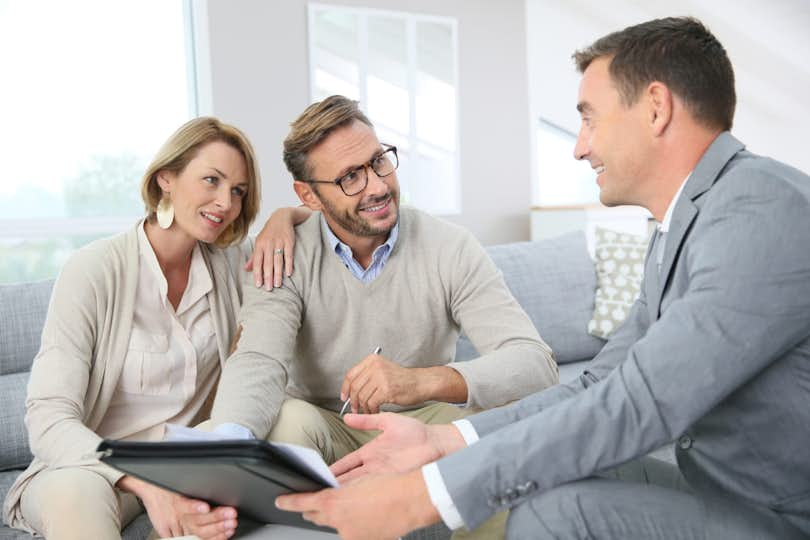 Many home sellers are looking for ways to make more out of the sale of their home. Because houses represent one of the largest purchases in many American's lives, it's only natural for them to make all that they put in (plus some, if the market is right!) back into their pockets. Some homeowners do this by renovating the place, and others look to cutting the costs of their realtor.
When choosing which realtor to go with, you may hear the terms "discount realtor" and "full-service realtor" and wonder, "What is a full-service realtor?" Well, hang on tight, cause we're about to find out.
What is a full-service realtor?
A full-service realtor does everything from listing your house on the MLS for the right price to marketing your house and completing negotiations. They're known as full-service because they don't just pick and choose which services to provide, they offer the whole package.
Need a more in-depth description? Here's what a full-service realtor does for you.
Lists Your Home
It may seem pretty simple to stick your home on the internet with a price and put a sign up in the yard. But really, there's more to it than that.
Your full-service realtor will take a look at similar homes in the area that are listed or have recently sold to compare to yours. They will also pull stats from the area, look at the property value of the neighbor's homes, and use all of this information to find the value of your home. This whole process is known as completing a Comparative Market Analysis (CMA) and helps the agent price your home effectively.
Once your realtor finds that pricing sweet-spot, they're half-way to listing your house.
Taking Pictures
Next, your realtor will either take pictures of your house yourself or pay a professional photographer to do it for them. The real estate photographer and full-service agent know exactly what to feature in the images to get potential buyers in the door.
Although it is by no means required, some full-service realtors will have a stager come in and stage your home for a more attractive offer. Staging happens a before and during the photography process.
Listing on the MLS
Once the realtor is geared with an attractive price and incredible photos, they're ready to list your home on the MLS. Simply listing your house with beautiful photos and a price isn't enough, however. Next, they'll probably ask you a few questions about the house to write a sensational description. The description is your chance to get everything not seen in the pictures out to potential buyers.
Some things your realtor will put in the MLS description are:
Proximity to local attractions or amenities
Type of neighborhood
What school districts it's near
What makes the house stand out
Once on the MLS, your home will be available to see your home on popular sites like Zillow and Realtor.com.
Markets Your Home
Once your home is listed, it's time to drive traffic to it.
Your full-service realtor will post the usual signs in your yard and may even put a box of fliers. Then they'll make sure to list your homes in local home publications, and even market it online.
This step is key in getting the word out about your home, and the type and amount of marketing your realtor does says a lot about their caliber of skill.
If your agent kicks back and hopes the house will sell itself, it's time to find a new agent. You want an agent who knows where to find qualified buyers and has experience marketing to them. This will help your house get in front of the right people.
🏡 Sell or Buy a Home with Clever and Save Thousands!
Enter your zip code to see if Clever has a partner agent in your area!
Schedules and Holds Open Houses and Walk-throughs
If your home is a good candidate for an open house, your full-service real estate agent will be in charge of advertising for it and holding it open. They'll also be responsible for scheduling showings for people to walk through and see the house.
Because your realtor will be showing off the property, it's crucial that they become an expert on your home. Your full-service real estate agent should get to know the house really well. They should be able to tell prospective buyers where the sun hits the windows in the morning as well as what year the remodeling was completed.
Potential buyers will have questions-- lots of them-- so a crucial part of your realtor's marketing includes researching the property and knowing how to answer these questions.
Provides Expert Advice
Need to know if remodeling your kitchen or power washing the roof will get more buyer appeal? That's what your full-service realtor is there for.
Similar to Google (but specific to your neighborhood), your expert realtor will be able to provide you with information that affects the value of your home.
They'll help you identify areas of the house that need a little love and care to get the house to asking price. If a buyer comes in and demands some changes be made, your realtor can also consult with you on that and help you understand if that request is reasonable.
Beyond questions about changes to the house, your full-service realtor can also help you with your contracts. They'll look over each contract and help to break it down for you. They'll probably even make changes to offers that are set-up as contracts in your behalf (at your request, of course).
Having expert advice by your side to consult with is crucial to making the home selling process a success.
Negotiates the Sale
Once an offer is made, your full-service realtor will negotiate the terms of the sale. If you're ok dropping $5k in price, but NOT ok replacing the roof-- your realtor will make that clear.
A good full-service realtor will have a lot of experience negotiating sales and getting you the right price for your home. By the same token, they'll step in and let you know if the deal you are about to pass up is a good one.
Remember-- your realtor works for you. If you feel like they are misrepresenting you at the negotiations, step in and communicate your boundaries. Your full-service realtor needs to be on the same page as you especially during negotiations.
Listing and marketing your home, scheduling and holding open houses, providing expert advice and negotiating the sale are all things that full-service realtors do, but they're not the only things they can do. Talk to your realtor today to learn about other services they provide to get your house SOLD.
Need a full-service realtor who is ALSO a local expert? Talk to Clever. Clever works with the top-rated realtors in your area to provide you with a quality home selling experience at a fraction of the price. Call us today at 1-833-2-CLEVER or fill out our online form to get started.
Related Articles
You May Also Like