Home buyers often pick a neighborhood where they want to live before they pick a house. A sign can be a great way to attract their interest when they're driving through. Here are seven great ideas for signs which will reach a potential home buyer.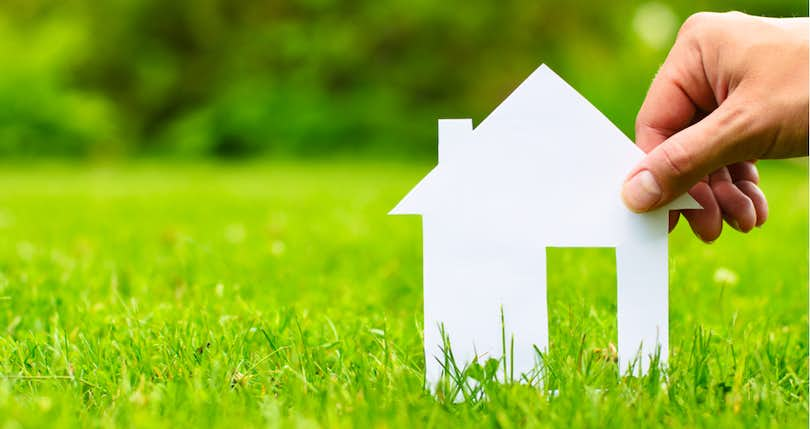 Before they find the perfect house, home buyers need to pick the perfect neighborhood. They often decide where to live based on schools, parks, or their commute, and then find a house in that area. When potential buyers are driving down your street, you want them to notice your "for sale" sign.
Here are seven tips to help your real estate sign stand out and attract buyers and talk to your real estate agent about what's worked for them in your town.
How can you use signage to sell your home?
Use these creative sign ideas with a Partner Agent to sell your home.
Try a Custom Shape
Think outside of the square box of the typical real estate sign. A custom shape catches the eye and creates visual interest.
Try a sign shaped like an arrow pointing at your house. Or, a hanging sign with the well-known house symbol of square and triangle roof with the realtor's information printed on it could work. Rectangular signs and sign riders are also great for visual interest.
Go Beyond a Pole in the Ground
Maybe you're selling a condominium or row house that lacks a front yard. That doesn't mean you can't have a sign!
Ask your homeowners association about attaching a hanging sign from the row house's brick, or hanging from a window frame. Attach it to a garage, or put a sandwich board on the sidewalk and attach it to the front railing. Your real estate agent has many types of signs advertising their services that you could use to announce that your home is for sale.
Mix and Match the Colors
Use color to attract interest. Your sign could be made in the same colors as your home's exterior, creating a matching effect. Or, print the main sign in one color and sign riders in a different but complementary color for a color block look.
If your home has a unique feature, like beach access or it fronts a golf course, have that printed on a contrast color board to fit on top of the main sign. Think teal unique feature, black main sign with white lettering, teal sign rider with the agent's name.
Place Signs in Unique Locations
Does your backyard front a river or canal? Do you have beach or golf course access? Guests of the people who use a boat, swim, or golf there may want to live in your neighborhood.
Put signs up that can be seen by people who aren't just driving by your front yard. If your homeowner's association has a clubhouse or pool, put up signs there to let your neighbors know that you're selling. They could have friends or family who've expressed an interest in living near them.
Try a Three-Dimensional Sign
Shaped like a rectangular box, three-dimensional signs have the house's information printed on the front and box long sides and "home for sale" or the realtor's name and info on the short edge. They're secured into the ground with two short pegs on either end.
These would be great for a luxury listing whose sale price would justify the added expense of a custom sign.
Go Digital and Tech-Friendly
Technology has become increasingly important in helping sell houses. Digitally savvy realtors know that incorporating new tools into their marketing can attract interested buyers.
Signs can have a QR code that buyer's scan to be sent information on your home. Other options include signs with LED lighting that glow at night so you don't miss reaching buyers during the evening hours. While not yet here, startups are promising fully digital reader board signs in the near future.
Add Property Pictures
If you've gone to the trouble of having your home staged, why not show it off? Your realtor can select a few of the best interior shots to feature on a printout and then have it laminated and nailed or stapled to your signpost.
Agents also sometimes add fact sheets to clear plastic boxes affixed to your signpost, but you can run out of those. Having permanent pictures of your home's interior available ensures that buyers can always get a glimpse of its best features.
Clever Partner Agents join our network from national brokerages. They're top sellers in their offices and know how to successfully market homes to get sellers more interested buyers and higher offers. They can save sellers money on agent fees while still getting them a great deal. Reach out to connect with a Clever Partner Agent today.
Related Articles
You May Also Like