Rhode Island features the best of New England. Beaches, history, four seasons and a beautiful fall. It also has an expensive housing market. If you've been struggling to buy your first home in Rhode Island, here are the programs to help you with a down payment and closing costs.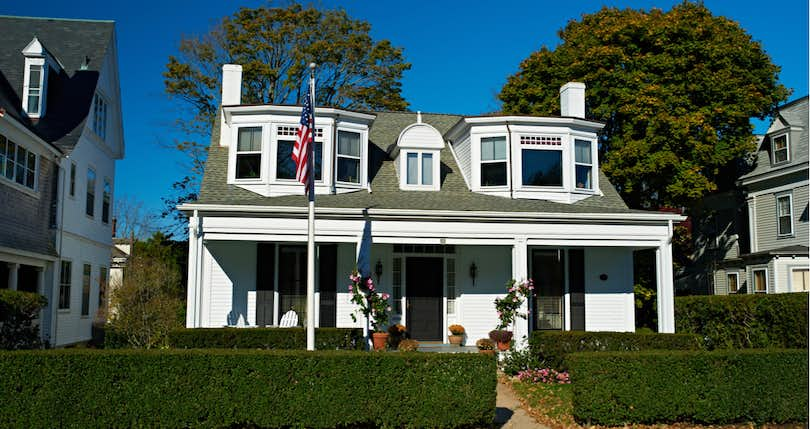 Rhode Island is a tiny New England state which is proud of its history and its beautiful lifestyle. You're never more than an hour from a beach anywhere in the state and you'll experience the beauty of four seasons
Like most New England states, however, housing in Rhode Island is not cheap. The median price of homes is $299,900, after growing 4.5% last year. The state's cost of living is higher than the U.S. average, though real median household income is also higher at $63,870. But that doesn't mean that a first-time home buyer won't struggle to save up the money for a down payment on a house.
Luckily, the state and federal governments have put programs in place to help you afford your first home.
Rhode Island Programs for First-Time Home Buyers
Rhode Island Housing partners with lenders state-wide to offer low down payment loans. The FirstHomes program offers low, 30-year fixed-rate mortgage products which don't require a down payment. The state will even offer help paying closing costs.
Beyond FirstHomes is their program for those who need to refinance or move into a new home. If you are looking at those products, they require a 3% down payment.
While the state offers home buyer education programs, they aren't required. There are no income or other restrictions on those seeking help. Occasionally, the state offers extra, time-sensitive programs. This spring, for example, they sponsored Spring7500, where buyers could purchase a home with just $7,500 for their down payment.
Clever's post about 10 First-Time Home Buyer Assistance Programs to Look Into will help you find more information about other programs you could use to help you buy your first home.
Federal First-Time Home Buyer Programs
Homeownership is good for neighborhoods, cities, and the country as a whole. Property taxes raise funds to improve roads and schools, home-owners maintain their properties better, and crime falls in areas with high home ownership. For all these reasons, the government sponsors several first-time home buyer programs so that those struggling to buy a home can realize their dreams.
FHA loans. Banks and lending institutions often won't work with people who have lower credit scores and who can't raise a 20% down payment. To help borrowers qualify for mortgages, the Federal Housing Administration, or FHA, partners with traditional banks. The government guarantees a portion of an FHA mortgage, so the bank isn't taking on as much risk. Buyers with less-than-stellar credit can own a home with as little as a 3.75% down payment if approved.
HUD First Time Home Buyer Programs. County-level programs are run by the Department of Housing and Urban Development or HUD. They assist first-time home buyers with down payments, give out grants for closing costs, and more.
The Good Neighbor Next Door program is based on the idea that those who help our communities but aren't highly compensated should be able to buy homes in them. If you are a teacher, firefighter, or police officer, you can qualify for a mortgage through the Good Neighbor Next Door program. The program lets you buy a discounted home with just a $100 down payment.
HUD believes that selling foreclosed FHA properties which have been on the market longer than six months to a low-income family revitalizes communities. Your local county website will have information on your area's programs, and possibly homes available that you could buy.
USDA Loans. Loans through the U.S. Department of Agriculture are for borrowers in rural areas who meet income requirements. You don't have to be a farmer. They'll approve loans with no down payment as long as you pay for PMI or private mortgage insurance.
VA Loans. Veterans can get help through the Veterans Administration. They offer loans with no down payment or mortgage insurance requirements. Native Americans who want to purchase property on recognized trust land can get help through the Native American Direct Loan program.
Look up Rhode Island in The Complete Guide to FHA Loans By State to find what is available to you. Talking to an experienced, local real estate agent will save you time if you already have your eye on a dream house, as they will know your options and can help you get approved faster.
Private Lender Programs in Rhode Island for First-Time Home Buyers
Private, government-sponsored, first-time home buyer loan options in Rhode Island are available through Freddie Mac and Fannie Mae.
Both Freddie Mac and Fannie Mae's have mortgage products for first-time home buyers, called "HomeOne Mortgage," and "HomeReady," respectively. Each will help you buy a home with just a 3% down payment. You must have a credit score above 620, and your household's income must fall within certain guidelines for Fannie Mae's product. Both products will require you to purchase PMI.
It's always a good idea to get pre-approved before looking at houses. A pre-approval letter makes your offer look more attractive to sellers than a potential buyer who hasn't been pre-approved. To find out more, read our list of 7 Easiest Mortgage Lenders for First-Time Home Buyers.
Home Buyer Rebates and Other Cost Savings in Rhode Island
Searching for other ways to save money? Try using a flat fee or discount realtor or negotiating commissions with your current realtor. Or look into How to Get a Home Buyer Rebate.
A top-rated, local real estate agent can provide input when you're deciding on financing options and how they'll impact your future mortgage payment. Closing costs, rates, and terms can greatly impact the mortgage's total cost. Agents can also help you save money by negotiating everything from the price to fees, and knowing the best time for you to make an offer. Plus when you buy a home for more than $150,000, you may be eligible for 0.5% of the purchase price in Clever Cash Back.
There's more assistance available for first-time home buyers in Rhode Island than you might have known. Talk to Clever today and they'll connect you with a local realtor to guide you on your home buying journey.
Related Articles
You May Also Like