If you've started shopping for a mortgage lender, you probably have a lot of questions about what to expect. With a general idea of what the mortgage underwriting process entails, you will go into it more prepared and self confident. Find your answers in this guide to mortgage underwriting.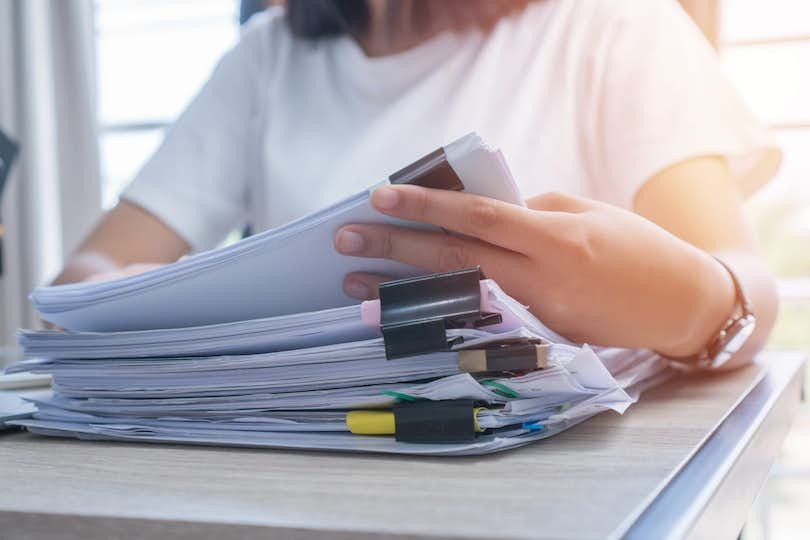 Mortgage underwriting is the thing between you and getting funding for your house. If you have a road map ahead of time, you'll know what to expect and you can prepare. To make sure the process goes as smoothly as possible, find an expert full-service buyer's agent in the area you're focused on.
A local top agent with experience will have relationships with lenders and understand what you need to have the best chance of getting a mortgage with good terms.
What does it mean when a loan is in underwriting?
When your loan is in underwriting, it just means that your loan application is under evaluation by an underwriter who will recommend to either approve or deny your loan.
The underwriter's job is to first verify the accuracy of the documentation you submitted, check it against certain criteria, and then determine whether they think you can pay it back. Throughout this process, you may be asked for additional documentation.
What is the underwriting process?
The underwriting process can vary from lender to lender, but the documents you submitted and information you provided become your profile that is delivered to the underwriter. An underwriter will probably use a combination of automated and manual procedures to analyze your credit history, verify your income and your assets, and appraise the property you want to buy.
They will take into account the amount of the down payment and the size of the loan requested. He or she will then either approve or deny the loan, or ask for additional information needed before deciding.
What do underwriters look for?
Underwriters focus on three general areas — known as the three Cs. These include your credit report, your capacity to pay the loan back, and the collateral. When underwriters look at your credit history, they aren't just looking at your credit score; they are looking for tax liens, outstanding debt, bankruptcies, delinquent accounts or late payments.
When they look at your capacity to pay, they will look at all of your accounts, your income, and your current debt-to-income ratio (DTI).
When underwriters look at the property itself, they are evaluating more than just the appraisal, they also take into consideration the amount of your down payment and how much you want to borrow. They also consider what the future outlook is for that property in terms of its local market and trends. Remember, if you don't pay your mortgage, they'll be stuck with your home and they want to make sure it's a good asset to hold in case you default.
How long does it take for the underwriter to make a decision?
If you've accurately completed all of your documents, have stellar credit, solid and consistent income with a low debt-to-income ratio, and you are making a large down payment on a house that seems like it will appreciate, their turnaround time could be within a matter of days if no anomalies pop up during their evaluation. But this turnaround time — or "turn time" as it's known in the industry — depends on the lender, too.
Where smaller lenders may have an in-house team that can get on it right away and go through the underwriting process locally, big banks will likely send your profile to an underwriting department somewhere else where the staff may have a backlog. If there are any inconsistencies or errors, like missed signatures or documents, the back and forth could considerably delay the decision time up to a few months.
Have questions about the mortgage underwriting process? Clever can help!
Get expert advice with a Clever Partner Agent and save thousands!.
3 Tips to Speed Up the Loan Underwriting Process
While the workflow and backlogs of underwriting departments at banks and lenders are out of your control, there are things that you can do ahead of time to avoid delays in the underwriting process and give you a better chance at a successful outcome.
1. Repair Your Credit Before You Apply
You are allowed one free credit report per year from all three of the credit reporting agencies, Equifax, TransUnion, and Experian, and we highly recommend you order all three. While there is not much you can do about your payment history, you'd be surprised how many errors turn up on credit reports. Check all your reports for errors and dispute them if you find any.
You will also want to check your credit utilization score which compares the amount of credit available to the amount of debt you have. You need this score to be as low as possible, definitely under 30%. If you have a high percentage of debt to credit available, rethink your timing and pay down debt before jumping into a mortgage. Failing this, do not close your old credit card accounts as this will decrease your credit limit and increase your credit utilization ratio. You might also want to consider moving some balances to 0% balance transfer cards or look at a consolidation loan to increase your available credit.
2. Analyze Your Debt-to-Income Ratio
Your debt-to-income ratio (DTI) reflects how much monthly debt you pay out compared to your gross income and is one of the key factors that underwriters look at to see if you can handle a mortgage payment.
To analyze your debt to income ratio, tally your monthly payments such as credit cards, mortgage, home insurance, taxes, car payments, student loans, or personal loans. Then add up your monthly gross income (pre-tax dollars) and any additional income sources such as alimony, child support, pensions, disability or social security. Divide your debt by your income and multiply by 100 to create a percentage.
For example, if your debts are $2,000 per month and your gross income is $4,000 per month you will come up with .5 X 100 = 50%. The general guideline for a mortgage is below 43%. If you are above that, look at ways to lower your monthly payments by refinancing your debt.
3. Save Up for a Larger Down Payment
The larger the down payment you can make, the better your chances of both getting approved, getter a bigger mortgage, and getting a lower interest rate. Most banks want a 20% down payment.
Anything less than that and they will require you to take out private mortgage insurance (PMI). A larger down payment will decrease the bank's risk and protect your interest if there is a market downturn. The less house you finance, the less you are at risk of owing more than the house is worth.
Can an Underwriter Deny a Loan?
An underwriter can deny a loan even if you have already received a pre-approval. A loan can be denied because of bad credit, inadequate income, or because the bank didn't like the property you wanted to finance.
Or your loan can be denied for minor reasons such as inaccurate or incomplete documentation. Your loan can also be denied if you have made any purchases, changed your job, or changed anything that might affect your credit report since you applied.
What Happens After the Underwriting Process?
After the underwriting process, you will either be approved, denied or approved with conditions. If you are approved, or "clear to close," you will move onto closing. Closing procedures differ in each state.
Your buyer's agent will guide you through these steps. You may receive a result that requires you to satisfy certain conditions before you are deemed "clear to close." It could be a request for a homeowner's policy, proof of mortgage insurance, or additional documentation.
Going into the mortgage underwriting process is easier with the guidance of an expert buyer's agent. Clever Partner Agents are in the top 5% of their local markets.They can anticipate lenders' expectations and help streamline the process. When you work with a Partner Agent, you may even qualify for Clever Cash Back. Find a top agent in your local market today for a smoother mortgage experience.
» MORE: Misconceptions About the Mortgage Underwriting Process
Top FAQs About the Underwriting Process
1. What does final underwriting approval mean?
Final underwriting approval means the underwriter has signed off and given the thumbs up. The lender may still do a review and perhaps pull your credit again, though. If it all checks out, you'll be notified that you are "clear to close."
Your agent will schedule a closing meeting where you will sign closing papers, hand over your down payment and the title will be transferred. A few days before your closing date your lender will send you a closing disclosure that will list all the terms of the closing such as who pays closing costs. Your buyer agent should be well rehearsed with closing procedures and will guide you through them.
2. What is conditional approval from an underwriter?
A conditional approval means that the underwriter is generally approving the loan based upon the information available but still needs additional information to clarify something to make the approval official. An underwriter might ask for confirmation of income sources, an appraisal or title search, or that you verify the source of any deposits made to your accounts.
3. Why does closing take so long?
There can be a lot of reasons why closing takes so long. It could be on the lender's end if the loan officer didn't get all the documents or information needed by the underwriter, or the underwriter discovers something that needs clarification.
Perhaps a title issue popped up or something appeared on your credit report. The underwriter makes a request of the loan officer who makes a request of you which takes time. Either way, make sure to respond promptly to any requests from the lender. Because of the amount of documentation involved, it's not unusual for there to be some sort of hiccup somewhere.
4. Can a loan be denied after closing?
Yes. Never consider a loan fully approved until it is funded, even if you have signed the closing documents. Sometimes a loan is funded the day of closing, but sometimes it is funded a few days later. If a lender pulls a hard credit report after closing and sees any changes, they can deny funding.
To prevent this from happening, don't make any major purchases on credit. Don't close any cards. In fact, after you apply for a mortgage, don't do anything that might change any of the data on your credit report, financial accounts, employment or income status until your loan is funded and you have the keys.
5. How long does underwriting take for an FHA home loan?
Underwriting for an FHA home loan could take anywhere from two weeks to three months. Just like a conventional loan, underwriting times vary. FHA loans may also have a few different procedures because they have different criteria than conventional loans. For example, FHA appraisals required for the loan can take longer than regular appraisals because the HUD appraise r has to inspect the property for safety and health issues. Also, just like a conventional loan, the underwriting process involves a lot of factors.
Related Articles
You May Also Like