Purchasing real estate investment property is a great way to create passive income in the United States. However, the venture takes considerable strategy and timing, making it an important task to enlist a professional agent. Discover the hottest spots in Rhode Island to invest.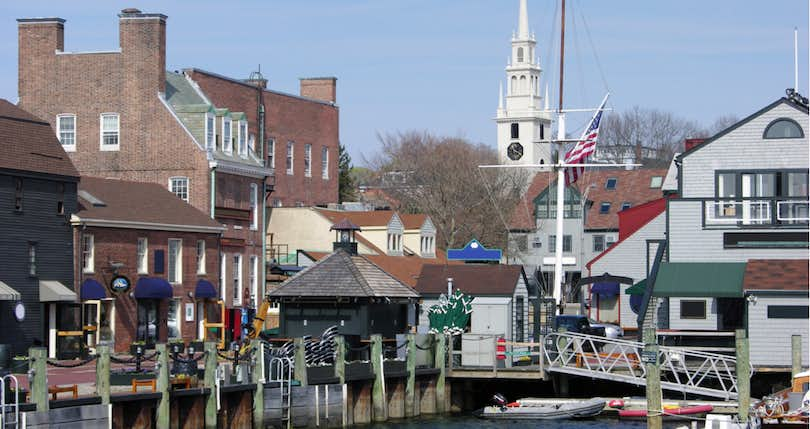 Don't let its small size fool you, Rhode Island is a great place to invest in real estate property. With just over one million residents, the state experienced a 4.5% increase in home values over last year and is expected to rise another 3.9% before 2020.
While properties may be more limited than areas with larger metropolitan footprints, the median home value sits at an encouraging $281,500 and an average rent cost of $2,000. With most homes selling for $203 per square foot and spending just over 100 days on the market — the smallest state in the country can prove to have big returns.
If you want to become a real estate mogul in Rhode Island, here are five of the hottest markets to target with the help of a professional, local agent.
Providence
This bustling capital city of Rhode Island is home to notable colleges like Ivy League school Brown University, RI School of Design, and Providence College. The numerous students Providence attracts each year directly impacts the housing market. As of this year, home values have gone up 6.7% from 2018 with median sales prices of $200,000.
The rental market is hot in Providence, as only 36% of the over 178,000 residents are homeowners. Those with intentions to buy structures to rent can expect to earn about $2,000 per month. An encouraging 2018 statistic for property investors is the multifamily home market saw a 25% increase from 2017.
The city's stable economy is largely made up of professionals in long-term industries like healthcare and education, which is more good news for investors. However, with the cost of living in Providence about 22% higher than the national average, some may seek refuge in surrounding areas with cheaper costs.
---
Looking to invest in real estate? You need a realtor who specializes in investment properties.
The first step in your real estate investing journey is to find a top local realtor with experience helping real estate investors find great deals. The right agent can help you find the best property for your goals and budget — and craft a winning offer so you can stop looking at houses on Zillow and start building wealth.
If you need help finding a realtor who specializes in investment properties, Clever Real Estate can match you with an experienced local agent so you can find the right property and get a great deal. You can also earn cash back when you close on your purchase!
Requesting agent matches is free, and there's no obligation. Just fill out the form below to get agent recommendations sent straight to your inbox!
💰 Buy an investment property, earn cash back!
Buy your investment property with a top local realtor from a trusted brand like Keller Williams or RE/MAX. Get cash back on eligible purchases.
Enter your zip code to get personalized agent matches sent straight to your inbox. Compare your options until you find the perfect fit, or walk away with no obligation
Newport
Investing in this busy, coastal city can offer sizeable returns as it is a well-sought place to live in Rhode Island. Newport thrives on tourism to boost its median home values on the rise. It has shown an 11% increase since last year and Zillow shows an impressive sq. ft. median listing price at $381. That is more than double the national average of $151.
Rentals in the area, gain an average monthly revenue of $2,400. Oftentimes, Newport investors choose to rent their properties on a short-term lease to create vacation properties. While it is a fruitful way to make a profit and have access to the home for personal use, you should consider if it is right for you.
Vacation properties aren't the only thriving market in Newport. While the home value index is estimated at $490,500, the more moderately priced stock will continue to attract young professionals for the booming nightlife, oceanfront properties, and historic architecture.
Warwick
Investing in Warwick is an affordable alternative to the expensive coastal properties in Newport. While the city of over 80,000 still offers oceanside homes, its median value is a manageable $228,400.
Residents in Warwick enjoy a stable job market. It's the home to more people who work in computers and math than 95% of the United States. Other thriving, long-term industries include Healthcare, Finance, and Education. The median salary for an employed Warwick citizen is nearly $34,000 which is comfortably over the U.S. average.
Families gravitate toward this thriving community because of low crime rates (69% lower than the national average) and highly rated elementary and high schools in the area. If you plan to invest in multi-family homes, here are some helpful tips to get started.
Pascoag
This village in Burrillville hosts a population of just under 5,000. While property values experienced a decline in previous years, recent signs of an economic rebound are optimistic.
This year, the median property increased by 1.7% to $245,800 and is expected to see another 4.2% gain by the end of the year. With the average number of residents, employees and median income levels on the rise, Pascoag will be a safe place for investors to rent or sell their property.
The rental market largely comprises of students searching for a lower cost of living while attending nearby Bryant University. Property investors can expect to charge a median rental rate of $1,606.
Cranston
Cranston was recently voted #11 Best Suburbs to Live in Rhode Island. Due to a positive family rating, quality schools, and an outstanding nightlife, the population of nearly 81,000 are proud to call it home.
The community's real estate market has been on a hot streak in appreciation values. In fact, this year, it saw an increase of 7.54% over last, which is higher than rates in 76.40% of United States' cities and towns. With an expected appreciation of another 6.25% by the end of the year, now is the time to buy.
Finding the right market for your investment can be tricky in Cranston. Median averages are accelerated by thriving neighborhoods while stale areas hold it back. Be on the lookout for great deals in neighborhoods like City Center, New London Avenue, and Evangeline St. for popular investment property decision. Since 62.76% of residents own, and 37.24% rent, property investors have a wide margin to appeal to both parties.
The journey of property investing is a path to navigate with the help of an experienced local agent. Whether you need guidance on how to get started or you are interested in scaling your portfolio — a Clever Partner Agent can create the strategy you need in a competitive market.
👋 Find your perfect agent now!
Finding a great local realtor is the first step in making your home buying dreams a reality. Our free service matches you with top agents from trusted brands like Keller Williams and RE/MAX.
Enter your zip code to request hand-picked agent matches in minutes. Compare your options until you find the perfect fit, or walk away with no obligation. Try Clever's free service today!
Related Articles
You May Also Like