One of the oldest and most historic cities in the US is also experiencing one of the most rapid urban revitalizations in the country. But there are still bargains to be found if you know how and when to find them.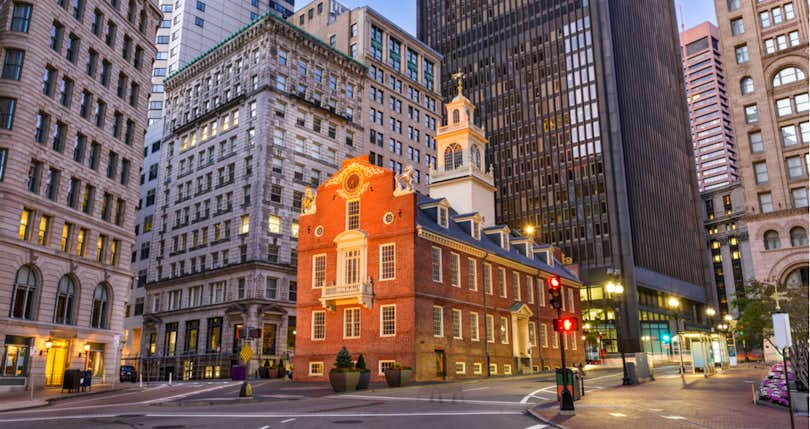 Buying a house is a stressful and emotional process. You'll likely have to spend weeks touring properties, fill out hundreds of forms, and invest a large chunk of your savings to secure the right house.
One way to make buying a house easier is starting the process at the right time. In Boston, housing inventory, mortgage rates, and market trends vary from month to month.
For example, this year listing prices for homes in Massachusetts were lowest in January. On average, homes were $130,329 less expensive. While in September — the month with the highest prices — the listing prices were $140,605 more than the annual average.
In truth, the best time to buy a house really depends on your priorities and situation. Read on to find out which time of year will give you the most options and the biggest savings when buying a house in Boston.
If you're interested in buying a home, the first step in the home buying journey is to find an experienced realtor who's an expert in your local market. The right agent can help you find the best house for your budget and priorities - and negotiate a winning offer so you don't miss out on your dream home.
The easiest way to find a great local realtor is to use a free service like Clever Real Estate. Clever matches home buyers like you with top agents in your area so you can compare your options and choose a realtor who's the right fit for you.
You can interview multiple agents until you find the perfect fit, or walk away at any time - Clever's service is 100% free with no obligation. Fill out the form below to instantly request hand-picked agent matches now!
💰 Buy with a top agent, earn cash back!
Buy your dream home with a top local realtor from a trusted brand like Keller Williams or RE/MAX. Keep more money in your pocket by earning cash back on eligible purchases.
Enter your zip code to request hand-picked agent matches in minutes. Compare your options until you find the perfect fit, or walk away with no obligation. Try Clever's free service today!
The Best Time to Purchase a Home in Boston
The best time to buy a house in Boston is probably going to be in the fall. Boston homes closed for 3.7% lower than the yearlong average in the month of October, probably as a result of a slight hangover from the flurry of activity that usually takes place in late summer, as home buyers become desperate to close on a home before school starts again.
On the other hand, in the month of February, homes lingered on the market for a staggering 20 days longer than the yearlong average. Most sellers know that the longer your home languishes on the market, the lower their chances of making an eventual sale, so February sellers will likely be very motivated to negotiate.
Boston winters are notoriously harsh, but getting out there in February could net you a stellar bargain if you play your cards right.
The Best Places to Buy a Home in Boston
Charlestown
Charlestown has the 19th-century charm, brick lanes, and historic row houses of posher neighborhoods, but at half the price. If you're looking to buy a brick row home that was built back when original signers of the Constitution were still alive, but have a modest budget, this is the first neighborhood you should look into.
Roslindale
The hip neighborhood in Boston, with stylish bars and farmers markets. While it's still affordable, home prices here have been rising steadily year-to-year, so get in now if you're looking for a deal.
South End
Not only are they redeveloping the massive former Boston Flower Exchange into a mixed-use commercial hub, they're also building a "millennial resort" development. If that doesn't equal "investment opportunity," what does?
East Boston
The key to this neighborhood is the massive former racetrack that had been rumored to be a finalist for Amazon's HQ2. Now that Boston's out of the running for that, the plan is to put in upwards of 10,000 housing units, along with office and retail space. First-time buyers should seriously consider getting in on the ground floor here.
Chelsea
Though not technically a part of Boston proper, this suburb has become the top alternative for people who find the Boston market a bit too pricey. With many small condo developments in the works, and a revamped transit system for people who need to commute to the city, Chelsea could soon be Boston's Brooklyn.
Four Ways to Get a Great Deal On a Home in Boston
Find a Great Boston Real Estate Agent
Finding an experienced local agent is the first step in having a painless, successful home buying experience. A good agent will advise you on everything from lenders to how much that all-important initial offer should be, and is your best advocate and protector out there in the jungles of the real estate market. They've seen it all, negotiated every possible type of deal, and know exactly what to expect every step of the way. You can certainly buy a home by yourself, but it'll go a lot smoother if you use an agent.
Assess Your Needs and Lay Out Your Goals
Of course, your agent can't find your dream home until you tell them what to look for. What kind of house do you need, and what kind of house do you want? Hopefully, those two answers overlap, and there in that overlap is the house you and your agent should look for.
Do you need a large yard for your dogs? Do you want a pool? What about parking? These are many questions to consider, and the more of them you can answer, the closer you'll get to your dream home.
Find a Lender and Secure Financing
Unless you plan to buy your home with cash, you'll need to apply for a mortgage. For most home buyers in Boston, interest rates are among the biggest factors when choosing a lender. Doing a little upfront research and comparing options to find the best rates could save you tens of thousands of dollars over the life of your loan.
For example, in Massachusetts a typical house is worth $462,000. Assuming a 20% down payment, if you took out a 30-year mortgage for 3.5%, your monthly payment would be $1,648. But if you shopped around and found a 3% mortgage, your monthly payment would drop to about $1,558.
Getting a mortgage is a big decision – and it pays to shop around! Keep shopping until you find a lender with competitive rates who also understands your goals. Don't get pressured into taking on a bigger loan than you're comfortable with – work with a lender who explains what you're really signing up for.» Get instantly matched with a lender who works in your area.
Negotiate for the Best Possible Price
Now's the time when your agent's negotiating skills come into play. After sitting with you and talking numbers, they should bring their inside knowledge to the table. A good agent will not only know how much similar properties have sold for recently, but will have information about your specific property that can sway negotiations.
For instance, if they know that the seller is especially motivated, your agent might recommend playing hardball. On the other hand, if the seller has a specific number in mind, and won't take a penny less, your agent will recommend a softer approach.
If everything goes well, your offer gets accepted, and you're the proud owner of your dream home. Congratulations!
Clever Partner Agents are elite performers in their respective markets, and come from top brands. Contact us to set up a no-obligation consultation!
You May Also Like