If you're investing in Massachusetts real estate, there's good news for you. There are profits to be made. However, not all cities are equal when it comes to investments. Some cities consistently outperform others and investing here will yield better results. Read on to know more.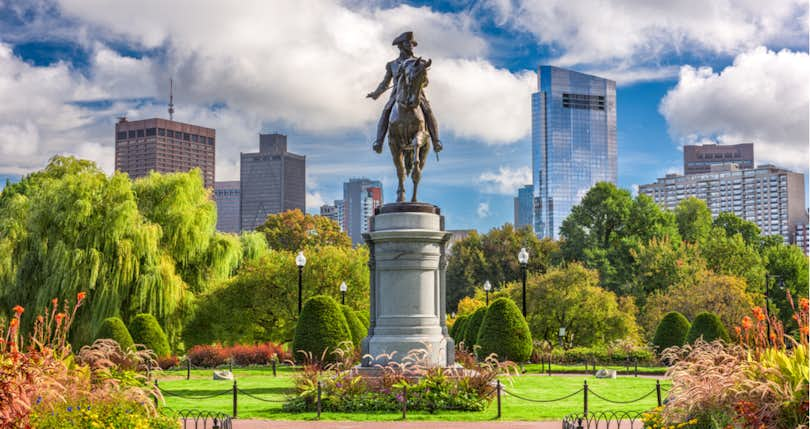 The real estate market in Massachusetts has grown steadily and shows no signs of a slowdown. The prices are not only rising, but the predictions for the future are very encouraging as well.
It won't come as a surprise to anyone that the primary real estate market of Massachusetts is Boston. But, what is definitely worth noting is that the state of Massachusetts is doing very well even if you nullify the performance of the Boston market.
If you've been thinking about investing in Massachusetts, we've listed five markets that are a good starting point, and offer tips on how to find profitable deals.
An Overview of Massachusetts Real Estate Market
Market trends, for a while now, have shown that Massachusetts has a healthy and stable housing market. Generally, the current median home value of the state is $407,800. The home values have increased by about 4.7% from last year.
The prices are expected to rise by about 4.2% this year, indicating that early 2019 is a great time to purchase a home in the state.
The median listing price of homes in Massachusetts is currently at $439,900, with the median selling price at $369,600. If you're planning to buy, the median list price of a square foot is $257.
If you are renting in Massachusetts, you should bear in mind that the median rent price is $2,600. As of 2019, 4.2% of homes in Massachusetts have negative equity. This is encouraging, especially when you observe that this figure is below the national average.
The rate of unemployment in Massachusetts is currently at 3.5%, which again, is well below the national average.
Another evidence of a healthy real estate market in Massachusetts is the low delinquency rate on mortgages which is currently at 1%. The delinquency rate is also below the national average which is at 1.1%.
Factors Contributing to the Massachusetts Real Estate Market
Broadly speaking, these are the major factors that decide prices and trends of the real estate market in Massachusetts.
Increase in home prices (4.2% in 2019).
Low supply of homes which will lead to an increase in demand.
Rate of interest for a traditional mortgage is expected to rise by 5%.
House developers have started building starter-homes to increase supply.
The Best Real Estate Markets in Massachusetts
Listed below are the primary factors that we considered while putting together this list. We took a comprehensive look at all the factors that might affect prices today, and in the future.
Affordability of homes.
Past real estate market trends.
Employment and population growth.
Sales turnover rates of real estate property.
Median property appreciation.
Strength and conditions of the economy.
With that cleared up, let's take a look at the five best real estate markets in Massachusetts.
1. Boston
For all the talk about Massachusetts real estate developing even without Boston, the fact of the matter is that Boston is one of the fastest-growing cities in the US. The city has many colleges, universities, hospitals, and companies that offer employment opportunities.
Boston is also a tourist destination. When all these factors are taken into consideration, it's no surprise that the city is a hotspot for real estate investments. An Airbnb rental home, for example, goes for around $3,640 with cash on cash return of 3.1%.
If you are looking to invest in the Boston real estate market, consider doing it now. The median value of homes in Boston ($600,100) has increased by 5.7% when compared to last year and is expected to rise by 4.8% within the following year.
»FIND: Top Real Estate Agents in Boston
---
Looking to invest in real estate? You need a realtor who specializes in investment properties.
The first step in your real estate investing journey is to find a top local realtor with experience helping real estate investors find great deals. The right agent can help you find the best property for your goals and budget — and craft a winning offer so you can stop looking at houses on Zillow and start building wealth.
If you need help finding a realtor who specializes in investment properties, Clever Real Estate can match you with an experienced local agent so you can find the right property and get a great deal. You can also earn cash back when you close on your purchase!
Requesting agent matches is free, and there's no obligation. Just fill out the form below to get agent recommendations sent straight to your inbox!
💰 Buy an investment property, earn cash back!
Buy your investment property with a top local realtor from a trusted brand like Keller Williams or RE/MAX. Get cash back on eligible purchases.
Enter your zip code to get personalized agent matches sent straight to your inbox. Compare your options until you find the perfect fit, or walk away with no obligation
2. Newton
If you are planning to build or buy a house for rentals, you should do it in Newton. With a population of about 89,000, the city is among the fastest growing real estate markets in Massachusetts. With such a large population, it won't be difficult to find tenants at all.
Thanks to a promising job market, many people are moving into Newton in search of jobs. As a result, the demand for houses is steadily growing which makes the city ideal for real estate investments. Additionally, Newton has a steady economic growth that favors investments.
Before investing in Newton, it's essential to understand the current market prices. The city's median home value is currently $1,079,100 after increasing by 5.5% from last year. Real estate experts speculate that the prices may rise by 4.3% this year.
3. Cambridge
If you're searching for a developed city to invest, you don't have to look further than Cambridge. The city has excellent infrastructure, all the facilities one might ever need, and it also houses prominent education centers like Harvard University and the Massachusetts Institute of Technology (MIT).
Currently, the population of Cambridge stands at 113,630 and it's only going to grow. That means that the real estate industry thrives well here. Many residents are purchasing and renting homes in the city.
With an unemployment rate of 2.2% — which is well below the US average — Cambridge has seen excellent economic growth. Steady economic growth is always a good sign if you're planning on investing in real estate.
The city also has an active job market which has grown at 4.3% last year. This is an encouraging sign too.
The current median value of homes in Cambridge is $804,100. The prices have gone up by 4.1% in the last year. Thanks to this growth, home prices are set to go up another 4.3% this year.
If you're a cautious investor and don't mind slightly lower return on investments, Cambridge is the place to invest in. Real estate prices in Cambridge just don't go down.
4. Lynn
Lynn is one of the fastest developing cities in the US. But real estate prices are still relatively low. However, the value of homes in the city has increased by 6.4% in comparison to last year. Lynn's housing market is highly competitive, and house prices are expected to rise by 5.4% over the next year.
The beautiful city of Lynn has top-performing companies such as the Bent Water Brewing Company and the Walsh's Oil Company that provide numerous job opportunities. And employees of these companies need places to stay.
On average, a home in Lynn sells for $353,200 with a median listing price of about $339,700. Irrespective of the relatively low home median value, the city has witnessed massive home sales due to its relatively large population which stands at about 94,063.
5. Brockton
If you are building homes and rentals that average people can afford, Brockton city is the perfect choice for you. The median value of homes in Brockton is currently $294,600 and the median rent price is $1,600.
Brockton is among the fastest growing cities in Massachusetts with a record of steady economic growth. Currently, Brockton's real estate market is on the rise, and any real estate investment bears little to no risk.
The value of homes in Brockton have risen by 6.4% in the last year and investors are anticipating an increase of 5.4% this year. The advantage of investing in Brockton is that you won't have to hold properties for a long time before you sell or rent it out.
How to find investment properties in Massachusetts
The best deals in Massachusetts are usually found on homes with motivated sellers, and homes that need extensive repairs. Types of homes that make for good flips often include foreclosures, pre-forecloses, short-sales, and abandoned or neglected properties. Here's how to find them.
1. Use real estate investment software
One of the biggest challenges of flipping homes or finding rental properties in Massachusetts is finding great deals. But the DealMachine app is one tool that can really help you.
DealMachine's real estate software helps investors find and research distressed homes (think: pre-foreclosures, foreclosures, short sales, etc), and get in touch with owners fast via batch skip tracing and direct mail campaigns.
Its driving for dollars app is fast and easy to use. When you're driving around town and spot a home that could be a great deal, you can send the owner direct mail through the app for huge time savings (no post office visits required).
Download the DealMachine app to find distressed homes as you drive and reach out to homeowners in a matter of seconds. The company offers a 7-day free trial and $15 in free credits that can be used towards marketing (like sending out direct mail to homeowners).
2. Partner with an investor-friendly realtor
Partnering with an investor-friendly realtor is the best way to ensure a favorable, easy home purchase.
Agents have expertise in Massachusetts's variety of markets, understand real estate laws and practices specific to the state, and can provide access to lesser-known neighborhoods and properties that just may be your dream investment.
Clever's real estate agents can guide you through your local real estate market and make your house hunting journey a breeze.
Here's a bonus: eligible buyers can get cash back on their home's purchase price after closing, potentially saving you thousands on your home purchase.
👋 Find your perfect agent now!
Finding a great local realtor is the first step in making your home buying dreams a reality. Our free service matches you with top agents from trusted brands like Keller Williams and RE/MAX.
Enter your zip code to request hand-picked agent matches in minutes. Compare your options until you find the perfect fit, or walk away with no obligation. Try Clever's free service today!
Related Articles
You May Also Like