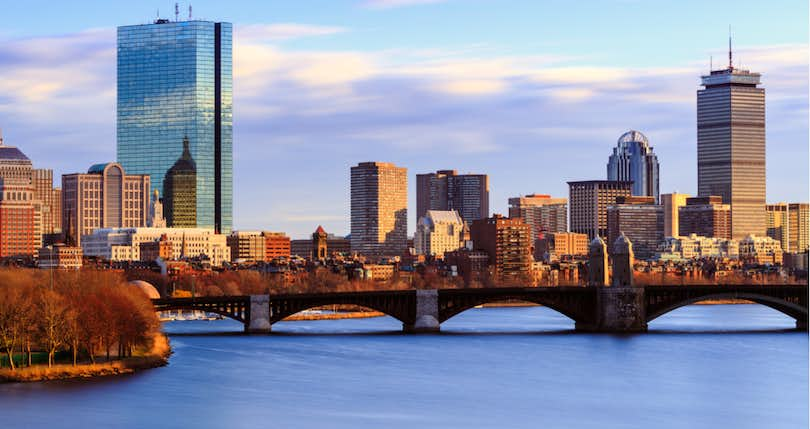 Boston is notorious for being one of the costliest places to live and own a home in the country. Right now, the average home value in the city is sitting at $581,200.
However, there are parts of the city where you can find homes for relatively low prices. Shopping in one of these affordable neighborhoods can help you save a ton of money on a new home.
Another way to save? Work with a top real estate agent who knows how to negotiate and score you a lower sale price.
At Clever Real Estate, we can match you with agents in any area you're interested in — even multiple areas at the same time. You can interview as many agents as you like until you find the perfect place to call home — all at no cost or obligation to you.
Most affordable places in Boston
Most people moving to Boston are wary of the high cost of living and home prices in the city. But fear not, there are always neighborhoods that offer relatively low prices and avenues to save on costs. Here's our list of the most affordable places to live in the City of Champions.
1. Hyde Park
Hyde Park has for long been known as one of the most affordable neighborhoods in Boston. The current median value of a house in the area is $442,400. That may seem like a lot but median house prices in the city overall are around the $600,000 range, making Hyde Park one of the prime neighborhoods in which to find relatively cheap homes.
Hyde Park's motto is "a small town in the city," which captures how living in this neighborhood can be different from experiences in the rest of Boston. The area is culturally diverse, thanks to the large population of immigrants from places like the Dominican Republic and the Caribbean islands.
One of the things residents seem to like about Hyde Park is its proximity to places like the Stony Brook Reservation and Blue Hills. The former is a woodland park with trails for hiking and biking as well as tennis courts and swimming pools.
2. Roslindale
Roslindale is a residential neighborhood bordered by Hyde Park on one side. It offers the perfect balance between the possibility of a fun, active lifestyle and affordable living in the city of Boston.
The population of Roslindale is a diverse mix of retirees, young professionals, and families that have lived in the area for multiple generations. Although parts of the neighborhood fell into a state of disrepair, it has now emerged as an ideal place for people from all different walks of life to call home.
Much of the vitality in the neighborhood today has been brought about by a non-profit called Roslindale Village Main Street. The organization advocates local empowerment and self-reliance.
The median price of a home in Roslindale is $556,000 and is expected to increase only by 1.8% in 2019. The median rent for a one-bedroom in the neighborhood in winter 2019 was $1,700. In comparison, the median rent in Bay Village during the same time was $2,700.
Even after you've found a more affordable place to live in Boston, moving there can be expensive. By working with a Clever Partner Agent, you'll have an expert in your corner and you may be able to take advantage of Clever Cash Back.
When you buy a home with a Clever agent, you might be eligible for cash back to use on anything you want, no strings attached.
Use this free money to help you move (or splurge on a great housewarming gift for yourself).
» SAVE: Learn more about what you can save with Clever Cash Back!
3. Mattapan
Mattapan once used to be home to the Native American Mattahunt tribe. After colonization, it soon became a Jewish neighborhood with a commercial outlook. The arrival of African and Haitian immigrants led to further evolution in the culture of the neighborhood.
Different parts of Mattapan display unique aspects of different parts of its history. Mattapan Square is the center of the neighborhood and has a growing list of commercial establishments; everything from restaurants and bars to a trolley tour stop.
The residential parts of the neighborhood spread out from the Square. The homes come in a variety of styles and designs. This is one of the neighborhoods in which you'll see New England-style triple-decker homes.
The median value of a house in Mattapan is $399,900.
4. Dorchester
It just so happens that one of Boston's largest neighborhoods is also one of its most affordable. Dorchester is spread out across 6 square miles and has a population of 160,000. It stands to reason that there is a large degree of diversity within the area both in terms of demographics and architectural styles.
Dorchester is located close to downtown Boston and the development in that part of the city has slowly extended into this neighborhood. It now has a large number of malls, shopping complexes, and a cineplex. The homes in Ashmont Hill, Fields Corner, and Savin Hill are some of the most sought-after with the Dorchester area.
The median value for homes in Dorchester is $511,500, but there is a large degree of variance in prices given the large diversity of properties in the area.
5. Roxbury
Roxbury is a former municipality and currently one of Boston's 23 official neighborhoods. This part of the city saw a large influx of German nationals following the first World War. There has also been a large Jewish community in this part of the neighborhood since the early 20th century.
The neighborhood is well-known to exemplify community living and cultural vibrance. Boston's National Center of Afro-American Artists (NCAAA) is located in Roxbury. The non-profit works to preserve the cultural heritage of black communities across the world. NCAAA's museum puts on exhibitions featuring photography, graphics, sculpture, and painting.
Renting a house in Roxbury will cost you around $1,780 for a one-bedroom. The median value of houses in the area is $416,200.
How a good agent can make your home purchase more affordable
If you're just researching affordable places to live, you might wonder why you need a real estate agent. They're the ones that help you once you've already decided on a house, right?
Not necessarily. The truth is, it's never too early to start looking for an agent. In fact, talking to a realtor early on in the process can help you narrow down your options much faster than doing research on your own.
A real estate agent's job is to know everything about their local area. They'll find the best deals in desirable neighborhoods — and might just help you snag your dream home for an affordable price. Let a Clever agent help you discover your options today — all while you enjoy cash back!
💰 Buy with a top agent, earn cash back!
Buy your dream home with a top local realtor from a trusted brand like Keller Williams or RE/MAX. Keep more money in your pocket by earning cash back on eligible purchases.
Enter your zip code to request hand-picked agent matches in minutes. Compare your options until you find the perfect fit, or walk away with no obligation. Try Clever's free service today!
Related articles